Call of Duty Vanguard Multiplayer Review – Consistent and Addictive
Call of Duty Vanguard is out now and people seem torn. The Campaign and Zombies modes deserve their own time and attention, so we're splitting things up for this game. In future articles, I'll highlight some of my impressions of both of those game modes. This time around, we're talking all things multiplayer. While the Call of Duty multiplayer formula isn't all that different this time around, new and returning features make it the most fun I've had with a release in a few years. For a full review of the Call of Duty Vanguard multiplayer experience, let's dive into what to expect when you check out this recent release.
Familiar and Fun Call of Duty Action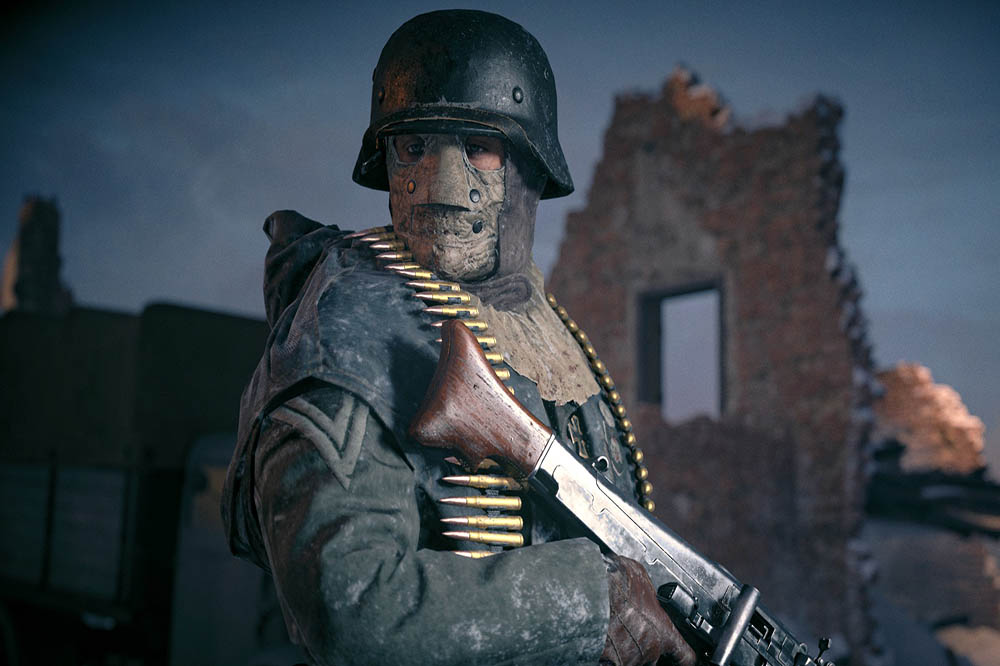 Image Credit: Activision
If you haven't played a Call of Duty game in awhile, then here are some highlights to note for Vanguard. Firstly, the matchmaking is a bit different from other years past. Across the 20 maps available at launch in Call of Duty Vanguard, 18 are brand new. Two return from the WWII-era title Call of Duty: World at War, and four of the new 18 only exist for the Champion's Hill mode. I like a lot of the maps quite a bit, with many retaining that basic outline fans of the series know well. In short, a central area that offers prime ground for you and your team is the goal to capture. Whether you're in a straight Deathmatch battles or actually attempting to capture areas in Domination, maps offer enough space for natural turf wars to play out.
The most impactful change this time around to Call of Duty Vanguard multiplayer action is Combat Pacing. This determines how many people will be in the match. Tactical pacing features 6v6 combat, Assault Pacing ranges from 7v7 to 18v18 fights, and Blitz Pacing can host up to 46 players on a single map for large-scale fighting. I love the fact that you can hop into Quick Matchmaking and get connected to a variety of Vanguard experiences. It's a great way to keep you playing and engaged in just one more fight, even when you told yourself you'd stop an hour ago.
That's really the main takeaway for me with this review of the Call of Duty Vanguard multiplayer experience. It's damn fun, and a lot of that comes down to fast-paced combat that is varied enough to keep your interest. Fun bonuses like maxing out weapons for improved skins and attachments incentivizes mastering a specific gun. Perks return in Vanguard too that allow you to give yourself boosts in areas where you'd like an advantage depending on your play style. Killstreaks are fun again as well, including the 9-kill "Flamenaut" that stands out as my favorite feature. With unlimited fuel and a huge suit akin to the Juggernaut kill streak from Modern Warfare, it's a blast reaching this level and plowing through enemies. Let's talk scoring now.
Call of Duty Vanguard Multiplayer Review Score
Image Credit: Activision
I review games on a scale of 1-10; multiplayer content in Call of Duty Vanguard is an 8 for me. I think judging from others' reviews of the Campaign this year, I'll wager the multiplayer modes in Vanguard are the game's strongest features. From variety in matchmaking and match sizes to great features that incentivize you playing more and more, this is the most fun I've had with a Call of Duty game in a few years. If you're ready to move on from Warzone for classic Call of Duty action, then this game is a brilliant return for gamers.
Black Ops Cold War didn't feel this fun online because I felt like the gunplay wasn't all that engaging. Now, I feel like improvements to aim assist, improved graphics, and great progression mechanics blend into a great online experience. Champion Hill, a team-based "last man standing" mode, is another great feature. Because this is clearly the new and shiny mode Activision wants to show off, it's certainly something to try out. It didn't pull me in like classic Call of Duty modes did, so I can't say it'll click with everyone. That said, it's a fun new way to experience the game's action in a new light.
Call of Duty fans fall into three categories. Longtime fans, casual and curious players who come and go, and general fans of shooters. I think if you're coming off of Black Ops Cold War, then Vanguard's multiplayer is an improvement. If you're a fan of shooters, then the fast-paced action of this title is certainly up to snuff. Lastly, casual fans who come and go from the series will be happy to see familiar action at its finest. The game is presented in gorgeous current-gen graphics with wonderful performance on new consoles. Overall, it's a win for anyone interested in this groundbreaking franchise.
Call of Duty Vanguard is Available Now for Consoles and PC
While we work on review content for the campaign and Zombies modes, be sure to try the game for yourself! Call of Duty Vanguard is available now for Xbox Series X|S, Xbox One, PS4|PS5, and PC.
Overall, there's some strong features, both new and returning, in this year's Call of Duty entry. Here's our review for the multiplayer content in Call of Duty Vanguard.
A digital review copy of the game was provided by the publisher for the purposes of this review.
Featured Image Credit: Activision
Taylor is the Gaming Editor of Comic Years and a lifelong fan of video games. He holds two degrees in Political Communication and wrote a Master's Thesis on resistance movements, race, and the exploitation of college athletes. His wife and two Toy Australian Sheppards keep him sane.
Leave a comment