The History of Call of Duty World at War
There's a lot to be said about the history of World at War. In the grand scheme of the franchise, this is one of my all-time favorites. We return to WWII in this entry and Treyarch gets a chance to show what it's made of. The best part of all is the introduction of an iconic game mode. The hours I spent playing Zombies in this game are likely in the hundreds. I adore this game and I'm excited to dive into its rich history today. In short, let's get talking about Call of Duty World at War.
The History of Call of Duty World at War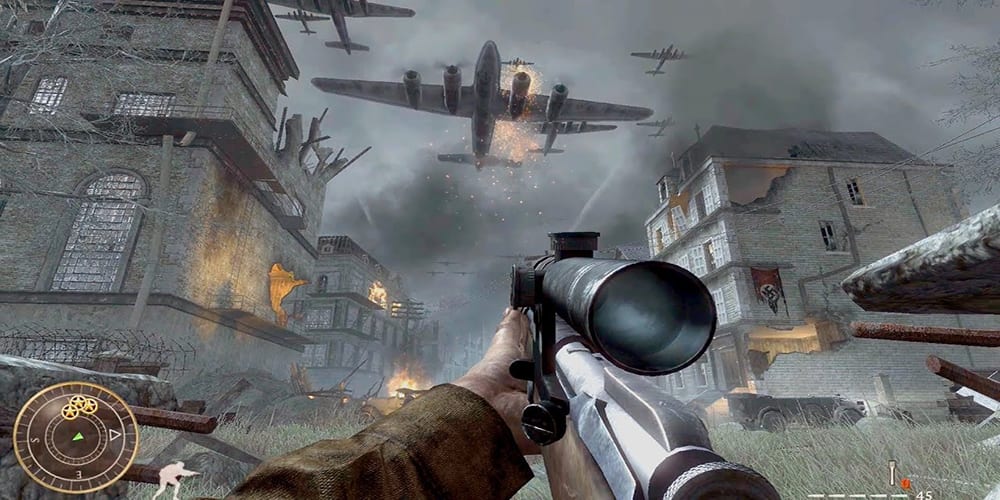 Image Credit: Activision
We're all excited to try Black Ops Cold War and its Zombies game mode. That game mode first debuted in 2008's Call of Duty World at War. Under the title Nazi Zombies, the game would return to the series' starting point: World War II. Firstly, let's talk about the beginnings of the game and why it released so soon after Call of Duty 4: Modern Warfare.
This is technically Call of Duty 5, but games in the series would no longer go by numbers. That's largely in part because of the new approach to making Call of Duty games. Activision has its two studios, Treyarch and Infinity Ward, pulling shifts at this point. Modern Warfare released in 2007 via Infinity Ward. In June of 2008, Activision announced the series would return to World War II. More surprisingly, the next game would release later that same year. Overall, fans didn't quite understand the meaning behind two games so closely released together. Treyarch realized during the production of Call of Duty 3 that two years was much more feasible to make a game. Therefore, the studios would switch off. This allowed the series to simultaneously explore modern war scenarios and historic ones.
Utilizing the Modern Warfare engine as a base, Treyarch improved the physics model of the engine for this release. Things like environmental destruction and dismemberment allowed for a more gruesome look at warfare. The move was to allow for a more cinematic look at WWII.  Kiefer Sutherland and Gary Oldman joined on as voice actors and the game was on its way. This allowed the game to have a bit more credibility as well. Call of Duty was shaping up to be an entertainment phenomenon, not just a video game.
World, Meet the Nazi Zombies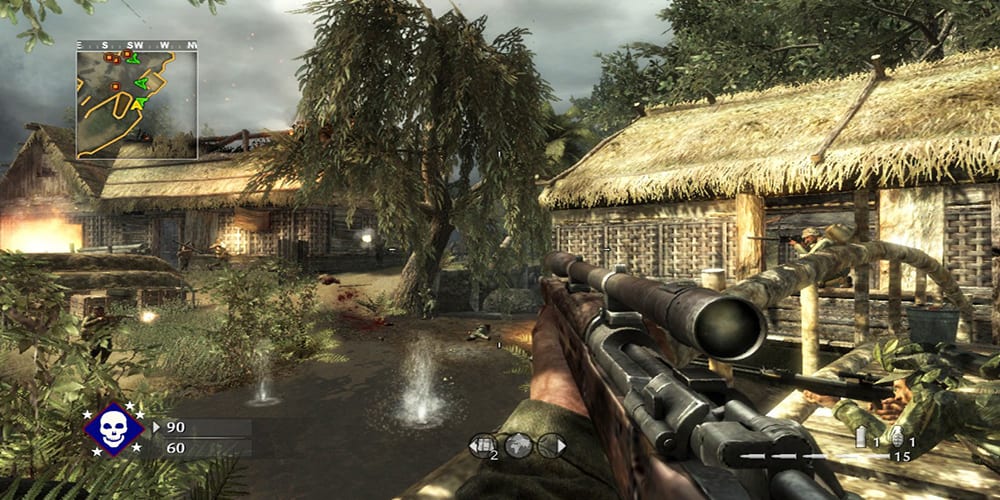 Image Credit: Activision
I won't dive too much into the story of the game. Like past titles, there are several storylines across theaters of war you explore. What I really want to explore is what began a side game mode. Although the gam itself was a ton of fun, one thing stood out. Known as Nazi Zombies, a 1-4 player co-op horde mode stole the show. Players work together to fend off undead nazis. Overall, the challenge was to keep windows boarded up as well as ammo fresh and zombies at a distance. You could earn points by killing zombies and boarding up windows. Spending those points over at the weapons box helped you gain new modes of attack. As the game progresses through different waves, the zombies get stronger and faster. It's insane working through some of the later levels of this game mode.
Fans would hope for a great weapon from the box. A railgun or laser pistol (very historical, huh?) would ensure a few levels of ease. Still, those weapons would not last forever. Hitting the box at the point in which it glowed ensured a somewhat better weapon. Overall though, nothing was guaranteed. The first map for the game mode, Nacht Der Untoten, is a classic. The popularity of the game would add three more DLC maps down the road. These maps included Verrückt, Shi No Numa, and Der Riese. The tight proximity of the original, however, proved to be the most fun.
The Beginning of a Wonderful System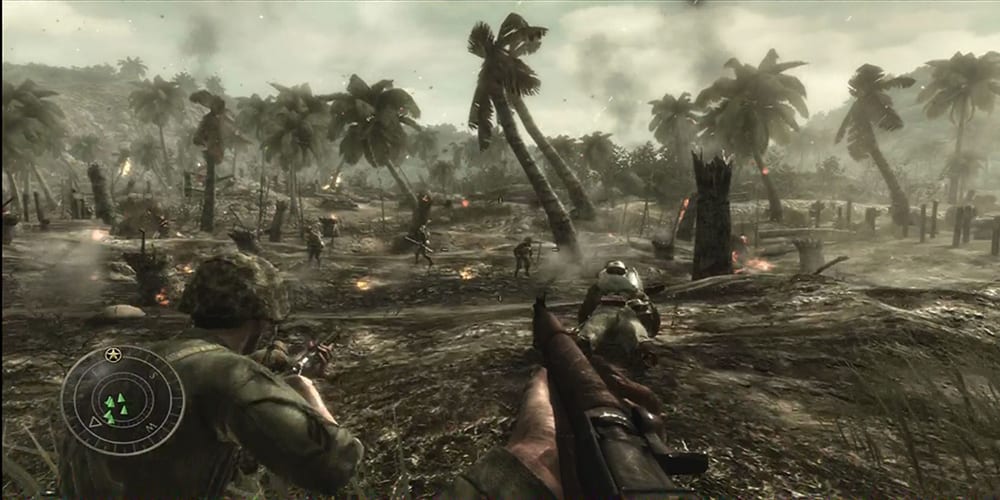 Image Credit: Activision
With two great studios creating games back to back, Activision struck gold. World at War sold 1.41 million copies in its first year. Overall, it sold 15.7 million copies since its initial release. Followed up by the wonderful sequel Modern Warfare 2,  this period of Call of Duty's history is one of its finest. We'll pick up there next time. In short, the history of World at War is a strong moment for the series. If you enjoy historical shooters, then this is a must-play. Lastly, let us know if you have fond memories of World at War in the comments! Check out our entries for the History of Call of Duty, History of Call of Duty 2, History of Call of Duty 3, and the History of Call of Duty 4: Modern Warfare.
Thanks for reading Comic Years for all things gaming, comics, and pop culture.
Featured Image Credit: Activision
Taylor is the Gaming Editor of Comic Years and a lifelong fan of video games. He holds two degrees in Political Communication and wrote a Master's Thesis on resistance movements, race, and the exploitation of college athletes. His wife and two Toy Australian Sheppards keep him sane.
Leave a comment