Skottie Young and Humberto Ramos Deliver Magic in Strange Academy #1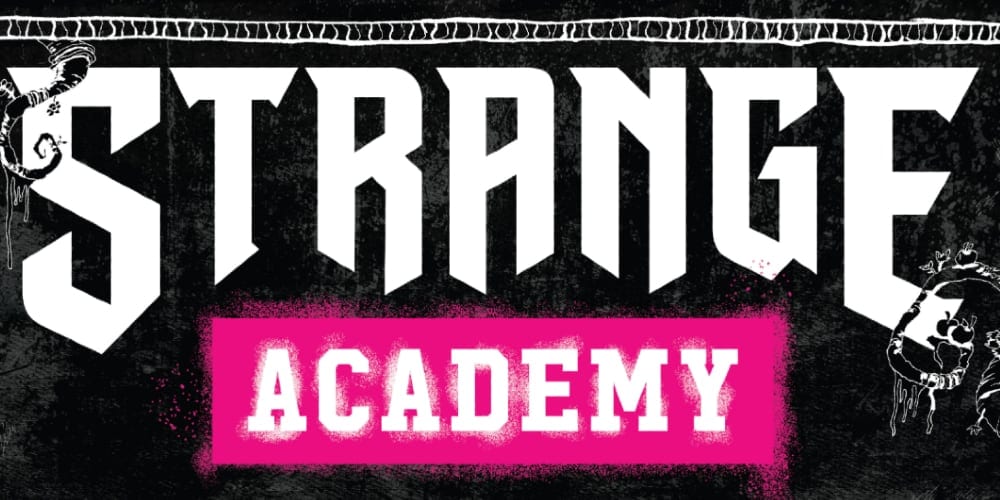 Marvel is building a strong slate of magic-based comics. With the Dawn of X launch, we got Tini Howard's Excalibur, which not only made Betsy Braddock the new Captain Britain, but weirdly established Apocalypse as a legit X-Man. Then there was Mark Waid's explosive Dr Strange: Surgeon Supreme, that hit us like the Wrecker's crowbar did to Strange's knee. Now we have Strange Academy #1, a young adult adventure with spastic energy that tops the two previous debuts. Skottie Young and Humberto Ramos bring together a wild story and mercurial art, making Strange Academy #1 a pure blast to read.
Young and Ramos Introduce a Cast of Strange Academy #1 is Instantly Lovable
(Image: Strange Academy #1 by Skottie Young and Humberto Ramos)
We're first introduced to Emily Bright, a teenage girl born with magical powers neither she nor her parents understand. After Zelma Stanton rescues and recruits her to the school, Emily immediately befriends Shaylee Moonpeddle of Otherworld. From there, we're shortly introduced to Iric and Alvi, two Asgardian brothers. Then there's Guslag, an adorable frost giant girl. But if you think having a frost giant at the school is crazy, we're introduced to Doyle, son of Dormammu. Throughout the rest of the issue, we're introduced to more students, such as Toth from Weirdworld, and Dessy (short for Despair) from Limbo. Finally, there's Zoe Laveau, a young woman from the weirdest place of all: New Orleans, which happens to be where the school is located.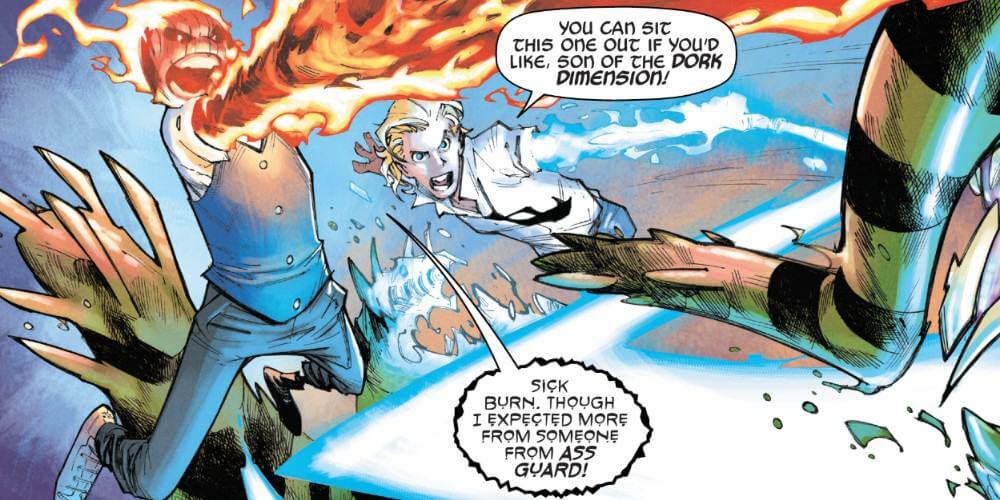 Iric and Doyle (Image: Strange Academy #1 by Skottie Young and Humberto Ramos)
All of these young characters have instant chemistry. When they find out who their roommates are, the dynamic in each room is brilliant. One of the best mixes is Iric and Doyle. They were immediate rivals, and now sharing a room. But there's no way that by the end of the first arch or two that these two won't be best friends. The way Young and Ramos portray them in Strange Academy #1 looks like they are friends making fun of each other. The two just haven't caught up to the "friendship" part yet.
Strange Academy has the Best. Faculty. Ever.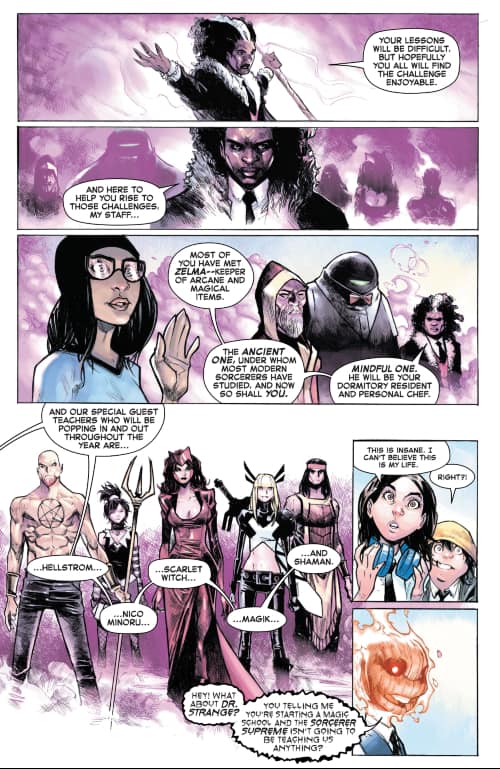 (Image: Strange Academy #1 by Skottie Young and Humberto Ramos)
First off, Doctor Voodoo of the Savage Avengers is the headmaster. This is as brilliant and crazy as when Wolverine was headmaster of the Jean Grey School for Mutants. He takes to the role wonderfully. He's simultaneously encouraging, authoritative, and a bit annoyed. Then we get the primary faculty: Zelma, the Ancient One(!), and the Mindful One—who, yes, is wearing a bowtie in the image above. After that, Young and Ramos give us who we really want to see teaching for the Strange Academy. Hellstrom, Scarlet Witch, Nico Minoru, Magik, Shaman, and, of course, Doctor Strange himself. Strange arrives while fighting a giant demon monster, which becomes the students' first test. He's definitely the cool professor that jokes with the students, and all of them love and admire. Like how my students look at me (😅).
Humberto Ramos is the Perfect Artist for Strange Academy
(Image: Strange Academy #1 by Skottie Young and Humberto Ramos)
Artists generally rotate every 6-12 issues, but I hope Ramos stays on for a while. The book's fantastic energy is mostly thanks to his pencils, and the director's cut of Strange Academy #1 proves just how much Ramos contributes to the story Young tells. Even without Edgar Delgado's vibrant color art, the black and white inks and pencils are still, well, magical.
(Image: Pencils by Humberto Ramos)
We Haven't Had a Teen Superhero Book This Strong In a Long Time
(Image: Strange Academy #1 Variant Cover by Humberto Ramos and Jean-Francois Beaulieu)
Though Young and Ramos tell a wildly original story, there was something pleasantly familiar about Strange Academy #1. Then I finally realized that the feel of this book is similar to Craig Kyle and Chris Yost's work on New X-Men, waaaaaay back in the mid-2000s. That's the last time a book of teens at a superhero-like school felt genuine.  It's good to have a book like this again, and an ongoing one at that. But, of course, that also depends on sales and whatnot. So if you haven't picked up Strange Academy #1 yet, do it! It's one of the best comics you'll read this year.
Grade: A Beignet and a Bourbon
(Featured Image: Strange Academy logo by Jared Fletcher)
Roman Colombo finished his MFA in 2010 and now teaches writing and graphic novel literature at various Philadelphia colleges. His first novel, Trading Saints for Sinners, was published in 2014. He's currently working on his next novel and hoping to find an agent soon.
Leave a comment