Buying Comics During Quarantine: The Best Stores, Best Deals, and Best Selections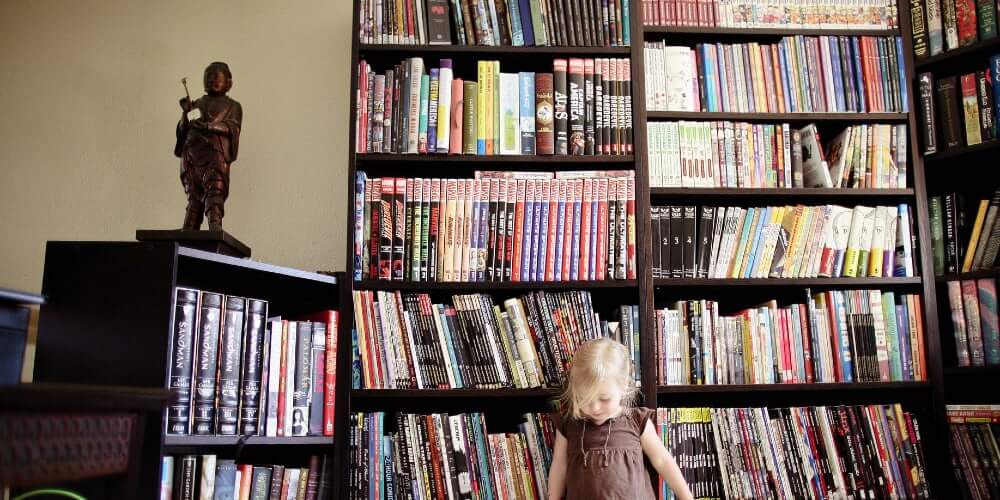 Another Wednesday, another week with no new comics—or at least, only a scant few ones. If you've already run out of comics to read, and you're rocking back and forth in your home, I understand. But one day, the quarantine will end, and we'll go back to buying comics out there in the world. Until then, however, we're not allowed to go to our local comics shops and roam the stacks to find that magical connection to a comic or graphic novel. It's like going to the pet store; only the comics don't freak out and pee on your backseat. Luckily, there are plenty of online stores to keep our addictions going.
The Best Place For Buying Comics and Trades on the Internet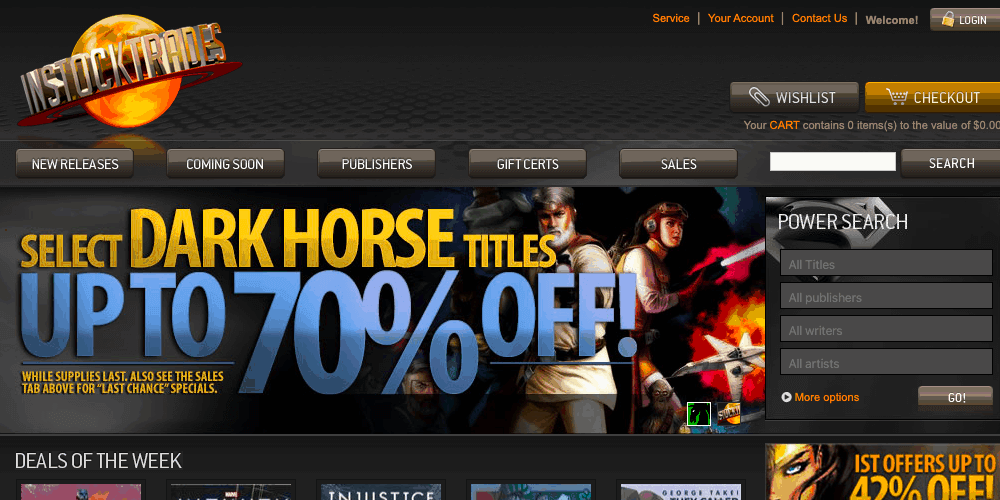 (Image Via screen grad)
If you haven't been to InStockTrades, I feel bad for you, son. They have the best print deals, and there's something for everyone. And nearly every hardcover and paperback on the site is 40%, with some as much as 70%. So, those omnibus masterpieces you've always wanted? Instead of $125, you're looking at $70. I shop here as often as I can, especially when there is a graphic novel or series special to me. For instance, the X-Men Milestones that Marvel started publishing? The highest I spent on one is $26 (for the massive Fatal Attractions collection). Also, the beautiful Gail Simone Wonder Woman omnibus? Just $42.
Most of their prices are even better than Amazon's print prices. The new Dawn of X collections are about $10 each on InStockTrades, whereas they are $15 or higher on Amazon. Not only that, but when they ship books, they are packed so well, you'll never have to worry about damage. If you love feeling the pages between your fingers, say hello to your new favorite website.
Of course, they greatly appreciate their customers. "We want to say a big thank you to our customers and let them know that we are very appreciative that they have continued to place orders," Emily at InStockTrades said to Comic Years. She continued, "We are going through a very strange time, and unfortunately, no one knows when this pandemic will end, but to see all of the positive feedback that we have received in the last two weeks has been truly amazing! We really believe that we have the most loyal customer base!"
(Also check out their sister shops, DCBService and TalesofWonder!)
Quarantine, Coronavirus, and Comixology: A Tragedy of Wallets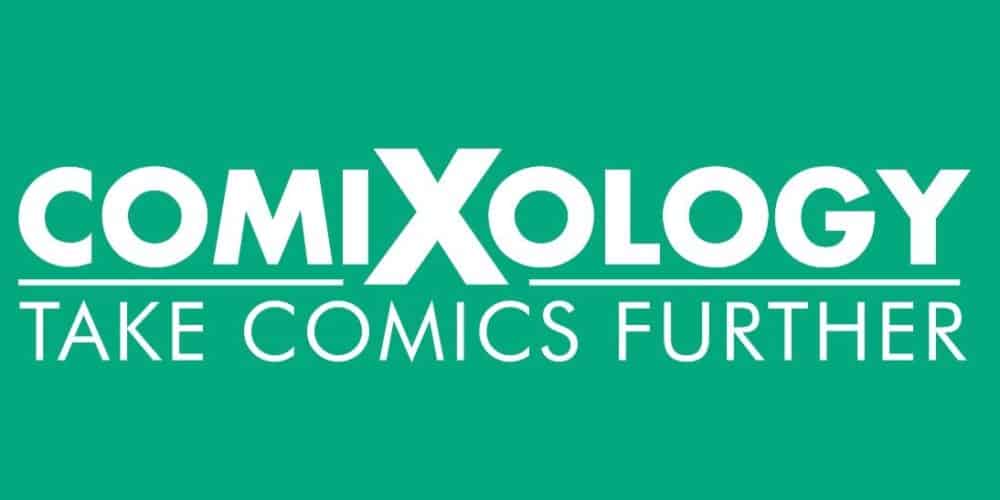 (Image: Comixology)
Then there are digital comics. No one beats Comixology. Digital isn't everyone's cup of tea, but it does have its advantages. For single issues, you don't have to worry about miles of long boxes filled with comics you'll never read again. But what Comixology really does well? Sales. Right now there are sales for:
Vault Comics
Caliber
Valerian
New Mutants
Champions
Avengers
Fantastic Four
James Bond
Fantagraphics
Comixology Originals
Pokemon
Dark Horse
DC Vertigo
Kodansha
Legendary Comics
Titan Classics
Humanoids
Submit
Boom!
Dynamite
Action Lab
Europe Comics.
Seriously… that's their current sales lineup. Also, until the end of the day, today (April 7th), use the code Marvel2020 for a buy one get one free sale…and that includes sale items!
Comixology is best for comics you want to try, but don't want to invest too much money in. It's also great for discovering new books. When they have a $30 print trade for like $4, it's a safe gamble. Save your darlings for InStockTrades. Your "one and done" reads? That's what Comixology is for. If you're buying as many comics as possible for the quarantine? Here's your home.
For the Really Special Comics for Quarantine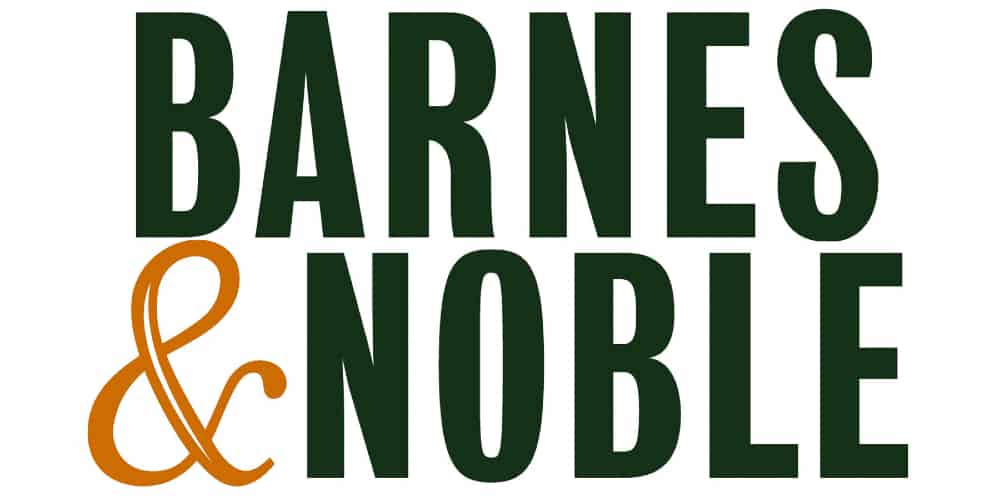 (Image: Barnes & Noble)
Now, this next place is not for saving money, but it's great if you want some cool special editions. That's what Barnes and Noble offers. Some of their B&N Exclusives are simply beautiful variant covers of the trades. But many of their exclusives have great extra features too. For instance, Tom King's Eisner-winning Mister Miracle includes cover sketches and the complete script of the first issue. If you want to get a little behind the scenes look of the comic book world, specials like these are great. Or, if you take my course Graphic Novel Literature and Writing at Rosemont College—very helpful.
Buying Back Issue Comics Without Going All the Way to Midtown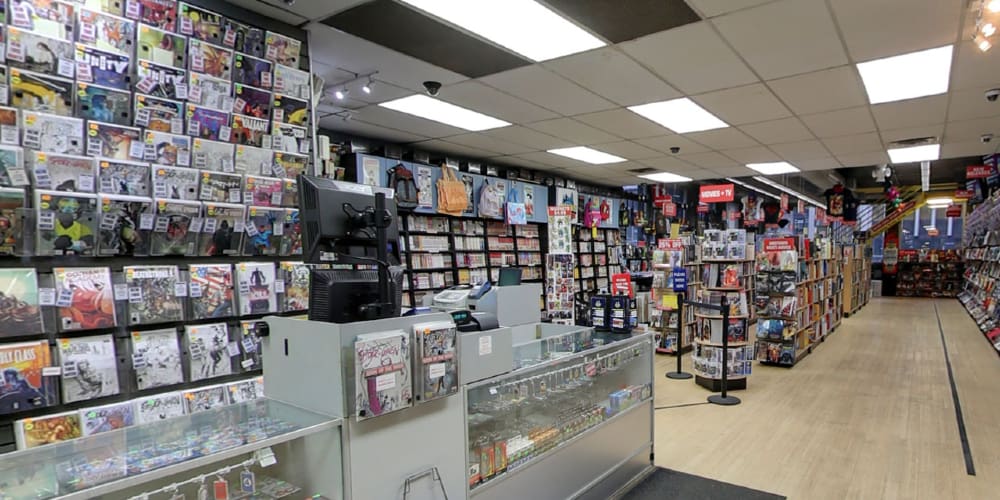 (Image Via Midtown Comics)
If you love comics, Midtown Comics in Times Square is a bit like Mecca. The first floor is wall-to-wall comics with all kinds of variants and signed editions—then row after row of graphic novels and trades. Walk upstairs and there's basically every Funko Pop you can think of—and some you're not sure why they made. Plus all the glorious back issues. Well, for all those magnificent back issues and variants and trades? Midtowncomics.com is still open for business, and they have single issues as low as 99 cents.
But if you're buying comics during the quarantine at Midtown Comics, you should look at all of their exclusives. You can order most of the variants and signed copies that you'd find in store on their site. And some of those items are surprisingly inexpensive. I'm looking at my $75 cart (minimum for free shipping, and I have 11 variants and six signed copies. If you have a favorite creator, there's a good chance they have something signed by them. And you know what? You've been inside for four weeks. Get yourself something that reminds you that there's still some awesome out there in the world.
Even During Social Distancing, Buying Locally is Still an Option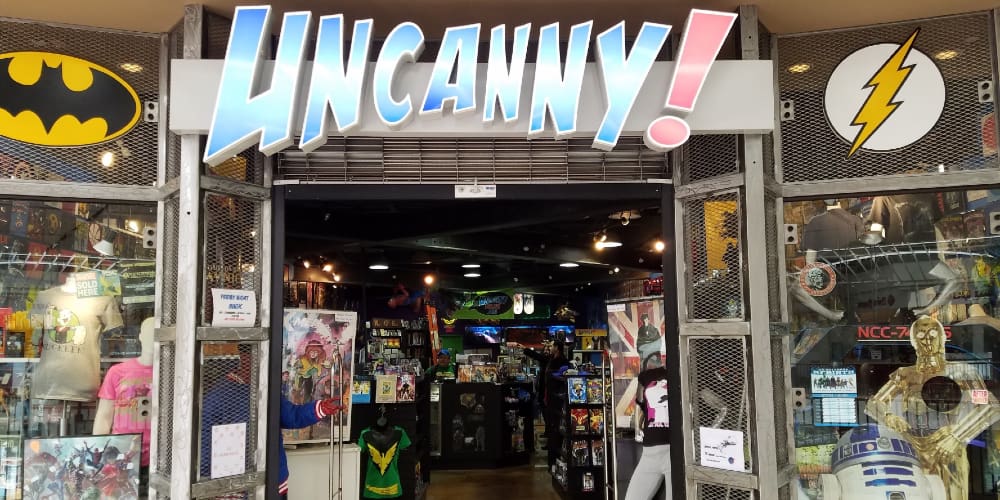 (Image: Uncanny Comic Shop)
Check with your local comic shop to see if they have an online store. This is kind of hit-or-miss. Some local shops have a significant online presence. Some have sites that are hard to navigate or find items. I checked one of my local shops, and they forgot an essential feature: a buy button. Oops. Some use eBay, Abe Books, or even Facebook Marketplace. And then most comic shops have no online store of any kind. It's like you want to keep buying comics from them, but they don't want to sell comics to you.
Whatever the case may be, buying comics in these uncertain times of quarantine isn't impossible. It takes a little more effort, and we can't explore the way we want to, but we still can. Dr. Anthony Fauci recently stated that he hopes kids will be back in school in the fall. What does this mean? We're going to be social distancing through August. But as long as we're buying and reading comics, this quarantine will feel at least 2% less terrible.
(Featured Image Via Imgur)
Roman Colombo finished his MFA in 2010 and now teaches writing and graphic novel literature at various Philadelphia colleges. His first novel, Trading Saints for Sinners, was published in 2014. He's currently working on his next novel and hoping to find an agent soon.
Leave a comment