A Wednesday Without Comics: What to Catch Up On During Social Distancing
The first thing I do every Wednesday morning is turn on my Kindle and download all the new comics from my pull list. And even though I know I'll fall behind, it's a spark of joy. Then I check the new trades on InStockTrades.com to put together an order, looking at the new graphic novels that week. But today, I reached for my Kindle and remembered that all of my pull titles had been postponed. Then I checked InStockTrades.com, and their new releases were still the ones from last week. The Diamond Delay is here. But there are still comics out there. It's time to break out the backstock! While you're social distancing, here are some great series to catch up as you wait for Wednesday comics to return.
Social Distancing to Mars and Back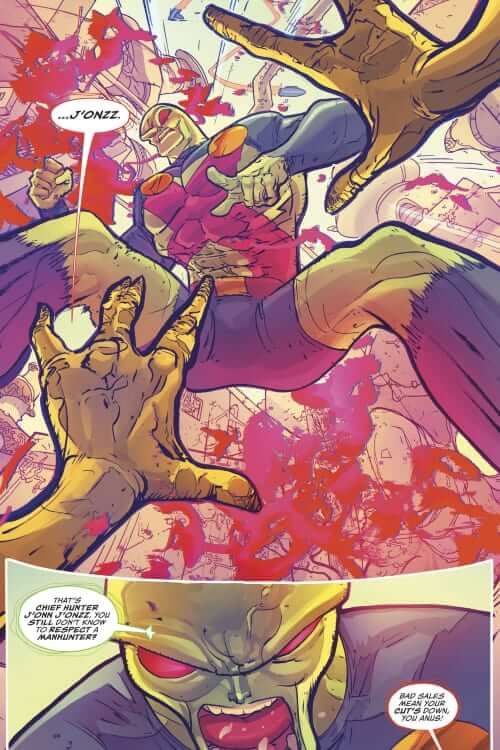 (Image: Martian Manhunter #1, DC Comics)
DC Comics released several Maxi-Series in the last year, and a lot of those are going to make it to this list. The first social distancing comics you should read? Martian Manhunter. Writer Steve Orlando and artist Riley Rossmo killed it on this book. Martian Manhunter just wrapped in February, so all 12 issues are available to buy right now. Think of this series as Martian Manhunter: Year One. J'onn J'onzz's backstory is entirely unexpected, and I don't want to give too much away, but J'onn is not the hero you think he is. His time on Mars, before being transported to Earth against his will, is Shakespeare-level shelf-sabotage.
And then there's Rossmo's art. The insanity of his style is addicting. Rossmo's exaggerations are perfect for a book about a shapeshifting alien, but he also brings that style to the human characters, especially John Jones's partner, Diane Meade. Meade is as interesting and awesome of a character as J'onn. She's the tough cop, yes, but she's also a dedicated partner, even as she learns the secrets about who her partner "John Jones" really is. Martian Manhunter is by far one of my favorite books of the last year. I'm definitely going to double dip and buy the trade when it's available. One day. When comics return.
Now is the Best Time to Dive into Dawn of X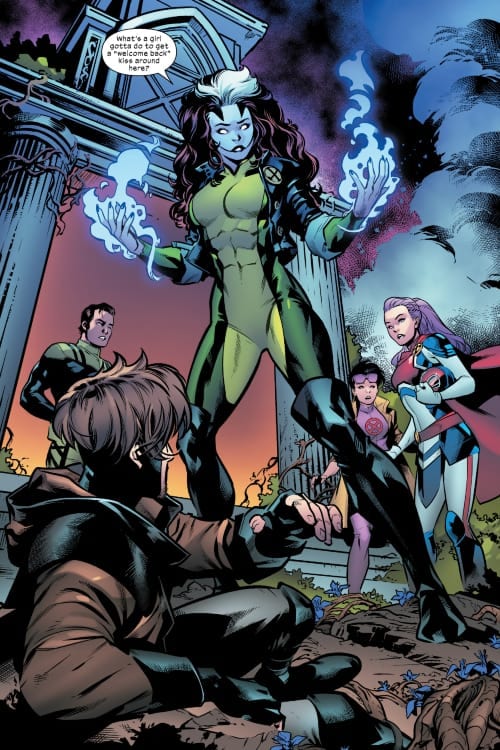 (Image: Excalibur #5, Marvel Comics)
If you've been following our site or my reviews, you know I'm unashamed of my love for this new era of X-Men comics, and yes, I plan on rereading all of it while social distancing. If you haven't started reading them—well, you have nothing to do for the next, possibly, eighteen months. Sure, it's a massive undertaking, but thankfully, there's a great guide from HowToRead.Me. To make it even easier to enjoy, House of X and Powers of X are available on Marvel and Comixology Unlimited.
What makes Dawn of X so unique? This isn't the first time that mutants tried creating their own island nation. The difference now is that the nation of Krakoa has something to trade with the rest of the world. And it's something the rest of the world desperately wants to buy: medications. The Krakoan plants can cure most human maladies, so of course, countries are going to line up to recognize the new mutant civilization.
The other difference? Unity. It's not just the X-Men or just Magneto. This time they are all together. The "Quiet Council" has both heroes and villains. The three main leaders of Krakoa? Professor X, of course. Magneto, who has been both hero and villain almost equally. And Apocalypse—a definitive villain until now. Now Apocalypse is guiding Excalibur. Mr. Sinister is mentoring the Hellions. Kate Pryde and Emma Frost are BFFs. It's an unprecedented time. And there are so many comics in Dawn of X now that you won't even notice the social distancing for like four whole days.
When Comics Become a Beautiful Sonata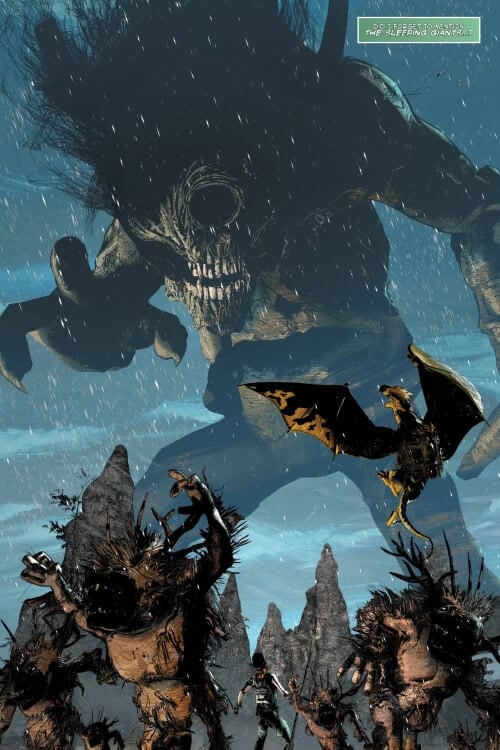 (Image: Sonata #1, Image/Skybound Comics)
Sonata (noun): (1) a composition for an instrumental soloist, often with piano accompaniment, typically in several movements with one or more in sonata form. (2) A beautiful steampunk/sci-fi/fantasy series by David Hine and Brian Haberlin. One of the hardest aspects of social distancing is the unchanging scenery, but luckily, comics can alleviate that a little. Sonata is the best series to escape to. Haberlin, the artist and co-writer on Sonata, delivers beautiful landscapes on a fantasy planet. Then there's the creatures, the technology, and the ancient ruins. As beautiful as the art is, Hine and Haberlin tell an even more powerful story. It's like Saga and Monstress drank some fine wine and, well, now we have Sonata. It's one of the best new comics in the last decade. You can even read the first issue for free!
They Can Take Our Comics, But They Can Never Take Our Freedom Fighters!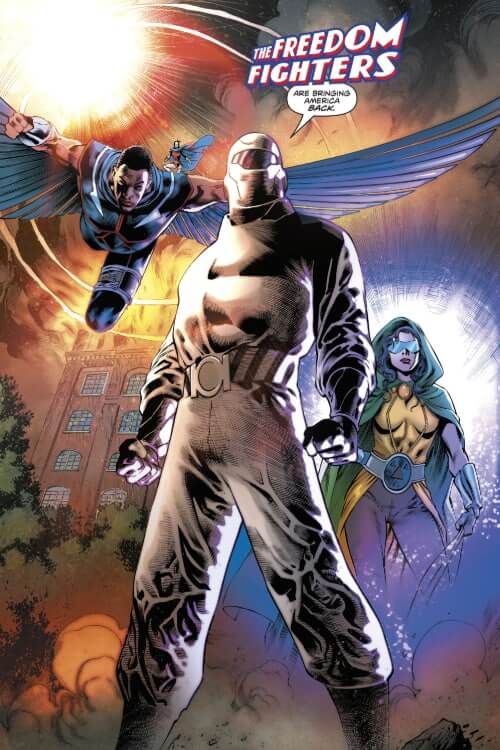 (Image: Freedom Fighters #1, DC Comics)
Need a little burst of inspiration right now? DC Comics has you covered. Freedom Fighters takes a small piece of Grant Morrison's Multiversity. Earth-X: The universe where the Nazis won World War II with their own Superman, and the heroes of the United States were slaughtered. Germany takes over America and imposes fascism. But generations later, a new generation of Freedom Fighters emerges, and they revive the Spirit of America. In the comics, social distancing is enforced, not because of a highly infectious virus, but because, you know, Nazis. Seeing people come together again, even if it's just in some comic panels? That's a bit of hope. And since the 12-issue maxi-series ended not too long ago, you can read the Robert Venditti and Eddy Barrows epic in its glorious completion.
Social Distancing with the Savage Avengers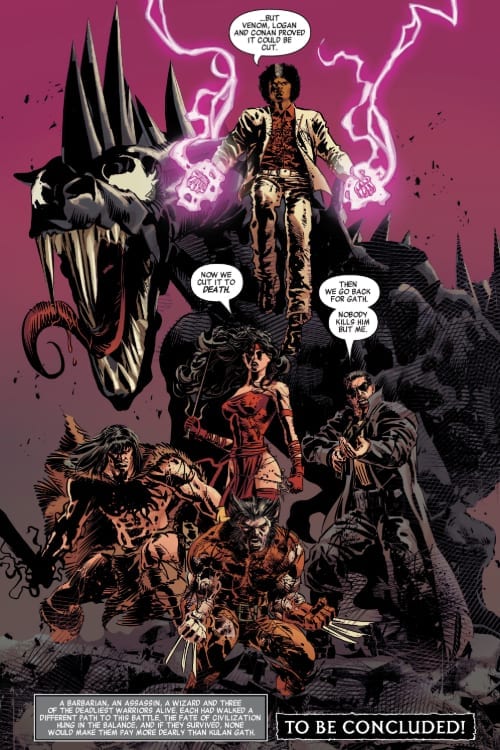 (Image: Savage Avengers #4)
Gerry Duggan is writing a few Marvel Comics these days (at least he'll be pretty busy while social distancing), including Cable and The Marauders. He also has his indie series, Dead Eyes. But his best book not available in stores right now? Savage Avengers. The first arch of series brought together a team of some the most violent characters in Marvel: Punisher, Electra, Wolverine, Venom, and now, Conan the Barbarian. Doctor Voodoo also joined this team, though not as vicious a killer as the others. With Mike Deodato's art accompanying Duggan's writing, it was a fantasy epic.
But Deodato decided to take a break from superhero comics to work on some indie projects. Luckily, Patch Zircher can also bring the epic fantasy to life, even if his style is much different than Deodato's. And the team has grown, now, to include Doctor Strange and Doctor Doom. DOCTOR DOOM! The series is just eleven issues in, so it's won't be challenging to catch up with it. Then, when comic shops open their doors again, you can pick up with the next arch.
While Social Distancing, it's Important to Practice SFSX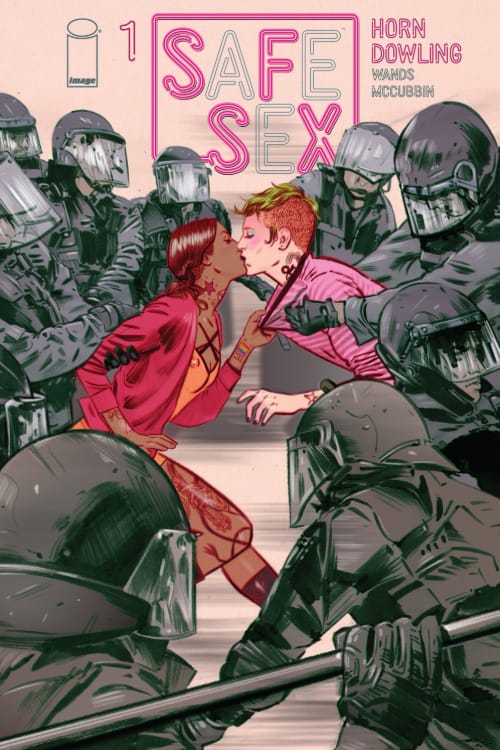 The only image safe for publication. (Image, SFSX #1, Image Comics) 
Around Christmas and early next year, we're going to see the first wave of Coronavirus babies. Or, as my dad calls them, "Coronnials." Yes, there's a lot more, let's say, activities, we can do than read comics while social distancing. But since we're on the subject, how about catching up on one of the most original takes on sex and society. If Sonata is the result of Monstress and Saga drinking fine wine, SFSX is Bitch Planet and Dead Eyes after shots of grappa, tequila, and whiskey. And not the fancy kinds—the ones that burn like sandpaper down your esophagus. Tina Horn, an established kink writer, gives us a story that's sometimes sexy, sometimes disgusting, but always interesting. And just like Sonata, Image made issue one available for free!
Investigate the Truth of Comics with Lois Lane
(Image: Lois Lane #1, DC Comics)
Three more issues. That's it—Lois Lane, the brilliant Noir-style hard journalist tale from Greg Rucka and Mike Perkins, had just three comics left before social distancing started. In an age where false information circles us like a tornado, a classic "get to the truth" story is refreshing. Lois Lane is a badass character. Her days of being nothing more than "Superman's girlfriend" are over. Forget Batman or Superman or Wonder Woman. The hero we need in this age is Lois Lane, and her maxi-series proves why.
The Once and Future Grandma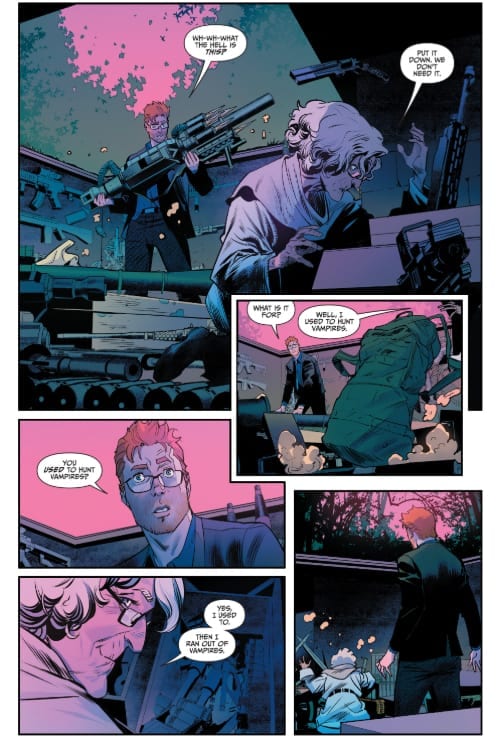 (Image: Once and Future #1, Boom! Comics)
Most every person under the age of 50 has at least one memory of their grandmother babysitting them while their parents worked. We remember the grandmas and grannies that took care of us. And don't we all want that now? Just a bowl of pastina from Granny with butter, salt, milk, and a hug? (Note: Do not hug your grandma right now). And don't we all remember joining grandma on her quest to fight white supremacists who want to resurrect King Arthur to purify England? No? Oh, right, that's the plot of Once and Future, featuring the most kick-ass grandma in comics history. Keiron Gillen and Dan Mora's modern sword and sorcery story is brilliant. If you need comics to comfort you during social distancing, check out Once and Future.
While Social Distancing, it's imperative that You Stay in Your  (Hill) House (Comics)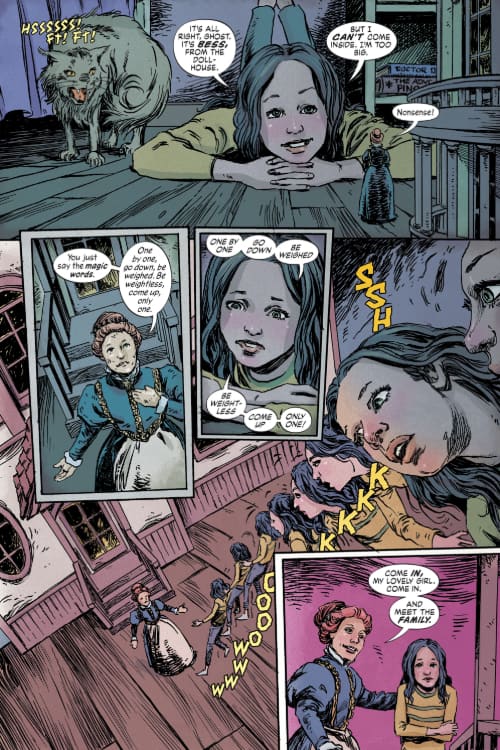 (Image: The Dollhouse Family #1, DC Black Label Comics)
After DC Comics saw massive success with the pop-up imprint Young Animal, they created two new ones: Wonder Comics, curated by Brian Michael Bendis, and Hill House Comics, curated by, of course, horror writer Joe Hill. I haven't read enough Wonder Comics to comment, but Hill House? Every series is brilliant. Basketful of Heads is as crazy as the title implies. The Low, Low Woods is an atmospheric horror movie in comic form. Daphne Byrne is a haunting historical horror. Plunge gives Dan Simmons's Arctic horror The Terror a run for its money.
But the best series is The Dollhouse Family. Mike Carey's multi-generational demonic thriller, about a possessed dollhouse that imprisons its victims, is nerve-wracking. And sure, maybe you're thinking, "I do not want to read comics about being trapped forever in a tiny house while I'm social distancing in my tiny house," but it's worth it.
When Social Distancing Ends, We'll be Living in an Undiscovered Country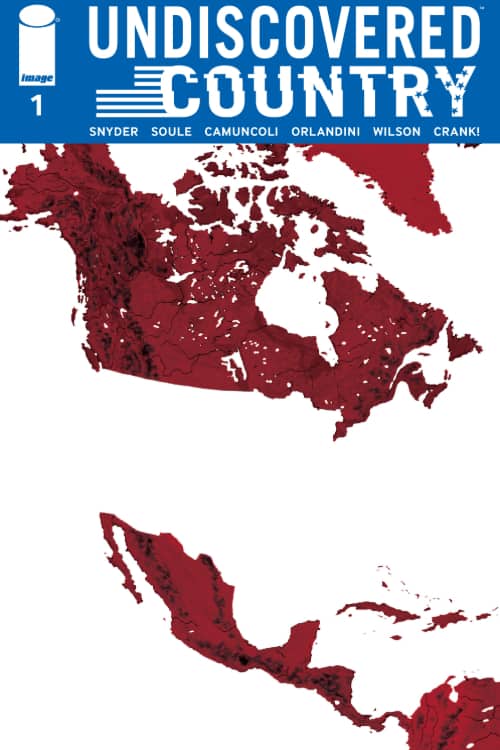 (Image: Undiscovered Country #1, Image Comics)
Okay. This is one of those bizarre coincidences that makes you think the writers and artists knew a pandemic was coming. In Charles Soule and Scott Snyder's Undiscovered Country, the former United States walled itself off from the rest of the world, cutting off all communication. Thirty years later, there's a worldwide pandemic. Yep. But it's such a good series. Especially with Giuseppe Camuncoli and his team of artists. There are only five issues so far, but the series is already such a hit that there was a bidding war for the film rights. One day, after social distancing ends and we've read all of the comics, we'll get to see New Republic Pictures' Undiscovered Country.
Now that we're in April, and we have at least 30 days to go, what comics will you catch up on?
(Featured Image: Undiscovered Country #3, Image Comics)
Roman Colombo finished his MFA in 2010 and now teaches writing and graphic novel literature at various Philadelphia colleges. His first novel, Trading Saints for Sinners, was published in 2014. He's currently working on his next novel and hoping to find an agent soon.
Leave a comment