Animal Crossing Items On Ebay Become A Secondhand Market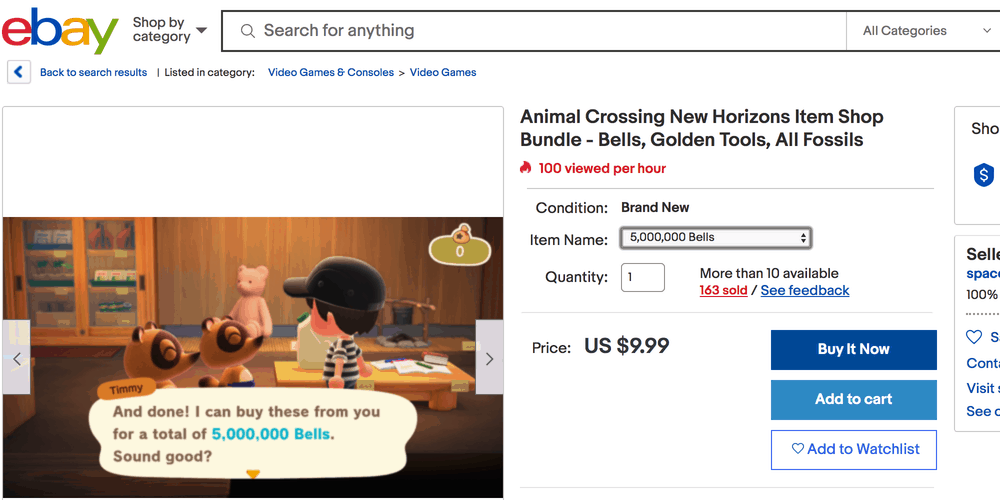 There are a ton of things to do in Animal Crossing: New Horizons. The game features things like places to fish, fruit to collect, and items to build. All of these things can be sold for bells, the game's currency. The object of the game isn't to make money, but bells make projects and items available for purchase obtainable. It's no surprise that people will go out of there way to make more money in a game to access more content. It's the primary function of microtransactions: get people who want items in a game to spend real money. Well, there are no microtransactions in Animal Crossing yet, but a new market is emerging. A number of Animal Crossing items on eBay provide buyers with bells, rare items, and in-game resources for real-life money. 
Why People are Buying
Animal Crossing
Items on eBay
Image Credit: Nintendo and eBay
It's sort of funny to cover news about an Animal Crossing black market on eBay. I didn't necessarily see this coming, especially with the added perks of online play providing players with a space to share resources. I guess the key thing to remember is that people are literally crazy about this game. The history of Animal Crossing is a story of a nearly failed game idea turning into an international phenomenon. For the latest entry, the obsession only seems to grow. In 10 days, Japanese sales of Animal Crossing: New Horizons topped 2.6 million copies. 1.88 million of those copies sold in the first three days after release. Seriously, people love this game.
I love it too, but I don't know if I would go so far to pay someone on eBay for items. One listing I found sells a bundle of materials for "gold tools" at $4. That's not some insane price, but still, I'd rather play the game than spend money to get what I need in an instant. 
Could Nintendo Add Microtransactions at a Later Date?
Just using the "gold tools" bundle I mentioned above as an example, Animal Crossing items on eBay sell very well. That single listing sold over 250 materials bundles. The listing is averaging over 55 views an hour. Another listing, in which buyers can purchase five million bells, is posted for $10. The sales numbers don't lie: 163 sold and over 100 views an hour. Players want these easy-to-obtain items options. So, could Nintendo add microtransactions at a later date?
Early rumors pointed to Nintendo planning for microtransactions. A leak showed the presence of some sort of system for purchasing Nook Miles, an in-game reward system that provides access to items and trips to other islands. For now, there is no microtransaction system in Animal Crossing: New Horizons. Could that change with a market developing for Animal Crossing items on eBay? My instinct says yes. If people are paying for these things on eBay, then Nintendo would much rather make that money themselves. 
Do
Animal Crossing
Items on eBay Ruin the Game?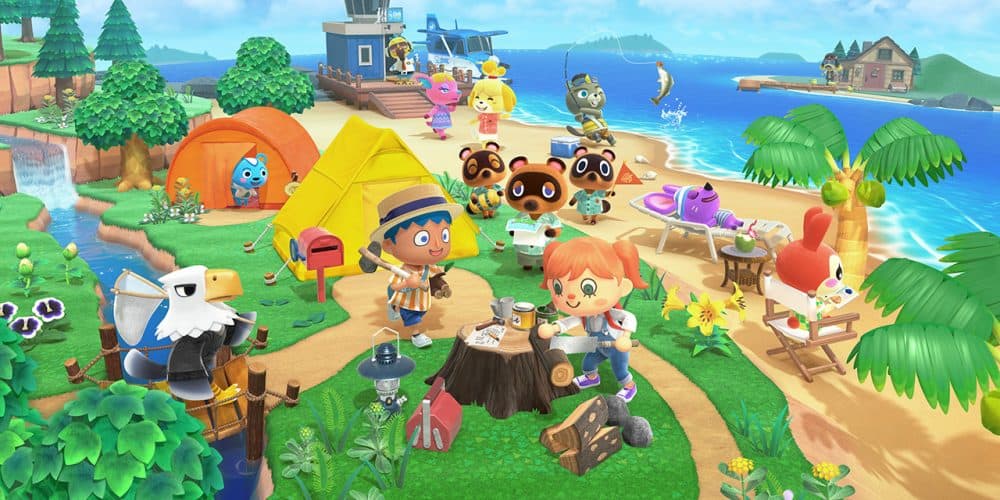 Image Credit: Nintendo
There are plenty of other ways to cheat in Animal Crossing. For example, plenty of players time jump, manipulating the game's real-time clock. There are other things, such as using bugs to multiple items and other things that end up patched in updates that people enjoyed in the past games. For the most part, the game is whatever you make it. Others using glitches to make more money doesn't necessarily affect your game. Still, seeing others build extravagant islands using these manipulation tactics can convince others to do the same.
I don't time jump in Animal Crossing, no matter how much my wife begs me so we can build up our island quicker. In a lot of ways, it's an easy way to get more resources and money, so why not do it? I guess I'm a purist. According to some highly successful eBay listings, I guess others agree with my wife. It's best to play Animal Crossing: New Horizons to your heart's desire. The game lacks a real purpose for that very reason. Nintendo certainly doesn't condone black market item sales or time jumping, but they know it happens. 
Do you see a problem with Animal Crossing items on eBay or does it not bother you? Let us know in the comments! If you have other thoughts on the game, then let us know too! Thanks for reading Comic Years for all things gaming, comics, and pop culture.
Featured Image Credit: Nintendo and eBay
Taylor is the Gaming Editor of Comic Years and a lifelong fan of video games. He holds two degrees in Political Communication and wrote a Master's Thesis on resistance movements, race, and the exploitation of college athletes. His wife and two Toy Australian Sheppards keep him sane.
Leave a comment