Peter David X-Men Legends Story Brings Back His Classic Run This July
When Marvel announced X-Men: Legends, an anthology series that explores lost chapters of Mutant history, they promised that legendary creators would return too. And so far, they've held that promise. Out the gate, we got Fabian Nicieza returning to a lost chapter, clearing up mysteries about Adam X. Next, we're getting Walt and Louise Simonson – as in, the "we created Apocalypse and Archangel" Simonsons. But after that power couple comes one of the most prolific X-Men writers after Chris Claremont. Peter David is writing an X-Men Legends Story!
What Will Peter David Explore In His X-Men: Legends Story?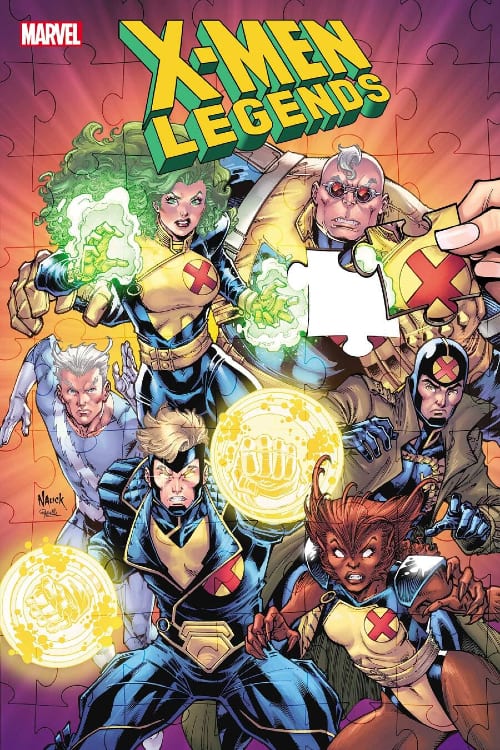 Well, if this isn't meta…(Image: X-Men: Legends #5, Marvel Comics)
This new missing piece of X-Men lore takes place between X-Factor (Vol 1) #75-76. As described in the announcement:
Mutants have taken hostages, and X-Factor is taking the blame! But before judgment is rendered for Polaris, Havok, Wolfsbane, Strong Guy, Quicksilver, and Multiple Man, Val Cooper and X-Factor will take the stand! But who's telling the truth, and what really went down at the Latverian Embassy? It all makes sense…from a certain point of view.
And when Peter David went to write his X-Men: Legends story, he fell right back in. "X-Factor are old friends of mine, and I was delighted when Marvel gave me the opportunity to revisit them," David says in the announcement. "I have to admit, I was a little concerned since so many years have passed. But the moment I started writing them it was like no time had gone by it all."
David hasn't written X-Factor since his 2014 All-New X-Factor run. And currently, X-Factor in the Dawn of X era has a great writer, Leah Williams, who has proven to be a worthy successor of the title.  The Hope Summers sanctioned investigation team led by Northstar both honors David's style while forging a new path.
That's why Peter David returning for an X-Men: Legends story is great. Actually, it's why the series is great. Everyone wants their favorite creators to return to their beloved comics. With X-Men Legends, we can have Leah Williams doing new and wonderful things with her X-Factor while Peter David explores his, well, legendary run in X-Men Legends. Have your comics and read them too.
Roman Colombo finished his MFA in 2010 and now teaches writing and graphic novel literature at various Philadelphia colleges. His first novel, Trading Saints for Sinners, was published in 2014. He's currently working on his next novel and hoping to find an agent soon.
Leave a comment