New Marvel Thunderbolts Aims For Redemption—New Official Roster Revealed
The Marvel Thunderbolts is set to return with the duo of writer Jim Zub and artist Sean Izaakse. The incredible partnership between Zub and Izaaksa sets out the return of the superhero team with THUNDERBOLTS #1.
This team, throughout the ages, has been ever-changing depending on the focus of the story. Baron Zemo led the first Marvel Thunderbolts in a rather villainous scheme. More Thunderbolts versions came to be afterward. Heroes like The Beetle, Kraven the Hunter, Agent Venom, and the Winter Soldier, to name a few, in one way or another, became part of this Marvel group.
Now, with this new Marvel Thunderbolts iteration, why did the team change? Who are the new members to look forward to? And more importantly, what should we expect in this new team?
In a recent interview with Marvel.com, Jim Zub and Sean Izaakse tell it all.
THUNDERBOLTS #1 variant cover by Paulo Siqueira
Gone is Fisk's Thunderbolts, enter redemption!
Spoiler warning! If you haven't read Marvel's DEVIL'S REIGN, consider yourself warned!
During the Devil's Reign storyline, Wilson Fisk (aka the Kingpin), being the mayor of New York, enforced a law that bans unsanctioned superhuman and vigilante activity called the "Powers Act." Kingpin made the Thunderbolts the only ones that could operate legally in New York since he used them as his enforcers. After Kingpin's fall, the law was still in effect. This leads Luke Cage to succeed Kingpin as mayor. He then used the team as a platform to put into good use and reform its team members.
Who leads this new Marvel Thunderbolts? It's no other than the master archer himself, Hawkeye. Both Clint Barton and Luke Cage know the value of the team as they both led it in the past. This feeling made them want to redeem its name after Kingpin used it for his own benefit. Head writer Jim Zub mentions the reason behind its catchphrase, "redeeming justice:"
"There have been a lot of different versions of the Thunderbolts over the past 25 years, lots of reinventions and unexpected team lineups but, at the heart of every one of those runs is the concept of redemption—villains trying to be heroes, heroes struggling against corruption or corrupted systems, or characters striving to pull themselves back from the brink of disaster."
After what Kingpin has done, we can expect that the upcoming Marvel Thunderbolts will move for redemption. To do this, Hawkeye will do anything to clear the name of the team. That includes gaining people's trust. Hopefully, his experiences in leading a superhero team will be brought to fruition in this new storyline.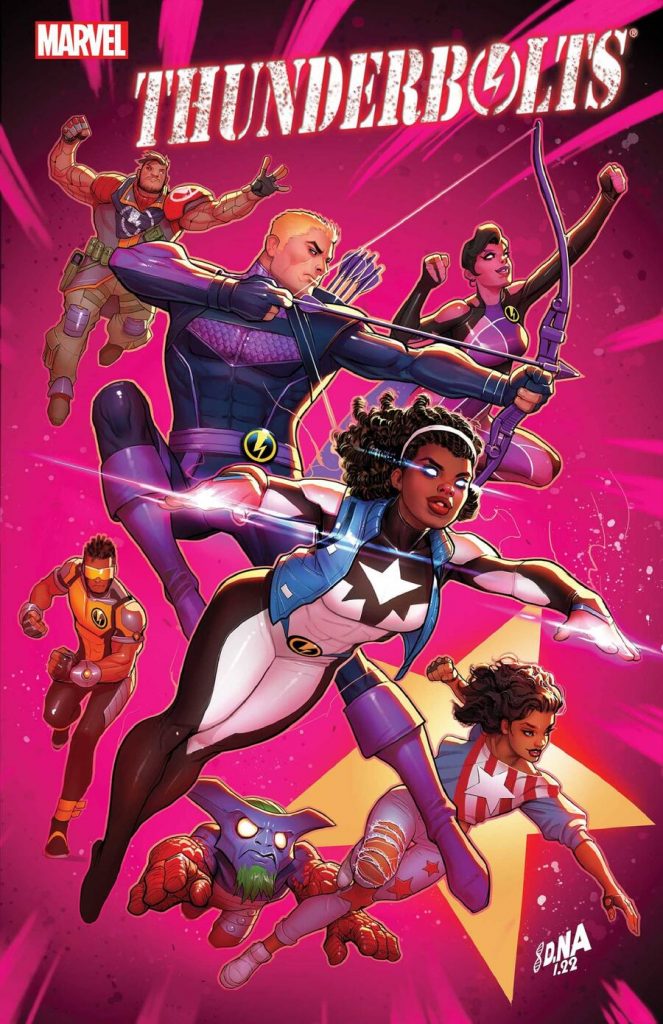 THUNDERBOLTS #1 cover by David Nakayama
Introducing the new rosters of Marvel Thunderbolts
Previous Marvel Thunderbolts are nothing like this current one. In the past, criminals, independent heroes, and government-sanctioned teams were the group's manpower. Each member has their own agenda and goal. Infamous characters like Crossbones, Taskmaster, Typhoid Mary, Shocker, Whiplash, Rhino, and Kraven are once part of Kingpin's Thunderbolts.
Luke Cage and Hawkeye choose the new Marvel Thunderbolts members. They wanted to build a group that would categorically rival that of Kingpin's. Enter the new heroes Spectrum, America Chavez, Persuasion, and Power Man. Zub gives us more details about these characters: 
"Clint Barton has called New York home for quite a while. Monica Rambeau is a longtime resident too. America Chavez recently moved to the city as part of her "Made in the USA" series. Persuasion (AKA Purple Man's daughter Kara Killgrave) has been hiding out in New York for some time. Victor Alvarez is local and since he carries the "Power Man" title Luke Cage doesn't want to see that go to waste either."
In the new Marvel Thunderbolts, Clint Barton (Hawkeye) serves as the team's captain. Monica Rambeau (Spectrum) has a power that can rival that of Captain Marvel. A multiverse-jumper in the guise of America Chavez who can create portals across the multiverse. Kara Killgrave (Persuasion) has the power of mind control as same as her father, Purple Man. Victor Alvarez (Power Man) is a local who has the ability to manipulate his Chi. And a new member named Gutsen Glory. Gusten Glory sports a 90s-inspired look, and Zub states we'll get to know more about him as the story progresses. 
"He's a military man festooned with high-tech weaponry and a mysterious past. We're leaning into a bunch of clichés at the start and then slowly peeling back those surface layers to show readers something a bit deeper as the series continues."
THUNDERBOLTS #1 will hit the digital and physical comic stands on the 31st of August! 
Paul is many things. He's a fan of anime, superheroes, and everything in between. He dedicates his downtime to annoying the heck out of his cats and dog.
Leave a comment