New Thunderbolts Team Isn't Really A Thunderbolts Team
When Thunderbolts #1 debuted in the early aughts, Kurt Busiek's story sent shockwaves through fandom. This bright and shining new team turned out to be a band of villains led by Baron Zemo. Since then, we've had a few different team iterations, but one thing remained consistent. They were all villains playing heroes. Some of them were searching for redemption. Others were forced to join the team. But they were all notorious criminals. Until now. Though the series bears the name, the new Thunderbolts team lacks the one thing that makes the series special: bad guys.
Who are the New Thunderbolts? And Should We Still Call Them That?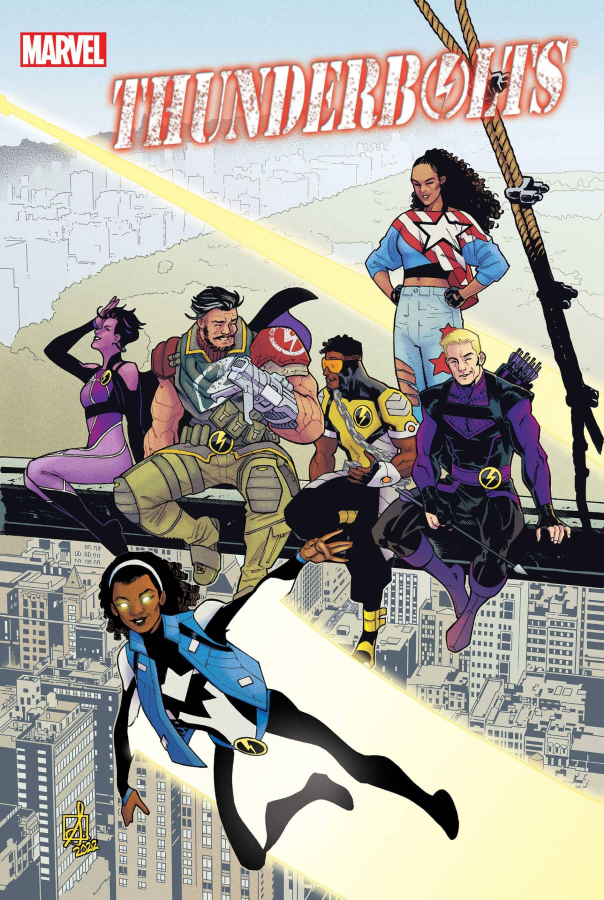 (Image: Marvel Comics)
The member coming closest to a villain is none other than Hawkeye. People forget that he was a villain before joining "Cap's Kooky Quartet." Alongside Clint Barton, we have Spectrum, Power Man (not Luke Cage, but a kid who idolizes him), America Chavez, and an obscure character named Persuasion (Purple Man's estranged daughter and former Alpha Flight member). Then we have a brand new character, who Marvel described as "an experienced cyber-soldier seeking new glory!" Maybe he was a villain wherever he's from?
So, what makes this new team a Thunderbolts team? As writer Jim Zub describes:
"I am so pumped to put Clint Barton, Monica Rambeau, America Chavez and a host of others through trials and tribulations aplenty as New York's only official superhero team. A lot of the ideas being unleashed in this series are things I've been wanting to do for years. Big action and big fun, drama, comedy and, of course, a few twists befitting the team that always keeps readers on their toes."
That doesn't tell us much, but some of the art and marketing give a little more away. The tagline, "Justice Like Lightning," has been changed to the incredibly dull and grammatical nightmare, "Redeeming Justice, like Lightning." The comma suggests that they, like the lightning, will also redeem justice. Given this is a superhero comic, there probably is a character that's just a lightning bolt who became self-aware. Okay, enough college English 101. The art, however, is not so dull, so let's take a look.
The New Thunderbolts Might Fight US Agent's Team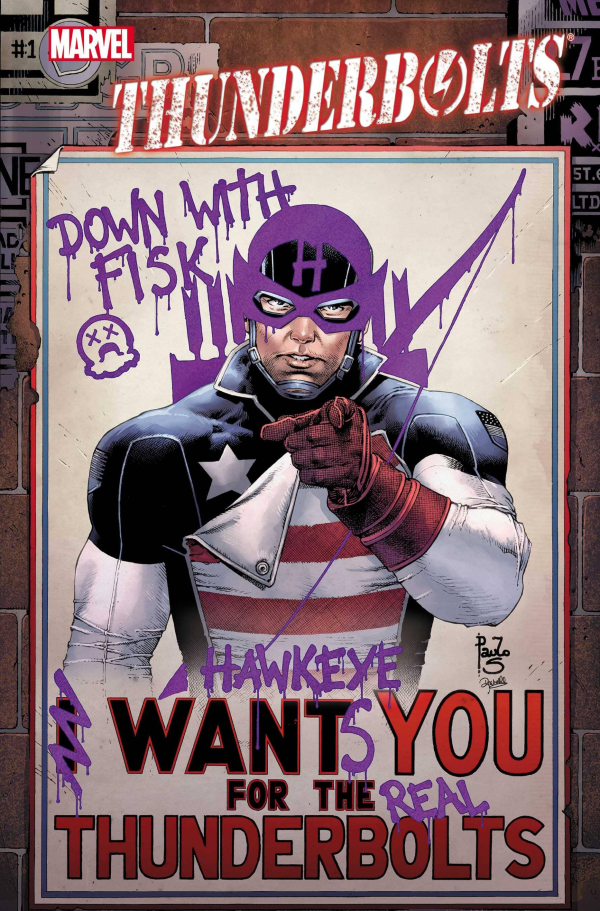 (Image: Marvel Comics)
During Devil's Reign, Wilson Fisk created a new Thunderbolts (after a failed attempt during King in Black) with US Agent leading a team consisting of Crossbones, Taskmaster, Shocker, Whiplash, Rhino, and Kraven the Hunter. Now that is a Thunderbolts team. But, if the cover above indicates anything, US Agent and his team will still be terrorizing New Yorkers. Except for Rhino, who did something awesome in Devil's Reign that I won't spoil here.
Both Hawkeye and US Agent have led different Thunderbolts teams before, but Hawkeye's new team seems to have a new goal. They want to restore New Yorkers' faith in a superhero team. Still, it's not a Thunderbolts team. That would be like randomly teaming up Spider-Man, Ghost Rider, Wolverine, and the Hulk and calling them the Fantastic Four.
Oh…wait. They did that.
Anyway, this team would have made sense as Defenders. The Defenders were always a little unconventional, and this team fits the bill. Plus, they could have called it Defenders Vs Thunderbolts. But Zub is no stranger to the title. A few years ago, he wrote a different new Thunderbolts, with a team consisting of Atlas, Moonstone, Kobik, the Beetle, and their leader – the Winter Soldier! Zub knows how to put together a Thunderbolts team, so this new one, while a significant departure, must have a good reason for using the name.
The first of the five-issue limited series Thunderbolts goes on sale May 25, 2022, anywhere you get comics.
Who would you put on a Thunderbolts team? Does it mess with what the team is supposed to be when they aren't actually villains? Share your thoughts, theories, and reactions in the comments below.
Featured image: Marvel Comics
Roman Colombo finished his MFA in 2010 and now teaches writing and graphic novel literature at various Philadelphia colleges. His first novel, Trading Saints for Sinners, was published in 2014. He's currently working on his next novel and hoping to find an agent soon.
Leave a comment