Who Is Rhino? A Look At The Villains In The Spider-Verse
One of the most highly anticipated movies this winter is Spider-Man: No Way Home. Fans are eager to find out what will happen to Tom Holland's Spider-Man after the events of Far From Home (*SPOILER*: Mysterio reveals to the world that Peter Parker is Spider-Man). We already got the action-packed trailer that revealed that Peter will not only have to face off with supervillains from his own universe, but from the other Spider-Verses as well (hello Doctor Octopus and Green Goblin). Given that the trailer also showed fans that the multiverse is going to be ripped open, it's likely we'll be seeing a lot more characters from both the Spider-Verse and the MCU, which is why me and my Comic Years colleague (check out Roman's post on "Who Is Electro"!) are going to be looking at a few of the supervillains that the webbed slinger has faced off with. In today's blog post, I'm asking: who is Rhino?
Who Is Rhino And What Are His Powers?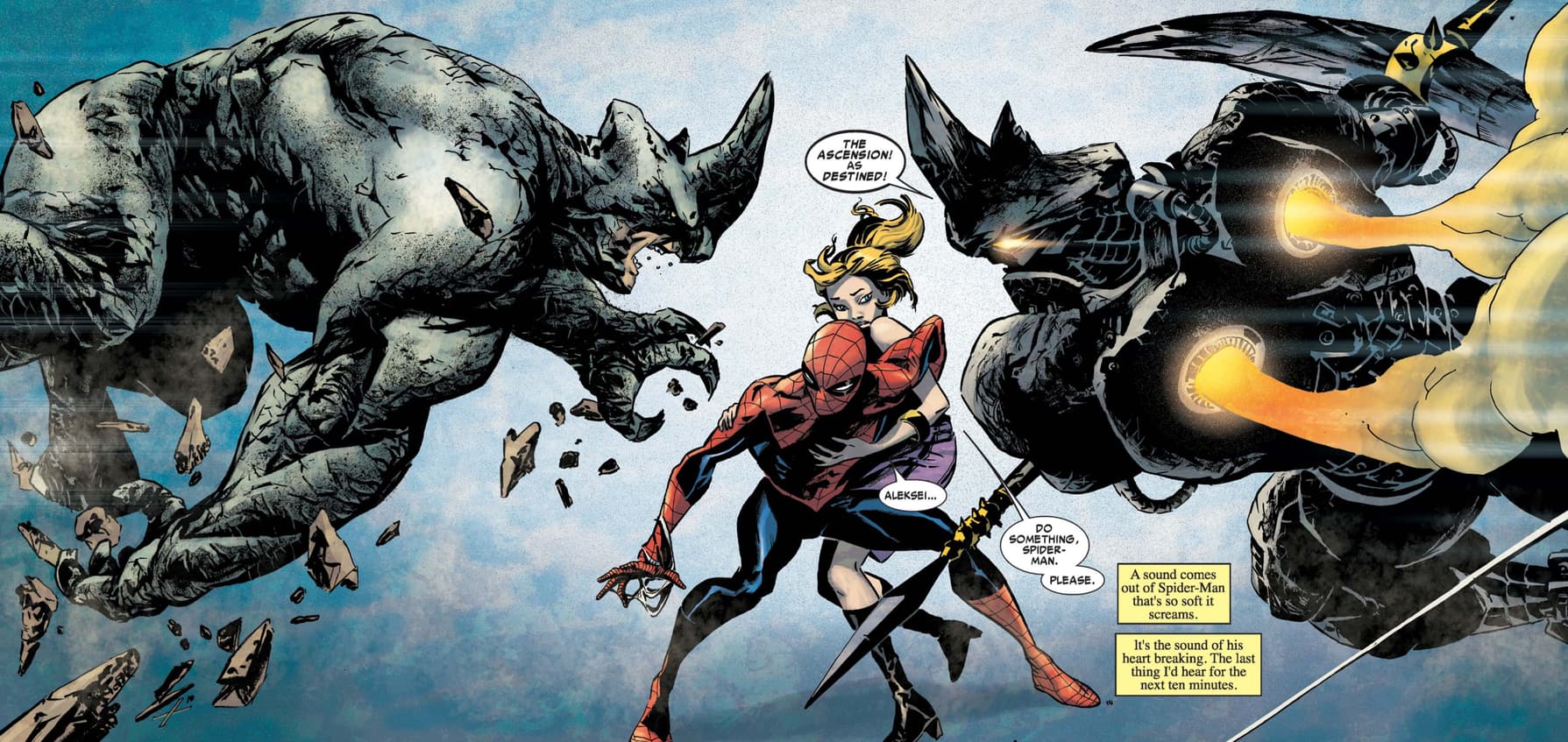 Image via Marvel Comics
Is it just me or are all the Spider-Man villains animals (case in point: Lizard and Vulture). Anyway, continuing on with our animalistic antagonists, Rhino (alias Aleksei Sytsevich) was a Russian thug and member of the Russian mafia who volunteered underwent a series of chemical and radiation treatments meant to give him an artificial skin covering that would grant superhuman strength. After the procedure, he destroyed the laboratory and scientists responsible for his transformation and used his newfound powers and strength to become a successful villain, butting heads (sometimes literally!) with Spider-Man and the Hulk.
Rhino has been described as "one of Spider-Man's dimmest villain" who's easily deceived, but that doesn't mean he isn't a worthy adversary. He wears a durable, acid-proof suit that resembles a rhinoceros and covers everything but his face. It includes two horns that are extremely strong and are capable of penetrating two-inch plate steel. The suit itself is resistant to damage, extreme temperatures, and high-caliber bullets. The first Rhino suit was originally bonded to Sytsevich's skin, and a second suit was created later and could be removed.
The "rhino treatments" make Sytsevich stronger and faster. He can run at high velocities, especially over short distances, and will often "charge" at his opponents, which usually causes great damage to both his enemies and the surrounding area. Luckily for Spider-Man, Rhino lacks agility in his movements and has a slow reaction time, which makes it difficult for him to change directions when running at high speeds. There was one point in the comics where Rhino was treated with more gamma radiation to make himself even more powerful.
The History of Rhino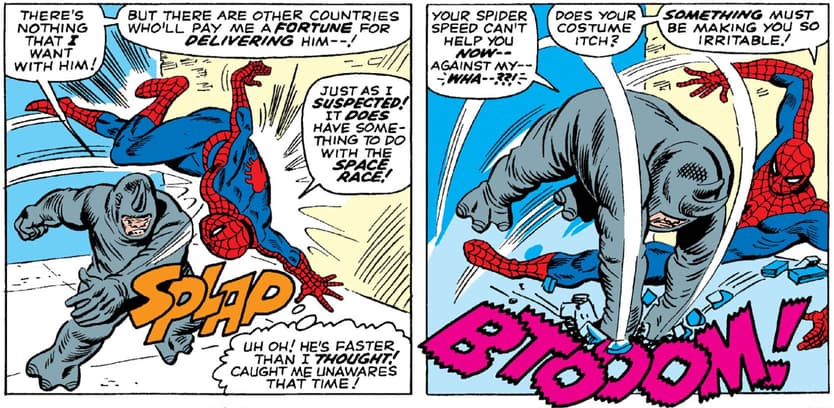 Image via Marvel Comics
Rhino was created by Stan Lee and artist John Romita Sr., and first debuted in The Amazing Spider-Man #41–43 (Oct.–Dec. 1966). He often went against Spider-Man and the Hulk, and has been part of many of the major supervillain teams, including the Emissaries of Evil, the Sinister Syndicate, and the Sinister Six. The character was very popular in the 1980s and 1990s, appearing in a solo capacity as well as a villain for hire.
There have been two other versions of the villain: Doctor Tramma's Rhino and Ultimate Rhino. The former Rhino doesn't appear to have an alias except for "Second Rhino." After Sytsevich refuses to continue as Rhino, Doctor Tramma recruits someone else. This second Rhino decides that Sytsevich much be destroyed since he's the original; this anonymous person figures that getting rid of the first Rhino will allow them to ascend. The latter Rhino, Ultimate Rhino, is Alex O'Hirn, a scientist who uses a suit of armor known as R.H.I.N.O. (Robotism Heuristic Intelligence Navigable Operative) that he stole from the United States military.
Rhino In Other Media
Image via ABC Television
Although Rhino has appeared in The Amazing Spider-Man 2 played by Paul Giamatti (and starring Andrew Garfield as the web-slinger), the Rhino character has made several appearances in other media.
Rhino In Television
Rhino's first television appearance was in the 1967 Spider-Man animated series, voiced by Ed McNamara. He's since appeared in several other animated series, including 1994's Spider-Man: The Animated Series (voiced by Don Stark) and Ultimate Spider-Man animated series (voiced by Max Mittelman and Daryl Sabara). Both the Aleksei Sytsevich version and the Alex O'Hirn version have been shown. The most recent appearance has been in the 2021 animated series Spidey and His Amazing Friends, voiced by Justin Shenkarow.
Rhino In Film
As mentioned before, Paul Giamatti played Rhino in 2014's The Amazing Spider-Man 2. In the film, Sytsevich created his Rhino armor "out of surplus Soviet-era military gear that Oscorp had sold back in the '80s."
Rhino In Video Games
Rhino has also been in several different video games featuring Spider-Man. His character frequently appears as a boss, and occasionally as a playable character. His first appearance was in 2000's Spider-Man video game, voiced by Dee Bradley Baker. More recently, the supervillain is seen in Insomniac Games' Marvel's Spider-Man series as well as the spin-off Spider-Man: Miles Morales video game.
Rhino As A Toy And Collectible
There have been a few different Rhino action figures who appeared in different collections, including the Spider-Man: The Animated Series line, Spider-Man Classics, and Marvel Legends series. The villain has also been reproduced in mini-bust form by Art Asylum as part of their Rogues Gallery collection, and as both a bust and statue by Bowen Designs. He's also been made into a comiquette statue by Sideshow Collectibles.
Rhino In Live Performances 
The supervillain also made an appearance in the Marvel Universe: LIVE! arena show as a member of the Sinister Six.
Rhino In Novels
The character appears in Jim Butcher's novel Spider-Man: The Darkest Hours, in which he and the web slinger are forced to ally against Morlun's family. Peter Parker is living the good life, but it's turned upside down when he has to team up with the aforementioned villain as well as his old flame, Black Cat, to bring down a common enemy.
While we didn't see Rhino in the Spider-Man: No Way Home trailer, you can see him in action in this scene from The Amazing Spider-Man 2:
 Spider-Man: No Way Home, which will be in theaters everywhere December 17, 2021, where you may or may not see Rhino! 
Do you think Rhino could be the sixth member of the Sinister Six like my colleague Roman suggested? Let us know in the comments below!
Featured image via Sony Pictures
Keilin Huang is a freelance writer that likes the Oxford comma, reading from her neverending pile of books from the library, and Reeses peanut butter cups. She thanks her Dad for introducing her to his Superman comics and probably majored in Journalism because of Lois Lane. Contact her at [email protected]
Aleksei Sytsevich
Marvel
Rhino
Spider-Verse
Leave a comment