Winnie the Pooh Horror Film Aims To Ruin Our Childhood—Pooh and Piglet Out for Blood!
Holloween came early with a sneak peek from the newest Winnie the Pooh horror Film. Yep, you've read that right! Our friendly honey-loving bear will turn full slasher with Winnie the Pooh: Blood and Honey. The upcoming feature film is from the genius of director Rhys Frake-Waterfield. 
The golden bear is the creation of AA Milne and is well-known for its child-friendly plots and characters. Disney previously had exclusive rights to Milne's work and made its debut in 1926. The copyright lasted for 95 years before the anthropomorphic bear entered the public domain. Almost anyone can make reiterations for docile bear. But we didn't expect it to go down the horror lane!
Despite being out of Disney's copyright, there are still some pointers Waterfield had to consider. He was cautious in using the characters as Disney retains exclusive use of interpretations of Pooh and his friends. Waterfield says:
"We've tried to be extremely careful. We knew there was this line between that, and we knew what their copyright was and what they've done. So we did as much as we could to make sure was only based on the 1926 version of it." 
This is also why we won't be seeing Tigger, Eeyore, and their pals, as they are still within the copyright.
Dread Central was the first to announce this news on their website on the 24th of May. And since then, the internet has gone wild. It seems like the Winnie the Pooh horror film caught the attention of horror junkies with its stills.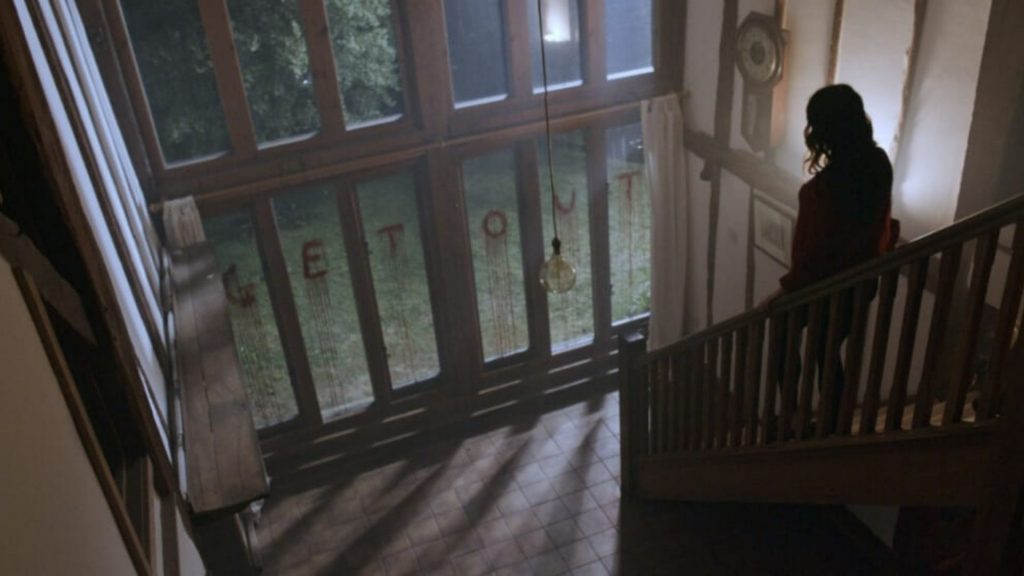 Dread Central
Dread Central
Winnie the Pooh horror film director: "Pooh and Piglet going on a rampage"
In a recent interview with Variety, the Winnie the Pooh horror film director said that the response to the stills has been crazy. The stills feature gory, dark, and intriguing scenarios in the film—reminiscent of many of its predecessor slasher films. Winnie the Pooh: Blood and Honey wrapped earlier this month.
Aside from this Winnie the Pooh horror film spin-off, Rhys Waterfield is also working on four more films, including Demonic Christmas Tree and Firenado. Despite the busy schedule, he assures everyone that the post-production for Honey and Blood is the top priority.
"Because of all the press and stuff, we're just going to start expediting the edit and getting it through post-production as fast as we can. But also, making sure it's still good. It's gonna be a high priority."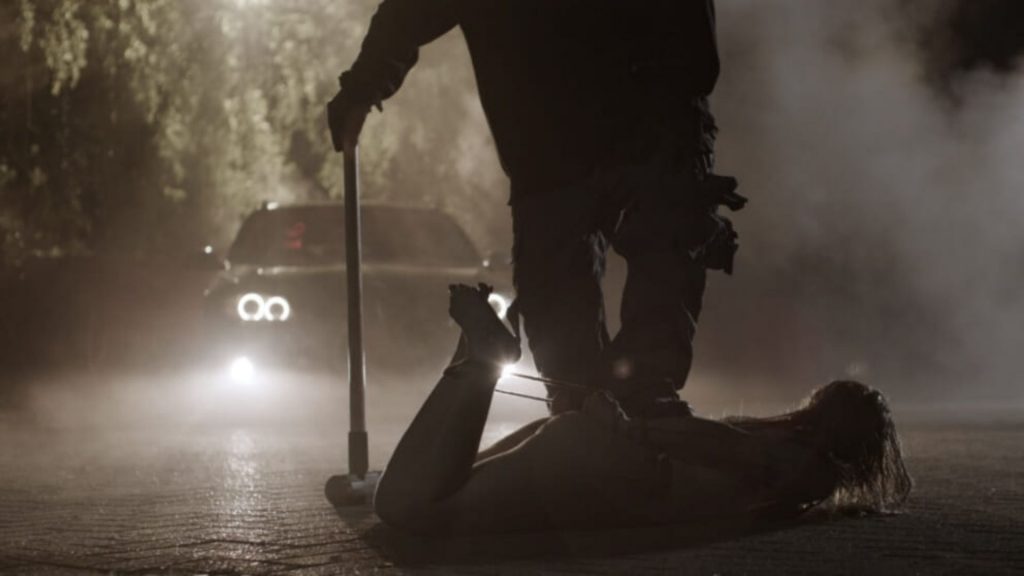 Dread Central
Waterfield also shares some information about how Pooh and Piglet went from friendly buddies to psycho-killing freaks. He says that the tandem became "the main villains…going on a rampage" when Christopher Robin left them for college. Since leaving them, Christopher Robin has failed to provide them with food which drives the duo to insanity.
"Because they've had to fend for themselves so much, they've essentially become feral, so they've gone back to their animal roots. They're no longer tame: they're like a vicious bear and pig who want to go around and try and find prey."
Thank heavens it wasn't Waterfield who directed Toy Story 3, or it would've been so different.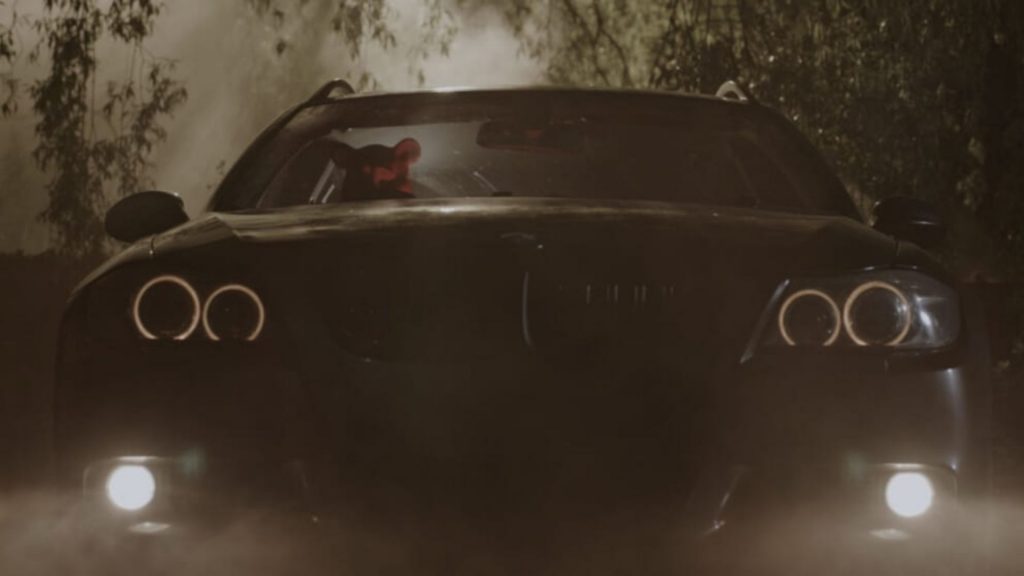 Dread Central
Rhys Frake-Waterfield shares the biggest struggle in making Honey and Blood
The upcoming Winnie the Pooh horror film took place in England for ten days. Being an indie film at its core, Waterfield says that the audiences "shouldn't be expecting this to be a Hollywood-level production." Even so, the concept behind the film was novel—something that made it click with its audiences.
In the same interview with Variety, Waterfield opens up about the major challenge he encountered in making this film. For him, it's striking the perfect balance between horror and comedy.
"When you try and do a film like this, and it's a really wacky concept, it's very easy to go down a route where nothing is scary and it's just really ridiculous and really, like, stupid. And we wanted to go between the two."
He explains the scene in one still where a woman was chilling in a jacuzzi with Pooh and Piglet lurking behind her. Waterfield says:
"She's having a good time and then Pooh and Piglet appear behind her, chloroform her, take her out of the jacuzzi and then kind of drive a car over her head," Waterfield said. "It's scary but there's also funny bits because there's shots of Winnie the Pooh in a car and seeing him with his little ears behind the wheel and like slowly going over there ."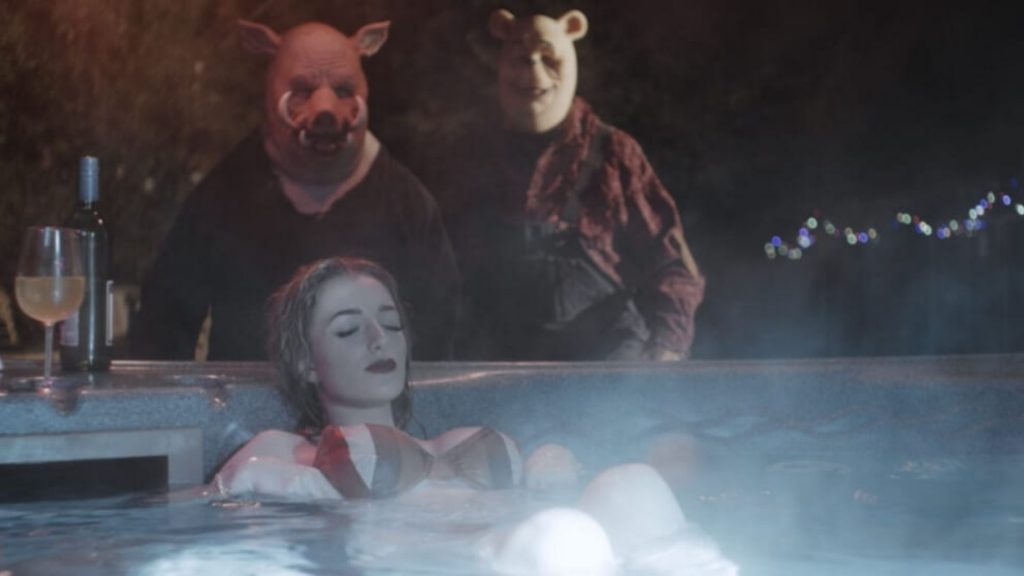 Dread Central
This Winnie the Pooh horror film is not a sequel or connected to its original version. So, better make kids steer away from this film, or else their childhood will be ruined way too soon. 
There is yet no official release date for Winnie the Pooh: Blood and Honey. 
Paul is many things. He's a fan of anime, superheroes, and everything in between. He dedicates his downtime to annoying the heck out of his cats and dog.
Leave a comment