Who Is América Chávez, The Interdimensional Traveler?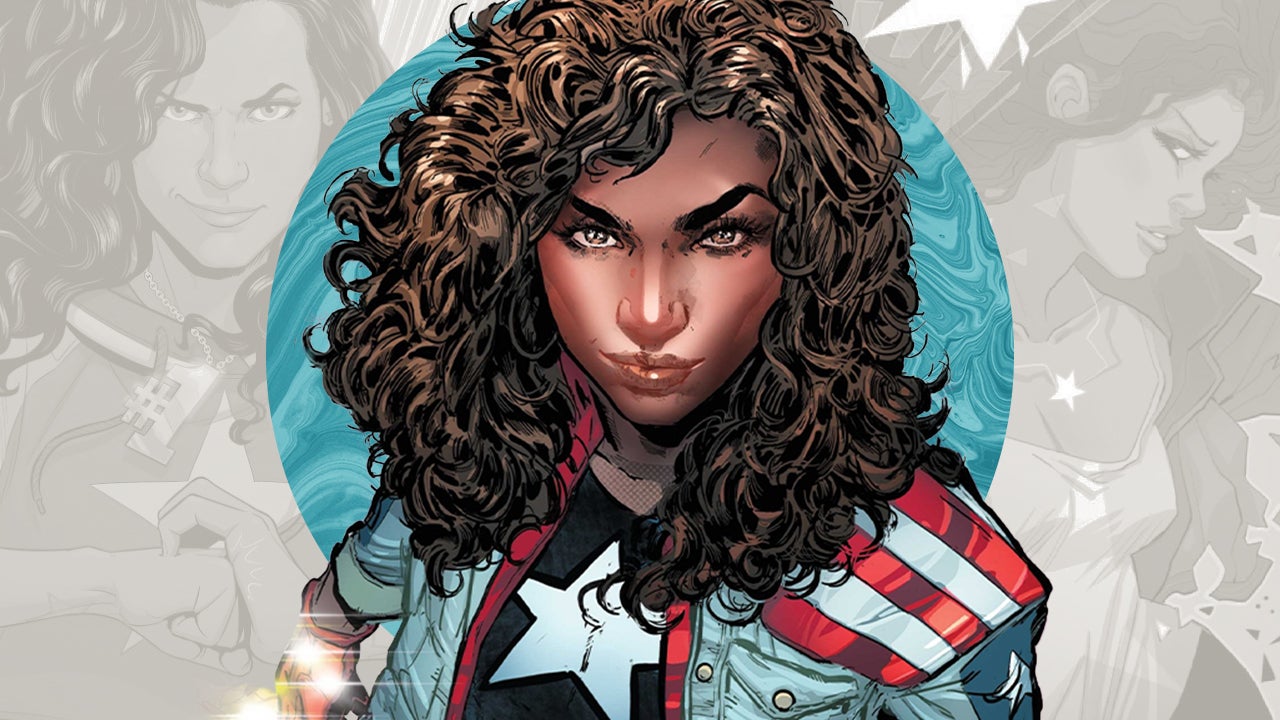 With the release of Doctor Strange 2, several questions have arisen, including who is America Chavez. We see how Doctor Strange does the impossible to protect this young woman, who has the strange ability to travel throughout the multiverse. This character is a new Marvel character for many, and they are right.
America Chavez has had several participations since her traumatic origins. She lost her two mothers. After a confrontation on an island, she opened a portal and escaped, but her two mothers did not survive. For many, this is why the character carried a banner of the freethought movement throughout the film.
America Chavez's appearance in Doctor Strange was likely no coincidence. Marvel may be already thinking about creating their series or movies of this character. We will have to wait to see what they do with him while learning more about this interdimensional traveler.
Who is America Chavez?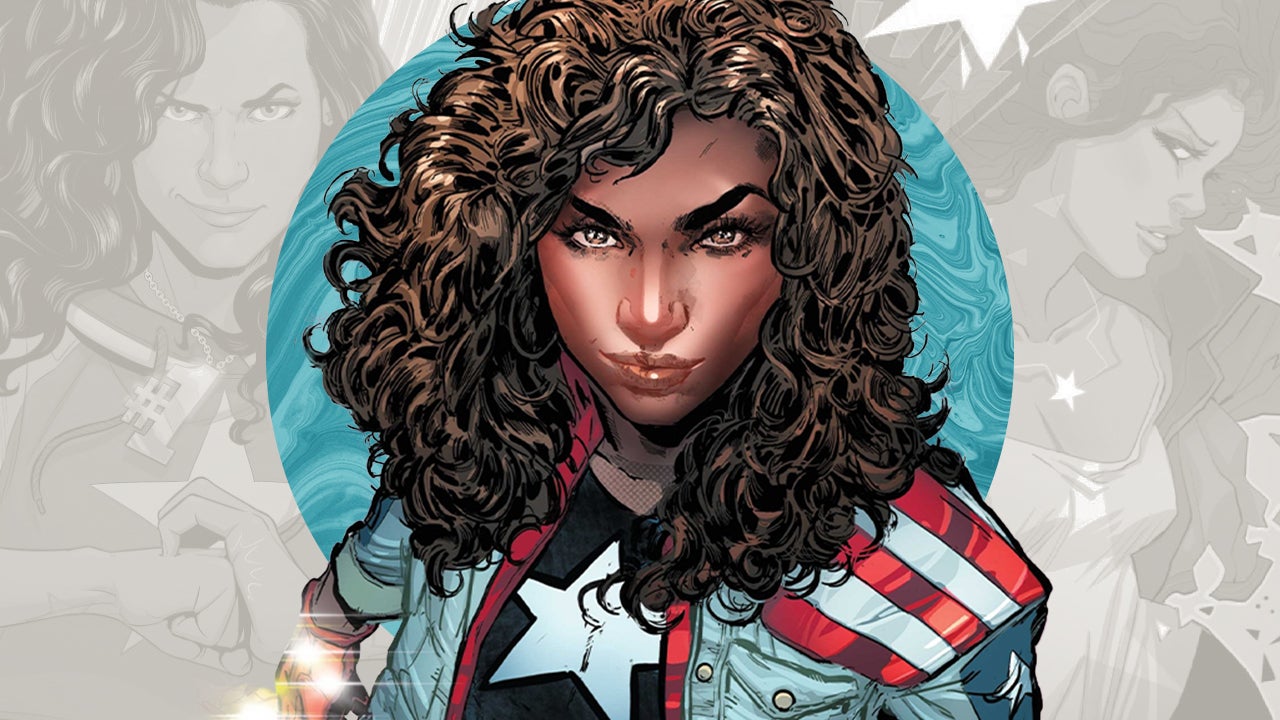 (Image: Marvel Comics)
America Chavez is a character who grew up with her two mothers, Amalia and Elena Chavez, and her sister Catalina. Her mothers were expert doctors dedicated to microbiology, and their goal was to cure their two daughters of a genetic disease. However, they began to demonstrate certain powers, including the opening of portals for their daughter America.
The four went to a private island of the multimillionaire Mr. Gales to supposedly cure the girls' illness. However, his plans were different because he wanted to boost their powers so that they could use them for his benefit. He even tries to convince the government to use these powers for war raids, among other things.
Upon learning of the plans of this subject, they decide to escape. However, Mr. Gales kills America's mother and wounds her sister Catalina. America opens a portal to run, and just when she jumps into it, Mr. Gales snatches Catalina from her hands.
America is left floating in the sea, while the island where she was is burned and her family. She is left without remembering anything due to the traumas caused by the events until a family finds her. The family takes her in, and to avoid legal problems, they declare that she is a distant relative and has nowhere to go.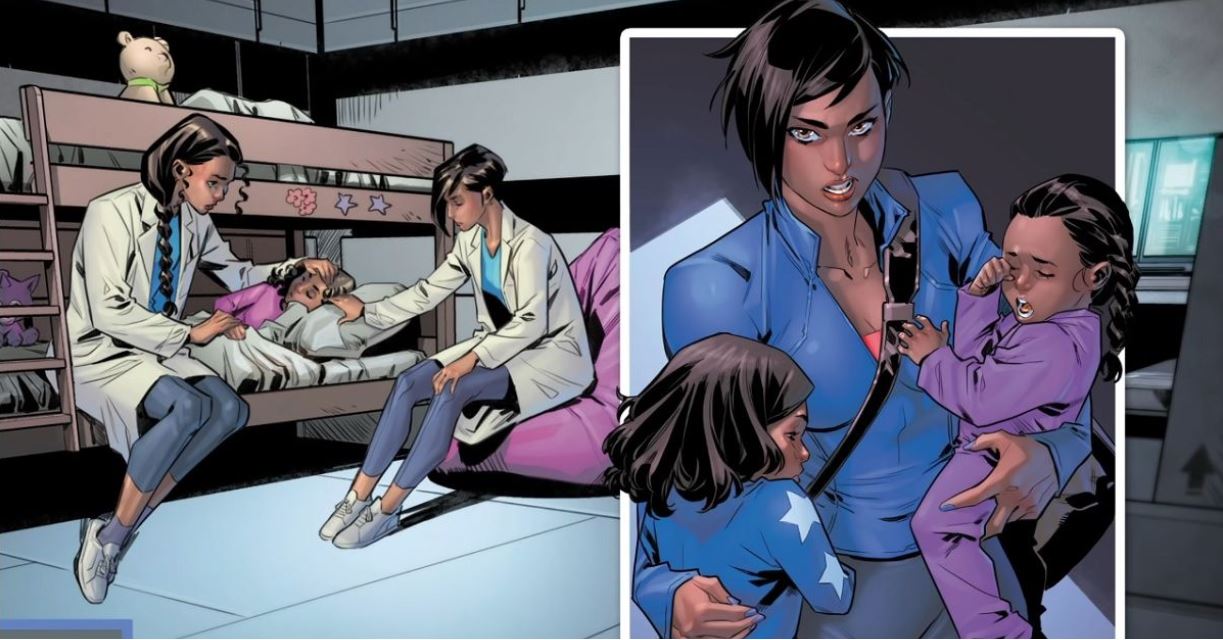 (Image: Marvel Comics)
America adopts the family's last name (Santana) for a while. Years after she was found, this girl remembered what happened and told her parents and her psychologist. The parents believed her, but the psychologist thought it was a manifestation of her earlier trauma.
She stayed with the family for a while but began a new life as a heroine that ended quickly. This change was because the Santana family wanted her to keep a low profile and not attract the attention of the government and local authorities. However, this young woman did not heed the warnings of her adoptive family and dedicated herself tonight to watchman activities.
Months later, she would leave this family, adopting the surname Chavez again. She continued her path as a superheroine sharing with the Teen Brigade and the Young Avengers. She fought alongside iconic characters, including an adult version of Loki and She Hulk.
Becoming a Superheroine
To know who is América Chávez, we have to learn about her first actions as a superheroine. This phase begins with Teen Brigade, being the youngest member. In this group, she undertook several adventures, such as the release of In-Betweener from a U.S. government detention center. With the information he provided, they stopped the young masters of evil from destroying the balance that regulates order and chaos. After traveling through different dimensions, the young woman adopts the nickname Miss America.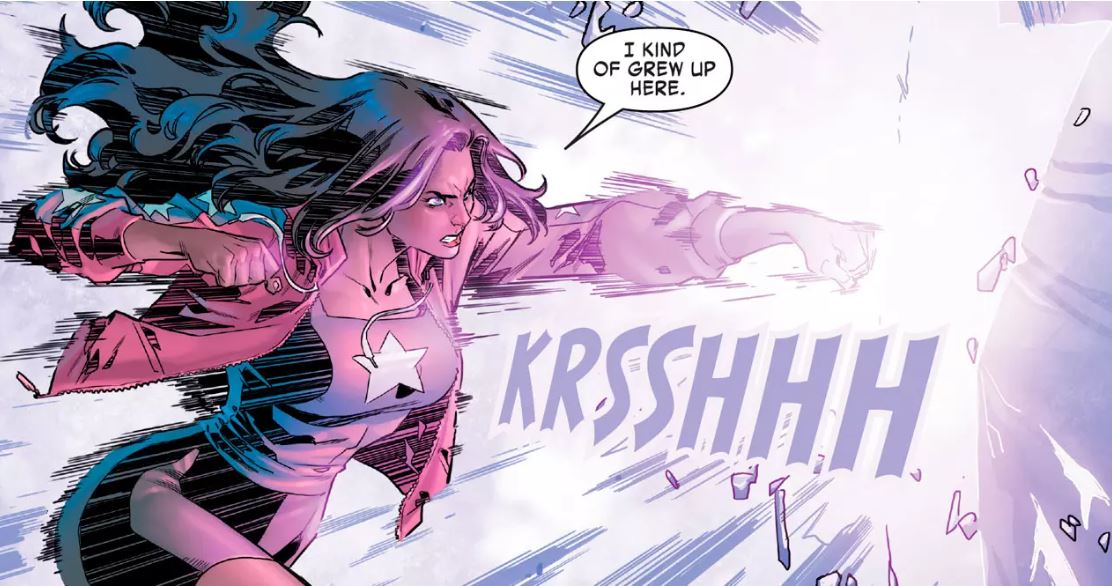 (Image: Marvel Comics)
She also prevented a young Loki from joining this same group of villains, although he would end up sending her to the 6th dimension, where she almost lost her life at the hands of Triboro. She returns to fight with the brigade against Braak'nhüd, Young Masters, and Doctor Doom. Shortly after that battle, she would leave this group of heroes to return to fight alone.
After Leaving the Teen Brigade
After leaving this team of superheroes, Miss America was approached by Loki. He tried to convince her to get the two of them to eliminate Wiccan. The heroine attacked him, offended, just for the simple proposition of the god, and set out to protect Wiccan, ignoring that it was just what Loki wanted at that moment.
Thus she would start a secret mission for her to protect Wiccan at all costs since he would later become the Demiurge. Wiccan, her boyfriend Hulking, Miss America, and Loki would form the Young Avengers, who would fight a multiverse parasite called Mother.
(Image: Marvel Comics)
This parasite revived all the parents of the young heroes, including the ice giant Laufey. Yes, so is Loki's father, too, which attacked the young avengers, but thanks to Miss America, they could get out of the mess. Then they would head to MJ's house, where Loki would tell them information about Mother, hiding some of his actions that influenced this situation.
They would fight with Mother on several occasions. However, in the final battle, Loki admits his guilt. He told them that the Young Avengers, Mother, and everything was his fault. This confession was due to the guilt he had felt for killing a younger version of himself in another universe.
Ending with all this, they were able to defeat Mother, saving all the universes and celebrating with a party, barbecue, and other heroes who had come to support them.
Collapse and Reconstruction of the Multiverse
After the collapse of the multiverse, Miss America was in the world of Arcadia with her foster mom Arcadian Lok and her foster sister Mico Minoru. They all formed a group of superheroes called the A-Force.
Miss America was fighting crime against the supervillains that threatened the multiverse with the A-Force and the young avengers. This battle ended when she threw a Megalodon through the shield. This event was considered a transgression for having endangered people under her care.
For this, Miss America was captured by Thor, belonging to Thor Cops, and then was sentenced to serve in the shield permanently. She had great adventures with several heroes such as Thor, Iron Man, and Hulk.
Powers of America Chavez
Once you know who America Chavez is, we have to learn about her powers. America has several abilities, besides being able to open interdimensional portals, which cross the different ones. She can fly and run at incredible speeds, almost reaching the speed of light. She possesses superhuman strength, which allows her to lift great weights with ease.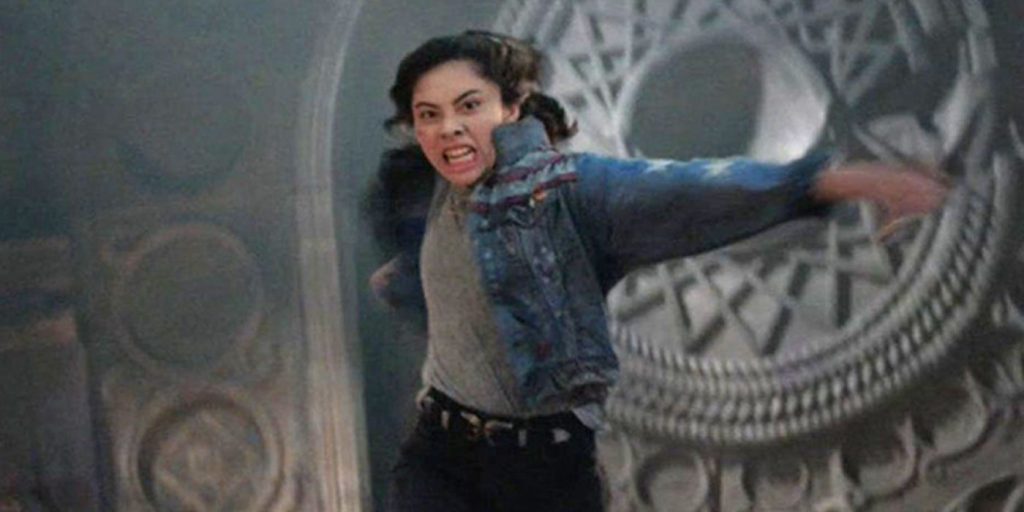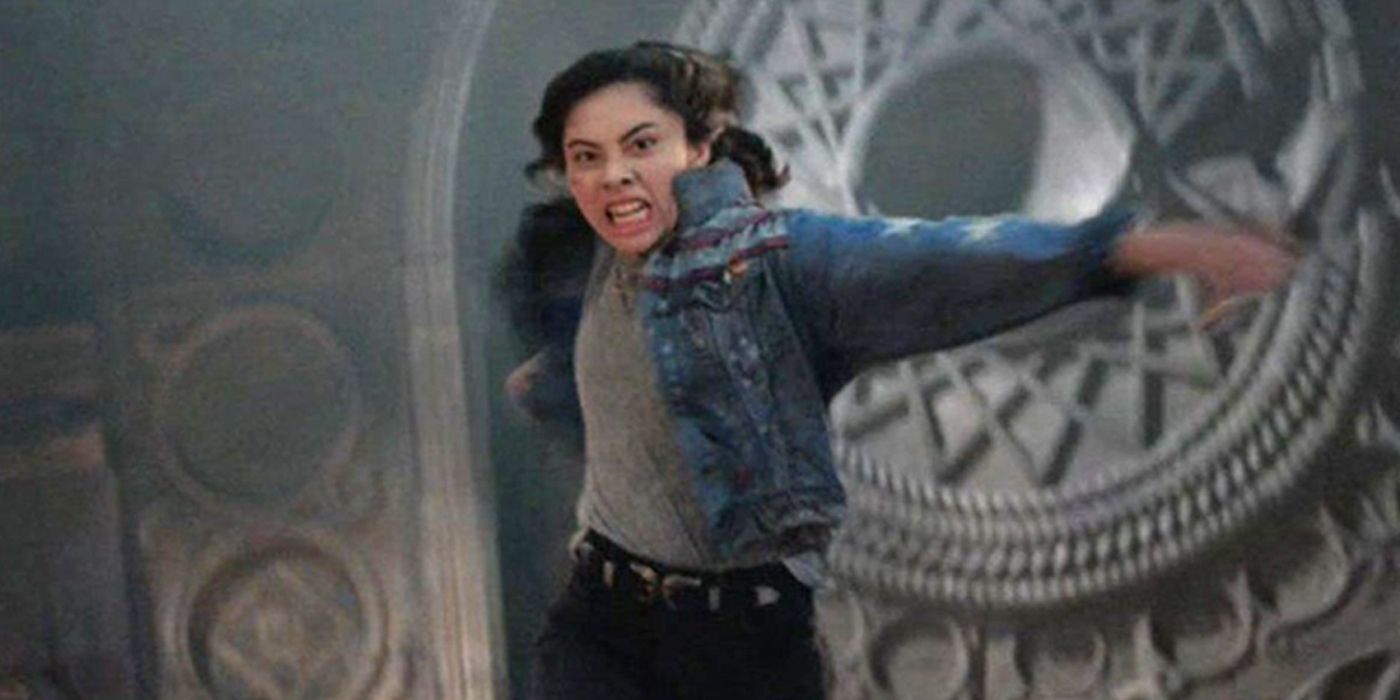 (Image: Marvel Studios)
It has the power to emit energy rays as bursts when it is in danger. This last power is the most powerful in her arsenal, capable of hurting even Captain Marvel. Another power she has is to make starbursts of significant impact.
America Chavez Appearances
America Chavez, or Miss America, is a fairly new character compared to other Marvel heroes. The first appearance of the superheroine was in the year 2011, and since then, she continued to appear until 2018.
The appearances of America Chavez stand out, especially in video games. Of this character, there are three issues since the year 2018. His appearances have been quite notorious in the games of the Lego franchise, where he has had greater participation. He has participated in 1 series transmitted digitally, in a television series, and in 2 movies, in which Doctor Strange 2 is included.
As we can see, we have seen this character in many versions and platforms. These appearances are from video game consoles, websites, and TV channels. Now let's see which elements he has appeared in and the name of the series, movie, or game.
Who is America Chavez in the Comics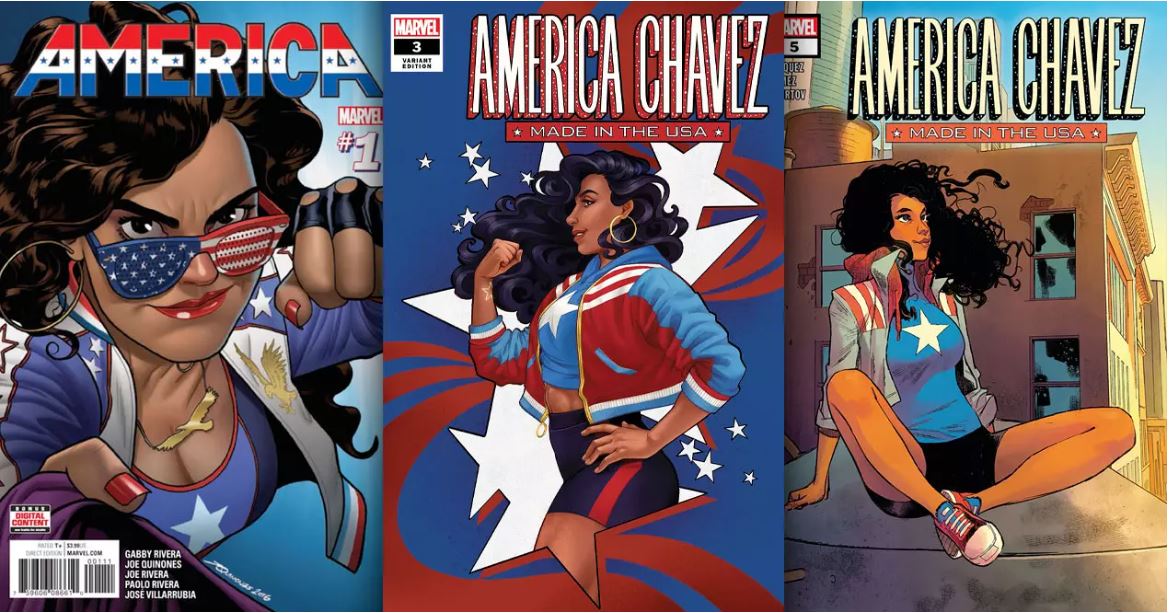 (Image: Marvel Comics)
America Chavez, or Miss America, had her first appearance in 2011. This was in Revenge of the Villains, created by Nick Dragotta and Joe Casey. In 2013 she had her role in The Young Avengers, created by Jamie McKelvie and Kieron Gillen. Two years later, in 2015, he entered the A-Force.
He finally had his comic book series in 2016 by novelist Gabby Rivera. Although that project barely lasted a year until April 2018, when Marvel Comics canceled it. From that moment from Marvel, they decided to incorporate her into The Avengers West Coast cast as one of its most prominent members.
TV and Movies
In television, she has participated in a movie called Marvel Rising: Secret Warriors, with the voice of Cierra Ramirez. This movie was made expressly for television and was the first appearance of America Chavez. In the movie released in 2018, we can see America sharing a team and a group of teenagers with powers, Ms. Marvel, Squirrel Girl, Temblor, and Patriot.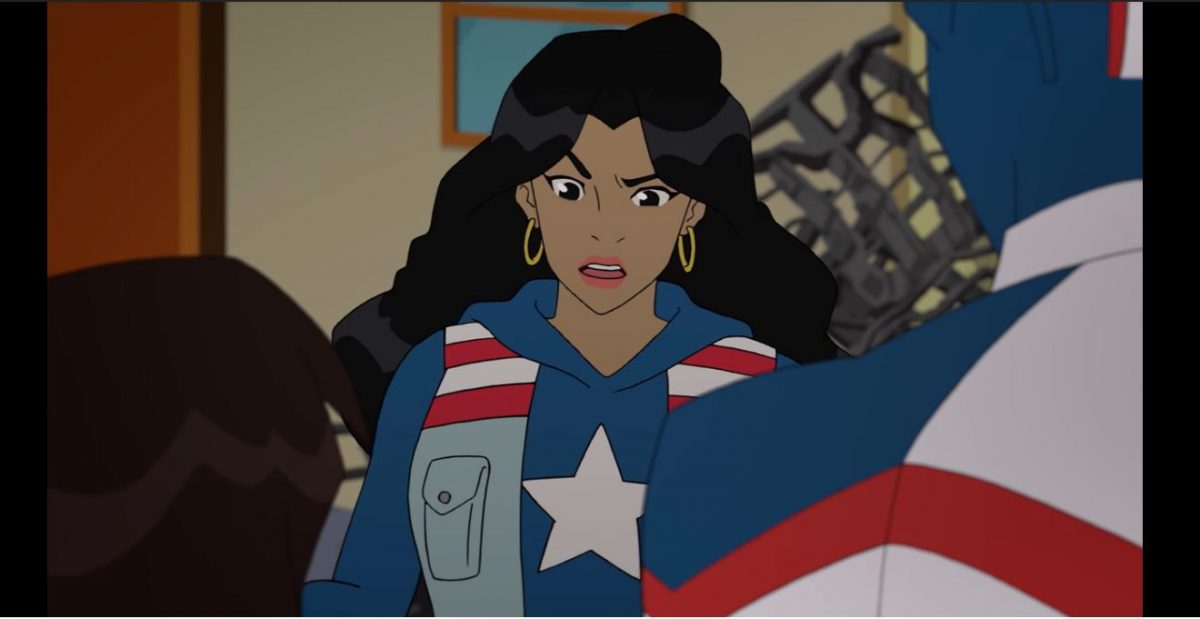 (Image: Marvel Studios)
As for movies, his only film appearance has been with Doctor Strange: in the Multiverse of Madness. In this film, the character of America Chavez has a predominant role, as she is the one who allows interdimensional travel.
America Chavez in Video games
America has had a notable appearance in video games, some of them being Lego games. She appears in several heroes fighting titles. The same is an unlockable character in each game, so you will not see her right away.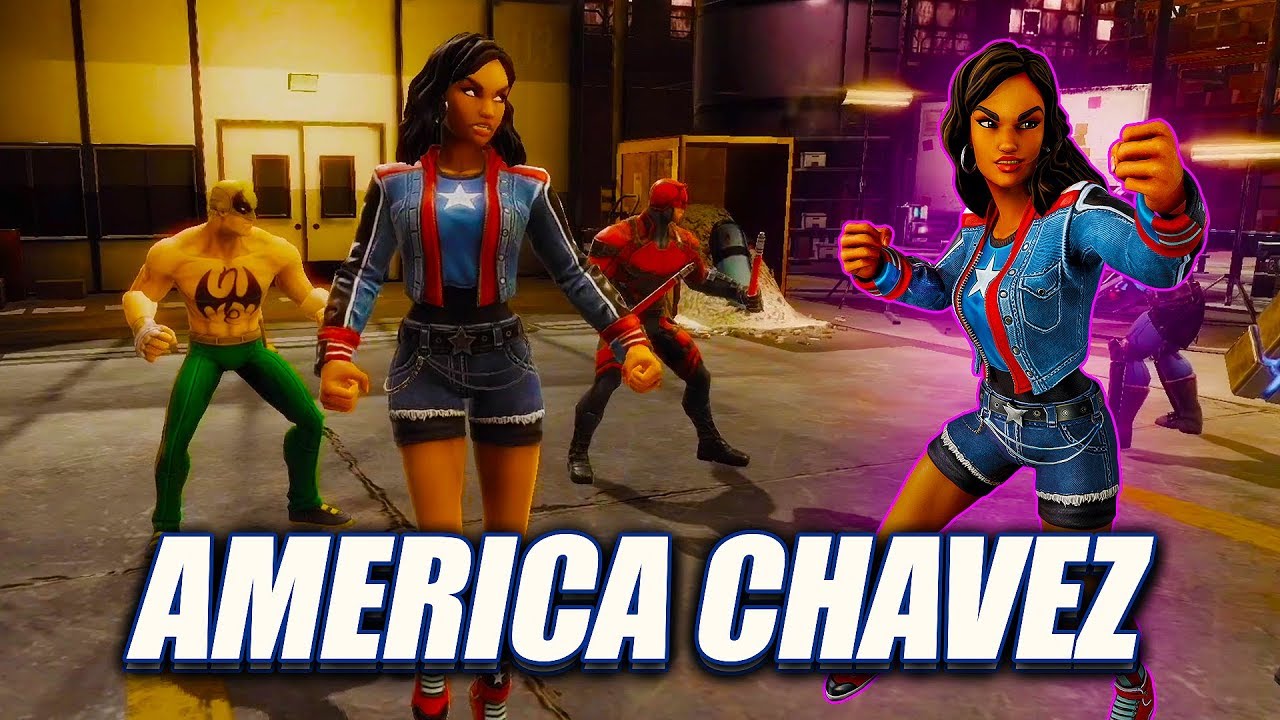 (Image: TinyCo)
We have several types of video games which you can play. Some puzzle-style games, some action games, some adventure games, and some RPG-style games. If you want to play with this character and see her abilities, you will play for a while to get the character out as available. However, it is worth it.
The games that you will see this Marvel character are as follows.
Marvel's Women of Power for Pinball FX 2.
Marvel Avengers Academy during the A-Force event
Lego Marvel Super Heroes 2
Marvel: Future Fight
Marvel Puzzle Quest
Lego Marvel's Avengers
Marvel Strike Force
Marvel Contest of Champions
America Chavez in Doctor Strange: in the Multiverse of Madness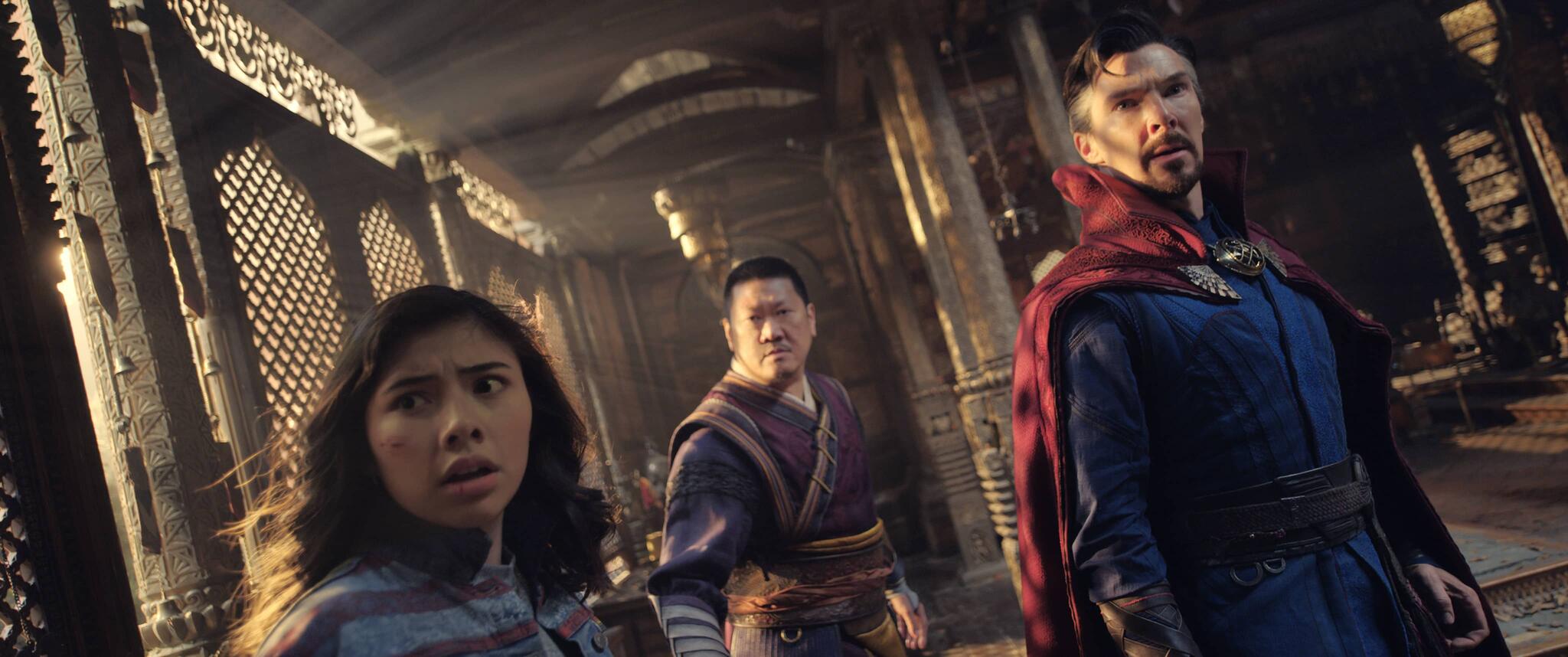 (L-R): Xochitl Gomez as America Chavez, Benedict Wong as Wong, and Benedict Cumberbatch as Dr. Stephen Strange in Marvel Studios' DOCTOR STRANGE IN THE MULTIVERSE OF MADNESS. Photo courtesy of Marvel Studios. ©Marvel Studios 2022. All Rights Reserved.
Those of us who already saw Doctor Strange: in the Multiverse of Madness movie could see America Chavez at her best. In this one, we will see how this young woman comes into the life of a Doctor Strange escaping from a traumatic event in another universe. After arriving on Earth as we know it, Doctor Strange is forced to protect her from Wanda, who wants to use her to travel to another universe.
America Chavez is not only a person he must protect, but shows him the different realities and forms her life could take. As a doctor and husband, among other things, taking Doctor Strange into a relatively strong emotional vortex.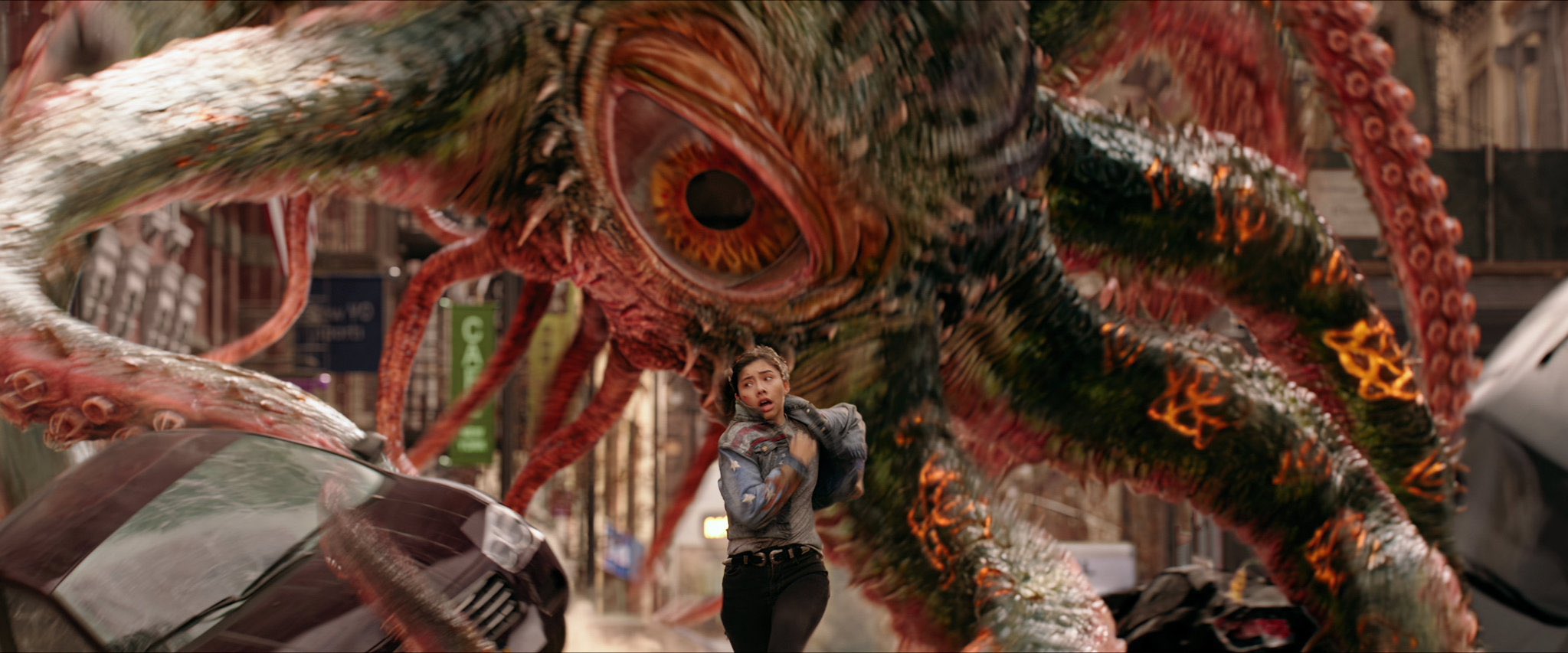 (Image: Marvel Studios)
This also exposes Doctor Strange to several dangerous situations, such as the confrontation with Gargantos. This fight appeared in the trailer, in which that epic fight is seen. He will also meet other characters such as Reed Richards (Mr. Fantastic) from the famous superhero group The Fantastic Four.
For the moment, we can see the young girl who is just getting to know her powers. At this point in her life, the young superhero only knows how to create multiversal portals involuntarily when she is scared.
The Future of the Character at Marvel Studios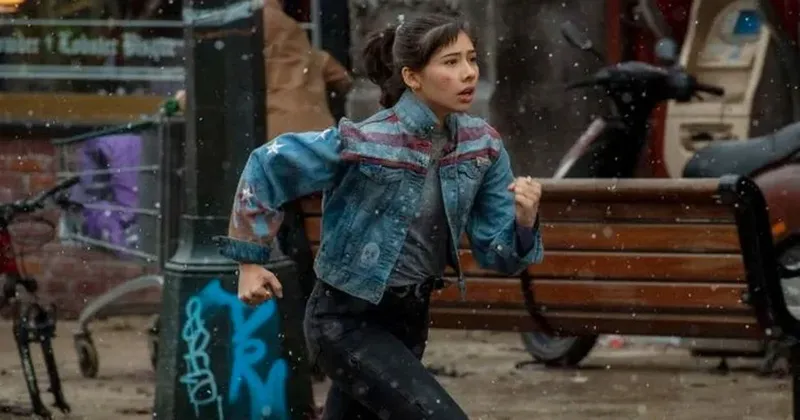 (Image: Marvel Studios)
From what we saw, America Chavez is a character joining the ranks of the Marvel Cinematic Universe. With her superpower to travel across all existing universes and realities, she not only provides openness to this new opportunity. Thanks to his ability, it could give rise to new Marvel productions, opening up a wide range of possibilities.
This character is a new element that Marvel has included in its ranks of superheroes since 2018. This one has appeared in several video games, web, and TV series. We had her in the new Doctor Strange sequel, which can open many doors for her in this universe.
Fans can presume that Marvel and Disney are planning several series and movies with this character. It could be a Young Avengers series, A-force, or his movie, telling this character's story. Given the origin and trajectory of this character, it provides many alternatives.
We can also consider him mixing with other characters in his movie. This connection can be inferred by the inclusion of the Fantastic 4 in Doctor Strange 2, so it is not ruled out his appearance in another production, even though we could assume some participation in the new sequel to "Thor." This considering that his enemy is famous for traveling in time and space.
What is the character's future? We still don't know. We will have to wait for Kevin Feige's decisions. Now that we know who is America Chavez, let's wait to see what Marvel does with the character and in which productions we will see her next.
Featured Image Via Marvel Comics
I am a circus aerialist influenced by Dick Grayson and Spider-Man. Fortunate to write about the characters that inspired me. I also have a Bachelor's degree in Political Science and a Master's degree in International Trade.
Leave a comment