Black Fantasy Authors To Read And Explore Unfamiliar Worlds
The realms of science fiction and fantasy have always been a place to explore real world issues. Issues of gender and sexuality, classisim, xenophobia, and the horrors of war have long been prevalent in the genre. And there are many genre books that deal with racism, both in fictional societies and the 'real world.' However, we cannot ignore the fact that science fiction and fantasy have long been dominated by white authors (white men in particular). To that end, we've put together a list of black fantasy authors who deliver beautiful stories from a too-often ignored perspective.
Reading genre fiction should expand your horizons, open your mind to new ideas. But if you're only reading books by white authors, then you are limiting your scope. As recent events show, white people everywhere must work to better understand the black experience. And one of the ways to do that is to read their stories and pass them on to your friends who love great fantasy fiction, too. It's about doing the work to confront bias internally and externally. We need to read their words, to better know how to stand against injustice. We covered some of these authors before in our lists for Black History Month. However, reading black authors, fantasy or any genre, should happen all year round.
The Black Fantasy Authors You Should Read
These are the black authors working in the realms of magic and fantasy. We categorize the fantasy writers by their work in creating magical worlds, or creating magic in our own world. Many of these fantasies are influenced by mythology and folklore, as is traditional in fantasy novels. Except they are not drawing from the white mythologies that are considered to be the 'standard' (Celtic, Norse, Greek, etc.) Instead, they are drawing from African mythology, Yoruba, Caribbean traditions, and others rarely explored in the genre. Challenge your perception of what fantasy looks like, and read some of the authors below.
Rena Barron
Image via Harper Collins
Barron is the author of the Kingdom of Souls trilogy whose first book came out last year. This series involves ancestral magic in a family of witchdoctors, and a young woman struggling to find her own power. Barron is an African-American author who has also written a YA fantasy novel called Maya and the Rising Dark.
Kacen Callender
Photo by Ashley Cain via Harper Collins
Callender is the author of the Islands of Blood and Storm series. This Caribbean-influenced fantasy centers around a young woman who has the power of mind-control. She seeks revenge on the colonizers who have killed and oppressed her people for generations. Callender is a gender-neutral African-American author from Philadelphia, whose fantasy also includes LGBTQ representation. Perfect to read for Pride Month.
Dhonielle Clayton
Photo by Amir Lowery via the Author's Website
Clayton is a former librarian who wrote the NYT best-selling fantasy series The Belles. This unique series is set in a world similar to our own where the people are born gray, and only with the help of the beautiful Belles can they be transformed. A series full of royal intrigue with a powerful message. Clayton is also the co-founder of Cake Literary, and the COO of the non-profit organization We Need Diverse Books.
Charlotte Nicole Davis
Image via Tor/Forge
The Good Luck Girls is the fantasy adventure series by Davis about former sex slaves who seek their freedom after one of them accidentally kills her first customer. It has been described as 'Westworld meets The Handmaid's Tale' and would be recommended for fans of either. The first book came out in 2019 to high acclaim, and we think Davis is a writer to watch.
Marlon James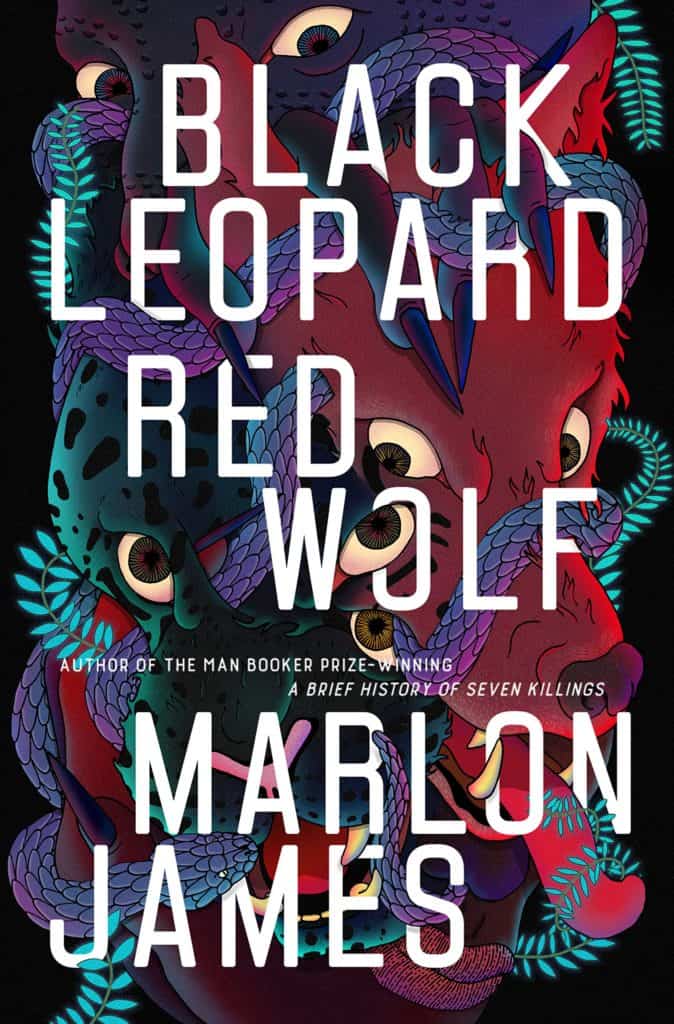 Image via Penguin Random House
A recipient of the Man Booker Prize for his literary fiction, Marlon James turned to fantasy with his novel Black Leopard, Red Wolf. James has spoken about his desire to write African inspired fiction after growing tired of predominantly white epic fantasy. Anyone who has read James's literary work will find plenty to enjoy in his fantasy series. Recommended for anyone obsessed with the movie Rashomon, as the series has a similar conceit with the story being told by several unreliable narrators.
Amanda Joy
Photo by Gianna Dorsey via the Author's Website
Joy is the author of the YA fantasy A River of Royal Blood. It follows a young princess who is the heir to terrible magick, who must fight her own sister to the death in order to rule. An up and coming African-American author, Joy is currently working on the second book in this African-royal fantasy series. Recommended for fans of royal fantasy intrigue stories like Throne of Glass.
L.L. McKinney
Image via MacMillan Publishing
McKinney is the author of the YA urban fantasy series The Nightmare-Verse that started with the novel A Blade So Black in 2018. This series is a modern take on Alice in Wonderland, where Wonderland is a dream realm full of monsters that young Alice must fight. McKinney has also written a graphic novel called Nubia. Highly recommended for fans who like their fantasy with a fairytale twist ala Neil Gaiman.
L. Penelope
Photo by Valerie Bey via MacMillan Publishing
Leslye Penelope is a woman of many skills. She is a filmmaker, she also runs her own podcast called My Imaginary Friends. And she is also an author who has won awards for her fantasy and paranormal romance. Penelope is the author of the epic fantasy series The Earthsinger Chronicles. The first book Song of Blood & Stone came out in 2018. This series is about a young woman exiled from her community for fear of her magic. She is drawn into a war that will decide the fate of nations. Recommended for fans of epic fantasy like The Wheel of Time or The Stormlight Archive. 
Charles R. Saunders
Image via Night Shade Books
A writer who started out in genre fiction before moving onto journalism (I find this fascinating because it is usually the other way around). Saunders is best known for his alternate history sword & sorcery fantasy series Imaro. This series is based on African tradition and mythology. In Imaro, Saunders creates a black hero, who is a warrior straight out of African legend. Perfect for fans of Conan and anyone who loves classic sword & sorcery stories.
Evan Winter
Image via Orbit/Hachette
Another new voice in the genre, Winter published the first book of his fantasy series The Rage of Dragons in 2019. In a society that revolves around eternal war, a young man dedicates himself to becoming a master swordsman to avenge the deaths of those he loves. This series is an excellent addition to the reading list of any Game of Thrones fan.
Micah Yongo
Image via Angry Robot
This British writer is the author of the high fantasy series Lost Gods, and another emerging voice in black fantasy. This series follows a mysterious group of assassins in an African inspired fantasy kingdom. After a betrayal, the main character of Neythan finds himself hunted by the same brotherhood that raised him. A supernatural conspiracy follows him, one that involves the titular lost gods. Recommended for any genre fans, especially those who love the Assassin's Creed games.
For more genre lists – and to check out our other lists of black genre authors to read – make sure you're following Comic Years on
Facebook
and
Twitter
. And join the conversation to let us know if there are any black fantasy authors that we missed.
Emily O'Donnell is a writer and photographer with roots in some of the earliest online fandoms. She cut her genre teeth on the Wizard of Oz books at the tender age of 6 years old, and was reading epic adult fantasy novels by the age of 10. Decades later, she still consumes genre fiction like there is no tomorrow. She is delighted to be living through the golden age of sci-fi and fantasy popularity. She is unashamed of the amount of fanfiction that still lingers online under her name.
Black Authors
Black Lives Matter
Books
Epic Fantasy
Fantasy
Fantasy Series
Genre
Genre Fiction
High Fantasy
Leave a comment