Dan Levy In Standing By, A New Hulu Animated Satire Series About Guardian Angels
As Alexis Rose might say, "Eww Dan, you're executive producing and starring in another show??" Dan Levy, who rose to fame as David Rose in Schitt's Creek, is co-writing and producing a new animated series for Hulu about guardian angels with 20th Television Animation, a part of Disney Television Studios. Dan Levy will be in Standing By, voicing Carey, a newly deceased, cynical angel who has lived a lonely, isolated life in New York City. No word on other voice actors, but if another of the angels had Moira Rose's voice, I'd probably die of happiness. The show itself will be a satirical look at a bunch of disgruntled guardian angels and the lessons they learn from the hot mess that are the humans they're in charge of protecting.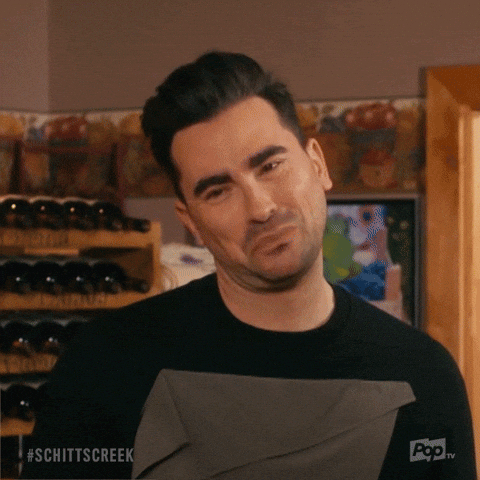 Levy is co-writing with writer-director Ally Pankiw. He had hired her as a writer for Schitt's Creek Season 3 and they continued their professional relationship even after the show ended. The final season of Schitt's Creek broke Emmy records, with the series gaining the most wins in a single season for a comedy series. Levy ended up tying the record for most wins by an individual in a single season (the other people are Moira Demos in 2016 and Amy Sherman-Palladino in 2018).
Schitt's Creek continues to delight viewers everywhere with its highly quotable one-liners and loveable characters. Many are hoping for a movie, but according to Levy, it's all up in the air. On The Mary Sue, he said:
"To be honest this is the best way we could have ever ended the show… but… if there is an idea that pops into my head, it has to be really freaking good because this is a nice way to say goodbye. Fingers crossed we get a nice idea popping into our head soon…. I would love to work with these people again."
We do, however, know that Levy and his dad (who played his Schitt's Creek dad too) are working on a book based on the show called Best Wishes, Warmest Regards: The Story of Schitt's Creek, which will come out later this fall. Alexis Rose actress Annie Murphy is joining the cast of Russian Doll for Season 2 and Catherine O'Hara (who played Moira Rose) is enjoying her Emmy win and the joys that the series has brought everyone.
There's no premiere date for Standing By, but you can watch all six seasons of Schitt's Creek on Netflix. 
What do you think of Dan Levy in Standing By? Let us know in the comments below!
Featured image via Netflix
Keilin Huang is a freelance writer that likes the Oxford comma, reading from her neverending pile of books from the library, and Reeses peanut butter cups. She thanks her Dad for introducing her to his Superman comics and probably majored in Journalism because of Lois Lane. Contact her at [email protected]
Leave a comment