Who Is Cyclone? A Look At The Characters In The DC's Upcoming Black Adam Movie
As we get closer to the Black Adam premiere, it's time to know who Cyclone is, one of the characters to accompany Dwayne Johnson in this DC film.
The havoc caused by the Covid-19 pandemic affected the cinemas forcing movies like Black Adam to be postponed. Luckily, DC has recovered, and we will see this premiere before 2022 ends. Dwayne "The Rock" Johnson stars in this film that will introduce the Justice Society of America, with Cyclone, Doctor Fate, Atom Smasher, and Hawkman among its members.
In this post, we will address who Cyclone is, her origin and biography, powers, abilities, and her appearances on television and other media.
Who is Cyclone?
Cyclone is another DC Comics character. Her real name is Maxine Hunkel, and she is the granddaughter of an active member of the Justice Society of America. Hunkel's grandmother was the original Red Tornado, an honorary member of the JSA. Maxine Hunkel is the caretaker of the team's museum and idolizes her grandmother's allies.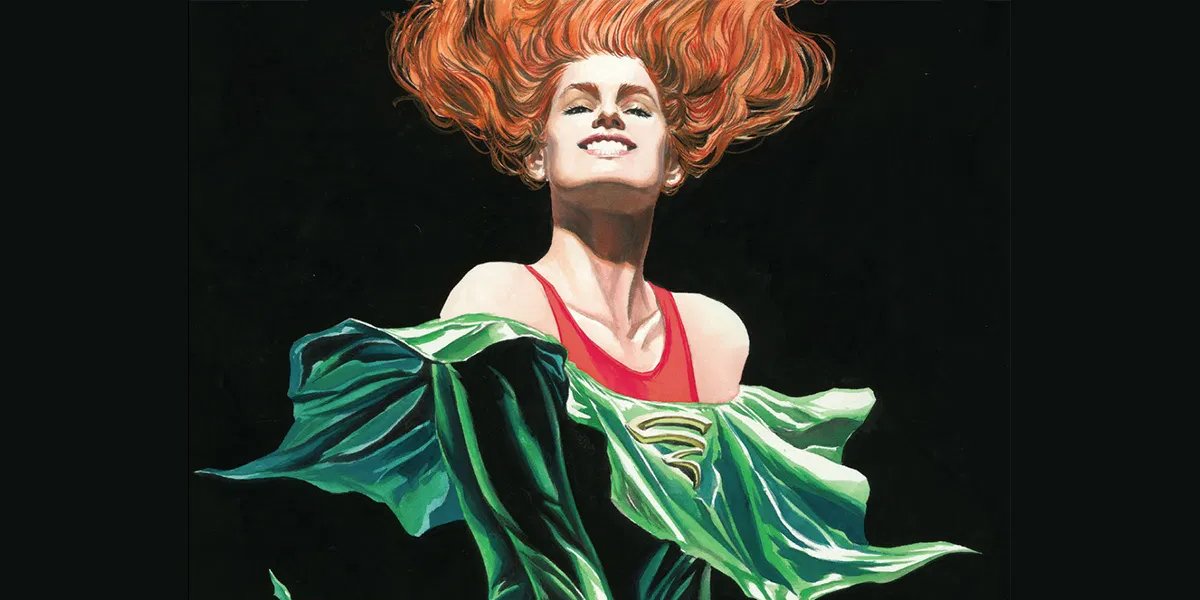 Image via DC Comics
Among her characteristics, Cyclone is bubbly, cheerful, and extremely intelligent. Her SAT score is 1300, and her high school GPA ranged from 4.0 to 5.0. By nature, she is very communicative and talkative, which gave her the nickname "the know-it-all." She didn't mix very well with her peers in college, so she was often isolated as a girl.
Origin and biography
Cyclone was created by Alex Ross, Mark Waid, Dale Eaglesham, and Geoff Johns. She appeared for the first time in Kingdom Come #2 in 1996, a comic published by Alex Ross and Mark Wa. Although in its beginnings she was not mentioned, after a while, she became known as Maxine Hunkel. A decade later, during the Justice Society comic's revival, Maxine Hunkel makes her debut in the DC Universe with the Justice Society of America Vol. 3 #1 of 2006.
In her childhood, when she was only six years old, she was kidnapped by Professor T.O. Morrow, a mad scientist who created the second Red Tornado. That one turned out to be Justice League's powerful and famous android. At that time, Morrow managed to infect Maxine with "nanobytes"; this caused mutations in her cells, which later gave her powers.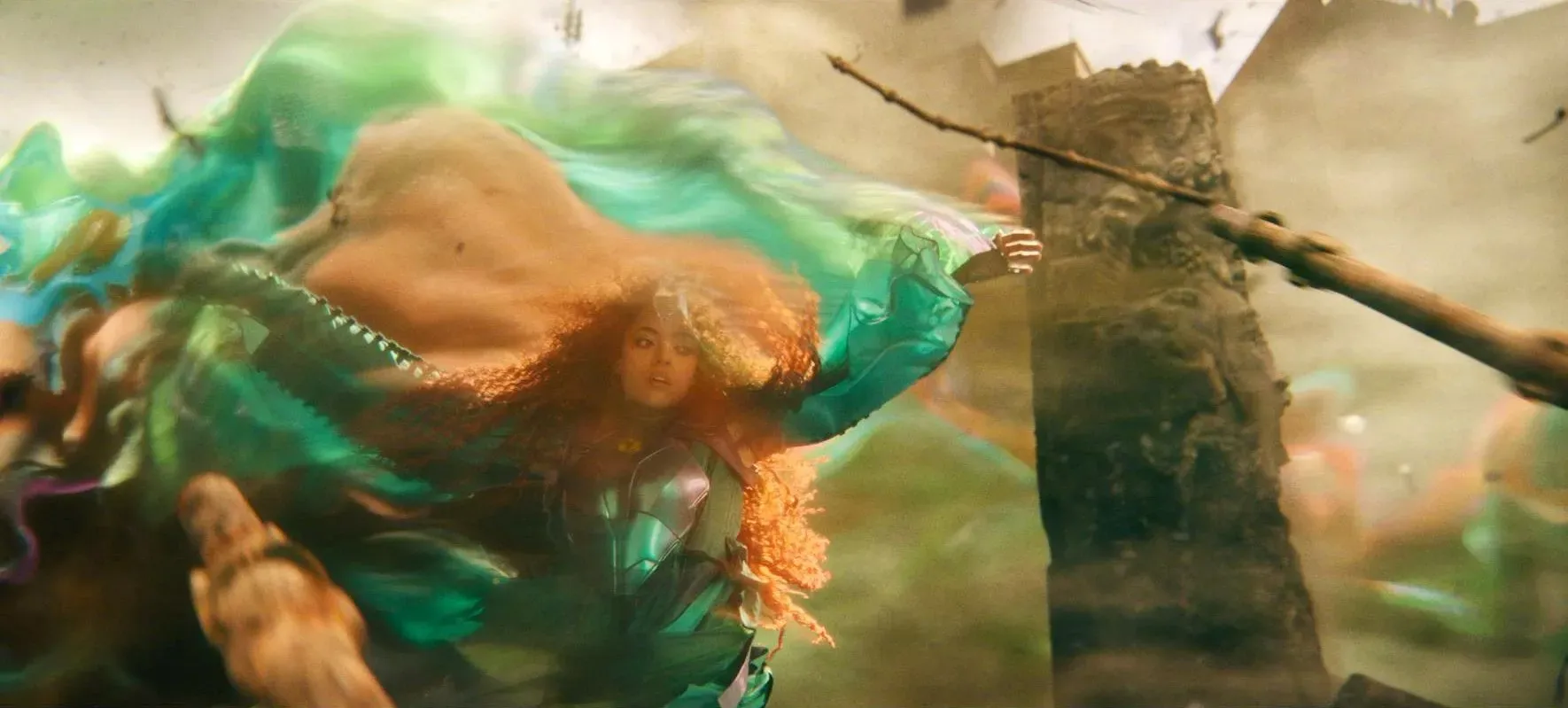 Image via Warner Pictures
When she was 19, Maxine arrived at Harvard University. She was a fan of L. Frank Baum and his emblematic work The Wizard of Oz and the musical Wicked. At that stage, she suffers an atypical juvenile depression due to her constant isolation. Maxine sustained the rejection of her peers because of her know-it-all and talkative personality.
In her adulthood, her superhuman abilities manifest unusually. When Hunkel accidentally sneezes, she destroys her grandmother's garage. The next day, she wakes up in a five-hundred-foot tornado above the ground, allowing her to discover she can manipulate the wind.
Justice Society (Original and Modern)
Cyclone's official debut is in Justice Society of America Vol. 3 #3, and her creators honor the original Red Tornado by showing an enthusiastic and brilliant young superhero. As the ranks of the Justice Society expand and new heroes form, Maxine enters as one of the top candidates on the roster. She teams up with Mr Terrific and Power Girl, which generates several exciting adventures, and highlights her characteristic of being a know-it-all.
Image via DC Comics
As she starts her activities in the JSA, her leader Mister America dies in front of her in their first team meeting. The event caused a deep trauma that her former college classmate, Stargirl, tries to help her overcome, seeking to help her build a superhero costume. After a massive attack on the Justice Society, the team decides to split in two. Cyclone becomes part of the JSA All-Stars, feeling attracted to King Chimera, her teammate.
Powers and Abilities
Among Maxine Hunkel's powers is wind manipulation, meaning she can mentally summon whirlwinds, cyclones, and powerful gusts of air. Cyclone can also fly through the air taking control of each wind current. One of her unknown powers is controlling sound currents and collecting and sending sound waves.
Her skills include extreme intelligence, which makes her seem like a know-it-all. She is also very talkative, which often causes her companions' rejection.
Cyclone's Appearances
Cyclone's appearances are limited; here is what we know about her.
On Television
Cyclone has not appeared as such in any series. In fact, the first feature film where she will appear formally will be Black Adam, so there is a lot of expectation.
Other media
In the comics, Cyclone appears for the first time in Kingdom Come #2 in 1996, a comic that Alex Ross and Mark Waid published. Also, she stands out for her official debut in Justice Society of America (vol. 3) #1.
Cyclone in Black Adam
Cyclone will make her film debut in 2022 in Black Adam, set in the DC Extended Universe. This character, rescued from anonymity, promises to be presented with a lot of creativity and action. Quintessa Swindell will be in charge of playing Cyclone in Black Adam, so DC promises to surprise us with this premiere. They hope this not-so-well-known character will come to the fore and encourage fans to learn more from these comic book characters.
Quintessa will undoubtedly play a good role despite the criticisms. The young actor was born in 1997 in New York and was part of the HBO series Euphoria in 2019. On the big screen, Swindell appear in the movie Granada Nights as Amelia and the sci-fi movie Voyagers.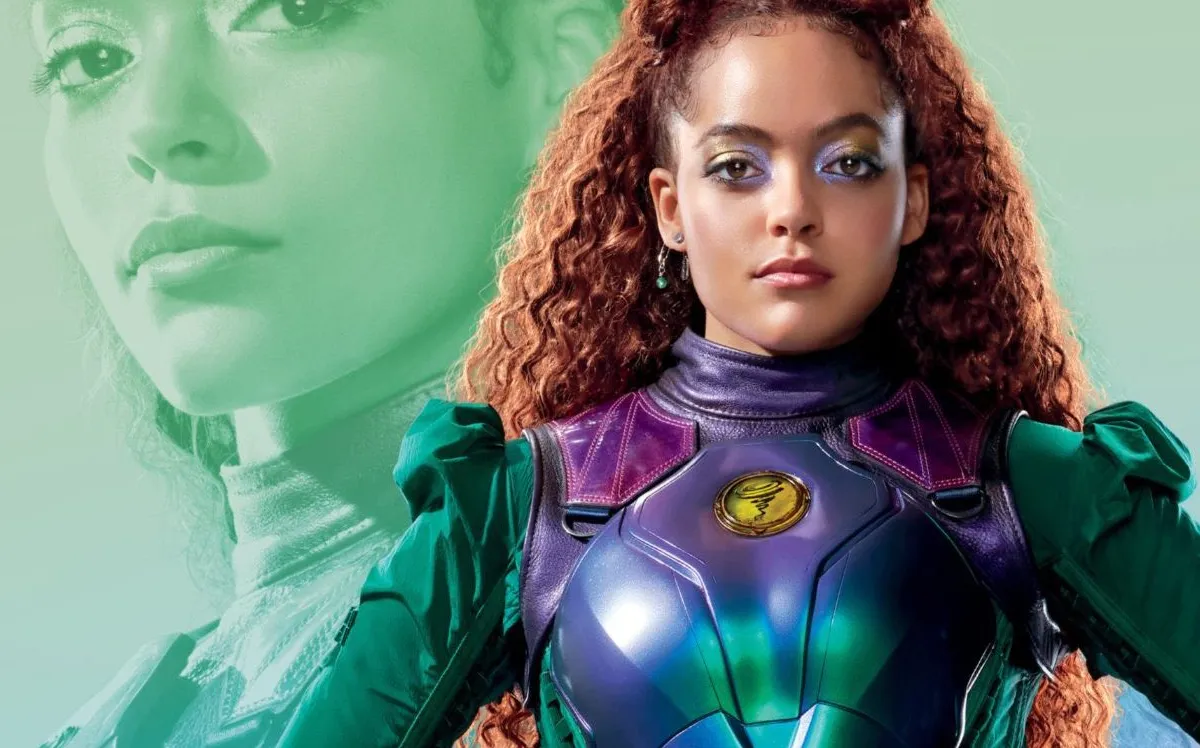 Image via Warner Pictures
We know it's too soon to get many character and movie details, but among these heroes and villains, Cyclone may be one of the landmark superheroes in Comic Book history. When speaking about her character, Quintessa Swindell revealed that she knew very little about it. However, this made her interested in discovering Cyclone's story and giving her touch, no matter what others said about it.
Swindell's advantage is that this is the first time Cyclone is on film, so there is no one to compare her to. Therefore, this October 22, 2022, many are eager to see the entire cast of the Justice Society of America as they join the DC Extended Universe.
Which character do you want to see the most in Black Adam? Leave your thoughts in the comments below.
Featured Image via DC Comics
Leave a comment