Comic-Con Funko Funkast Live Show: News And Reveals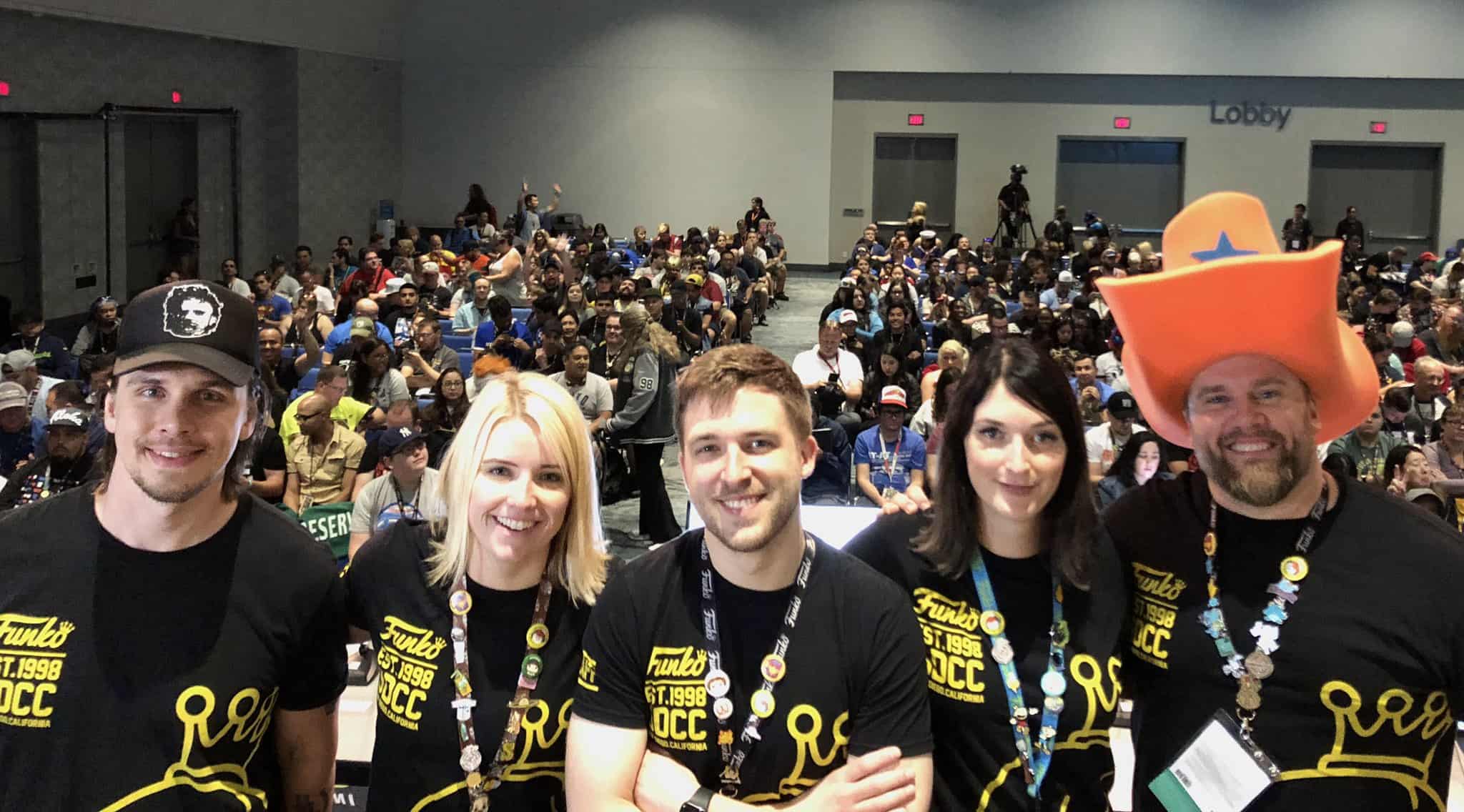 This year is a lot of firsts for San Diego Comic-Con. Between new exclusive merch, huge reveals, and a lot of great pop culture content, it's a week to be celebrated by all. This year, a huge first for the popular toymaker Funko is a live recording of their Funko Funkast. Haven't heard of the Funkast? Well, here's a break down of the podcast, what happened at the Comic-Con Funko Funkast Live Show, and some SDCC Funko info. 
What is the Funko Funkast? 
The Funko Funkast is the official podcast of Funko. The popular toymaker is famous for their Funko Pop! Figures, as well as a ton of other variants. They do a ton of SDCC exclusive toys. Most of these get released through partner retailers for fans who can't make it to the convention. The Funkast is run by the Funko Marketing team. They often highlight listener questions, hints at upcoming releases, and discussions on pop culture. The Funkast is not necessarily a huge place for reveals. The company likes dropping new figure models through social media. That being said, reveals happen from time to time on the cast, so fans were looking forward to the Comic-Con Funko Funkast Live Show, hoping for some big news. Did they get it? 
Comic-Con Funko Funkast Live Show Reveals
A few reveals came out of the Comic-Con Funko Funkast Live Show. Here are the major things that came out of the panel. Overall, it was a little uneventful and overshadowed by announcements from earlier in the day. Nevertheless, it's fun to see the podcast get a live show at the biggest event of the year!
Social Media Freddy Funko Pop! Incoming
A social media version of the Freddy Funko mascot is coming in a soon-to-release Pop! No date was announced for the figure, but we did see what it will look like. Freddy Funko is meant to mirror the popular mascots of the 1950s. His likeness is given a lot of different looks for the company's special edition releases. 
Star Wars Galaxy's Edge Pop! Coming Soon
Star Wars Galaxy's Edge, the new addition to Disney Parks, is getting another exclusive Funko. DJ R3X, the mascot of Star Tours, received a figure earlier this year at the Disneyland launch of Galaxy's Edge. Now, a popular character from The Clone Wars animated series is getting a Parks exclusive Funko figure. Hondo Ohnaka is well known from the animated Clone Wars series, as well as a feature figure in the Smuggler's Run ride at Galaxy's Edge. He's an ally to  Obi-Wan Kenobi, Anakin Skywalker, and Ahsoka Tano in the series, and is a fringe character many were happy to see revealed for a Funko Pop!
Were people wanting better reveals? Sure, but a lot of news came earlier in the day, which we'll get to below. At least people in attendance got some cool panel-exclusive giveaways!
Panel-Exclusive Giveaways
Funko is big about giving out special items for their special event attendees. At the Comic-Con Funko Funkast Live Show, the audience got two things. One was a Funkast button, reading "I'm a Fan of the Funkast," and another 
Additional Comic-Con Funko Reveals
Before the Funkast, more reveals came via the company. Here's a catch up on all the announcements for San Diego Comic Con 2019. 
Funko Reveals Board Game at Comic-Con
A few reveals came earlier in the day from Funko. Before the Funkast, we got news of two major projects from the company. The first is Funkoverse, a series of strategy board games themed around popular IPs. Funko obtains licensing from various companies to reproduce characters in their Funko style. The board game features various themes such as Golden Girls, Marvel, and Harry Potter. 
Funko Mobile Game Coming, Features Tons of IPs
Another reveal came through the announcement of Funko Pop! Blitz. Blitz is a mobile game where characters take each other on via puzzles. Teams of 3 fight, and there are a ton of different characters lined up to be featured, it looks like a ton of fun. The game is releasing for iOS and android later this year as a free download, with in-app purchases. Care Bears, Marty McFly, and the classic Universal Movie Monsters are just a handful of the in-game characters. There's no date for the game yet, but it's sure to be a hit. 
Funko Flair
For the 50th anniversary of Comic-Con, Funko is handing out Flair at the convention. 20 unique buttons featuring popular characters are on site for fans on the floor. Freddy Funko and 19 others are going to be tough to collect, but be on the lookout!
Top 2019 Comic-Con Funko Releases
Already announced and finally out for purchase, the SDCC exclusives for Funko this year are fantastic. A ton of Funko figures are at the convention this year, which only release for the event. Shared exclusives are provided to fans all over the country via retailers like GameStop, Box Lunch, Hot Topic, and Walmart. A lot of this year's top figures are pretty unique. A popular one is Quasimoto holding a gargoyle from the Hunchback of Notre Dame. Kang and Kodos, the aliens from the Simpsons, are also an exclusive, and they glow in the dark too. Additionally, figures from Dragonball Z, the Harry Potter universe, and plenty more exist as SDCC 2019 exclusives. 
Finding SDCC Funko Figures
As mentioned, a lot of figures are shared exclusives. All major retailers have posted their exclusive figures online, and many in store at this point. They can be hard to find, so make sure to get out and hunt as soon as you can! Make sure to keep reading Comic Years for more Funko news, including all updates and reveals from Comic-Con 2019!
Taylor is the Gaming Editor of Comic Years and a lifelong fan of video games. He holds two degrees in Political Communication and wrote a Master's Thesis on resistance movements, race, and the exploitation of college athletes. His wife and two Toy Australian Sheppards keep him sane.
Leave a comment