Galaxy's Edge: A Disney Parks Experience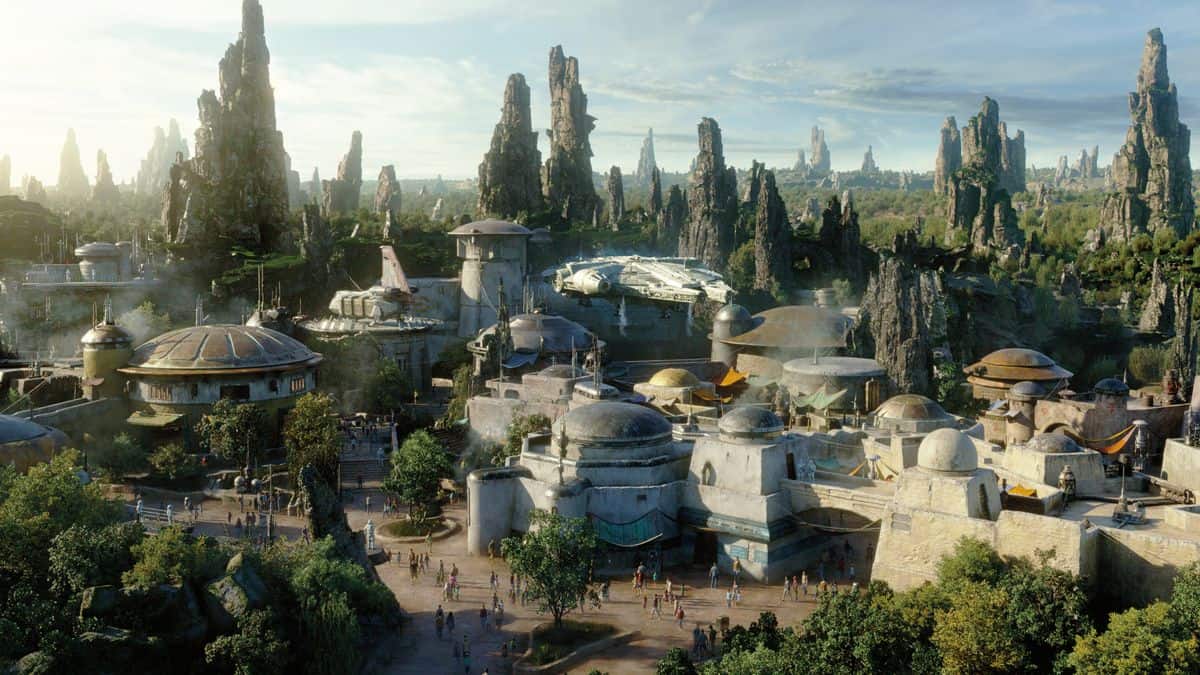 When Disney purchased LucasArts, Star Wars entered the house of mouse. Now, DisneyLand is featuring a new Star Wars experience for fans and park goers. The land, named Star Wars: Galaxy's Edge, is a sprawling experience that takes visitors to some of the most iconic places in the Star Wars universe. The Disneyworld park is opening in August, but the Disneyland experience is open now, so we want to take you on a full tour of what to expect if you can make it out for a visit!
Galaxy's Edge – What to Expect and See
I'll admit, I'm a huge Disney fan. My wife and I try to make it out to Disneyland once or twice a year, and our home is sprinkled with Disney art, Funko figures, and anything else that brings a little magic into our lives. We're hoping to make a trip soon to see Galaxy's Edge in person, but until then, I look at the photos and read blogs from other writers in anticipation. I've collected all the features and fun-filled details that you can experience at the Star Wars section of the park, and want to walk you through why it's a trip you need to plan.
What is Star Wars Galaxy's Edge?
It's being called Star Wars Land, or even just Galaxy's Edge, but the full name, Star Wars: Galaxy's Edge is meant to be the full fledged experience for these iconic films. The park is located on Batuu, a remote village of the Black Spire Outpost. This area serves as a prime spot to trade, seek bounties, and even smuggle weapons and goods. If you're traveling on the Outer Rim of the galaxy, you'll likely stop at Batuu for fuel or some resources. Much like the Wizarding World of Harry Potter, this is supposed to feature all the things fans would want from getting to experience the Star Wars world firsthand. The movies bring about wild daydreams, and they all come true here at Galaxy's Edge.
Attractions at Galaxy's Edge
More rides and attractions are planned to come for the new addition to the parks, but for now, there are two main attractions at the park. These both are top notch rides that truly don't feel real when you see them in person. Imagineers who plan and build these rides take years to draw out plans and make the ride a reality. Before we get to the open attraction you can see at Disneyland today, let's talk about the one still to come.
Rise of the Resistance
One attraction, Rise of the Resistance, is an ambitious project that should be the main feature of the entire area. Unfortunately, it takes a lot of time to make a ride perfect, and this is one attraction that is experiencing delays. Rise of the Resistance should be coming out months down the road. Not only did it have trouble getting built in Anaheim, but Disneyworld will also see a delay to its opening in August. It should be well worth the wait by the end, so fans can enjoy two other mind blowing rides for the time being.
We do know quite a bit about the ride already. For starters, this is going to be a partial walk-through ride where you explore a dark area and then get into a vehicle. During the walking section, riders see projections, animatronics, and lots of physical effects. These all put you right in the middle of a battle between Stormtroopers and the Resistance. Once you reach the vehicle, known as the First Order Fleet Transport, you travel through the battlefield. Other than these details, a lot is still unknown. Expectations are very high, and this ride is sure to be a park favorite. The other ride is open now, and visitors can experience it when they visit Galaxy's Edge.
Millenium Falcon: Smuggler's Run
How can you build a Star Wars park and not have the Millenium Falcon? Well, luckily, the famous ship is the setting for a fantastic ride in Galaxy's Edge. In this ride, you and 5 others are grouped together, given jobs, and take over control of the Millenium Falcon. It's not only amazing to be in the ship, but an incredibly unique ride. Everyone has a job to do, and it means a lot of teamwork to make sure you perform well. As you exit, you can see the condition of the Falcon after your mission, displaying whether or not you kept the ship out of danger or put it right in the fray.
The ride also scores you, meaning everyone needs to be on their top game. A similar ride, Toy Story Mania, drives visitors to try to best their score over and over again. Despite the long waits to get into Millenium Falcon: Smuggler's Run, it's likely to be just as addicting for newcomers. The ride is a ton of fun, and once you tire yourself from the ride of your life, be sure to go grab some much deserved food and drink.
Galaxy's Edge Food and Drink Options
It's clear that Star Wars Galaxy's Edge is more about the atmosphere and rides, but there are a few places to eat and drink. If you want to dine or quench your thirst in the Star Wars universe, you have a couple options.
Oga's Cantina
This bar is relatively small, and features a few alcoholic drinks as well as mocktails. The area is standing room only, and only a collection of people can enter at a time. Blue Milk and other movie drinks mentioned in the films are available. The time spent in the cantina is limited, in order to get lots of people to see the bar. Captain Rex from Star Tours is a main player at the cantina, which feels like you're smack dab in the middle of a Star Wars movie.
Docking Bay 7 Food and Cargo
This is the main area at which you can grab food. There's outdoor seating for much more patrons than Oga's Cantina, but still an indoor area that can be utilized as well. The restaurant is counter service style, and the dining is relatively diverse. For dinner, enjoy a Star Wars named dishes like Ithorian Garden Loaf, Braised Shaak Roast, and Yobshrimp Noodle Salad. If you arrive in the morning, grab breakfast options like a Mustafarian Lava Roll, and for younger Jedi, fuel up on Fried Endorian Tip-yip. The meals are all priced equally to other Disneyland dishes, and the Star Wars theme to it all is a ton of fun.
Milk Stand
This option is much faster and less diverse. The drink stand features frosty treats that resemble slushies. They are all referred to as milk, taking on the space-y colors of green and blue. There are snacks here as well, which cycle every few weeks.
Kat Saka's Kettle
Disneyland is famous for some great popcorn, and you can grab some here in what's called an Outpost Mix. There are also water bottles here, but it is meant to be simple and quick.
Ronto Roasters
The name might sound like a simple coffee shop, but it's actually a smoked meats stall. It's a highlight in terms of food at Galaxy's Edge, featuring grilled sausage and pork wraps. An 8D-J8 serves as the cook, calling back to the pod racing scenes of Episode One.
Shopping at Galaxy's Edge
Disney is selling Star Wars gear at the stores in Disneyland, Disneyworld, and California Adventure, but nothing beats shopping in an actual Star Wars themed outpost! If you're looking for some souvenirs or gear, check out these shops inside Galaxy's Edge.
Savi's Workshop
Hands down, the most amazing part of shopping in Galaxy's Edge is Savi's Workshop. Here, you can meet "Gatherers" who forge lightsabers. That's right, work with them to make your own one of a kind lightsaber. It's an interactive experience, and truly gets you in the Star Wars mood. Plus, you can keep it forever. Lifelong Star Wars fans will be flocking to this for years to come. Harry Potter fans can make wands at Ollivanders, and now aspiring Jedis can become legitimate with their kinetic energy weapons.
Creature Stall
The Creature Stall is perfect for making sure you have a little companion with you for the day and beyond. Want to pick up a porg? Go ahead! They also have rathtars, tauntauns, and more creatures from the galaxy. It's a fun place to take kids, who usually love stuffed animals. Even adults can find something they love.
Black Spire Outfitters
Find stylish clothing from all over the galaxy at this eclectic shop. Anything you might want to buy to complete a Star Wars look can be found here.
Dok-Ondar's Den of Antiquities
This shop specializes in jewlery, tools, statues, and even a collection of famous lightsabers from Jedi heroes.
First Order Cargo
The First Order are selling their own gear near Docking Bay 9 for those who support their motives. They hope to convince visitors that they are not the bad guys here, but many know better. Nevertheless, if you feel for the dark side, wear the gear of the First Order.
Resistance Supply
If you're much more of a supporter of the Resistance, grab your gear at this makeshift post of merchandise.
Droid Depot
No Star Wars experience is complete without a droid. Build one from parts, chips, and more, either creating your own BB unit or R2.
The Jewels of Bith
This street stall features smaller gifts and gear.
Toydarian Toymaker
Handmade collectibles from the toymaker Zabaka the Toydarian fill everyone with childhood wonder. It's a great stop in the shopping areas of Galaxy's Edge.
A New Park Coming
Another big expansion to Disneyland is greenlit as well. This one is not Star Wars, but does appeal to sci-fi and fantasy fans. A Marvel-themed park expansion is under way as well. The successes of the Galaxy's Edge early on in its debut are promising. Likewise, there are plenty who love Marvel thanks to the Cinematic Universe, maybe even enough for fan campaign to fund Ant Man 3. Disney is trying to expand its parks using their new acquisitions. Details are limited, but we do know a few things from leaks and inside information.
Marvel Land Leaks
A Spider-Man ride appears to be the heart of the park. It makes sense, seeing as Spider-Man is a favorite among children and adults alike. Plus, the MCU seems to be all about Spider-Man now that Iron Man is out of the picture. The ride is expected to depict a new battle between popular Marvel foes. It's interesting, because a Six Flags ride much like this exists for Batman. It is far less flashy, and a bit outdated, so Marvel may be able to make a better product.
It is expected that Marvel Land, which is not its official name, is going to be located at both American parks. Just like Galaxy's Edge, it will start at Disneyland, and then open at Disneyworld. This is because Disneyland is the original location, and serves as a testing ground for new features and materials. Overall, Marvel Land may be years away, with construction estimated to make opening day sometime in 2022.
Conclusion
Galaxy's Edge is a Star Wars experience unlike anything we have seen before. In its first months, Galaxy's Edge is already selling out, and running high in prices. It is likely to go down as time goes on, but for now, it will take quite a bit of coin to get into this new exhibit. With the Skywalker Trilogy closing out with Episode IX, it's likely that the new park expansion will grow with the series.
We don't know what comes next for the Star Wars movies, but Galaxy's Edge is a great homage to the movies that have inspired so many. With new amazing rides, plenty to eat and drink, and shops to explore, it is a haven for Star Wars fandom. Keep reading Comic Years for all thing Star Wars, comics, and more!
Star Wars: Galaxy's Edge will debut Friday at Disneyland Resort in Anaheim, California, and on Aug. 29 at Walt Disney World Resort in Orlando, Florida
Taylor is the Gaming Editor of Comic Years and a lifelong fan of video games. He holds two degrees in Political Communication and wrote a Master's Thesis on resistance movements, race, and the exploitation of college athletes. His wife and two Toy Australian Sheppards keep him sane.
Leave a comment