Star Wars Squadrons Tips and Tricks – Maneuvering and Evading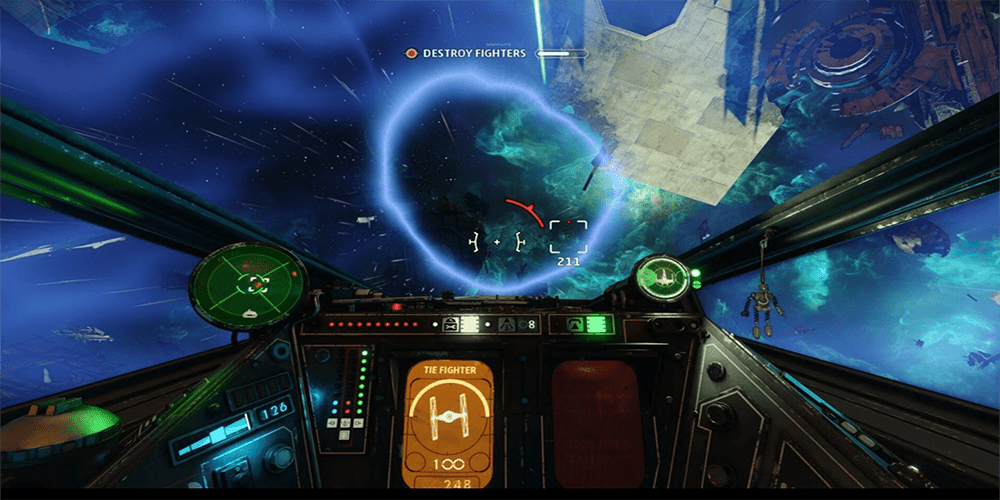 We're continuing some coverage of Star Wars Squadrons tips and tricks with gameplay talks. Firstly, this is a game you can't learn by reading. While we're hoping these articles help you, the best way to get better is to play more. The depth of gameplay in Squadrons is a bit intimidating but quite rewarding. Give it time and use these articles to help develop your skills. The two most useful things you can do in Squadrons to get better are master moving in and out of battle. Squadrons maneuvering and evading skills take time to develop but they're going to make you better. Here are a few ways to get ahead of the game.
Star Wars Squadrons Tips and Tricks for Maneuvering and Evading
Image Credit: EA
We've covered the bomber and fighter classes as well as interceptors and support loadout in Star Wars Squadrons. This game is getting a lot of love online and rightfully so. A game where you get to live out your dream as a Star Wars pilot? A lot of people love that kinda stuff, including me. When I was getting used to the depth this game offers, two things stood out to me. Firstly, the way you customize your ship matters greatly. Two, moving in and out of dogfights isn't as easy or simple as it seems. Let's explore why and how to get better.
Maneuvering comes from a use of the boost feature of your ship. By overcharging your engines, you fill up your power bar and create boost. When you see that yellow meter filling, get ready to jump into high gear. The trick with boost is knowing when to use it to escape and when to pursue. If you boost, then you sacrifice a lot of your mobility. Therefore, boost should only really be used to help in a sticky situation. Drifting is much more effective to help control your ship in a meaningful way.
With your boost active, you can drift to spin, turn, and move in ways that catch your enemies off guard. You can evade missiles and lose tailing enemies this way. Doing these sorts of things is going to be much more helpful. While boost lessens your maneuverability, drifting excels it. Using this feature in key moments matters to outsmarting opponents.
Evading and Focusing Shields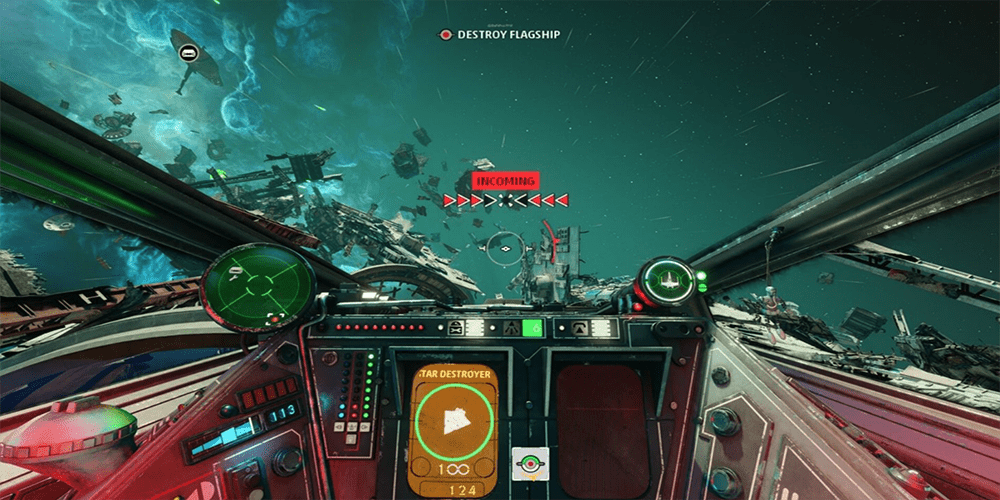 Image Credit: EA
Nothing feels worse than an enemy locking on to your ship. So, what do you do? If you want to die, then don't do anything. Pretend everything is fine and then explode into space. If you'd rather get away and gain the upper hand on your opponent, you'll need to evade. If an enemy hasn't locked on yet but you know they're tailing you, then move like a psychopath. Jerking your ship back and forth or hiding behind the cover of asteroids can keep them from locking on. But, when they do, you have options as well.
Quick, sharp turns can help lessen the chance you take a hit from a lock-on. Throttling your ship down to gain mobility is the best way to do this. If you have a boost meter ready, then make sure to drift out of the way and even turn on your enemy. That's a terrible feeling for them and an amazing high for you. The golden move here is to boost to coverage from an asteroid, drift into a 180, and dodge the hit in time to go on the offensive. You might not be there yet in your skillset, and honestly, I'm still not either. It's fun to try though and it takes practice to nail it.
If you're in a starfighter and things look grim, then don't forget to focus your shields. You can move your defensive measures to the front or back of your ship when needed. By doing so, you can fend off tailing enemies. It's also helpful to do this when attacking a capital ship head-on. Redistributing power to all shields is crucial once you're in the clear, so don't forget to do so.
Squadrons Tips Keep Coming
We'll continue to cover this game as it grows in player base and popularity. Hopefully, these Squadrons maneuvering and evading tips up your game. If you have a tip or trick you want us to dive into, then let us know in the comments. Thanks for reading Comic Years for all things gaming, comics, and pop culture.
Featured Image Credit: EA
Taylor is the Gaming Editor of Comic Years and a lifelong fan of video games. He holds two degrees in Political Communication and wrote a Master's Thesis on resistance movements, race, and the exploitation of college athletes. His wife and two Toy Australian Sheppards keep him sane.
Leave a comment