Sea of Thieves Game Future: Rare Plans For 5 Years
Ahoy, mateys! If you're a fan of the pirate adventure game Sea of Thieves, you'll be excited to know that the developers have some big plans. In fact, they've got plans for the next five years! Currently, Rare and Microsoft game studios are celebrating the game's fifth birthday. Even so, they've got some ideas for the future. In fact, they've spoken about the Sea of Thieves game future, and they have plenty of thoughts in mind. But what could this involve? Keep reading to find out!
In a recent post, the studio behind the game spoke about its future. Mike Chapman, the creative director for the game, said:
"I think 10 years of Sea of Thieves will feel like a long time – but also, we'll blink and be there. And I still think we'll have unfinished business when we get to that point."
Clearly, the team is very dedicated to the game and is not content to rest on their laurels. They've got many ideas to keep the game fresh and exciting for years. So, the Sea of Thieves game future looks bright at the moment!
Additionally, one of the new features that the team is discussing is smuggling mechanics. As a pirate, smuggling is a crucial part of your livelihood. So, it only makes sense that this would be a part of the game. Players can smuggle goods across borders and avoid getting caught by the authorities. Naturally, it adds a new level of depth to the game and will keep players on their toes.
Sea of Thieves Game Future Update Rumors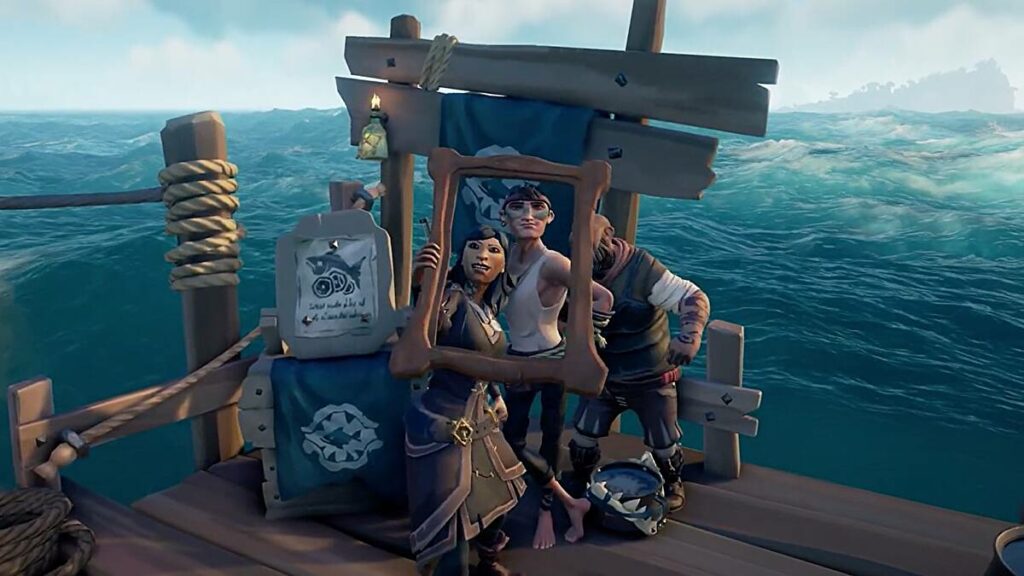 Image: Rare/Microsoft
There are other ideas about what the Sea of Thieves game future might involve. For example, another idea the team explores is rewarding players for protecting others from griefers. Griefers are players who intentionally try to ruin the game for others, and they're a problem in any online game. In Sea of Thieves, players who seek to protect others from griefers might get special loot or bonuses. So, it's a great way to encourage players to work together and build a strong community within the game.
But perhaps the most exciting new feature is a screenshot "painting" mechanic. Sea of Thieves is already a visually stunning game. So, this new feature will allow players to take screenshots and "paint" on them. They can use a variety of tools and brushes. It's a creative new way to personalize screenshots and show off your artistic side. This is one aspect of the Sea of Thieves game future that I hope is true!
Of course, Sea of Thieves wasn't always about pirates. The original pitch for the game involved secret agents. However, the team ultimately decided to go in a different direction. Thank goodness they did! After the game launched, they ripped up their roadmap and changed their approach to content updates. As such, even the most successful games are constantly evolving, and the Sea of Thieves team is no exception.
Rare Video Game Developer
Image: Rare/Microsoft
Over the years, many fans have come to love Sea of Thieves, which has a passionate following. Considering the game's immersive world and exciting gameplay, it's no surprise. With this discussion of the Sea of Thieves game future, it's clear this love will stay around for a while. Plus, collaborations have also featured fan-favorite franchises like Pirates of the Caribbean and Borderlands. We've also seen randomized quests that keep players on their toes. Naturally, there's always something new to discover on the high seas!
So what does the future hold for Sea of Thieves? With the development team's dedication and commitment to making the game the best it can be, the possibilities are endless. As players, we can look forward to new features and adventures that will keep us returning for more. And with the team's mantra of "Players Creating Stories Together," the future of Sea of Thieves will be full of exciting tales and epic adventures. So set sail and join the crew – the adventure is just beginning!
Hi! I'm Arvyn, and I'm an English teacher from the UK. I've been teaching English online for over 4 years to students from all across the world and all ages. Outside of work, I'm a huge fan of reading, video games, and playing with my adorable kitties. See ya!
Leave a comment