Elden Ring Speedrun Completed In Under 30 Minutes
I've been watching the Elden Ring speedrun community closely these past few weeks. Firstly, the record for speedrunning appeared to be around an hour. Not even a couple of weeks later, we're talking about the first sub-30 run of the game. Completing Elden Ring is not an easy feat, as anyone who has played can attest. That said, speedrunning of this sort involves finding flaws in the game that you can take advantage of. They're only discovered after communities around a game dive deep into playing and learning the mechanics. It's a huge accomplishment for a game of this size to be so well understood this early in its release cycle. So, how did the Elden Ring speedrun record drop below 30 minutes and what time did the player actually reach? Let's talk about it, and also share some Elden Ring speedrun tips for you to try.
What is the Best Elden Ring Speedrun Time?
Image Credit: Bandai Namco
So far, as of March 15, 2022, Distortion2's run of under 30 minutes is the best time we've seen for an Elden Ring speedrun. The record comes just about one week after streamers started beating the game in around an hour. At that time, I thought anything around or under 60 minutes was incredible. Now, I'm practically in awe that it took us so little time to get to the sub-30 minutes' realm. The dedication of speedrunning community members truly is something to celebrate. Especially if you're hardly able to beat the game without a time limit. Our Elden Ring Tips for Beginners might help if that's you.
The caveat here is that these are glitch runs, so let's talk about why that's important in the speedrunning community. Glitches help speedrunners skip past major parts of the game to complete their runtime faster. The most popular glitch in Elden Ring speedrun strategy is the time warp. If you die at a certain place or quit out, then you're able to reload in a completely different area. These are valid, legitimate ways to speedrun the game. That said, some aim to complete speedruns that are glitchless, or ones that don't use these strategies.
Distortion2 sort of topped himself twice yesterday. Firstly, the speedrunner beat the game in about 33 minutes. Not too long after that, he's pushed it below 30 minutes. The current run record is 29:27, as shared on their Twitter page.
Tips for Speedrunning the Lands Between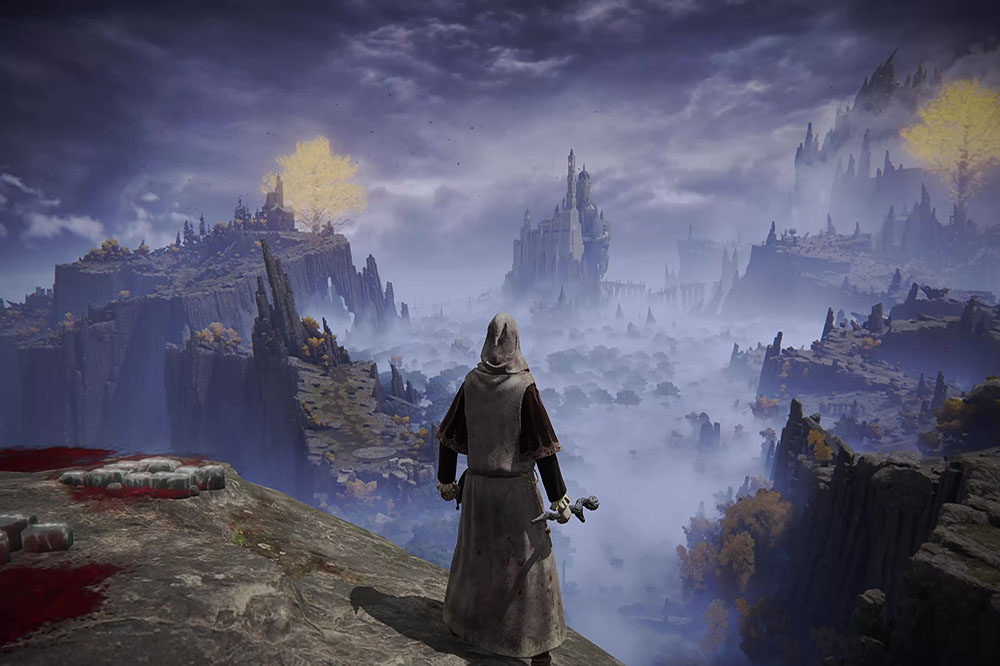 Image Credit: Bandai Namco
If you're looking for Elden Ring speedrun tips, then there seems to be a few universal things to try. Firstly, when you're choosing your character class, the Samurai class seems to be best. Overall, it offers the player the Uchigatana as a starting weapon. This sword causes blood loss in enemies, making it super helpful against bosses. Of course, if you're just playing the game for fun, be sure to check out our Elden Ring Classes Guide to dive deep into every option.
Another popular tactic appears to be knowing when to die. That sounds a little funny, but it's true. A huge part of warping in glitched speedruns is dying by certain points to respawn in the optimal spot. If you're looking for the timing on those things, then I'd highly suggest watching speedruns. You can even try playing along with a speedrun to get the feel of things down. Overall, the best way to tackle a speedrun yourself is to read about what others are doing and learning about the game.
Let us know what guides to Elden Ring you would like to see next! The game is available now on consoles and PC. Thanks for reading Comic Years for all things gaming, comics, and pop culture.
Featured Image Credit: Bandai Namco
Taylor is the Gaming Editor of Comic Years and a lifelong fan of video games. He holds two degrees in Political Communication and wrote a Master's Thesis on resistance movements, race, and the exploitation of college athletes. His wife and two Toy Australian Sheppards keep him sane.
Leave a comment