Activision Blizzard New Game Rumors
It's time to huddle up 'cause we've got some juicy gossip to spill. Picture this – iconic franchises from Activision Blizzard, right in your pocket, on your smartphone. Sounds like a dream, right? Well, my friends, get ready to pinch yourselves because this dream is becoming a reality. The buzz is real, and it's electrifying. Yep – there's a new Activision Blizzard game. 
Now, let's start with the facts. Our friendly neighborhood tweeter, @StephenTotilo, gave us thrilling news: Warzone is going mobile. Visualize it, folks – the pulse-pounding, explosive action of the beloved battle royale, all on your handheld device. So, this baby's currently being brewed with Activision's in-house engine, with an expected release in the fall of 2023. The anticipation is palpable, isn't it?
But wait, there's more with this new Activision Blizzard game. Up next is Warcraft Arclight Rumble, taking us on a mobile journey into the captivating universe of Warcraft. The twist here? It's all about blending action with strategy. While we're not privy to the details yet, the very idea of the sprawling world of WoW coming to life on your mobile device is a thought to relish. So, are we looking at leading daunting armies, plunging into monumental battles, or getting wrapped up in interesting tales? Nevertheless, we're on tenterhooks, and the wait adds to engaging.
Now, let's get to the juicy part. There's chatter about a mystery Activision Blizzard new game. We're all in the mobile gaming arena, and the suspense is climbing faster than a rocket. Is it another high-profile franchise getting a mobile makeover? Or could we be looking at a spin-off or even a completely fresh IP?
What is Activision Blizzard's new game?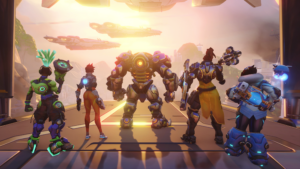 Image: Activision/Blizzard/Microsoft
However, let's not get ahead of ourselves. Right now, it's all conjecture, and the top dogs at Activision Blizzard are playing it cool, revealing nothing. They're holding their cards tightly, catching us in a whirlwind of curiosity and anticipation. It's like a rollercoaster ride of speculation, but isn't it a rush?
So, let's delve deeper into the guessing game. Could this mystery Activision Blizzard new game be a bold reinvention of one of their existing franchises? The trend of spinning well-known games into mobile versions has been gaining traction. Imagine the possibilities: a mobile variant of Diablo, with its iconic action RPG elements, or a mobile version of StarCraft, bringing the classic strategy game to the small screen.
Or perhaps they're looking to break the mold completely with a brand-new IP. This Activision Blizzard new game strategy could usher in a new gaming universe and characters to captivate mobile gamers worldwide. In the ever-competitive mobile gaming landscape, an entirely new IP from Activision Blizzard could be a winning move.
Let's remember that Overwatch is still a strong contender. An Overwatch mobile game could allow a broader audience to experience the team-based multiplayer action that has made the franchise so popular. Or could the mystery game be tied to the upcoming Overwatch 2, providing a mobile experience that compliments the main game?
So, what's the takeaway? Activision Blizzard is cooking up something massive. We're talking about a mystery mobile game from a top franchise, potentially Overwatch. As we all hold our breath for the big reveal, one thing's crystal clear: being a gamer has never been more exhilarating. Hold on to your hats, folks. So, we're in for a wild ride. Let's keep those gamer thumbs ready and raring to go for this Activision Blizzard new game!
Hi! I'm Arvyn, and I'm an English teacher from the UK. I've been teaching English online for over 4 years to students from all across the world and all ages. Outside of work, I'm a huge fan of reading, video games, and playing with my adorable kitties. See ya!
Leave a comment