What Marvel Graphic Novels You Should Read This September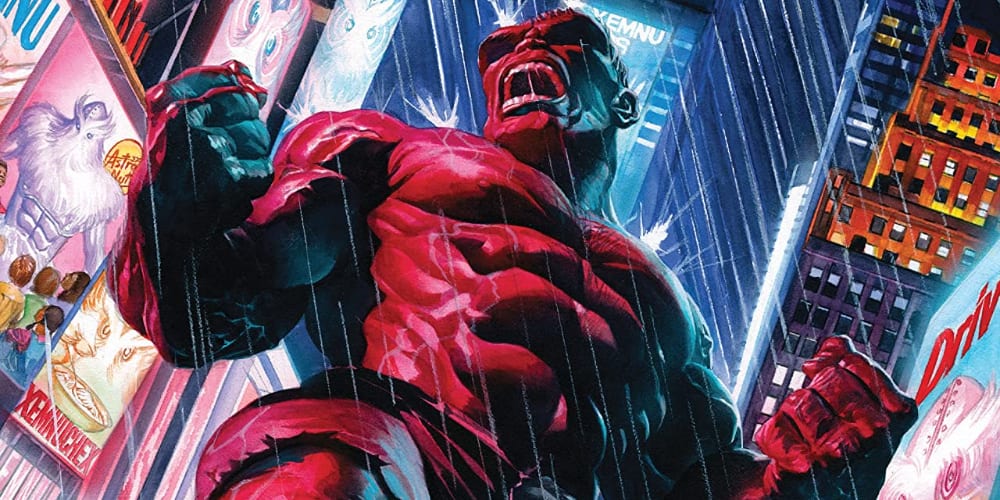 More than any other comic publisher, Marvel Comics has the best graphic novel production game. Generally, they get new volumes out quickly, and always offer a variety of reprints that keep great stories current. In fact, they just published their 100th Marvel Masterworks. Who got the honor? Howard the Duck, obviously. Someone at Marvel has a sense of humor, at least. Nonetheless, for September, we've got new and old graphic novels you should read, including installments in the new Marvel Comics Select and X-Men Milestones lines. And undoubtedly, we are cheating a little to sneak in a few more titles.
Ditko is…Strange!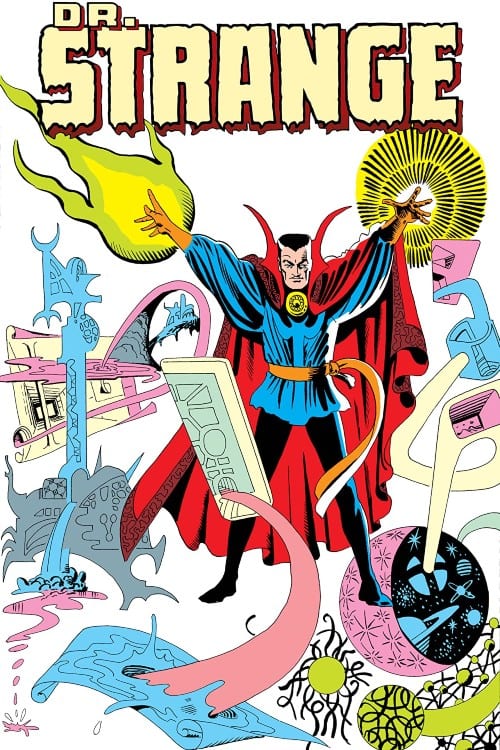 Strangely good, right? (Marvel Comics)
They're not calling it an Omnibus, but Ditko is…Strange! is most definitely an omnibus, including 43 issues of Steve Ditko and Stan Lee's complete run on Doctor Strange. Doctor Strange was a particularly important departure for comics. After the nuclear bombs fell, magic-based characters lost popularity and everything went to science—and as much radioactive transformations as possible. Hulk, Daredevil, Spider-Man, the then-new Flash…all some kind of accident with science. Hence, Doctor Strange brought magic back to comic books, and his popularity proved that readers still wanted the mystic arts, just as much as the science. Now, you should read this Marvel Comics "king-size" graphic novel when it comes out this September, but $100 is a bit high. Well, right now, Amazon has it for $9.99 on Kindle, if you preorder. Similarly, it's only $19.99 on Comixology. Sure, it's cheaper, but you'll lose the awe-factor of the King-Size print edition.
Writer: Stan Lee
Artist: Steve Ditko
Release Date: September 30th
Official Solicitation:
Steve Ditko is an inimitable talent dedicated to a singular vision. Steve Ditko is one of the greatest storytellers of all time. Steve Ditko is the visual master who created dimensions beyond imagining and worlds beyond compare. Steve Ditko is strange…Doctor Strange! Dr. Stephen Strange was a world-renowned surgeon until an accident crippled his hands. Broken and destitute, he journeyed to Tibet in search of a legendary healer. There, he found not a man of medicine – but the path to the mystic arts! This King-Size edition presents Steve Ditko and Stan Lee's complete Doctor Strange stories at a massive size – so big that each page is like falling into another dimension! Lose yourself in the debuts of iconic characters like Baron Mordo, Wong, Eternity, Clea, Dormammu, the Mindless Ones and more! Collecting material from STRANGE TALES (1951) #110-111 and #114-146.
Premier Marvel Graphic Novels You Should Read This Septemeber
While both Venom Rex and Second Coming are two of the best modern-era stories at Marvel, this is more to spotlight the two curated series: Marvel Comics Select and X-Men Milestones. These are wonderful collectors' items, and they are graphic novels you should read this September regardless of the Marvel Select or X-Men Milestone banner. At the very least, they will look great on your bookshelf.
X-Men Milestones: Second Coming
The conclusion to one of the best X-Men storylines ever told. (Marvel Comics)
Writers: MIKE CAREY, MATT FRACTION, CRAIG KYLE, ZEB WELLS, CHRISTOPHER YOST
Artists: MIKE CHOI, TERRY DODSON, DAVID FINCH, NATHAN FOX, STUART IMMONEN, GREG LAND, ESAD RIBIC, IBRAIM ROBERSON
Release Date: September 16th
Official Solicitation:
Collects Second Coming: Prepare (2009), Second Coming (2010) #1-2, Uncanny X-Men (1981) #523-525, New Mutants (2009) #12-14, X-Men Legacy (2008) #235-237, X-Force (2008) #26-28.

The biggest and best adventures of Marvel's mighty mutants — these are the X-Men Milestones! Mutantkind has never had it worse. The mutant population is down to a mere 181. In the last year, only one mutant has been born: the girl called Hope, believed to be the Mutant Messiah who will re-ignite the species. Hope was raised in the future by Cable, and now the two have returned! But the Human League is bent on eradicating Earth's final mutants — and they see Hope's death as the final nail in the coffin. As Bastion and his allies unleash a merciless all-out assault on the X-Men, everything rests on Hope's shoulders. Will this be mutantkind's end?
Venom Rex: Marvel Select Edition
Donny Cates turned Venom into a millennia-long epic. (Marvel Comics)
Writer: DONNY CATES
Artist: RYAN STEGMAN
Release Date: September 30th
Official Solicitation:
Collects Venom (2018) #1-6.

Continuing the series of graphic novels handpicked by Marvel Editorial to showcase pivotal storylines written and drawn by some of Marvel's most acclaimed creators! Beneath the streets of New York, an ancient and primordial evil has been awakened. With it, something equally evil has been awakened in that most wicked of web-slingers: Venom! The symbiote may still be a Lethal Protector of innocents in New York, but this never-before-seen threat could possibly force Venom to relinquish everything it holds dear — including its human host, Eddie Brock! As Eddie and Venom summon the strength to defend New York against the most powerful foe they've ever faced, there's one more thing standing in their way: Miles Morales, Spider-Man! Two of the hottest creators in comics today, Donny Cates and Ryan Stegman, join forces to put Venom through a nightmare a thousand years in the making!
From the World of Old Man Logan
Okay, two at once again. The world of Old Man Logan gained a lot more popularity during the Secret Wars event, when Old Man Logan ended up in the 616-universe. We followed Old Man Logan for a few years in an ongoing series, but we also got Old Man Quill, Old Man Hawkeye, and Avengers of the Wasteland. This September, Marvel Comics is releasing the complete collection of Old Man Hawkeye, and the trade paperback of Avengers of the Wasteland, two really fun stories that you should read. Not to mention that this world is Mad Max meets the Marvel Universe—what's there not to love?
Old Man Hawkeye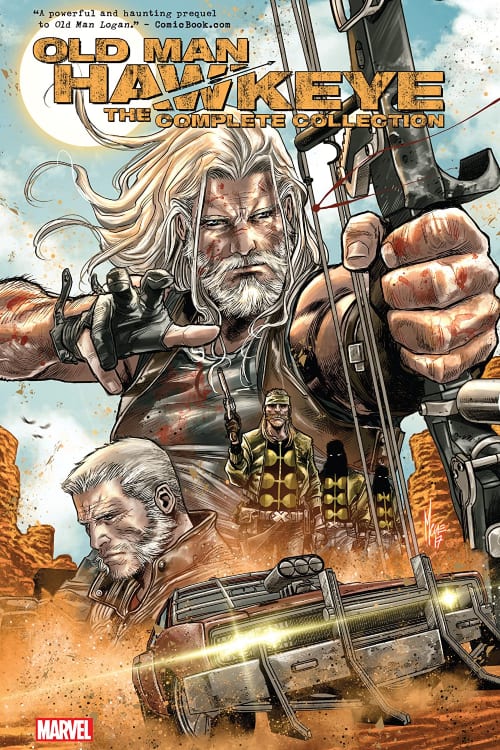 In a world where everyone drives a Ford Falcon-looking car…(Marvel Comics)
Writer: ETHAN SACKS
Artists: MARCO CHECCHETTO, FRANCESCO MOBILI, and IBRAIM ROBERSON
Release Date: September 2nd
Official Solicitation:
Collects Old Man Hawkeye (2018) 1-12.

Return to the Wastelands! In a story set five years before the dystopian classic "Old Man Logan," the super heroes have fallen. The villains have divided up the country. Yet Clint Barton still lives! The former Hawkeye is going blind, but there's one last thing he wants to see: revenge for his fallen comrades in arms. And he's setting what sights he has left on some fearsome foes — including Bullseye, the Red Skull, the Winter Soldier and the multiplying menace of the Madrox Venoms! Plus: Clint finally faces the Thunderbolts who betrayed him and reunites with Kate Bishop! Moonstone, Baron Zemo and the Weapon X facility await him, but can Clint conclude his quest before his eyes fail him for good? It's the aged avenging archer as you've never seen him before!
Avengers of the Wasteland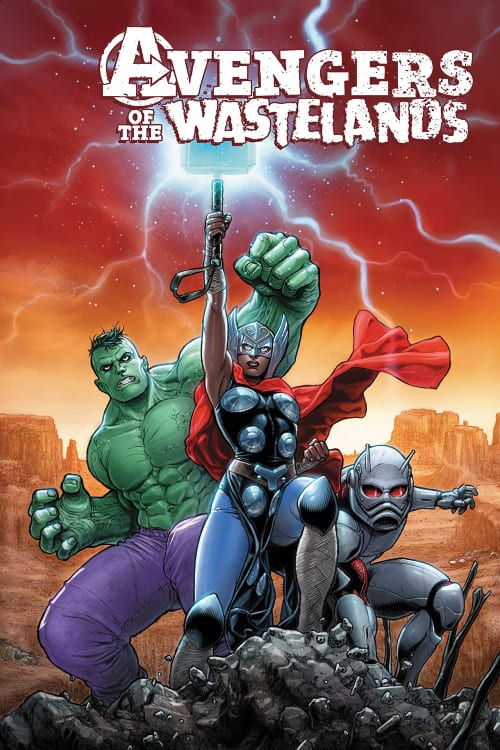 "Old Man" stopped working as a title. (Marvel Comics)
Writer: ED BRISSON
Artist: JONAS SCHARF
Release Date: September 16th
Official Solicitation:
Collects Avengers Of The Wastelands (2020) 1-5.

A new story from the world of OLD MAN LOGAN! In a future where America's super heroes fell at the Red Skull's hands over 50 years ago, a new force rises in the Wastelands! Dani Cage wields mighty Mjolnir for the cause of peace, but the Avengers may assemble once more when Doctor Doom's brutal regime forces Dwight — the owner of the surviving Ant-Man technology — together with Dani and Hulk Jr. in a last-ditch effort to survive! Can they succeed where Logan left off? And what does Captain America's return herald for the team? The Wastelands are filled with terrors: Baron Blood and his legion of vampires! The Green Goblin! The Enchantress and the Absorbing Man! But none are worse than Doom, and these neophyte Avengers are about to learn that the hard way!
So, that's technically five Marvel Comics graphic novels you should read this September, but sometimes there's just too much good stuff, right?
(Featured Image: Immortal Hulk Vol 7: Hulk is Hulk, Marvel Comics)
Roman Colombo finished his MFA in 2010 and now teaches writing and graphic novel literature at various Philadelphia colleges. His first novel, Trading Saints for Sinners, was published in 2014. He's currently working on his next novel and hoping to find an agent soon.
Leave a comment