The Lost Carnival Gives Us Dick Grayson Before Batman With a Lighthearted Mystery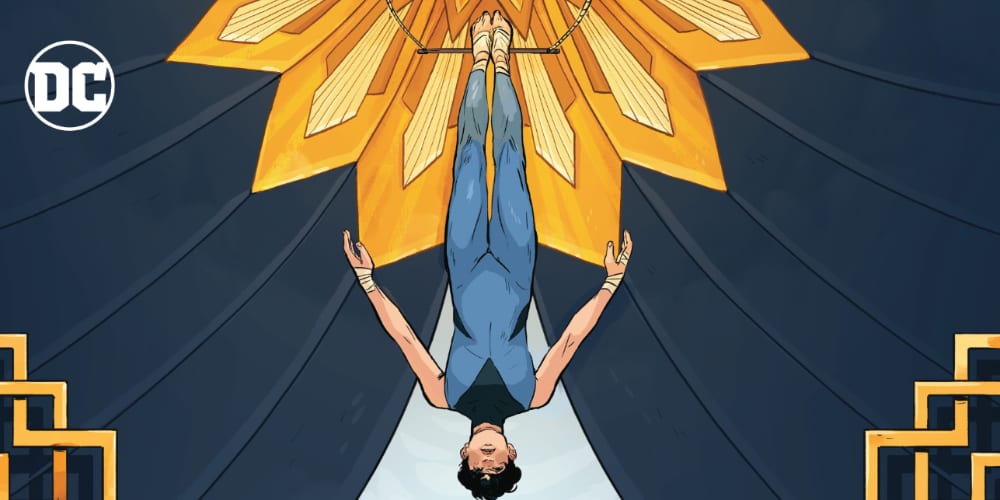 DC Comics is hitting a stride with their YA and Middle-Grade graphic novels. Last year, they delivered hits such as Teen Titans: Raven, the Harley Quinn story Breaking Glass, a Zatanna middle-grade graphic novel, The Oracle Code, which focuses on Barbara Gordon's paralysis, and several more. For 2020, we're getting even more, such as Superman Smashes the Klan, Wonder Woman: Tempest Tossed, and an Aqualad YA romance, You Brought Me the Ocean. And right in the middle of all these books is The Lost Carnival: A Dick Grayson Graphic Novel. And the YA graphic novel, by Michael Moreci and Sas Milledge, is another example of why this is the best way to introduce comics to a new generation.
Meet Dick Grayson, Your Typical Angsty Teenage Traveling Trapeze Artist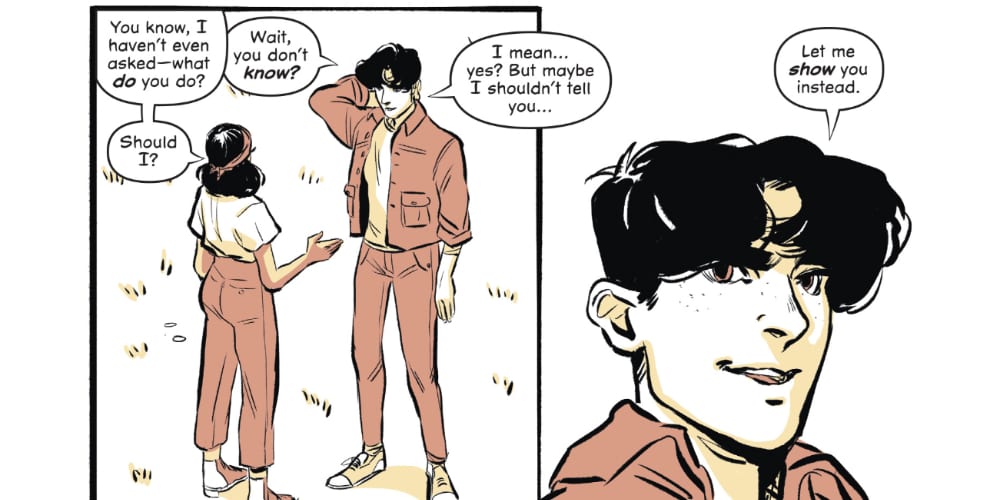 (Image from The Lost Carnival: A Dick Grayson Graphic Novel, DC Comics)
As Robin and then Nightwing, Dick Grayson is a fan-favorite character, but he's not a superhero yet in The Lost Carnival. And this is the first thing that Moreci and Milledge do well. Dick, free of the presence of Batman and trauma, is a very different character. Mainly, he does what many teenage boys do. He fights with his parents, gets into trouble, sneaks off to parties, and falls in love with a teenage (sorcerer) girl at a rival carnival. We all remember those days, right (just kidding. I never went to parties).
The curse of teenage superheroes is that we never get much time to see them as typical teens before . By the end of a 22-page comic, they go from regular teen to super teen. But in The Lost Carnival, Dick Grayson is just Dick Grayson. And this doesn't just make him free of Batman's influence, but we also get to see his everyday life in the circus. Even better, we get to see him interact with his parents. And knowing the tragedy coming down the road, it does make those moments bittersweet. Another nice touch is his best friend, Willow, who is the only other teen in Haley's Circus. Sometimes, Willow acts as a soundboard for Dick, but she's still her own character with her own plotline. It's just nice to see Dick's natural world.
The Lost Carnival is Definitely Not of This Regular World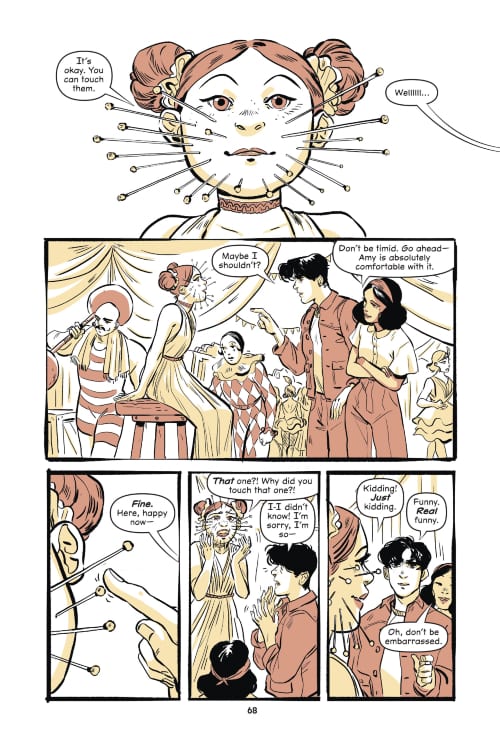 Most people can't even look at a syringe going into their skin. (Image from The Lost Carnival: A Dick Grayson Graphic Novel, DC Comics)
When the Lost Carnival first pops up across from Haley's Circus, Dick Grayson doesn't really care. He wants nothing to do with the circus he's already a part of, why would he want to visit another one? But then he meets Luciana at a party he wasn't supposed to go to. Luciana and her friend Quinn, a teenage boy from the Lost Carnival with scars on his face, are being bullied by the local kids, who call them "carnies." Dick jumps to their defense and starts brawling…until Luciana shows her magical abilities. Of course, Dick is immediately infatuated with her and wants to get to know her. So, he sneaks off to the Lost Carnival to find her.
And the Lost Carnival is remarkable. Dick is wholly entranced, and he lives in a circus. The acts are bigger, the attractions more unique, and there's a real sense of wonder. And then there's Caliban's magic show, where he sees real magic, like Luciana's. Caliban even summons creatures from another dimension, which kicks off the plot. After helping Luciana stop the monster from escaping, their romance begins. A classic meet-cute.
But what makes the Lost Carnival really stand out is the art.
Sas Milledge's Art and Coloring in The Lost Carnival: A Dick Grayson Graphic Novel, Makes the Story Unique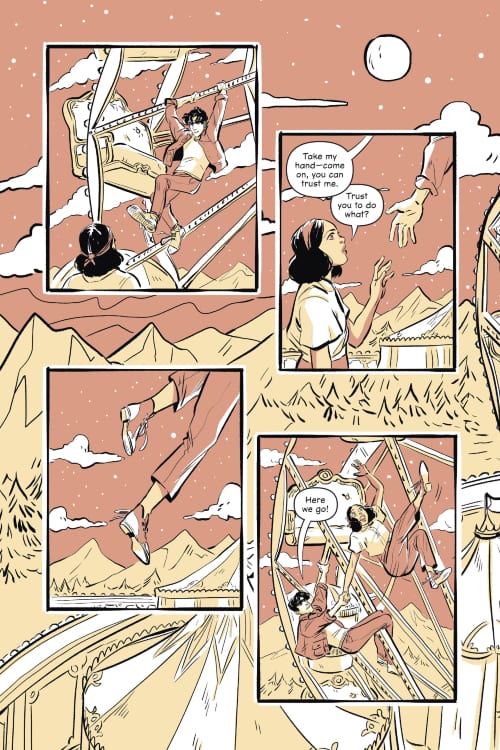 The most convenient way to get a seat on the Ferris Wheel. (Image from The Lost Carnival: A Dick Grayson Graphic Novel, DC Comics)
Another strong area for many of the DCInk and DC YA graphic novels is the art. Only about half of them look like a typical graphic novel. For instance, Raven was mainly black and white with splashes of color. Milledge uses color to tell the story in a very particular way. When we meet Dick at Haley's Circus, Milledge uses a cold blue color. The images look a lot more static, and there's an icy nature to it that captures Dick's frustration with his circus life.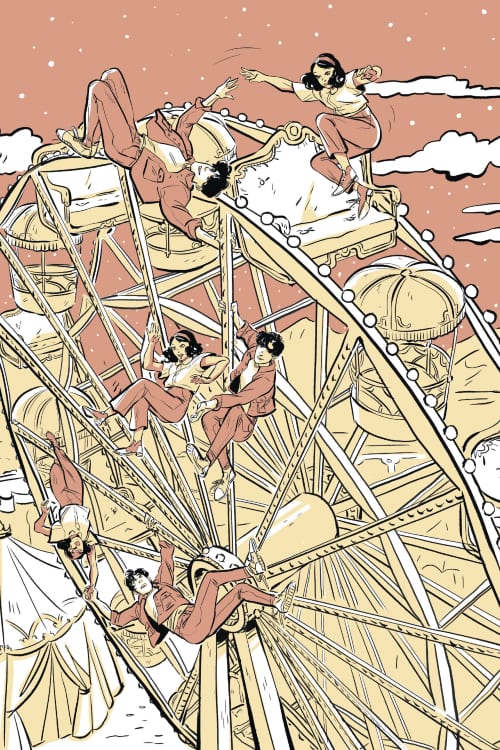 (Image from The Lost Carnival: A Dick Grayson Graphic Novel, DC Comics)
But then we go to the Lost Carnival, and the world around Dick Grayson changes very literally. Instead of the cold blue, we have a warm sepia tone with a lot more fluidity. Even Dick changes color when he enters the carnival, which is fitting. The Lost Carnival profoundly changes Dick, and his life after won't be the same. And this is even before he loses his parents and gets adopted by a billionaire with a bat fetish. Milledge's art choices deliver Moreci's story perfectly.
How The Lost Carnival Changes the Way We See Dick Grayson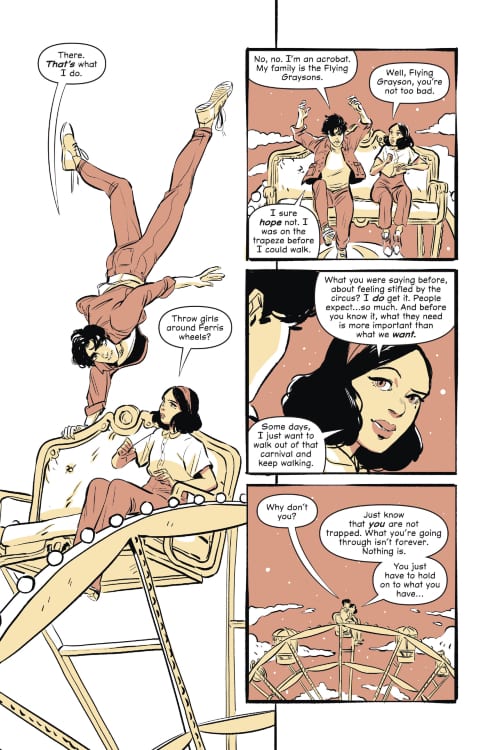 (Image from The Lost Carnival: A Dick Grayson Graphic Novel, DC Comics)
The Robin we meet in Batman is a fascinating, but seemingly innocent character. And indeed a bit naïve. There's also a pretty big leap from "my parents died" to "Batman's sidekick." The Lost Carnival fills in that gap for Dick Grayson. He's already seen hardship before his tragic loss. He's fought against an unusual threat before his various battles against villains like the Penguin, Clayface, and the Joker. The Lost Carnival makes Dick's decision to become Robin a natural conclusion and more than an act of grief over his parents' deaths.
There are plenty of young characters DC still needs to explore in these YA graphic novels. This year, Teen Titans: Beast Boy comes out, and, as said before, an Aqualad graphic novel. It would be wonderful to see characters like Starfire and Cyborg get a YA treatment too. Who do you want to see next? In the meantime, make sure you pick up a copy of The Lost Carnival!
Grade: A Ticket to a World of Pure Imagination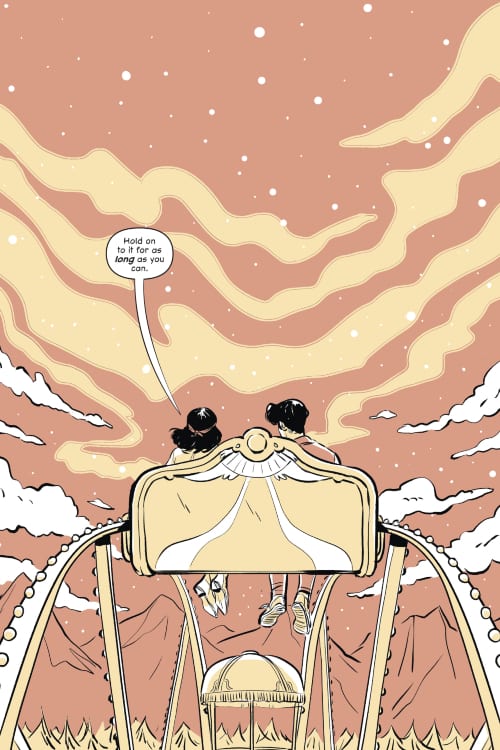 (Image from The Lost Carnival: A Dick Grayson Graphic Novel, DC Comics)
(Featured Image from The Lost Carnival: A Dick Grayson Graphic Novel, DC Comics)
Roman Colombo finished his MFA in 2010 and now teaches writing and graphic novel literature at various Philadelphia colleges. His first novel, Trading Saints for Sinners, was published in 2014. He's currently working on his next novel and hoping to find an agent soon.
Leave a comment