Captain Bitcoin #1 Comic Book- Financial Freedom Like Never Before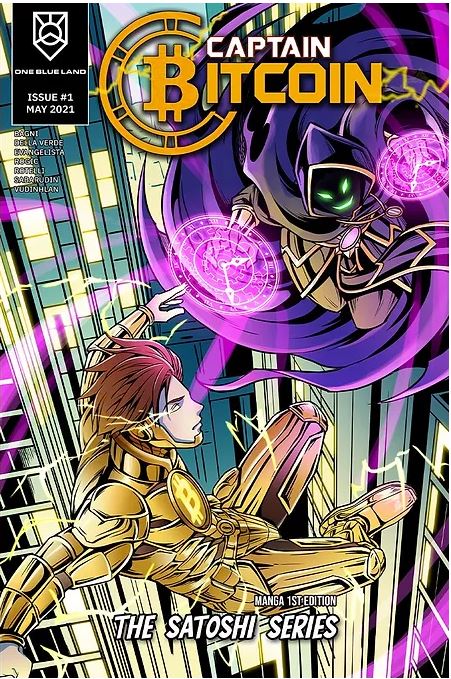 Captain Bitcoin #1 comic book is the first series of collections launched by One Blue Land. That is an independent publishing house pioneer in the publication of the so-called "financial comics". This initiative brings a very novel proposal, which associates the concepts of the world of cryptocurrencies with comic characters. It is a way for readers to be introduced to this complex industry at the hand of charismatic and close characters. In the stories, the protagonists live everyday situations that end up deriving plot twists that enter fully into the crypto world. 
Spinning the plots appeals to both the experienced reader in the cryptocurrency industry and those who are not, offering an easy but not simple vision. In this way, Captain Bitcoin Finance Comics fulfills a double function, trapping the reader in the character's story and, at the same time, doing didactic work thanks to all the concepts that are exposed. 
This article will talk about One Blue Land, the independent publishing house that launched this initiative. We will also review its star comic, Captain Bitcoin #1, telling the comic's synopsis and how readers can obtain it. And finally, we will do a brief review of the rest of the works this publisher has released.
About One Blue Blue Land
Let's start by talking about the publisher responsible for this wonderful initiative. One Blue Blue Land is an independent comic publisher focused on telling stories about financial freedom, cryptocurrency, and NFTs. All stories are free to read or view at oneblueland.com.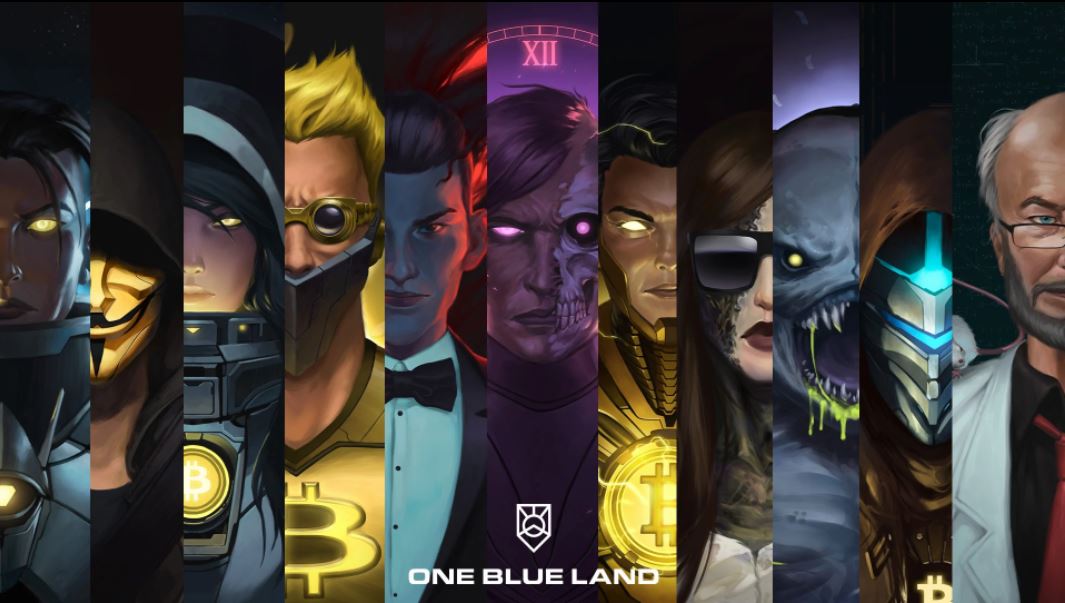 (Image: One Blue Land)
There are approximately 25 artists in this project, considering writers, letterers, graphic artists, web designers, Brand Strategists, and others. Here we can see a list of all the artists/writers working actively on the project. 
If you want to know more about One Blue Land, please visit their website, their official Twitter account, or their Instagram. 
Captain Bitcoin #1 Comic Book 
Comic Book Details and Ways to Purchase It
This first issue of The Satoshi Series, published by One Blue Land, has 48 pages and was released on May 22, 2021. There are many ways to get this comic, in its physical, digital, NFT, first editions, and even the NFT of the characters. Here we explain how:
Unlimited Digital: for free and unlimited on the publisher's website, oneblueland.com, on their Instagram, on their YouTube channel in the form of animated manga and on bitcoincomics.com.
1st Edition NFT: if you are a fan of the NFT and would like to have your copy, the First Edition of this issue has 100 copies. Its price is variable and can be found in Decentraland OBL Comic Book Store (Map: -46, 39).
1st Physical Edition: if you would like to have a physical copy of Captain Bitcoin Finance Comics, you can also get the first edition at the One Blue Land store.
Limited NFT: in the limited issue of NFT, which has 2000 copies, you can get one for 0.021 ETH. Decentraland OBL Comic Book Store (Map: -46, 39) 
Limited Physical: 2000 units are available for $21, and can be purchased at https://oneblueland.shop/. 
Character NFT: there are also NFT versions of the characters. In total, there are 21, and you can buy them for 0.21 ETH.
Captain Bitcoin #1 Plot Summary
Captain Bitcoin began hundreds of years ago by introducing us to a villain called the Timestealer. The Timestealer does just what his name suggests. He takes years off of people's lives to give himself sustenance. As we move forward to modern times, the amount of sustenance the Timestealer gets for each year stolen has dramatically diminished. What used to provide him with six months of sustenance now provides him with six minutes.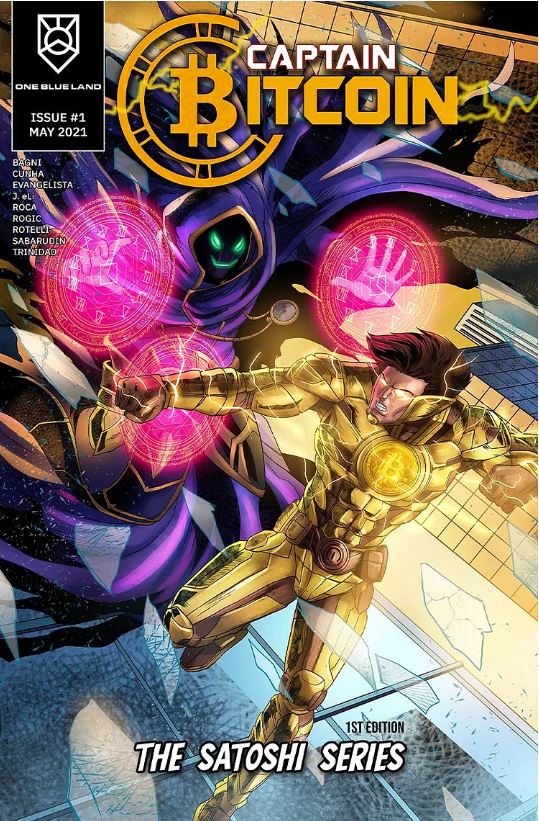 Image: One Blue Land
The main protagonist of the story is a man named Cal. Cal is a customer representative for an insurance company. It's not the job he wants, but it's the one he needs to pay the debts accumulated over the years. We watch as the Timestealer hits Cal. 
(Image: One Blue Land)
He has lost over a year in the blink of an eye and is no closer to doing what he wants. Cal realizes a problem and goes on an impromptu camping trip to sort things out. During the camping trip, Cal meets a stranger in a cape. The stranger explains to Cal that time is money.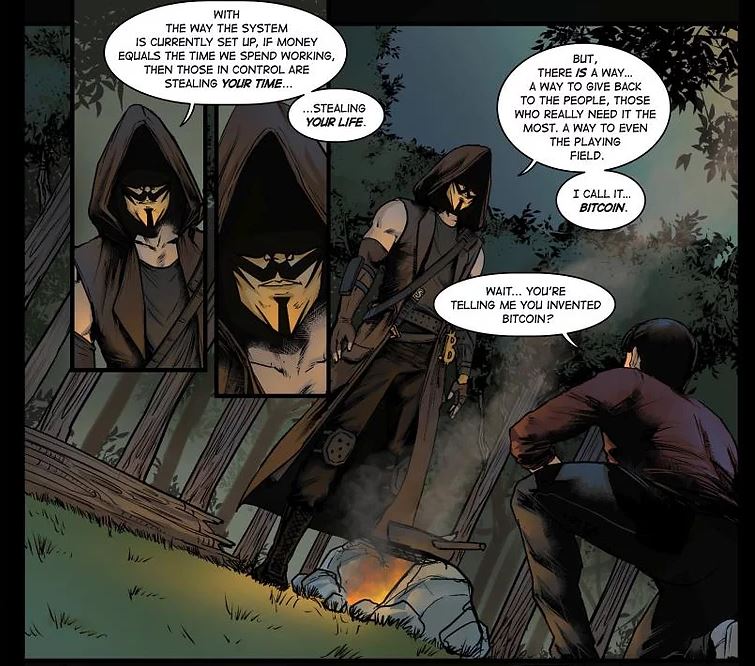 (Image: One Blue Land)
Captain Bitcoin's Plot Twist
If Cal can find a way to make his money work for him, he will have more of both. Cal takes the stranger's advice to heart. Over time, his debt is destroyed, and savings begin to flourish. When he reaches a point where he feels secure, Cal goes to his boss and tender his resignation. It is then that the boss reveals to be the Timestealer, and the ultimate battle begins.
Satoshi intervenes during the battle to save our protagonist from the evil villain, who escapes through the window upon sensing the threat. After getting rid of the villain, Satoshi shows the intention to act as a mentor for Cal. However, when he is about to hand him the book with all the secrets, he throws it out the window, and Cal jumps out to grab it. The final surprise is that a suit of armor emerges from Cal's body, allowing him to fly and finally become Captain Bitcoin.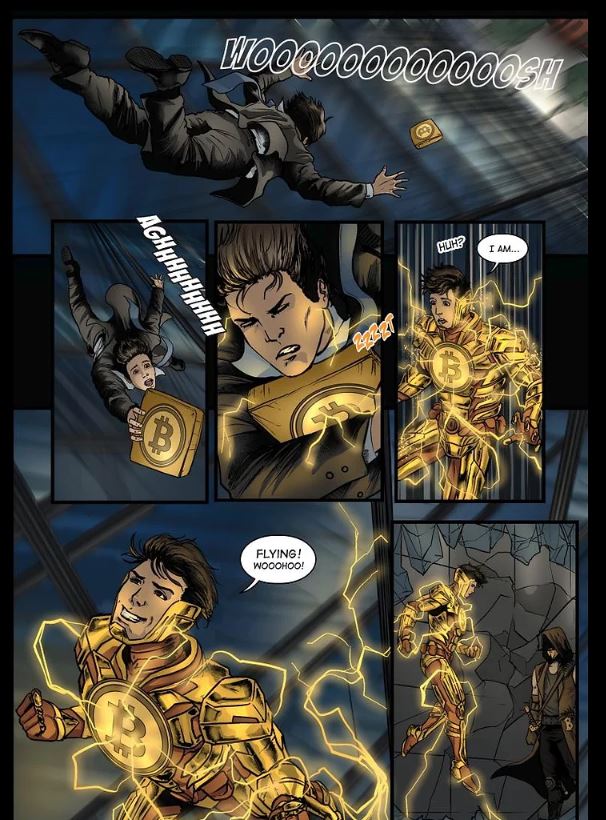 (Image: One Blue Land)
Key Concepts Captain Bitcoin #1 
Captain Bitcoin is a pioneer project in teaching complex economic concepts through the pages of a comic book. As presented in this comic, we may have already seen certain financial concepts in some stories, but never like this before. Getting out of the cycle of debt and interest is one of the concepts that Captain Bitcoin teaches us. Having a plan and putting it into action is vital to stop the Timestealer.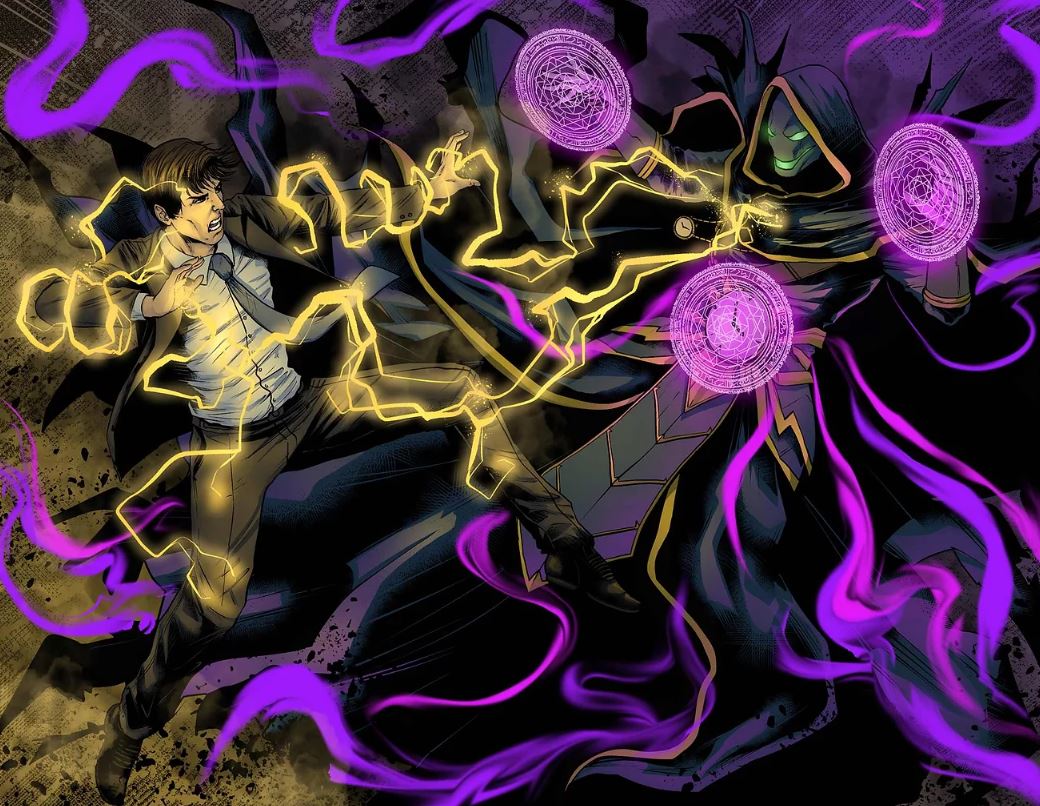 (Image: One Blue Land)
The Timestealer is the villain of the comic. This character represents 9:00 AM to 5:00 PM salaried work in an office for 20 or 30 years. As the name implies, this way of life leaves very little free time available. Characters who the villain attacks lose hours of life, suffering premature aging. This trap is the same that happens to many people who spend most of their lives working, and don't realize time has already passed. The book explains it very well with this allegory. 
Details From the Cover and Pages
In terms of form, the Captain Bitcoin #1 comic book cover is excellent. In it, we see our protagonist, already transformed into a hero, wearing shiny golden armor. The outfit reminds us of Bitcoin's colors, and we see him fighting the Timestealer. The villain reminds us somewhat of Doctor Strange and is a good reference as the sorcerer supreme also has the power to manipulate time. 
The inside pages are very well narrated. At times Cal's character is reminiscent of Neo in the first installment of The Matrix. We see an ordinary man, alienated by his job, trying to get ahead in life. He is someone we can identify with, just as we did with Thomas Anderson in the Wachowski sisters' film.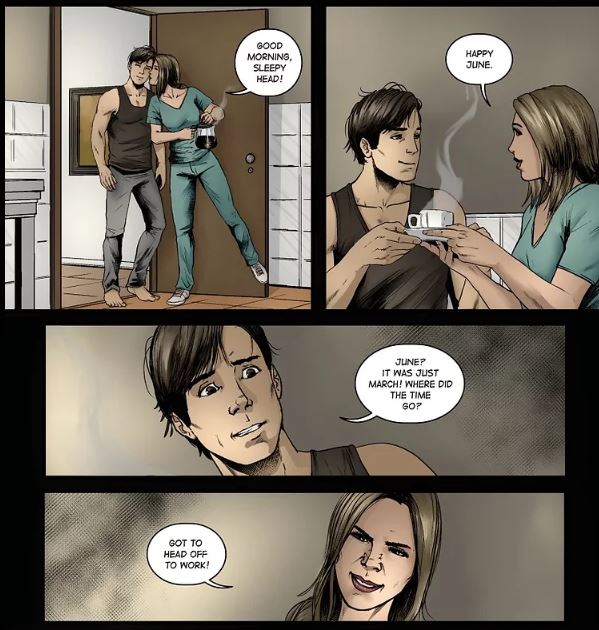 (Image: One Blue Land)
In the printed version, the quality of the materials has nothing to envy of the "big two." Captain Bitcoin is available at www.oneblueland.com for $21 in its limited edition for those who love physical copies.
However, if you don't have a lot of resources, or if $21 seems expensive, the good people at One Blue Land offer a free digital version to read through their website. Here you can find, in addition to Captain Bitcoin, the stories of Tsukiko & Rai, Parabolic, Timestealer, Moon Boy and many others. 
As we can see, One Blue Land cares about our finances, offering a lot of free content, they even have a video version of the comic book, as well as an animated manga version. 
All you have to do is go to the website, search for comics, click on any title under the videos, and that's it! 
Other Series in the One Blue Land Catalog
Aside from Captain Bitcoin #1 comic book, the publisher has an extensive catalog of stories and characters. Readers can purchase these comics in the same way as Captain Bitcoin. Below we will take a look at two of them. 
Moon Boy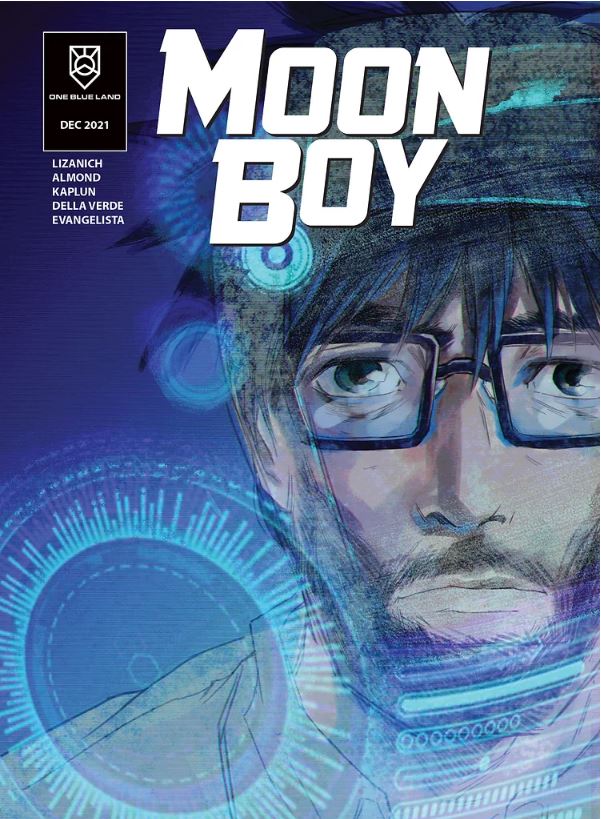 (Image: One Blue Land)
Avery Walker is a man who works hard on one of his creations to make an impact on the world to provide for his family. Everything is going well in his life until something terrible happens to him one day. The Timestealer takes his life. Moon Boy, Avery has a chance to go back in time and get his life back… if he can.
Moon Rising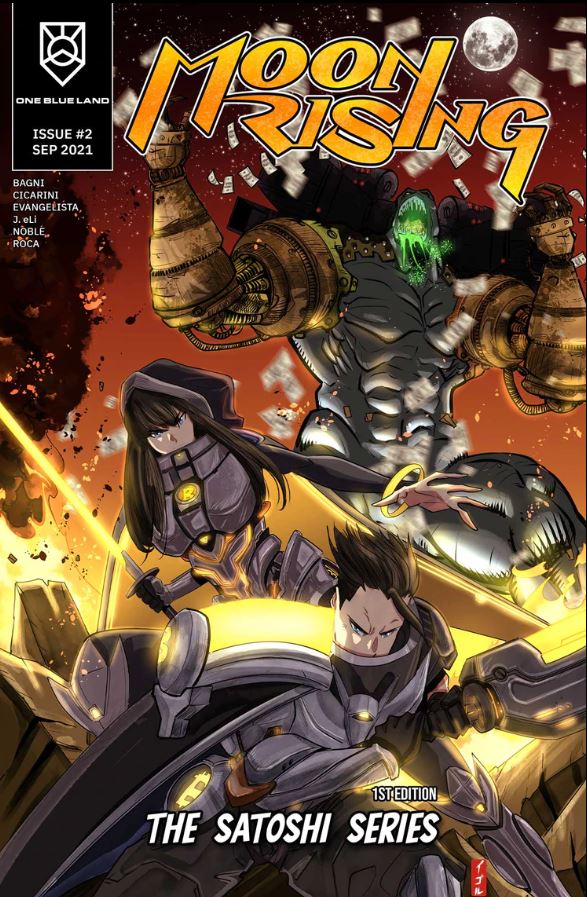 (Image: One Blue Land)
Tsukiko ("Moon") and Rai ("Lightning") are two teenage twins who are fond of day trading. Their hobby becomes serious when they start making huge amounts of money. However, they begin to use these skills in the wrong way. Soon after, Satoshi appears to show them the way forward. 
Upcoming One Blue Land Events
Currently, the publisher is preparing its third issue, which will come out in the summer of 2022. This new title is Sir Whale, the continuation of the Satoshi series. There will be a total of 8 issues for this series.
In addition, One Blue Land comics will be present at NFT NYC and Brooklyn Comic, held next June 11 and 12, 2022. Here they will be presenting Captain Bitcoin and some of their other volumes. Those interested can purchase tickets for this convention at the link below.  
Feel free to log on to the One Blue Land website so that you can defeat the Timestealer! Have you already read the comic or any other comics in the collection? We'd love to hear your thoughts in the comments. 
Featured Image via One Blue Land
I am a circus aerialist influenced by Dick Grayson and Spider-Man. Fortunate to write about the characters that inspired me. I also have a Bachelor's degree in Political Science and a Master's degree in International Trade.
Leave a comment