Amazon Prime Lord Of The Rings Series Moving Ahead Fast
The latest move by Amazon in
The Streaming Wars
is announcing its intentions to develop a
Lord of the Rings 
series. Fans were immediately intrigued. The original novels by J.R.R. Tolkien are classics. The original films, directed by Peter Jackson, were an incredible success. In fact,
The Lord of the Rings: The Return of the King 
made $1.1 billion dollars on a $94 million budget
and holds the record for the most Academy Awards won by a single film with 11 wins (it won all 11 of its nominations). With such a huge fanbase waiting to be pleased (or let down), the upcoming series is being relatively quiet with announcements. Well, we finally have some news! Tom Shippey, a Tolkien scholar, spoke about the series in a recent interview and revealed some information.
What We Already Knew About the Amazon Lord of the Rings Series
Amazon confirmed the setting of the Lord of the Rings series in early March. The show is to be set in the Second Age of Middle-Earth. For most casual movie watchers, this means little. But, for the enormous number of die-hard fans out there, this is quite telling. The Second Age lasted for 3441 years, ending with the downfall of Sauron's army. The Last Alliance of Elves and Men defeated Sauron after the downfall of Numenor. So, this dispels any rumors about the series being a prequel that follows fan-favorite characters from the original books. It also means that it won't be a sequel. Instead, we get a mega-prequel.
The Prime Video series joined Twitter in November of 2018, and has been hinting at fans since February. "I wisely started with a map" the account quote-tweeted Tolkien as its Twitter debut. Days later, the account released a map, giving fans a clue to how much land the show would cover. And then, in March, the account released an even wider scale map, showing Numenor. This confirmed that the show would heavily feature Numenor. Fans expect to see the story of Sauron's rise to power.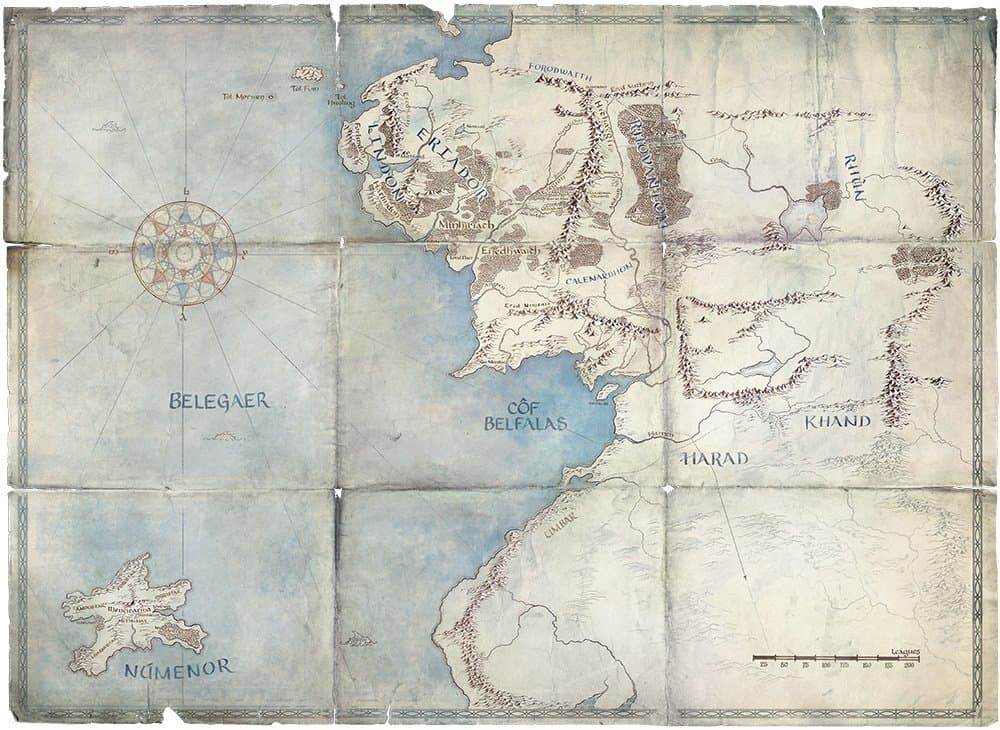 Image via LOTR Twitter Account.
What They Can't Touch
With such a massive LOTR history, there's some rules that the series has to follow. Shippey gave some insight into their limits. Apparently, the Tolkien Estate has insisted that the main shape of the Second Age undergoes no alterations. So, the course of history that has already been confirmed, must remain. This means that nothing confirmed about LOTR lore can change and that Tolkien's work can only be expanded on, and not altered. This still gives room for plenty of plot. Because Tolkien never went into detail about much of the history, Amazon is allowed to fill in the blanks. With thousands of years of history, that's a lot of blanks to fill.
As of now, the Second Age is all that Amazon has the rights to. Nothing about the First and Third ages are permitted, and are "entirely off-limits". Shippey has pretty extensive knowledge on all things LOTR. But, not only is it important to understand all of the lore, but it's also crucial that they navigate what they're allowed to use.
Who Is Working On It?
In a video released on the Twitter account, a list of people working on the show was announced. This "fellowship" as the tweet calls them, has some pretty big names in television. The showrunners, J.D. Payne and Patrick McKay are confirmed. Writers include Gennifer Hutchison (Breaking Bad, Better Call Saul), Helen Shang (Hannibal, 13 Reasons Why), among others. J.A. Bayona (A Monster Calls, Jurassic World: Fallen Kingdom) will direct the first two episodes. Belén Atienza (also A Monster Calls and Jurassic World: Fallen Kingdom) will serve as the executive producer. Bruce Richmond (Game of Thrones, Westworld) will co-executive produce along with Gene Kelly (Boardwalk Empire, Westworld) and Lindsey Weber (10 Cloverfield Lane, Star Trek Beyond). Ron Ames (The Departed, The Aviator) will co-produce. Kate Hawley (Crimson Peak, Suicide Squad) is the costume designer. The rest of the 'fellowship' is introduced, including multiple Academy Award winners and nominees. So, it appears that the series is in capable hands.
Meet our Fellowship. pic.twitter.com/Npouu6ZlRt

— The Lord of the Rings on Prime (@LOTRonPrime) July 27, 2019
When Do We Get To See the Amazon Lord of the Rings Series?
There is not an exact release date yet. Most early reports estimate that we can expect to see it on Amazon Prime Video in 2021. But we do know that the first season will be 20 episodes and that we can expect multiple seasons. No matter how long it takes for this series to be released, all signs point to an exciting show that should be well worth the wait! Plus, it gives us all time for multiple binges of the original LOTR series (and fine, I guess we'll re-watch The Hobbit, too).
Are you excited for The Lord of the Rings series on Amazon Prime Video?
Featured image via New Line Cinema.
Meghan Hale is the kind of movie lover that has a "must watch" that is a mile long... and growing. When she isn't talking about the latest film and television news she is writing one of her many in-process novels, screaming film trivia at anybody who will listen, and working as a mental health care professional. Follow her on Twitter @meghanrhale for some fun theories and live reactions to all things entertainment.
Leave a comment