What Is Wordle – How A Viral Word Game Has Brought The World Together
"Y'all need to get on the Wordle train." That was my colleague a week ago, and now everyone is officially addicted. What is Wordle though? In case you haven't heard of the viral internet game, it's a word game where players have six chances to guess a secret word comprised of five letters. There are three different colored squares you can get: green means you guessed the right letter and it's in the right place, yellow means you guessed the right letter but it's in the wrong place, and gray means the letter is not in the word. Sounds relatively simple right? It is, but it's also highly addictive. I am literally waking up every morning and thinking, "Hooray! It's another day, which means a new Wordle!" As a dedicated Wordle fan, I wanted to delve into the word game and get into how to play Wordle and questions about how to download Wordle (*SPOILER*: YOU DON'T).
How Do You Play Wordle?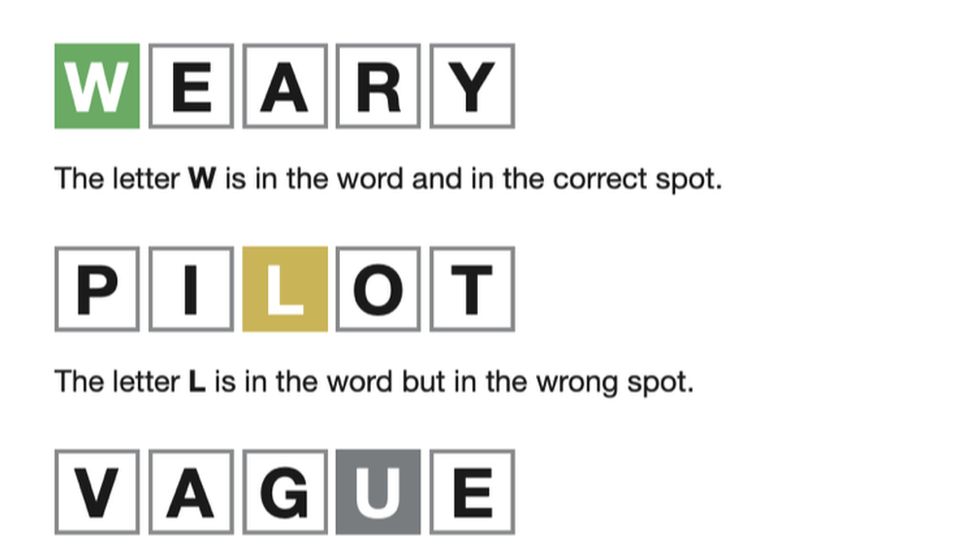 Image via screengrab
The basic goal of Wordle is similar to that of Wheel of Fortune or Scrabble: guess a word using the 26 letters of the alphabet. I was a complete noob and got thrown off by the "how-to" instructions (i thought I had to start out with a word that started with W…whoops). There are already Facebook fan groups and people sharing their strategies, but basically, you need to get the vowels out of the way. There's a reason vowels cost money on Wheel of Fortune. They're integral to creating words in the English language. I've talked to several of my friends and they all have their own starter words. OCEAN, IRATE, ADIEU are just a few of them.
From there it's a matter of using the more common consonants, like R, S, and T. My roommate has learned that when people (namely me) say, "TODAY'S WORDLE IS SO HARD," she knows to use the lesser-used consonants. It's also very helpful that Wordle tells you if something is actually a word. Glad I didn't waste one of my six chances on a word like FOSHO. If you get the secret word, there's the option to share with the world via social media. If you don't get it, you can still share with the whole world via social media, but Wordle also lets you know what the word was.
Do I Need To Download Wordle?
You do not need to download Wordle! You play on your browser and after you're done, you have to wait until midnight for the next game to appear. There are no annoying ads you have to watch and you don't even have to sign in using an email or social media account. There are quite a few copycat Wordles out there (which many people are playing or have played), but honestly, the ad-free, subscription-free word game is appealing, and you don't have to worry whether downloading Wordle is going to bring an onslaught of trashy ads.
Josh Wardle, the creator of Wordle, is a software engineer who lives in Brooklyn. He created Wordle because his partner loved word games and he wanted something that they could do together. In an interview with the New York Times, he said: "I think people kind of appreciate that there's this thing online that's just fun. It's not trying to do anything shady with your data or your eyeballs. It's just a game that's fun." Because Wordle was originally just a cute thing to do together, Wardle didn't need to include any growth-hacking features of many games of today. He said he doesn't want the relationship with Wardle to be "intense"; rather it should be "something that encourages you to spend three minutes a day. And that's it. Like, it doesn't want any more of your time than that."
Why Is The Word Game So Appealing?
One of my favorite things about Wordle is how it's strengthening relationships and bringing friends, families, work colleagues, and acquaintances together. Similar to how Squid Game turned into a great conversation starter, Wordle is something to commiserate and comment on. Several of my Comic Years colleagues have started playing and now we can all chat about it and express our frustration at how hard a word was (or maybe that's just me…ABBEY?! C'mon!). Several of my international friends have also expressed outrage over spelling (FAVOR versus FAVOUR), which is a whole other story.
Might need to write something up on @ComicYears about the fact that we're all playing a mini word game everyday and it's keeping the collective going.

Wordle 206 4/6

⬛🟩⬛⬛⬛
⬛🟩⬛🟨⬛
⬛🟩🟩⬛🟩
🟩🟩🟩🟩🟩

— Taylor Bauer (@tbauerwrites) January 11, 2022
There's also a competitive element to it too. Wordle lets you show everyone how many tries it took to get to the secret word. Me to one of my friends: "It took you five tries? I got it in four!" I also am a fan of the once-a-day rule. It's just enough to keep me hooked and I don't feel like I could overdose on it. In the same New York Times interview, Wardle mentioned that only allowing one game per day "enforced a sense of scarcity which leaves people wanting more."
Do you feel like you understand what Wordle is better? Are you playing Wordle with your friends? Feel free to tweet at me or comment on this post to complain about Wordle words at @keilinhuang.
Featured image via Wordle
Keilin Huang is a freelance writer that likes the Oxford comma, reading from her neverending pile of books from the library, and Reeses peanut butter cups. She thanks her Dad for introducing her to his Superman comics and probably majored in Journalism because of Lois Lane. Contact her at [email protected]
Leave a comment