Stranger Things First Shadow Stage Play Announced
You won't believe what will happen in London's West End – Stranger Things is hitting the stage! That's right, a brand new spin-off play called Stranger Things First Shadow is set to premiere late next year. And guess what? The genius Duffer Brothers are back as creative producers, and they've got some seriously talented folks on board too. Kate Trefry, one of the show's writers and co-executive producers, is penning the script while Stephen Daldry takes the reins as director. And get this; the play will be all about Vecna – aka Henry Creel – and his family when they first moved to Hawkins, Indiana, in 1959. It's going to be epic!
The official plot synopsis is as follows:
"Young Jim Hopper's car won't start, Bob Newby's sister won't take his radio show seriously, and Joyce Maldonado just wants to graduate and get the hell out of town. When new student Henry Creel arrives, his family finds that a fresh start isn't so easy… and the shadows of the past have a very long reach."
What a tease it is for Stranger Things First Shadow! But what could it be about? Well, it's clear that it happens in the late 50s. During this time, Hawkins is just a sleepy little town where nothing much ever happens.
However, it seems the newcomer Henry Creel and his family will have an important role to play. With their arrival, things start to get a little weird. Evidently, poor young Jim Hopper can't seem to catch a break – his car won't start, and he's stuck dealing with the Creel family's drama. Meanwhile, Bob Newby's sister isn't taking his radio show seriously, and Joyce Maldonado is just counting down the days until graduation.
What is Stranger Things First Shadow About?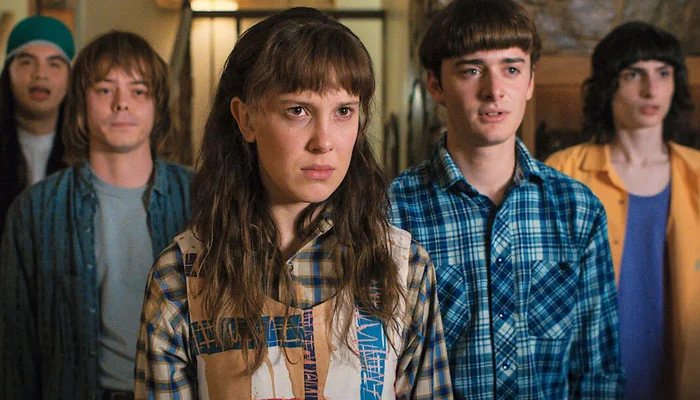 Image: Netflix
Upon the Creels' arrival in Hawkins, it seems the past catches up with them. Evidently, danger lurks around every corner, and secrets wait to be uncovered. So, Stranger Things First Shadow promises to be a thrilling ride through a bygone era. Will the Creels find the peace they're looking for, or will their arrival in Hawkins kick off a chain of events that changes the town forever? Only time will tell, folks!
Perhaps a mysterious force targets the Creels when they move to Hawkins. As they struggle to protect themselves, they must also navigate the complicated relationships with the other townspeople. Additionally, the play likely explores themes of family, identity, and the nature of evil. But the biggest question remains…will Henry Creel become friends with Jim Hopper, Bob Newby, and Joyce Maldonado?
However, that's not all for Stranger Things First Shadow. Apparently, it's going to be an official part of the Stranger Things universe. This means it's going to be canon with the show's storyline. And get this – according to Netflix, this new adventure could hold the key to the end of the whole darn thing! Whoa, that's some serious stuff right there. If you're jonesing for more Stranger Things action, the play will be just what the doctor ordered. Especially since we've got to wait a couple more years for Stranger Things' final season to drop. So, if you can make it to London, you won't want to miss out on this epic new addition to the Stranger Things saga!
Stranger Things Final Season News
Image: Netflix
Despite this announcement about Stranger Things First Shadow, we're still waiting for the final season. Chief Hopper's actor, David Harbour, recently spoke about the show's end. You'd think he'd be devastated about it – nope! In fact, he said he's ready for it to end:
"It is, of course, very bittersweet, you know, there's a sadness there. But also, we've all grown up."
Naturally, it's going to be a sad time. But it's good to know this isn't the end for the Stranger Things franchise. There's still plenty of other media coming!
Hi! I'm Arvyn, and I'm an English teacher from the UK. I've been teaching English online for over 4 years to students from all across the world and all ages. Outside of work, I'm a huge fan of reading, video games, and playing with my adorable kitties. See ya!
Leave a comment