Stranger Things Season 4 Previews New Character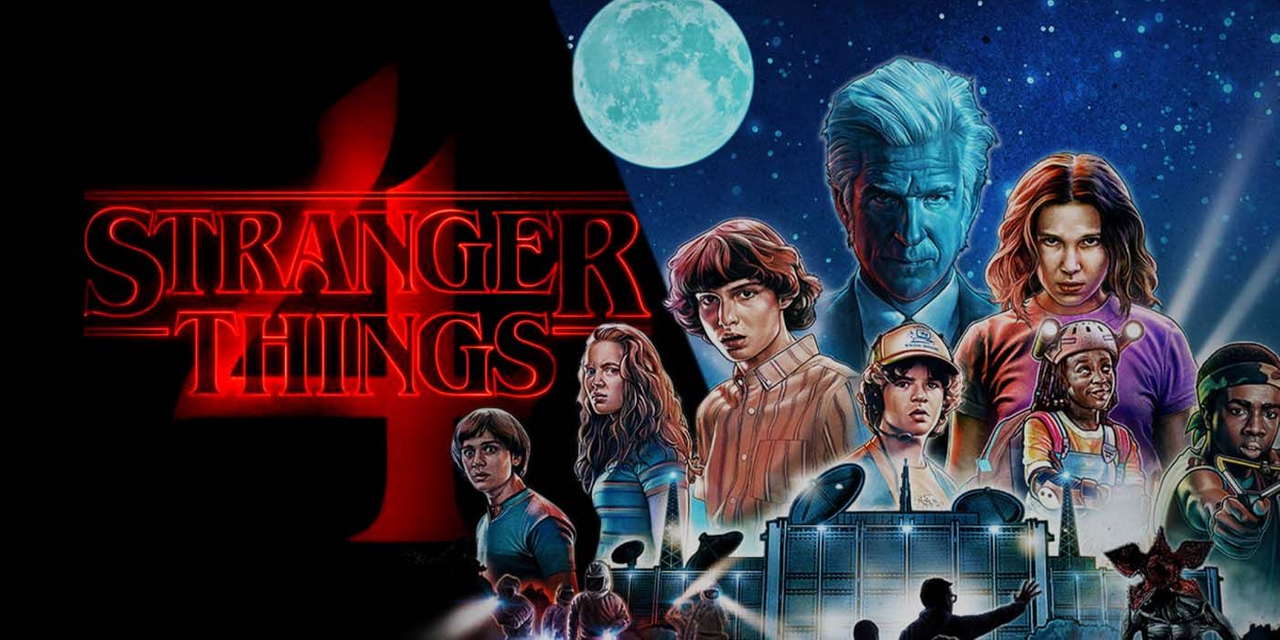 It feels like it's been ages since we got a new episode, but it's not long until Stranger Things Season 4 premieres. In fact, it's been almost three years! However, fans haven't got long to wait, as the new season releases on 27th May.
The Newest Character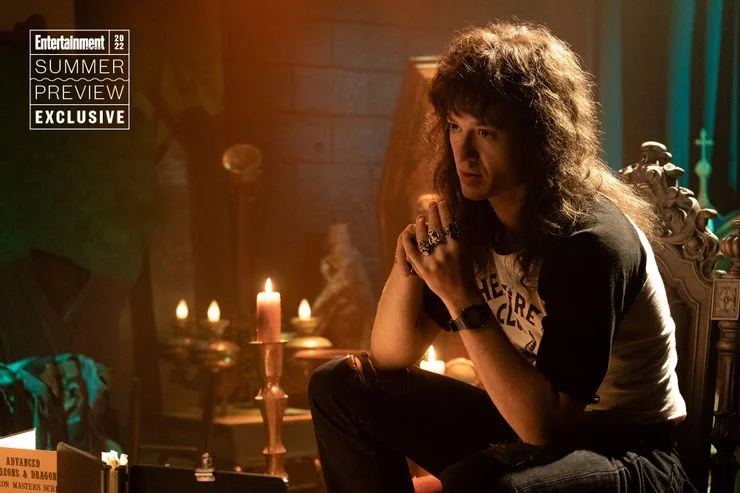 Image: Entertainment Today
In the meantime, Netflix has released a picture of one of the new characters of the latest season. Any Game of Thrones fans might recognize the actor Joe Quinn. Previously, he starred as Koner, who was a Stark soldier. For Stranger Things Season 4, he's ditching the fighting gear for a different kind of battle as Eddie Munson.
Currently, all we know about Munson is that he's wearing a Hellfire Club shirt. He's also sporting a huge mullet, which is very in line with the 80s vibe of Stranger Things! We're not sure about his relationship with the rest of the gang. However, if you look closely, it appears like he is the Dungeon Master for Dungeons & Dragons. So, we can imagine he enjoys playing this game with the other Stranger Things Season 4 gang.
What is the Hellfire Club?
Image: Netflix
Similarly, we don't know a whole lot about the Hellfire Club, either. In fact, the very first episode is named after this group, so we can guess that it must be important. Previously, fans thought that the Club might be connected to one of the clubs we saw earlier in Season 2. However, this picture dismisses this theory entirely.
Instead, it appears to suggest that the Hellfire Club might be the name of the Dungeons & Dragons group. As such, we can guess that Eddie Munson is probably a nice person. It's going to be good to see that Hawkins gang make friends with someone for once, and not just fight! Perhaps Stranger Things Season 4 will be the start of new relationships for everyone.
However, we can expect this character to have a few tricks under his sleeve. After all, this is Stranger Things – a nice friendship would be too easy! Perhaps he's a little more sinister and will cause some trouble for the Hawkins kids. We would like to hope that things could be a little better for these poor kids!
What We Know About Stranger Things Season 4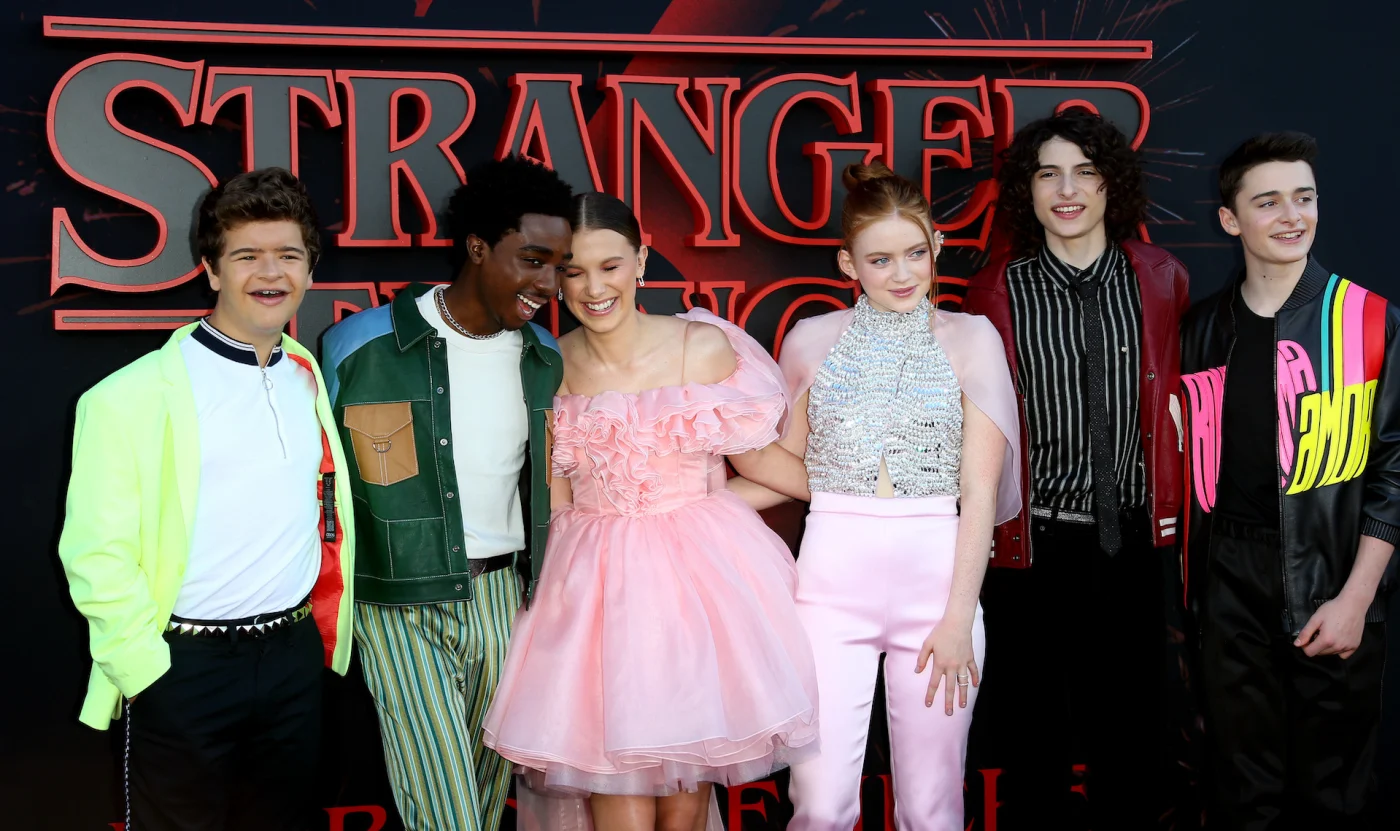 Image: Jean Baptiste Lacroix (Getty Images)
The release of Stranger Things Season 4 will mark the first time that fans have returned to Hawkins since 2019. Ever since the series debuted back in 2016, Stranger Things has been a huge hit for Netflix. In the series, fans see the lives of a bunch of kids living in Hawkins, Indiana. The series is set during the 1980s and includes the music and styles of the era to match.
In the first season of the show, the gang stumbled upon a mysterious girl named Eleven. Eventually, this led them to learn about a portal to a horrifying world. This world is called the Upside Down, where plenty of numerous ghastly monsters live. Each of these creatures appears hell-bent on death and destruction, with the newer seasons featuring new enemies. You can be sure that Stranger Things Season 4 will feature plenty of this!
Stranger Things Season 4 Release Date
Image: Netflix
The first batch of Stranger Things Season 4 will release on May 27th. Fans will have to wait another month for the second part, which comes out on July 1st. This latest season follows a bunch of delays due to the pandemic and filming problems. As such, fans around the world are excited to see the later escapades of the Hawkins gang.
In the latest season, the focus will be on both the kids and Hopper. Last time we saw Hopper was in a Russian gulag and needed the kids to rescue him. We can expect the newest season will look at how he eventually gets out. Additionally, a new location called "Creel House" appears to promise plenty of mysterious goings-on. The writers have promised a whole bunch of new creatures and adventures in Stranger Things Season 4.
This includes time travel and a villain who is more terrifying than those from before! We're not sure how anything could quite beat the terror of the Mind Flayer, but the writers have assured us that the scares are coming. As such – we can't wait!
You can catch the latest season exclusively on Netflix on May 27th.
Hi! I'm Arvyn, and I'm an English teacher from the UK. I've been teaching English online for over 4 years to students from all across the world and all ages. Outside of work, I'm a huge fan of reading, video games, and playing with my adorable kitties. See ya!
Leave a comment