Don't Worry Darling Film Crew Denies Rumors Surrounding Cast And Director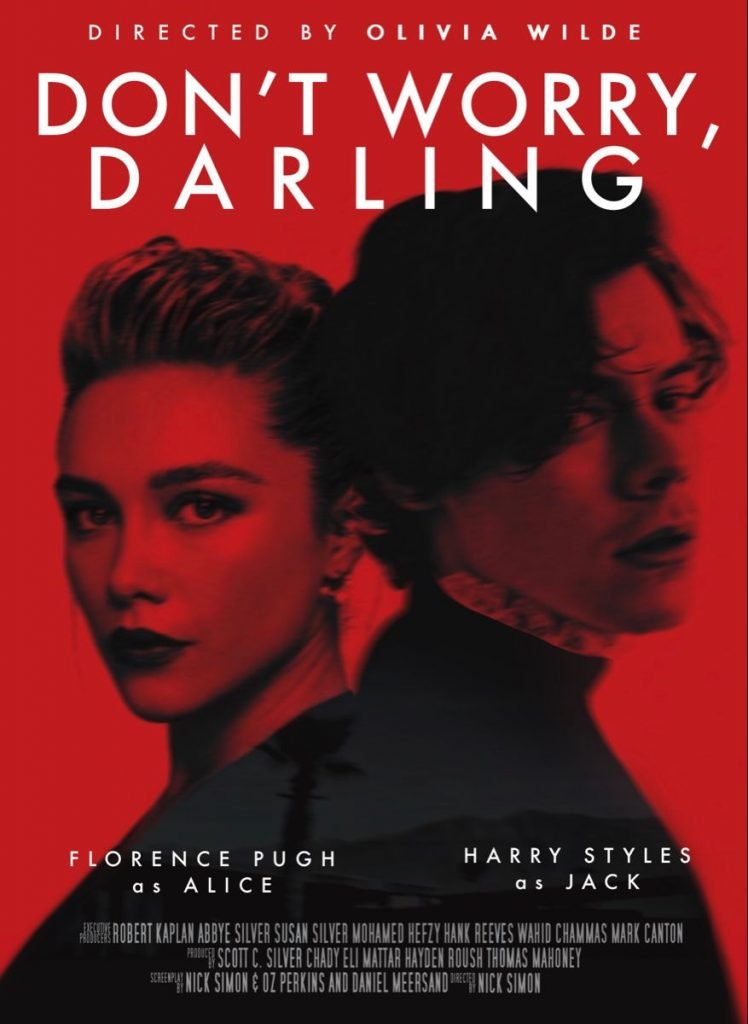 The psychological thriller Don't Worry Darling released this September 23rd is a film plagued by rumors which allegedly happened behind the scenes. As a result, 40 film crew members broke their silence and offered statements following the movie's controversy.
Recently, an anonymous source brought to light an alleged fight on the set of the movie Don't Worry Darling between stars Olivia Wilde and Florence Pugh. To deny this drama, members of the film's crew sent a statement to People Magazine to clarify any controversy. They call the report, which claimed that the two artists had a "shouting match," unfounded and ill-intentioned.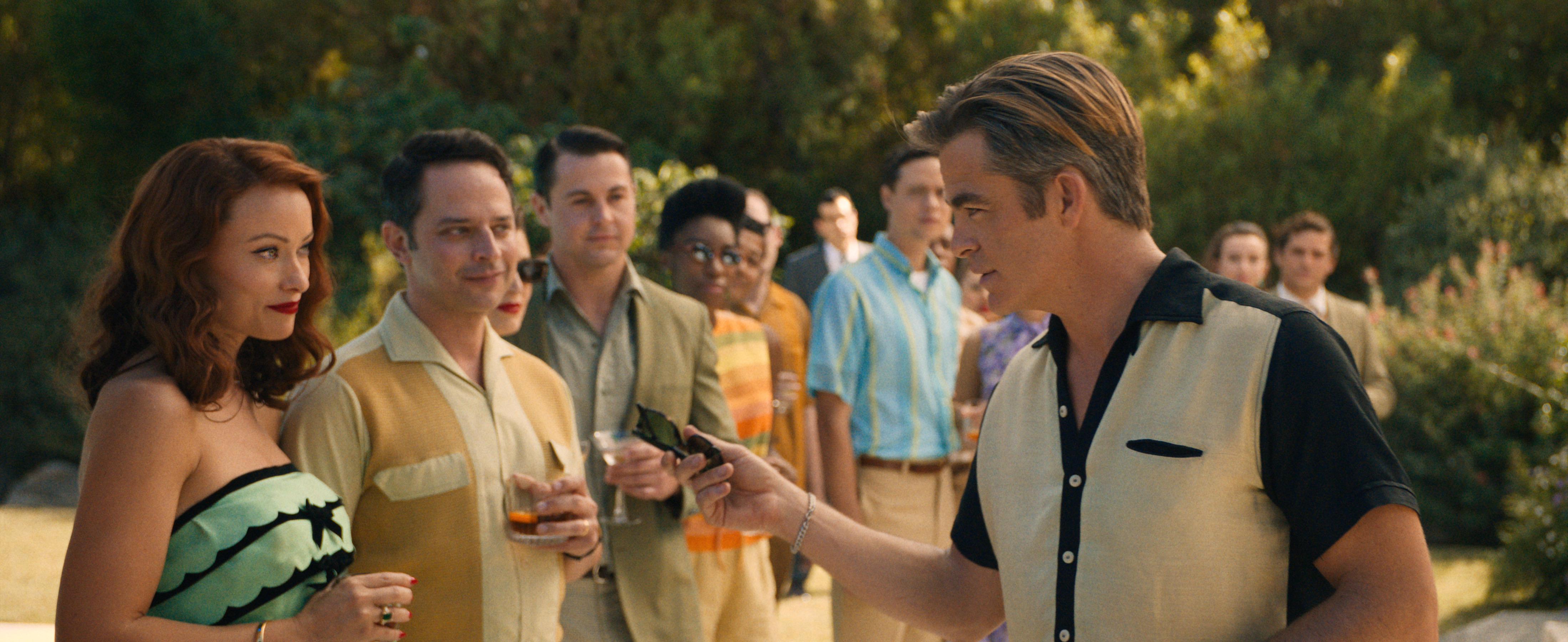 Image via Warner Bros. Pictures
However, some believe that the origin of this confrontation could be related to a love relationship between Olivia Wilde and Harry Styles. There aren't any confirmations, but many claim that his absence during filming is inexplicable, which caused Pugh to take on a "series of tasks that did not correspond to her."
Don't Worry Darling Crew Issues a Statement to Deny Rumors
Don't Worry Darling's film crew denied the rumors created around cast members and director Olivia Wilde. Forty members of the production and technical teams spoke out about the film's rumors in an official statement.
They begin the document by saying, "As a crew, we've avoided addressing the absurd gossip surrounding the movie we're so proud of, but feel the need to correct the anonymous 'sources' quoted in a recent article." So they deny any unprofessional behavior on the movie set. So much so that when referring to Olivia Wilde, the production team called her "an incredible leader and director who was present with and involved in every aspect of production." They continued remarking they felt very proud of the respect everyone involved received.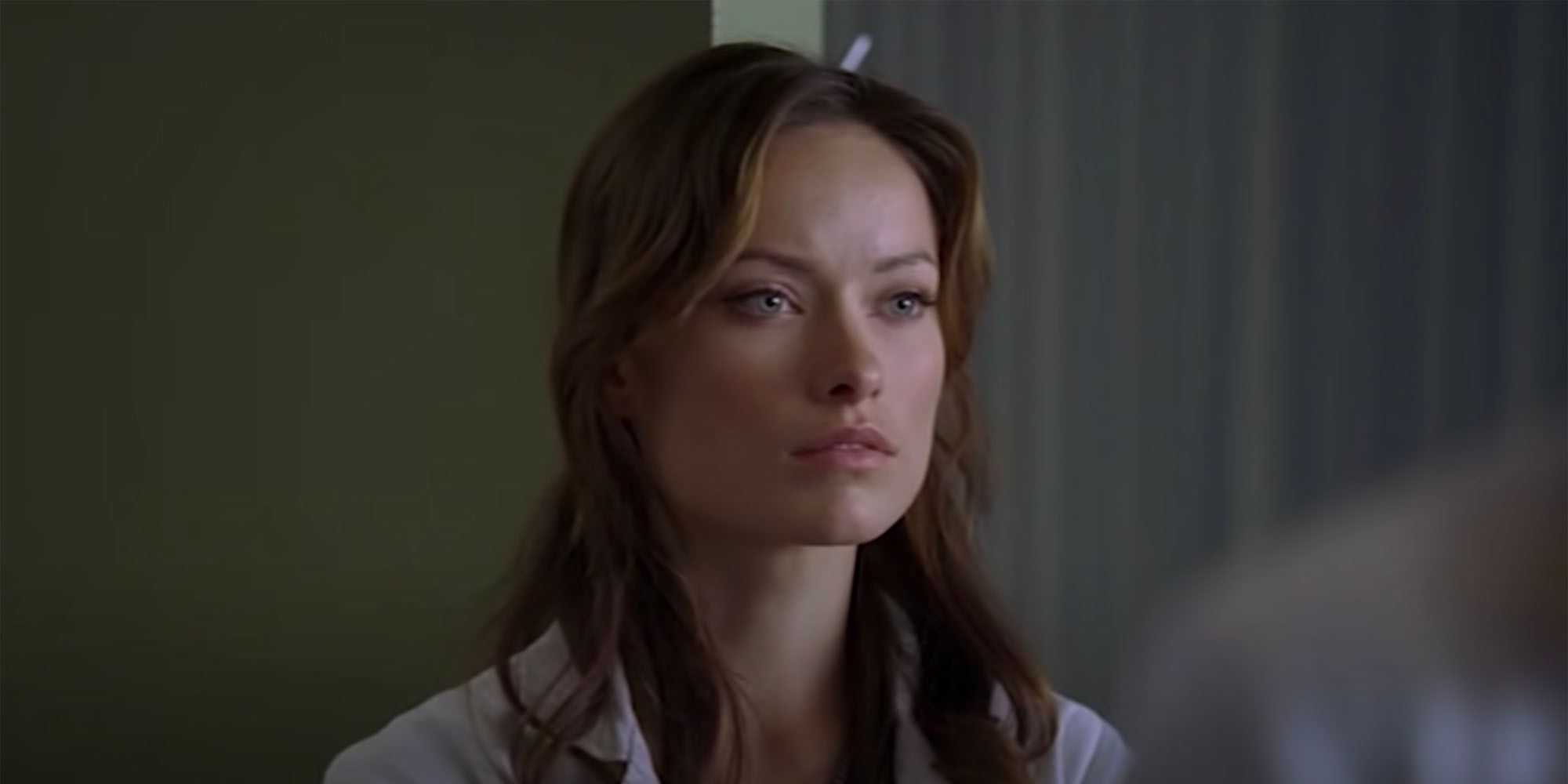 Image via Fox
The statement also confirms, "There was never a screaming match between our director and anyone, let alone a member of our cast." They also stated that these alleged dramas in the set of Don't Worry Darling have been just part of bad gossip. They added, "We are happy to put our names on this, as real people who worked on the film, and who have witnessed and benefitted from the collaborative and safe space Olivia creates as a director and leader."
Warner and Florence Pugh also Involved
Several members of the Don't Worry Darling production team, and studio executives have vehemently denied any shouting between Olivia Wilde and Florence Pugh on the set, Warner Bros. said in response to the rumors.
Pam Abdy, Michael De Luca, and Warner Bros. executives stated in a press release to Page Six, "We are so proud of the work that Olivia Wilde has done making this incredibly beautiful and entertaining film and look forward to collaborating with her again." They added that the work done by Olivia has been impeccable, "The studio is very grateful and appreciative of the tireless support by Olivia in bringing her vision to life from production through release. Any suggestion of conflict between the studio and Olivia is simply not true."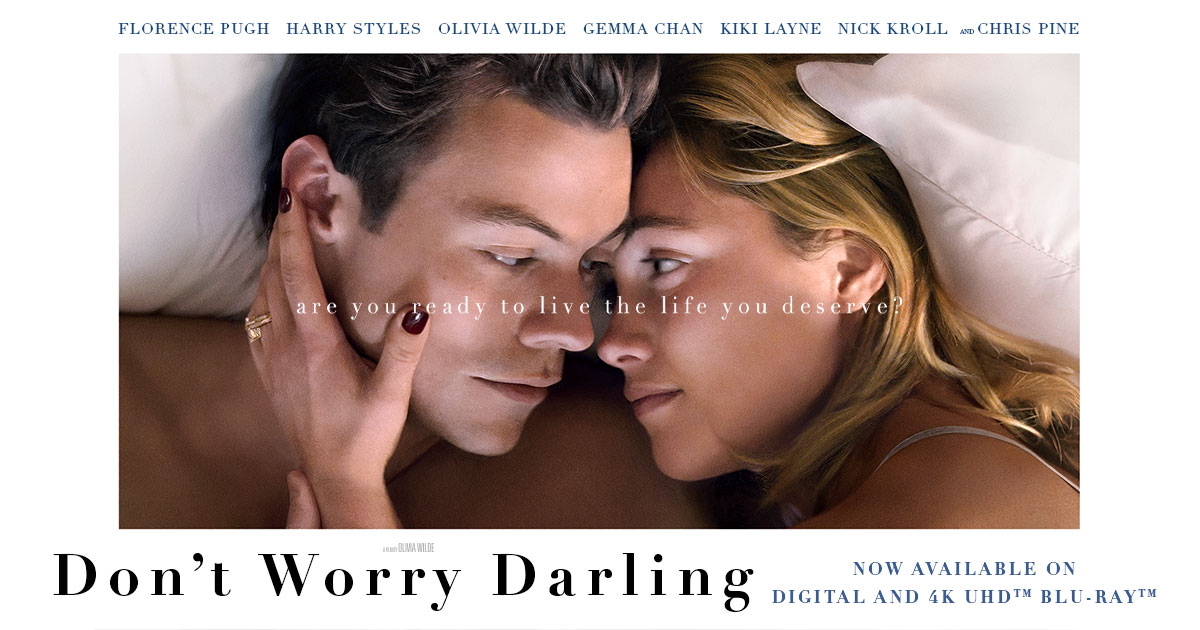 Image via Warner Bros. Pictures
Producer Miri Yoon also commented  on the ill-intentioned report, calling it "completely unfounded." She said, "Rumors of screaming matches between our director and leading lady on set are completely unfounded, we truly hope you enjoy the movie." But apparently, this report only gives details of the possible rejection that Florence Pugh may feel towards the Don't Worry Darling film since the "actress had not published any promotional material," that is to say, she didn't mention anything related to the film on her social media.
Faced with this, Pugh launched an open letter on Instagram with several photos of the film set to curb the alleged controversy. The message begins by recalling how it all started "We met so many talented people, visited some insane locations, worked hard in the desert dust and looked good whilst doing so"
If anything, this film was, according to actress Pugh, "an epic story." She said she would be "forever grateful to all of you who helped make this, your dedication and love was seen daily – thank you."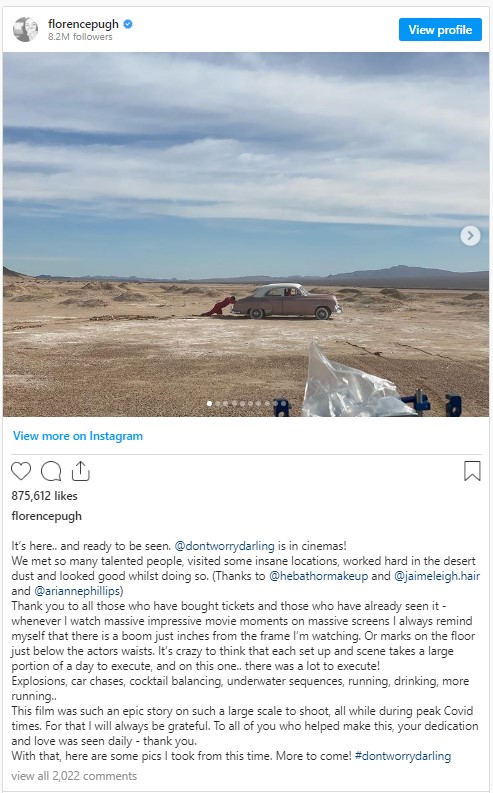 Image via Instagram
Leave a comment