Chris Evans And Paul Rudd Chat About Everything From Boggle To High Stakes Expectations In Actors On Actors
Actors have always been expected to do plenty of press following the release of a big movie. They'll do interviews after interviews, asking the same kinds of questions each time. While we do get some good content out of them, Variety has managed to find a way to make it even more interesting. Instead of random staff interviewing stars, they have other stars do it. And so, Actors on Actors was born. Variety Studio's most recent pairing is Paul Rudd and Chris Evans. The two speak on a lengthy video call about everything from their latest shows, their iconic Marvel characters, and if we can expect another Ant-Man any time soon. So, what did we learn from the dual interview?
Chris Evans and Paul Rudd Talk On Variety Studio's Actors On Actors (At Home)
For those unfamiliar with the format, Actors on Actors is a web series where we get to see two actors chat about life and interview the other on their previous projects. The series has been running since 2014 and has hosted plenty of well-known stars. One of the most exciting parts of the show is that it often features pairings that lead extremely different acting careers. Brad Pitt and Adam Sandler are one example of this. While they may pick different roles and approach the industry in different ways, it's still charming and intriguing to watch.
Chris Evans and Paul Rudd are not too far apart when it comes to their identities as actors. They've both played lead performances in the Marvel Cinematic Universe, have played background characters and starring roles, and are beloved by millions of fans. Though, as their interview proves, they still manage to remind us that there isn't just one thing that makes them who they are. You can watch the entire Actors on Actors video by Variety Studio below.
Chris Evans and Paul Rudd Are Still Eager To Talk All Things Marvel
Unsurprisingly, the duo wastes no time getting into the Avengers' spirit. The video opens up with a clip of Rudd asking Evans a genuine question about his latest series, Defending Jacob. However, before Evans can articulate an answer, Rudd casually lifts an infinity gauntlet, scratching his face with it like nothing is amiss. For answers to your own questions about Defending Jacob, check out our review. 
Paul Rudd Talks Ant-Man
Evans is curious to learn more about Rudd's approach to joining Marvel. He joined the scene with 2015's Ant-Man, playing Scott Lang's superhero identity. The introduction to the character was done separately from the rest of the MCU, as Lang wasn't introduced to the rest of the gang until 2016's Captain America: Civil War. Rudd explains that he felt the same way as his character, as one of his first days of shooting was filming the scene where he shows up and meets Cap's team. There was nervousness from Lang, which paralleled Rudd's feelings.
Chris Evans' Captain America is undeniably one of the biggest hero names in the MCU. So, he was intrigued to learn more about the approach to Ant-Man, who is a lesser-known character. Rudd goes on to talk about how even though he knew Ant-Man wasn't a huge name, there were still fans who knew everything about the character. He recognizes that, for some, Ant-Man is meaningful and deserves to be treated with the utmost respect. Still, he jokes about how many of his friends would laugh when he would explain that he would be playing someone who could control ants.
One of the questions that many fans were eager to find out more about was the future of Ant-Man. Evans, whose acting days in the MCU are likely over, asked what he knew and if they would be making a third film. "Well yeah, that's the idea. I don't know what I'm supposed to say, what I'm not supposed to say with this quarantine. I mean, who even knows anything anymore?" Rudd answers. Evans pushes the question, but Rudd stops him with a reminder that he can't say anything. So, it seems like a third is definitely on the way, but that's all we know for now.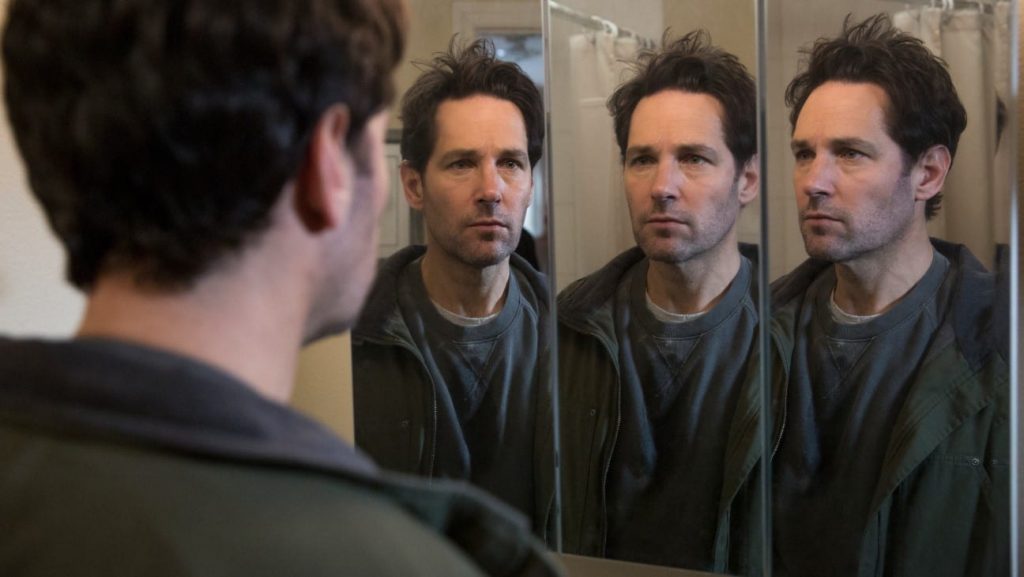 Living with Yourself. Image via Netflix.
Chris Evans on Playing Captain America
Just like Rudd knows the power of Ant-Man, Evans is no stranger to just how huge Captain America's name is. The actor speaks about how taking on the role was intimidating at first, but adds that each decision for the role was made with so much consideration that he felt like he was in good hands.
There's not much that Chris Evans could tell us about Captain America, as we've seen the character play out his last moments on screen. He does,  however, treat us with a little unknown fact about his time on set. Apparently, Evans, Anthony Mackie, and Scarlett Johansson had plans to create a fun cast video of characters dancing to "We Go Together" from Grease. Though the plan was forgotten about, Evans does have a 30-second clip of Paul Rudd dancing. He teases Rudd like he's about to show it, but unfortunately, no dance moves are seen.
Another fun onset fact? The cast of the MCU films would spend most of their downtime playing Boggle. Paul Rudd is, apparently, a Boggle champion. Don Cheadle, too, is a master of the game. Surprisingly, the worst of the bunch had to be Mark Ruffalo.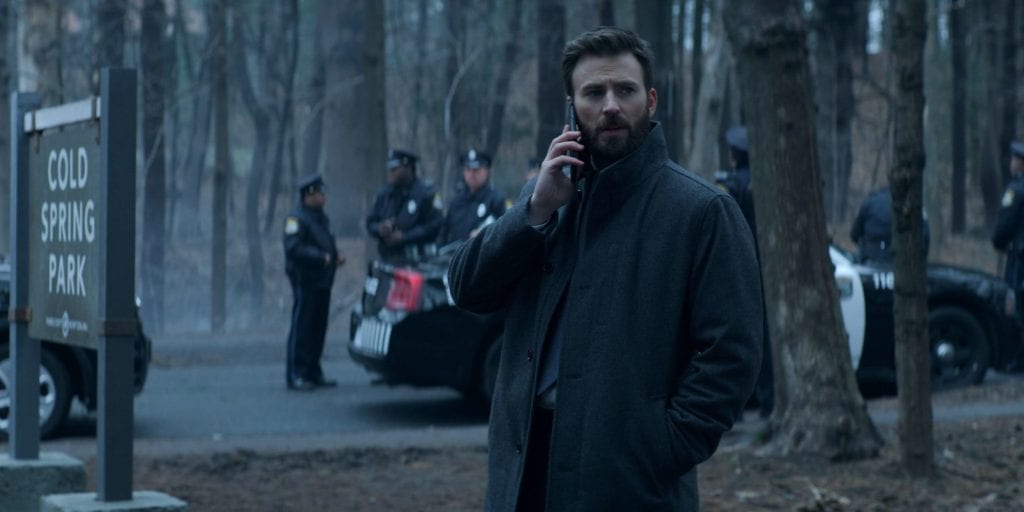 Defending Jacob. Image via Apple TV+.
Rudd and Evans Talk New Projects
As mentioned, Chris Evan's latest project was playing a father trying to keep his son out of jail in Defending Jacob. And yes, if you haven't already, you should go watch it. Evans took on the project after only reading the pilot. He was drawn to the people that he would get to work with. And, despite not being a father in real life, he could appreciate playing one on screen. To dig deep into the role of a father, Evans explains that he tried to draw inspiration from his relationship with his own dad, which was a "lovely avenue to stroll down."
Rudd's recent Netflix series, Living with Yourself, is a bit whackier while still retaining some genuine drama. In the show, he plays two versions of himself and must deal with the consequences of decision making. Rudd goes on to share more about the fun ways that shooting looked like. He declined to play opposite an acting double, and would instead hear his own audio as Paul Rudd 2.0 to act with. And no, he didn't get paid double, which Chris Evans was especially curious about.
Image via Marvel Studios.
An Intimate, Goofy Interview With Two Friends
The most enjoyable part Chris Evans and Paul Rudd's Actors on Actors episode is that you don't feel like you're watching the pair force their way through a list of questions that we know they've heard 100 times that day. Instead, they just seem like two regular friends talking about work. We know it's real because Paul Rudd is very clearly in a just-got-out-of-the-shower outfit. Even Evans explains that he forgot that their call was taking place on that day!
Sure, we come for news about the future of Marvel and hoping to hear some behind-the-scenes secrets. While we did get what we wanted, we also learned a lot more. Evans even asked the frequently-wondered question of how Paul Rudd just does not age. And no, despite what Chris Evans believed, he doesn't drink baby blood to do it. Rudd says that he does, in fact, age (though, we don't really believe him).
Readers, have you watched Paul Rudd and Chris Evans on Actors on Actors by Variety Studio? Did you learn anything that surprised you? Let's talk about it!
Featured image via Marvel Studios/Walt Disney Studios.
Meghan Hale is the kind of movie lover that has a "must watch" that is a mile long... and growing. When she isn't talking about the latest film and television news she is writing one of her many in-process novels, screaming film trivia at anybody who will listen, and working as a mental health care professional. Follow her on Twitter @meghanrhale for some fun theories and live reactions to all things entertainment.
Leave a comment