Baby Groot's Origins MCU Artist Opens Up On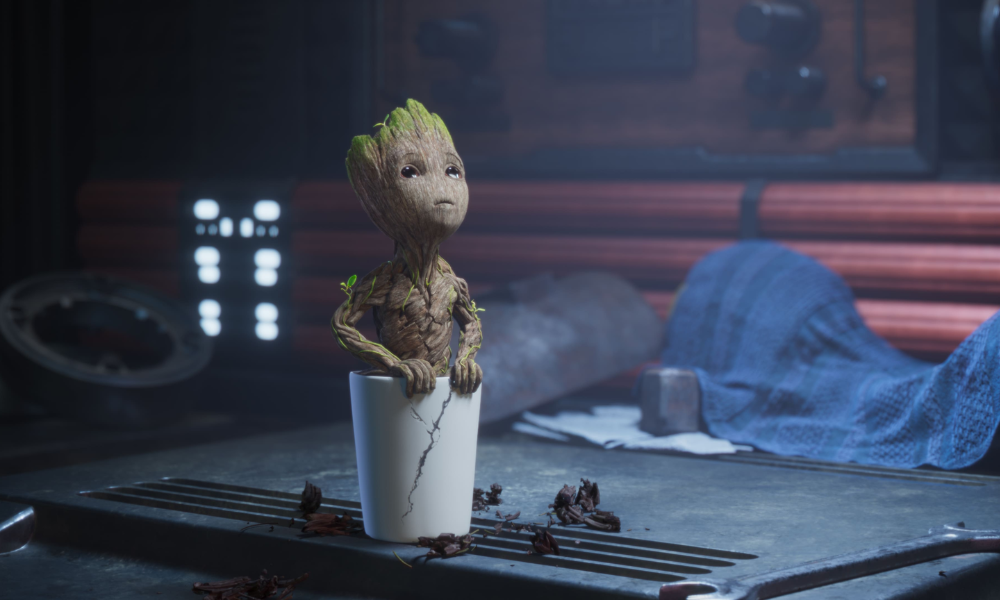 Anthony Francisco, Marvel Studios' Senior Development Artist, unveils Baby Groot's origins with paternal affection and nationalism.
He's adorable, chaotic, and definitely popular. He's our favorite little tree alien: Groot. Groot debuted in 2014's Guardians of the Galaxy and got its own Disney+ TV series, I Am Groot. This time, the MCU artist behind the character reveals more about this plant species from Planet X in his juvenile form.
Anthony Francisco, a Filipino visual artist who worked with Marvel Studios, sat down in a podcast interview to discuss the beginnings of the cute Flora colossus.
A Fatherly Inspiration on Baby Groot's Origins
In an interview with Mexipino Podcast, Francisco revealed that the body shape of Baby Groot was inspired by his son and the popular Balete tree of the Philippines.
"Yeah, watching Baby Groot on screen for the first time feels like I captured, now, my son, and pretty much that Baby Groot is a little Filipino kid… I totally just copied his body type."
Francisco reveals further that the Philippines' Balete Tree heavily inspires Baby Groot's origins. He adds that the texture of the majestic tree and the shape of his son's face completed the character design:
"When he was four years old, I was like, 'How else can I add more of my Filipino culture in here?' Even though he's already a tree plant, but I wanted to use a specific type of tree called the Balete tree in the Philippines and there's stories about that… the Balete tree where the White Lady resides. I just used some of the textures from that, and the way the roots kinda hang down, and the limbs and the internal parts of Baby Groot. Even the face, the cuteness of it, the wide eyes, this just looks like my son."
Francisco makes it clear that Baby Groot's origins are not just some type of ephemeral imagination. His fatherly affection and sense of nationalism brought into reality one of the most loved Marvel characters.  
As Senior Visual Development Artist of Marvel Studios, Francisco is known as the "Visual Father of Baby Groot." Francisco's family migrated to America while growing up as a teen and later lived in Los Angeles, California. Before migrating to the United States, he was a resident of Cubao, Quezon City in the Philippines. Aside from Groot, this renowned visual artist also created Loki and Black Panther's Dora Milaje.

Disney+
Filipino Inspirations in Marvel Universe
Baby Groot's origins are just one of the inspirations from Filipino culture. More Marvel characters have been popping up in the comic universe as proof of the country's pride for the entire world to witness.
Recently, there's Wave, a Filipina named Pearn Pangan that hails from the Visayas. Born in Mactan, she displays a great kinship with water upon developing her swimming prowess. Eventually, she became a superhero when a notorious organization used her body for experiments. Upon being exposed to unknown energies, she discovered that she could control water, thus, earning the moniker "Wave."
Marvel Comics also introduced Ari Agbayani, a Filipino scholar student with a strong sense of justice. With this ideology in mind, she fights the bullies passionately. However, she is not afraid to use dirty tactics just to achieve her goal.
With these Filipino-inspired heroes from Marvel, we hope to see more anecdotal stories of formations and beginnings from more artists on how the Philippines played a crucial role in their imaginations. And just like how Baby Groot's origins came to be, we hope to witness more of these artistic miracles.
You can watch Vol 1 and Vol. 2 of Guardians of the Galaxy, and I am Groot exclusively on Disney+.
Paul is many things. He's a fan of anime, superheroes, and everything in between. He dedicates his downtime to annoying the heck out of his cats and dog.
Leave a comment