How Thor Ragnarok Accidentally Became The Bisexual Superhero Masterpiece We All Deserve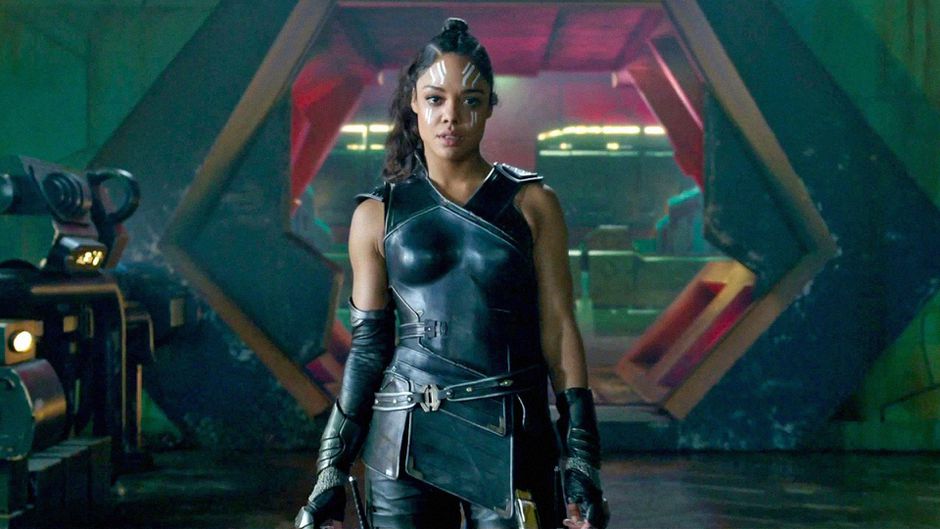 When Avengers: Endgame released in 2019, fans were quick to point out the inclusion of a clearly gay character: In a brief scene, a support group attendee refers to a male partner that he has been dating. These literal seconds of representation were lauded as a "big win" for queer inclusion by some fans. Others rightfully pointed out that Marvel's "first openly gay character" could have had a little more agency. But was Avengers: Endgame really the first Marvel film to feature something so openly queer? Nope, because Thor Ragnarok came out nearly two years earlier. This post will explore how Thor Ragnarok accidentally became the blueprint for a bisexual superhero movie.
How The Heck Is Thor Ragnarok A Bisexual Superhero Movie?
Some of you may be reading this and second-guessing whether you watched the right cut of Thor Ragnarok. And that's a fair question. The queerness of the film isn't so obvious if you aren't paying attention to the right moments. At first glance, the core story is about Thor trying to escape Sakarr and return to Asgard, all while planning to defeat Hela for once and for all. Fortunately for him, he's got some pretty handy sidekicks. And one of them just so happens to be bisexual.
On-screen hints to Tessa Thompson's Valkyrie's bisexuality are subtle. She is bold, chaotic, and one of the most confident characters around, displaying some serious androgynous swagger in every scene. But how can we be sure of her sexuality? Well, Tessa Thompson confirmed it.
She's bi. And yes, she cares very little about what men think of her. What a joy to play! https://t.co/d0LZKTHCfL

— Tessa Thompson (@TessaThompson_x) October 21, 2017
As we have all learned, anybody can tweet anything. So, one actress's words don't always mean that something is canon. Though, Thompson has elaborated beyond the tweet to confirm her character's sexuality. In a Rolling Stone article, the actress shared that she pitched the idea of making Valkyrie queer to director Taika Waititi, reminding him of her in-comic relationship with Annabelle Riggs. Additionally, Waititi agreed to shoot a scene that would clear up any doubts of this queer inclusion: a woman leaving Valkyrie's bedroom. Unfortunately, the scene was cut.
Marvel and Epic Games. Always seemed like a love story no matter what. Interested in knowing the best marvel skins in Fornite? Check it out here!
Valkyrie Isn't The Only Queer Thing In This Film
Let's be honest. There has been very little queer representation in any movie, let alone superhero ones. For every 100 romantic comedies about straight couples, we queer folk get maybe one or two mediocre coming-of-age stories featuring a closeted kid. We have had a few surprise delights, like the cheesy holiday drama Happiest Season, but these non-tragic films are few and far between.
Due to the overwhelming lack of characters to relate to, it's not uncommon for queer-identifying movie-goers to find characters that either exude something like bisexual energy (like a definitive understanding of one's outward and inward sexuality) or ones that have been vaguely hinted at as being something other than straight or cisgender. We take what we can get sometimes, alright?
One of Valkyrie's fellow members of the LGBTQ+ community is Korg. The character was revealed as having a relationship with Sakaar Hiroim in a 2011 issue of Incredible Hulks. Waititi, who both voiced Korg and directed the film, has stated that Korg wasn't explicitly gay in the film, but he could have been. In a past Instagram Live screening party for Thor, he also confirmed that Korg wouldn't have any romantic partners in the upcoming film Thor: Love and Thunder.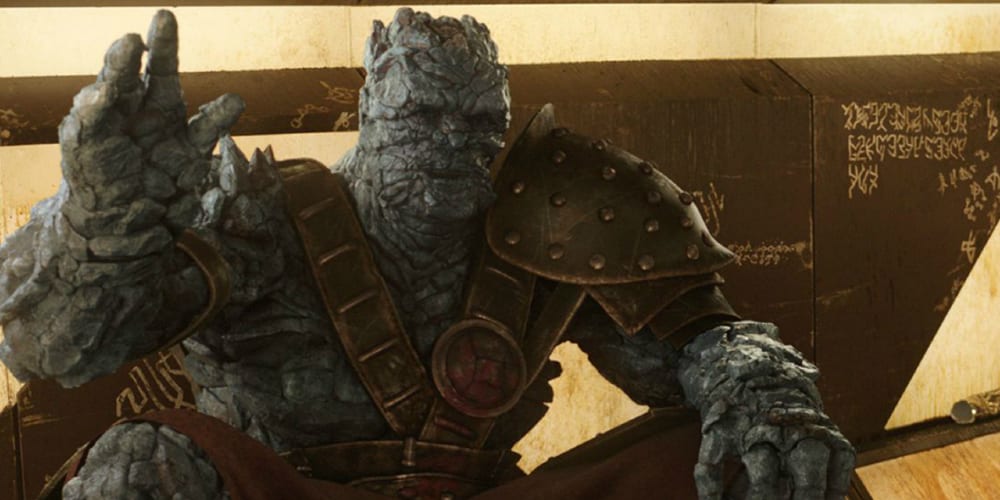 Image via Marvel Studios.
Speaking Of Bisexual Energy…
Another character that many fans have viewed as being queer coded is Loki. There have been fewer on-screen hints of his sexuality, but some in-comic work has alluded to bisexuality. Al Ewing, a writer for Loki: Agent of Asgard, once claimed that Loki is definitely bisexual and capable of gender fluidity on Tumblr.
Many fans of the comics and the MCU haven't been surprised to hear the ongoing news and speculation of future instances of queer sexuality, especially when it comes to characters featured in Thor Ragnarok. The film's name most recently trended on Twitter starting on June 1st, 2021, the first day of Pride Month. This caused the hashtag to fill up with jokes and tweets that praise the bisexual energy within the film.
I see Thor Ragnarok is trending on the first day of Pride Month… because we all know what was going down in Sakaar. 😏 pic.twitter.com/E7dCepLabH

— Hiddles Fashion (@HiddlesFashion) June 1, 2021
happy pride month, today we're remembering this very gay movie where not one character is straight, have to love thor: ragnarok pic.twitter.com/bsIfzA1wLa

— venus is HEARTBROKEN 🕊 (@sargentsjane) June 1, 2021
Thor Ragnarok Is The Bisexual Anthem Film We All Needed
Thor Ragnarok quickly became one of the most loved films in the MCU. It's witty, hilarious, and features equal parts intense action and lovable character development. It's colorful, fun, and manages to exist on its own within a massive franchise while also connecting to other films in the ways that it needs to. Oh- and it's queer as heck.
The film exudes bisexual energy both in its canon queer characters and in the less obvious ones. We're thrilled to know that more obvious gay characters are coming to the MCU, especially with the upcoming The Eternals, which will reportedly feature the first onscreen same-sex kiss for the franchise. But no matter what comes next, we'll always remember where we started.
Join us this Pride Month as we rewatch the superhero with the strongest bisexual energy, Thor Ragnarok.
Featured image via Marvel Studios.
Meghan Hale is the kind of movie lover that has a "must watch" that is a mile long... and growing. When she isn't talking about the latest film and television news she is writing one of her many in-process novels, screaming film trivia at anybody who will listen, and working as a mental health care professional. Follow her on Twitter @meghanrhale for some fun theories and live reactions to all things entertainment.
Leave a comment