The Old Guard Netflix Review – A Fitting Film For 2020's Wild Ride
Summer is usually one of the best times for movies. It's early enough that nothing dramatic gets called "Oscar Bait," and school-aged kids and teenagers can go to late-night showings without worry. Drive-in theatres even become the main event. But we're in 2020, and everything is different. So, it's only fitting that one of the most intense action films of the year, The Old Guard, has released on Netflix, where the world can watch it without worry. This Charlize Theron-led film is the streaming platform's newest release, but is it worth the two-hour runtime? In our review of The Old Guard, we'll dig into the exciting action, promising concept, and the future of a new franchise. And if this is the first you've heard of The Old Guard, then check out or previous post about the new trailer before digging into the full movie.
The Old Guard Review – Visually Beautiful, But Something Is Missing
The film, directed by Gina Prince-Bythewood, is based on Greg Rucka's comic book series of the same name. The Old Guard tells the story of a group of immortals led by the fearless Andromache of Scythia (a.k.a. Andy). Some of them have been around for hundreds of years, so it's unsurprising that nothing fazes them anymore. That is until Nile Freeman (played by KiKi Layne) becomes the newest immortal, and is less eager to give up her freedom to use her powers for good.
A sometimes smart decision by the film is that it never lets us stop confronting the unique struggles that the team of immortals has to deal with. There's an unpredictable new member, a client that turns on them, a pharmaceutical executive who wants to use their abilities to change the world, and plenty of occasions to question the benefits of living forever. As Andy tells her team, the world isn't getting any better. It's getting worse. So, we know that one villain could never be enough for these folks.
How The Old Guard Nails Its Action
Charlize Theron's ability to be a bad-ass will never be up for debate. She has conquered the screen many times over the last two decades, showing her fighting skills and immense screen-presence in works such as Mad Max: Fury Road (2015) and Atomic Blonde (2017). She is, understandably, given the most screen-time when it comes to action. However, it's Layne's portrayal of Freeman that shows the true potential for immortal fighting.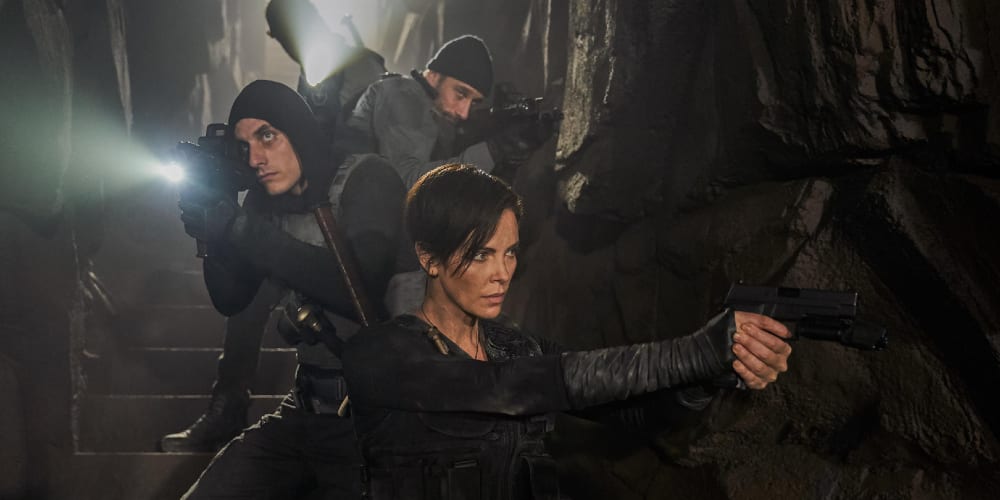 Image via Netflix.
A neat twist on the concept of immortality in The Old Guard is that it's never a sure thing, and everything still hurts. While the team doesn't know how it happens, they all know that death can still come to them. They're willing to take some bullets just for fun, but the fear remains. Nile, fresh enough to be unlikely to die any time soon, bends, snaps, and crushes her body in bold ways that seem almost too real for fiction. Her methodical fighting skills prove that she could be the future of The Old Guard.
Where The Film Misses The Mark
We're dealing with a team of people who have fought battles for hundreds of years. They've seen some stuff, and the movie doesn't shy away from how many times they've been in similarly risky situations. This is needed to drive the plot forward, but you can't help but wish that they were telling stories of the past instead. Immortals Joe (Marwan Kenzari) and Nicky (Luca Marinelli) killed each other over and over again until they fell in love. I know that I'm not alone in saying that I want to see their story.
Image via Netflix.
The film just hits the two-hour mark, but the time doesn't seem warranted. It's not that the story feels like it needs less time (if anything, it needs more), but that it wastes some of it. Things are sacrificed for no real reason. Andy's weapon feels and looks important, and even appears on the film's poster. Unlike Thor's hammer, we never learn if it's anything beyond a cool way to kill, despite it feeling like we should already know. We're also neglected by not getting backstories unless they're of Andy. While the timing is there, it feels like the filmmakers chose to give us beautiful visuals over plot advancement or deep backstories.
Could The Old Guard Be Netflix's Big Franchise?
Netflix has found success in sequels. Though, they've yet to make the leap into making a big franchise series that people await as eagerly as the next Marvel film. The Old Guard has plenty of promising stories to tell, especially since the concept of immortality can always be explored further. Without spoiling the ending, the film's last few minutes leave us with enough questions about something that we actually want to see. If it had been a standalone movie, I'd have left far more disappointed than I did after knowing that I get to learn more.
Photo by Aimee Spinks via Netflix
Netflix clearly has faith in the film. It didn't cost as much as The Irishman, but it's clear from the stunning filming locations, well-cast leads, and the film's ending that it was always meant to set up at least one sequel. The future of filmmaking is undoubtedly in a rough spot. Still, this isn't the last that we'll see of The Old Guard.
The Old Guard Final Review: Worth The Watch For A Fun Movie Night
We haven't had very many film releases lately. This will help The Old Guard's ability to do well, as viewers are desperate for new content. I don't think that this is the kind of movie that people would flock to theaters to see. Despite this, it is worth throwing on and making a movie night out of it. It may not anyone's favorite film of 2020, but it's fun and intense. Oh, and we'll never get enough of Theron.
If you have watched The Old Guard on Netflix, what's your review? Do you think that it's worth the watch? And what do you hope to see in a future sequel?
Featured image via Netflix.
Meghan Hale is the kind of movie lover that has a "must watch" that is a mile long... and growing. When she isn't talking about the latest film and television news she is writing one of her many in-process novels, screaming film trivia at anybody who will listen, and working as a mental health care professional. Follow her on Twitter @meghanrhale for some fun theories and live reactions to all things entertainment.
Leave a comment