Will We See a New 'A Nightmare on Elm Street' in 2019?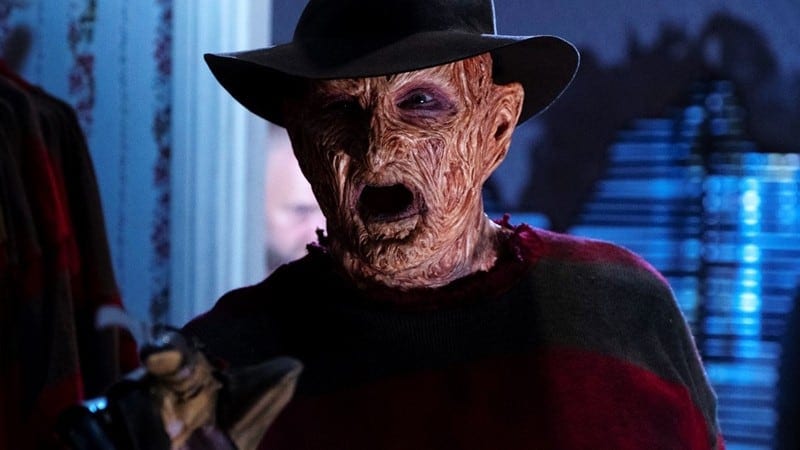 One, two Freddy's coming for you. Maybe. Ever since the 2010 remake of A Nightmare on Elm Street failed to connect with fans, the question of whether or not Robert Englund would don the striped sweater has circulated frequently. With the success of Halloween (2018), it would only make sense for other horror icons to follow. While we won't be seeing a new A Nightmare on Elm Street in 2019, there is still promise that everyone's favorite murderous dream demon will return.
Bringing Back Freddy Krueger
Portrayed by Englund and Jackie Earle Haley, Freddy Krueger is an icon of the horror industry. He's inspired music videos and shown up in TV series, movies, and so much more. At this point, it's unlikely that Freddy's dead for good. In fact, in December 2018, David Leslie Johnson, screenwriter for James Wan's Aquaman, confirmed that New Line Cinema is still moving forward with another Nightmare movie.
"It's still happening," Johnson told Gamespot. "Nothing is percolating just yet… Everybody wants to see Freddy again I think, so I think it's inevitable at some point." This statement came just two months after Halloween (2018) broke box office records and became the highest-grossing slasher of all time.
The Return of Robert Englund?
Nightmare fans may be able to look forward to a new entry in the franchise, but that doesn't mean Englund will reprise his most famous role. In an interview with Entertainment Weekly about Freddy vs. Jason, Englund claimed to be "too old to do another Freddy." The 71-year-old actor may not be able to pull the stunts he used to, but does that mean he's not physically fit enough to play Freddy Krueger?
Apparently, even Englund didn't think so as he came out of retirement in October 2018 for an episode of "The Goldbergs." The horror star appeared in full Freddy Krueger makeup for a special Halloween episode of the popular ABC series. According to Englund, he came out of retirement after reading a fan letter that praised A Nightmare on Elm Street 3: Dream Warriors.
An Idea for a Reboot
In speaking about a possible reboot, Englund wasn't clear on whether he'd return. According to his idea for a future movie, it's possible he may show up for one more before passing the mantle. The actor sees casting "different actors to play Freddy for every potential victim."
Because Freddy is only alive in the imagination of his future victim. They would talk about it at a slumber party or in a locker room at school, or on the bus going home. All we know about this Fred Krueger is he wears a hat, wears a red and green striped sweater and has a clawed hand. That's the specifics… So it could be a red and green cardigan for one Freddy. It could be an old tattered baseball cap for another Freddy. Freddy could be tall, he could be short, he could be overweight, he could be muscular. Every one of the victims could have a different Freddy they imagined. And you could haunt them with that Freddy."

Nerdist

Getting Your Fix of A Nightmare on Elm Street in 2019
All of this very-much-so points to the future of Freddy Krueger being still up in the air, but it's definitely promising. Thankfully, we still have the classic series to turn to for a fix of Englund's portrayal. Gamers can also return to Mortal Kombat (2011) or download Terrordrome: Rise of the Boogeymen to play as the dream demon.
It may be a few years before we see Krueger on the silver screen again, but there is no shortage of ways of enjoying the classic character today.
Leave a comment