The Joker Review – Todd Phillips Tells A Chaotic Tale Of Self-Discovery
Joker opens to a lengthy scene of Arthur Fleck getting ready for his day job as a clown. We know who this man is. It's Joker, of course. He is, arguably, one of the best villains to appear on screen, and a variety of incredible actors have played the joker. But, while we know what this man is capable of, he doesn't. At least, not yet. So, as we sit there and watch him prepare for his day, the audience is filled with anticipation. Joker, directed by Todd Phillips, is an origin story. And boy, what an origin it is. I had the pleasure of attending the North American premiere of Joker at TIFF. In his introduction to the film, Phillips told us all the following: "I'll warn you, it's f*cking bonkers."  And he was right in the best way possible.
Joker Is Its Own Entity
Comic book movies have become notorious for existing within a cinematic universe. Marvel movies all connect and share timelines. DC brings all of its heroes and villains together time and time again. But Joker exists all on its own. We all have certain expectations of who The Joker is because we've met him before. He's a violent, psychotic clown who loves to create chaos. He puts himself at the very center of all of the madness going on in the world. If Batman can be considered the heart of Gotham, Joker should be considered the brains. Instead of expanding on what we think we know about The Joker, this film forces us to reconsider any preconceived notions.
The premiere at TIFF was followed by a Q&A period with Todd Phillips and the main cast of Joker. Phillips spoke about his intentions with the film, and how it fit into the DC universe. To him, it was intentionally not connected to the canon DC world. Instead, it's a side label. He loves the idea of being able to do unique character studies about the heroes and villains that we already know, and take a low-budget deep dive into them. This film has a budget of only $55 million. That's a pretty big difference compared to Batman v Superman: Dawn of Justice, which sat at $250 million. Financially, DC might have found a winner. If these low-budget deep-dives prove successful, Joker may not be the last character study we see.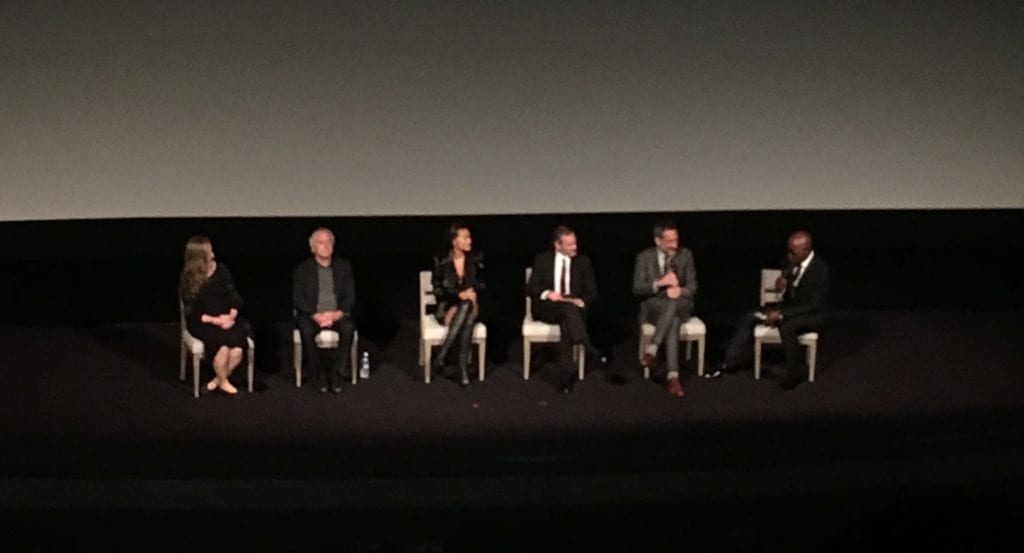 Image via author.
Joaquin Phoenix Terrifies
The man has range. Whether he's playing a sex-obsessed alcoholic or a cowboy assassin, Phoenix knows how to dominate the screen. His portrayal of Arthur Fleck brings both heartbreaking vulnerability and arrogant confidence. This duality that we see from him on screen represents the unpredictability of Arthur. You never know if he's about to start laughing, become violent, or shut down. You look at Phoenix and his scarily thin body and wish that you could sympathize with him, but yet you know that you shouldn't. Your perception of his character is chaotic, just like the inside of his head.
Whenever an actor is cast in a role that's been done before (and done well, time and time again, like with The Joker) it's easy to compare them to past portrayals. There are scenes in this film where you see him with his shaggy hair and threatening smile, and it's hard not to think about the late Heath Ledger's iconic portrayal in The Dark Knight. But beyond those brief moments of recognition, Phoenix commands that this role is his. He is not what anybody could have expected – he is better. He is silly and sweet, yet disturbing and electrifying.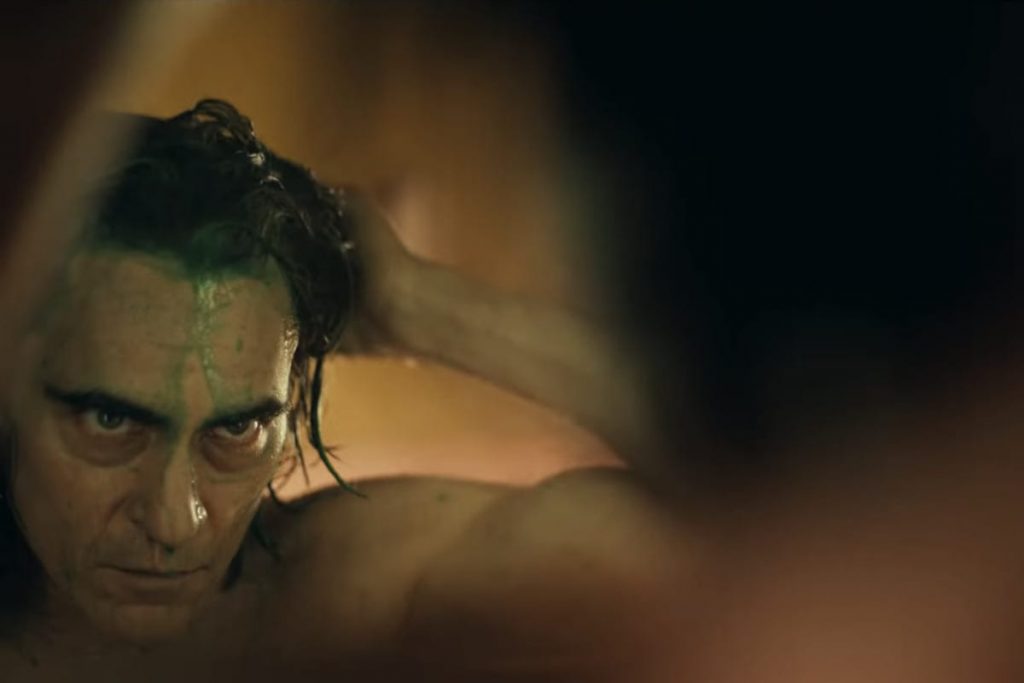 Image via Warner Bros. Pictures
Why Did We Need This?
The last thing that anybody really needs is another superhero movie. So, when this movie was announced, it was easy to groan and think, "another one?" But that's not what this is. Anybody could walk into this movie having never heard of Batman, or DC Comics, or The Joker, and take something away from this. This does not have to be the origin story of the man who was built to rival Batman. Instead, it can be all that it really is: a two-hour tale of becoming for a man who has been put at odds against society. He is desperate to find something that gives him some pleasure in a world that loves to treat him badly. Unfortunately for Gotham, it's madness. It's not something that we can ever root for, but it's something that we can, on some level, understand.
As soon as the film had an R-Rating announced, movie fans started speculating on the sorts of horrors that it could entail. Joker is not a violent bloodbath. He is not the type of man who wants to run out into the streets and start killing for the sake of killing. Arthur Fleck becomes the sort of maniac that thinks strategically. What can he do to cause the most mayhem, and how can it be done in a way that lets him take center stage? We spend the movie watching him figure this out on his own. And, as it's soon established that he isn't the most reliable narrator, we're forced to question his sanity and his reality.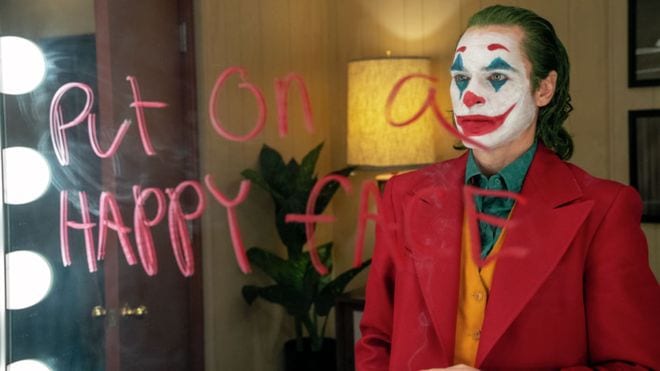 Image via Warner Bros. Pictures
Hard-Earned Praise For Joker
Briefly ignore the beautiful performance by Phoenix, or the goofy, chuckle-causing Robert De Niro as talk show host Murray Franklin. Put quite simply, this film is a cinematic masterpiece. Most of the early awards show predictions talk about Phoenix, and a potential Best Actor nomination. Sure, that's certainly well deserved. But the cinematography and score deserve just as much praise. Joker has one breathtaking shot after another. The score increases tension with its methodical notes. I was sitting only a few feet away from Bradley Cooper (who co-produced the film) and he was bopping his head along to every single song. The film dares you to want to dance alongside Arthur Fleck, and then forces you to feel guilty for it.
Joker releases in theatres on October 4th, 2019. The film premiered at the 76th Venice International Film Festival, winning the coveted Golden Lion. Todd Phillips and co-writer Scott Silver have created a piece of cinema that isn't meant to be loved by all. It's going to cause controversy, force viewers to reflect on the way that they treat others, and have us questioning our deepest desires. Joker begs audiences to laugh, cringe, and scream, but most importantly it dares you to keep watching.
Featured image via Warner Bros. Pictures.
Meghan Hale is the kind of movie lover that has a "must watch" that is a mile long... and growing. When she isn't talking about the latest film and television news she is writing one of her many in-process novels, screaming film trivia at anybody who will listen, and working as a mental health care professional. Follow her on Twitter @meghanrhale for some fun theories and live reactions to all things entertainment.
Leave a comment