Everybody Who Has Played The Joker – So Far
You've definitely heard about Joker by now. The upcoming 2019 film features the two-time Oscar-winning Robert De Niro and the transformative Joaquin Pheonix. Wait, hasn't The Joker been played by more people than Spider-man? Sorta. Didn't Heath Ledger already win an Oscar for playing the character? Yeah! And, didn't Jared Leto try his very best to play him? Unfortunately. The Joker has been seen on screen plenty of times. And, with so many variations, many talented actors have had the chance to take their shot at playing the DC villain. So, here's everybody who has played The Joker. An exhaustive list of anybody who has played a hand in a portrayal of The Joker may be never-ending, as the character has had plenty of brief cameos, commercial content, and so on. So, this list includes those Joker variations that have had a significant impact on the character and his reception.
But First… Who Is The Joker?
The Joker had his first appearance in the debut issue of Batman way back in 1940. Bill Finger, Bob Kane, and Jerry Robinson collaborated between the character's artistic design and writing. One of the inspirations behind his design was Conrad Veidt's character in the 1928 silent film The Man Who Laughs. The character, Gwynplaine, has a disfigured face that forces the appearance of a constant sly smile. When The Joker first appeared, it was DC Comics' intention to kill him off pretty quickly. Instead, editors of the comics intervened and the villain remained to be a consistent archenemy of Batman on film and print.
Conrad Veidt in The Man Who Laughs. Image via Universal Pictures
The Joker's character began as a criminal mastermind with some psychopathic intentions. In the late 50s, he had turned into a prankster. By the early 1970s, The Joker was back to his old, twisted ways. In contrast to many comic book villains, The Joker has no superhuman abilities. His "power" comes from intelligence and expertise in chemical engineering. While Batman is a "perfect man" – rich, handsome- The Joker hasn't had the same cards dealt to him in life. While his origin story has had multiple variations, a common one is the story of him falling into chemical waste, causing some physical deformities. He's driven insane by his new appearance, and his descent into madness is history.
Cesar Romero In The Batman TV Series
Cesar Romero had a long and successful career. He had impressive talents in singing and dancing, as well as some pretty fine acting chops.  In 1966, he appeared in the live-action television series, Batman, with Adam West playing the titular character. The same year, the film Batman premiered. This film was the first full-length theatrical version of Batman and is now joined by dozens. Both the live-action series and the film kept nearly all of the same actors. Romero's portrayal of The Joker within the two is often lumped together and remains a solid and infamous version of the character.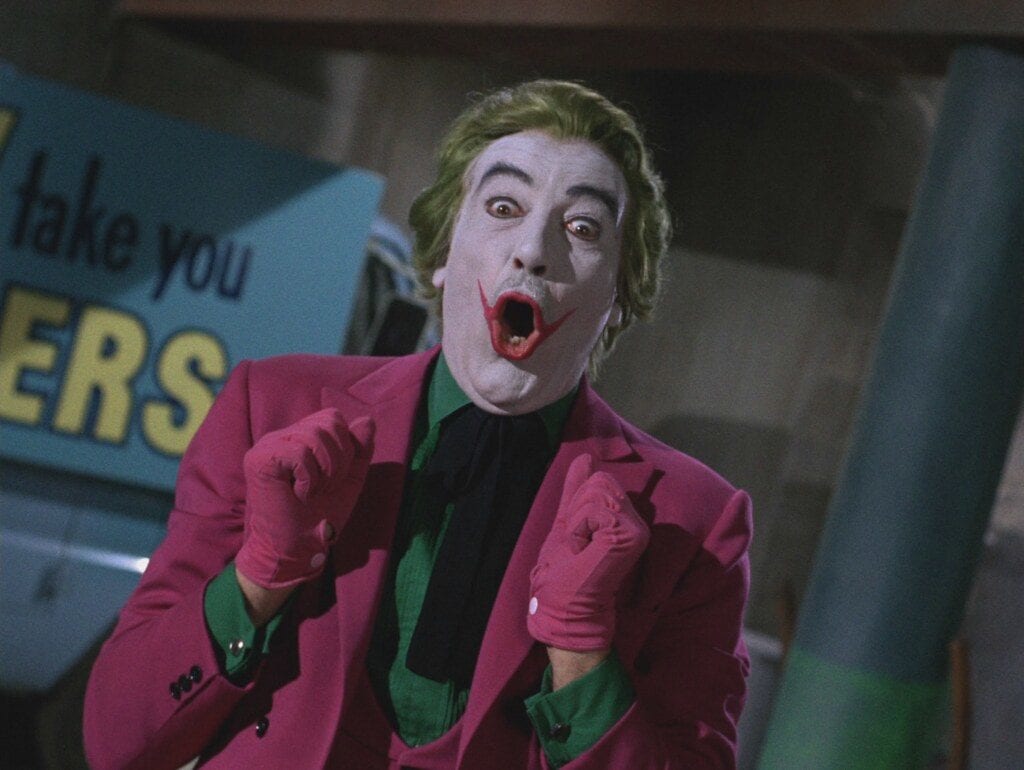 Image via 20th Century Fox.
Romero's Joker had bright white skin, vibrant red lips, and impression-leaving green hair. Always appearing in a purple suit, the clown would leave behind jokes as clues for his upcoming crimes. His unforgettable laugh remains an inspiration for any future actors taking on The Joker. This variation of the character is a part of the United Underworld, a grouping of the most powerful villains in Gotham City.  The Penguin, The Riddler, and The Catwoman also take part.
Jack Nicholson In Tim Burton's Batman
One of the most memorable on-screen Joker portrayals comes from the one and only Jack Nicholson. In Tim Burton's 1989 film, Batman, Nicholson appears alongside Michael Keaton as Bruce Wayne. While the film had a solid A-list cast, Nicholson wanted to make sure that he was a star. With an already hefty up-front salary of $6 million and a percentage of the film's total earnings, he walked away with even more. He also received top billing and was in control of his shooting schedule. The film was considered a success, both financially and commercially.
Image via Warner Bros. Pictures
This Batman film follows Wayne's vigilante lifestyle. Eventually, he comes across Jack Napier, who was once the second-in-command to mob boss Carl Grissom. Napier ends up falling into a vat of chemicals and becomes disfigured. Driven insane by the incident, he transforms into The Joker, taking over Grissom's empire. He begins to target Gotham City, terrorizing them with chemicals and trying to take revenge on Wayne for his involvement in Napier's disfiguration. Batman ultimately prevails over The Joker.
Cameron Monaghan On Gotham
For many casual fans of The Joker's character, Cameron Monaghan's name might not sound familiar. That's because technically he's never played "The Joker". Monaghan appears on Gotham, the 2014 Fox series that focuses on the earlier days of Bruce Wayne. The Joker is never officially mentioned, though a character is pretty close to an early reimagination of him. Monaghan's work is put towards two twin characters, Jerome and Jeremiah Valeska. The former character's face is, at one point, sliced off and then sewn on, creating a terrifying take on the Joker smile. He also plays Jeremiah, the twin brother of Jerome. Though both have some eerie traits that could remind anybody our villain of choice, its Jeremiah that is undeniably meant to be the Joker.
Image via Fox.
Jared Leto, The Joker No One Wanted
Jared Leto is, by all means, incredibly talented. He won an Academy Award for his work in Dallas Buyers Club in 2013. He is the lead vocalist and main songwriter for Thirty Seconds to Mars, a band that's been around since the late 90s. But Leto is a known method actor and his "method" behind his performance of The Joker just didn't align with most viewers' interpretations of the character. 2016's Suicide Squad received pretty negative reviews. Many fans expected to see plenty of The Joker, but he received limited screen time. Instead, it was The Joker's love interest, Harley Quinn (played by Margot Robbie) who stole the show. Now, we don't know if Leto's Joker will even appear in the upcoming sequel film focused on Robbie's character.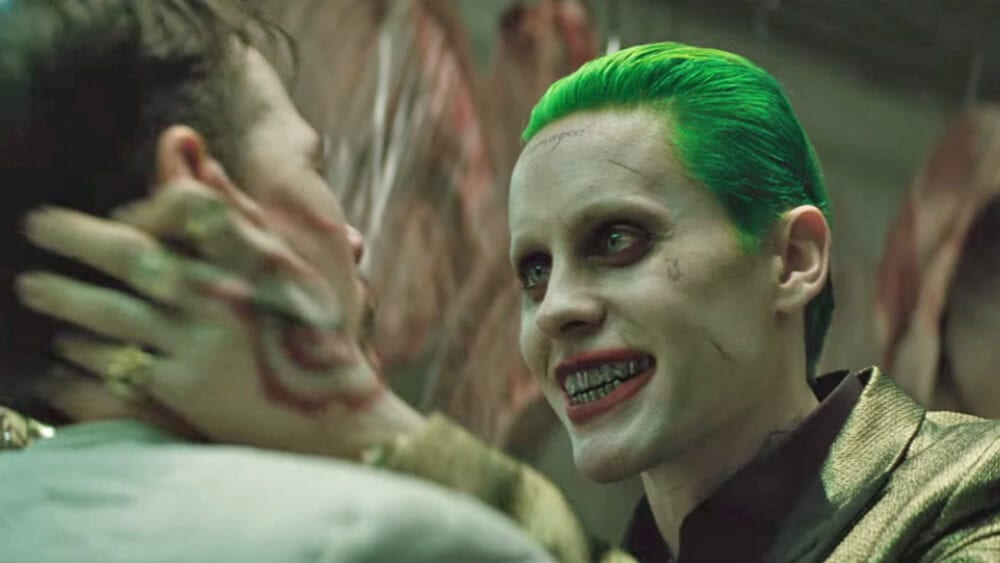 Image via Warner Bros. Pictures.
Leto's commitment to his method acting overshadowed his actual performance in the film. Word from the cast and crew was that his techniques became downright creepy. He even gifted other cast members items that even The Joker might find obscene, like a dead pig, a live rat, and some other, cruder "gifts". While Leto's performance could have been great, the hype behind the role ended up being a distraction from the big screen. It's unlikely that Leto will ever reprise the role, no matter how badly he may want to re-consume himself with the character.
Heath Ledger Played An Award-Winning Psychopath
When you think about The Joker, there's a good chance that Heath Ledger pops into your mind. The late actor earned himself an Academy Award for Best Supporting Actor in the 2008 film The Dark Knight. This film, a part of Christopher Nolan's trilogy, is one of the most awarded superhero movies out there. It earned over $1 billion at the worldwide box office, when that was still very rare. An incredible score, a visionary director, an A-list cast, and a high budget all joined forces to create The Dark Knight, and it paid off.
The Joker is addicted to causing trouble in this film and lives to watch Batman toe the line between heroism and vigilantism. He still has his trademark white skin and red lips, but this time its makeup and not a chemical bleaching. For the film, Nolan wanted to stick to the dark history that The Joker has always been attached to but went for a more chaotic interpretation with zero empathy.
Image via Warner Bros. Pictures
Heath Ledger's casting originally received some complaints. Fans called it "the worst casting decision ever made" and even the studio wasn't originally on board. Despite the controversy, it paid off. Unfortunately, Ledger passed away before the film could release. Some have cited his method acting to be an influence in Ledger's death, and that his isolation fueled by the character could have taken a toll on Ledger's emotional wellbeing. Regardless of the tragedy surrounding the film, it solidified Ledger's Joker as a hard-to-beat, beautifully chaotic character interpretation.
Joaquin Phoenix Has Big (Clown) Shoes To Fill
It's hard to tell how Pheonix's Joker will resonate with fans. The film is approaching its October 4th, 2019 release date. However, early reviews have given the film, and Phoenix's portrayal, high praise. Many reports already hinted at Oscar buzz for Phoenix. While every previous Joker entry has revolved around Batman and other DC characters, Joker stands out as the first origin story and stand-alone Joker tale. While the trailer has hinted at Wayne involvement, it's certain that the film will focus on the villain this time around.
Phoenix's Joker is technically Arthur Fleck, a mentally ill individual who has had some hard times in his life. Living with and caring for his mother and dealing with poverty and illnesses, Fleck wants nothing more than to be a stand-up comedian. Despite plenty of originality in his jokes, inspired by his mental illness, audiences just don't seem to get it.
Image via Warner Bros.
For Pheonix to get into the mindset of The Joker, he claims that he did not take inspiration from previous portrayals. Instead, he took it as a character study of the comic book character, but in a unique and scary way. For the role, Phoenix took to physical transformation, losing 52 pounds in preparation. Based on the trailer, it's clear that this portrayal will look physically and stylistically different than any Joker that we've seen before.
Barry Keoghan In The Batman – the Joker We Didn't Get Enough Of
In the 2022 film by Matt Reeves, The Batman, at the end of the film Paul Dano's Riddler is in what appears to be Arkham Asylum just losing it over his loss to Robert Pattison's character. We hear a voice, and without even seeing him clearly, we know that he's just met the Joker. Barry Keoghan played a horribly scarred Joker who, unlike the other Jokers, is simply caged menace. We don't what he's done, but we know it has to be terrible. Later, Matt Reeves released a deleted scene featuring his Joker, and he's playing off of Batman. In this conversation, we finally get to see the Joker get the upper hand over the Dark Knight. Hopefully, we get to see more of him in the inevitable sequel.
The Animated Jokers
A proper portrayal of The Joker relies on both a solid acting performance and an excellent visual performance. While many of the actors on this list had the opportunity to explore the character with physical and vocal acting, others had to rely on a microphone to give their best performance. These actors took on The Joker as a vocal performance, relying on animation to capture the rest of The Joker's essence. This animated talent list is only a few of the many variations of The Joker that have appeared across video games, animated films, and television series.
Mark Hamill
Despite appearing only as a voice actor, Mark Hamill has created a lasting impression on the DC universe and the character of The Joker. Tim Curry was originally responsible for voicing The Joker in Batman: The Animated Series, but, due to some unclear reasons, was replaced by Hamill for the show, which lasted from 1992 to 1995. After his voice performance on BTAS, Hamill went on to voice the character in a host of other animated programs and games. He retired the voice in 2011 but made one last appearance in an adaptation of The Killing Joke in 2016.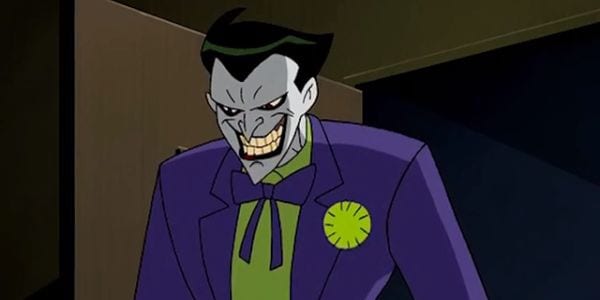 Image via Warner Bros. Animation
One of The Joker's most recognizing features is his maniacal laugh. Because Hamill relies so heavily on vocal performance, he's managed to nail the laugh. Its hyena-like cackle is both haunting and fitting to the character. Fans often praise Hamill's performance, despite his version of The Joker being one of the more tame characterizations. He may not be as much of a killing machine as the other versions, but Hamill's Joker will forever be remembered as an incredible vocal portrayal.
Kevin Michael Richardson
Richardson has had a career filled with excellent vocal performances. His work in the DC Universe has explored characters like Lex Luthor, Black Manta, and Despero in Batman: The Brave and the Bold. In The Batman, an animated Batman tale that ran from 2004 to 2008, Richardson voiced The Joker. He reprised the role in 2005's The Batman vs. Dracula. This version of The Joker is often forgotten about and is less iconic than Hamill's voicing. This is at no fault of Richardson, however, as his voice performance not only showed great vocal range but held his own strong version of an eerie, Joker laugh.
Jeff Bennett
Batman: The Brave and the Bold appeared on Cartoon Network in 2008. The show stuck with a more family-friendly tone, mimicking many of The Joker tales of the 60s. The show's episodes had stand-alone plots, and so rarely would villains carry on from episode to episode. However, it's not a Batman story without a Joker appearance. Jeff Bennett took voicing the villain, who had fewer chances to showcase his laughing talents.
Zach Galifianakis
Galifianakis often plays comedic roles and appears as a lovable and troublemaking friend. Rarely, though, is he the brains behind the operation. So, while it may be hard to imagine Galifianakis as the cunning Joker, he made a voice appearance in The LEGO Batman Movie in 2017. The film has one of the most normal sounding Jokers but is a worthy addition to the long list of Joker voices. Though I don't think anybody would be ready to see Galifianakis as a live-action Joker anytime soon.
What We Can Expect From " The Joker " ?
The Joker isn't going anywhere. With such an interesting backstory, it's clear that filmmakers and screenwriters have been finding ways to take on their own interpretations of the story and the character. The upcoming Joker will give audiences and critics a chance to explore a comic-book villain in a new light, exploring what happens when you let the light shine on the darker sides of the story for once. We will likely get to see a conclusion where the good guy doesn't win, and not in a reversible way like Thanos' snap.
So, readers, we have a very important question for you. Whose portrayal of The Joker has been your favorite (so far)?
Featured image via Reddit
Meghan Hale is the kind of movie lover that has a "must watch" that is a mile long... and growing. When she isn't talking about the latest film and television news she is writing one of her many in-process novels, screaming film trivia at anybody who will listen, and working as a mental health care professional. Follow her on Twitter @meghanrhale for some fun theories and live reactions to all things entertainment.
Leave a comment