How His Sobriety Encouraged Ewan McGregor To Take On Role In Doctor Sleep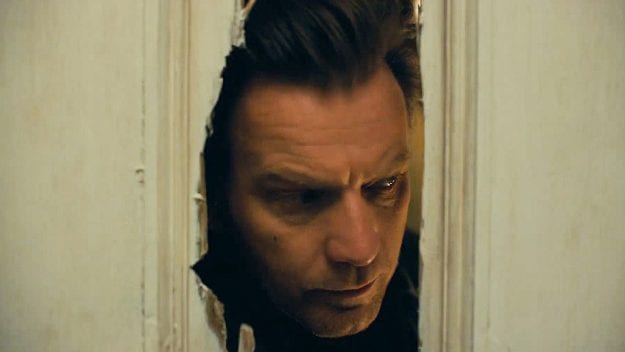 There aren't very many films out there that are as iconic as Stanley Kubrick's take on The Shining. His adaptation of Stephen King's 1977 novel was a unique take on the tale. Both versions will forever be considered masterpieces of horror. The lesser-known sequel of the story, Doctor Sleep, is finally receiving its theatrical adaptation this year. Director Mike Flanagan has led the now grown-up Danny Torrance, who we saw go through quite the journey way back in The Shining. The role has big shoes to fill, and Ewan McGregor has approached it with care and calculation. Despite such a daunting role, McGregor has used his personal journey of sobriety to encourage his performance in Doctor Sleep.
How Torrance and McGregor Handle Sobriety In Doctor Sleep
If you went through the mayhem that went down at the Overlook Hotel, you'd probably have a house full of baggage. So, it's no surprise that Danny Torrance grew up with his fair share of it, evolving into some dangerous self-copying mechanisms. In Doctor Sleep, Torrance has grown up learning that alcohol has the ability to suppress his "shining" ability. Flanagan explained to Nerdist that he could "dull that shine with alcohol," but eventually learns how to use his abilities to his advantage, and attending regular AA meetings for his alcoholism.
It's not just Danny who has dealt with alcoholism. His actor, McGregor, has had his go at the disease. McGregor is now 17 years sober. This is an achievement that must have taken plenty of hard work and self-determination to get to. Fortunately, McGregor is able to use his journey to influence his portrayal of Danny. A third key player in the story, Stephen King himself, also has had a past riddled with experience in addiction. For McGregor, having a story with the subject matter "dripping out of the novel" made it an easy role to take on. His character was already fully fleshed out from the realities of an addiction to alcohol.
Image via Warner Bros. Pictures
The Film Is Worth A Watch For McGregor Alone 2001: A Space Odyssey
Like 2001: A Space Odyssey and many of Kubrick's films, The Shining has been well-watched for decades. You don't have to have read the follow-up novel to its source material. You'll still have a pretty good idea of what Doctor Sleep is based on just from the years of cultural osmosis. Doctor Sleep releases in the U.S. on November 8th, 2019 where we can watch McGregor transform into the infamous Danny as he takes on sobriety and the shining itself.
Are you looking forward to catching Doctor Sleep in theatres next month? And what are your expectations for McGregor's take on such a well-known role? Let us know!
Featured image via Warner Bros. Pictures.
Meghan Hale is the kind of movie lover that has a "must watch" that is a mile long... and growing. When she isn't talking about the latest film and television news she is writing one of her many in-process novels, screaming film trivia at anybody who will listen, and working as a mental health care professional. Follow her on Twitter @meghanrhale for some fun theories and live reactions to all things entertainment.
Leave a comment