Free Guy Review – The Real Fun Is in the Side Quests We Made Along the Way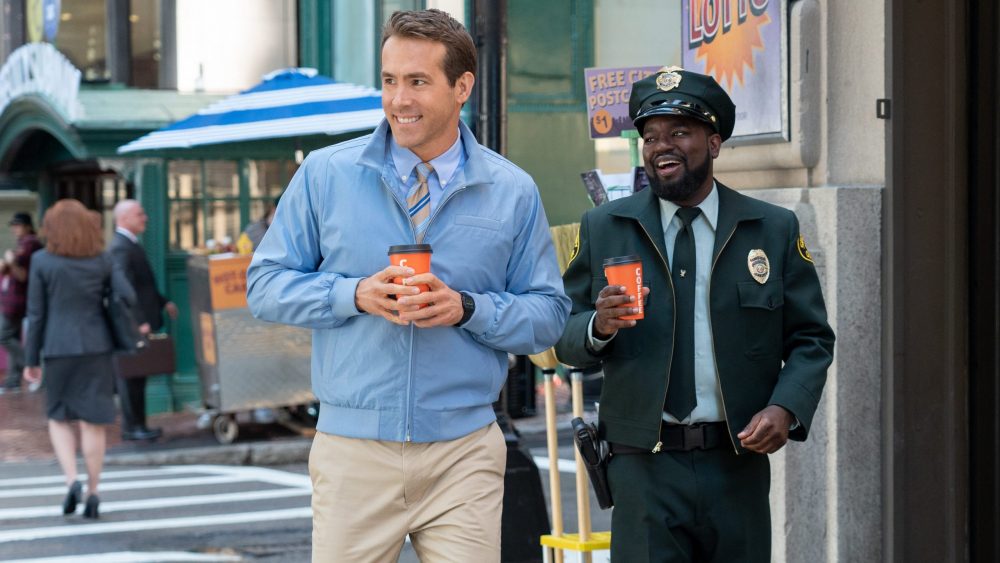 Do you ever watch a trailer to a movie and feel that, just by watching it, you've seen the entire thing? That's how I felt when I initially watched the trailer for Free Guy. Sure, it looked like an exciting premise with a lovable cast, but would there be any surprises found within? These hesitations were felt throughout the long waiting game between the first trailer and its eventual release. By the time the premiere date rolled around, I was eager enough to find any excuse to sit in a movie theater seat. And boy (or should I say… guy) do I regret ever doubting it. In this mostly spoiler-free review of Free Guy, we'll be looking at why sometimes fun is the best formula and why predictability might just be the main ingredient to the unpredictable.
Free Guy Review – Ryan Reynolds Is More Than Just A Pretty Face
This Shawn Levy-directed film is the imaginative result of somebody who loves video games, Spy Kids 3D, The Truman Show, Inception, and Her. While this collection of tales may sound like a mismatched mess, the execution is anything but. What results is the story of Ryan Reynold's Guy, a Non-Playable Character (NPC) in the game Free City that works as a bank teller. He gets up every day, says hello to his goldfish, and stamps cheques between hanging out with his buddy, Buddy. But isn't there more to life than blue shirts and basic coffee?
Upon crossing Jodie Comer's Millie (gamer tag Molotov Girl), Guy begins to feel like life is worth living. He starts his journey to personal discovery in the smallest way that anybody could: he orders a cappuccino instead of a coffee with cream and sugar, to the surprise of everybody around him. How dare he step off the beaten path?
The trailers for this film may have us believe that we're entering a storyworld that takes place all inside of a massive multiplayer game. In reality, we find ourselves watching the unfolding of a beautiful chronicle of the human discovery of purpose, love, and passion. To reveal some of the most magical moments of the film would spoil some of its most exciting aspects, so we'll leave some of it to your imagination until you head to a big screen to watch for yourself.
Image via 20th Century Studios.
The World Outside Of The Small Screen
If we wanted to watch some cool in-game action, we could have just as easily stayed home and played a game ourselves. Maybe the gaming aspects did make me miss my days of playing Fortnite for hours on end at the beginning of the pandemic, but it also reminded us of the people who are playing behind the screens.
While Guy and Molotov Girl are having their chaotic and fueled fun, Comer's real-life counterpart is dealing with a lawsuit against Taika Waititi's Antwan, the creator of Free City. She created her own game with development partner Keys (Stranger Things' Joe Keery), only to be taken advantage of by Antwan. When Keys betrays her and starts to work for Antwan, Millie realizes that she has to take fate into her own hands and play through the game until she finds something that gives her an advantage. Here, she realizes Guy's potential for self-fulfillment, and the two go on a journey that is about more than the millions of dollars that she missed out on.
Many of us will enter the film expecting to watch two hours of Ryan Reynolds. He is, without a doubt, the face of Free City. But he isn't the heart and soul of Free Guy. Jodie Comer is given a role with just enough to root for that we're thrilled to see her step outside of the assassin shoes that Killing Eve has put her into, and her desperation makes us care as much as she does. Lil Rel Howery's Buddy also shines in a small role. He is here to remind us of how hard it can be to take a step towards knowing yourself.
The film also features various cameos. Some are obvious and a pleasant surprise, like a posthumous cameo of the beloved Alex Trebek. Others include actual streamers from our world, like Pokimane and Ninja. And some will be better if you wait and see.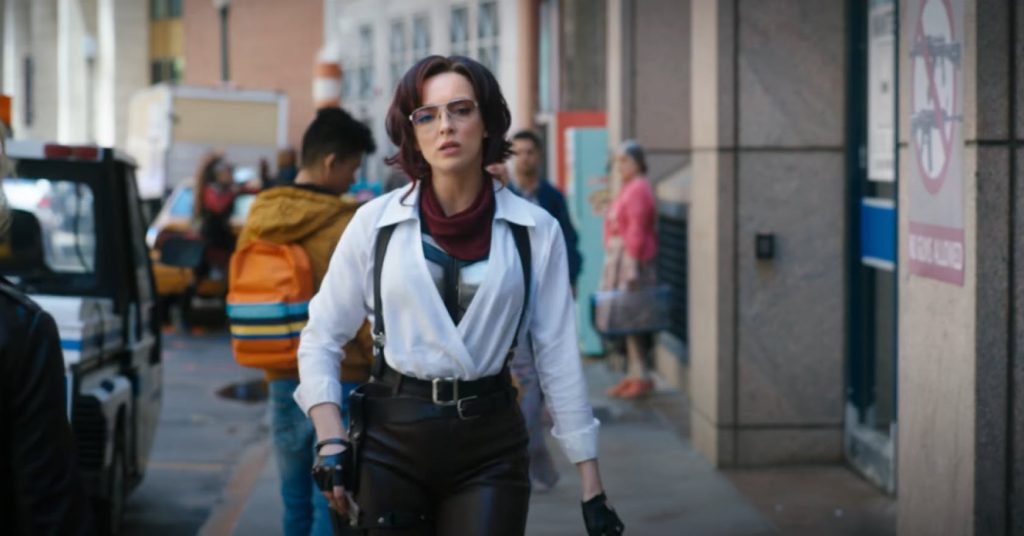 Image via 20th Century Studios.
There Are Elements Of Transmedia In Our Review Of Free Guy
One of the fastest ways to elevate a film through its design is to implement elements of transmedia storytelling. As previously discussed over here at Comic Years in our Scott Pilgrim vs. The World retro review, this technique is when you blend various creative techniques to achieve the desired goal. In Scott Pilgrim, visual elements were designed to mimic the appearance of a comic book because of the film's source material. As one could guess with Free Guy, we blend elements of games and film.
There are obvious examples of this, like gaming tools such as health packs, weapons, selection screens, and other gaming essentials. Others, like the slightly altered appearance of the skin, the physical movements of background characters, and the barely noticeable glow off of background objects make Guy's world look as real to us as it does to him. It's only when we're back in the non-gaming world that we notice such a difference.
Despite being small, excluding these slight alterations would not have allowed us to fully immerse into the world of Guy. How can we believe his motivations when we're seeing him as an NPC? The intelligent utilization of transmedia storytelling truly makes us believe in a future for Guy.
Image via 20th Century Studios.
So, Does A Video Game Movie Tell Us How To Live?
An action-comedy that borrows elements from Star Wars and Fortnite while also relying on various other juvenile pop culture references might not sound like something that will make you question your own existence. Yet the film, which looks predictable from afar, relies on our own desires to find passion and purpose to make us think critically about its plot.
Guy and his pals are all NPCs. But do we see a future for them beyond a game? The essence of the film has us questioning the morality behind artificial intelligence and control. Like we knew that Jim Carrey's titular Truman Burbank deserved deeper free will and that the Scarlett Johansson-voiced Sam in Spike Jonze's Her had agency of her own, Free Guy reminds us that joy alone doesn't make a life. Motivation, curiosity, and love do.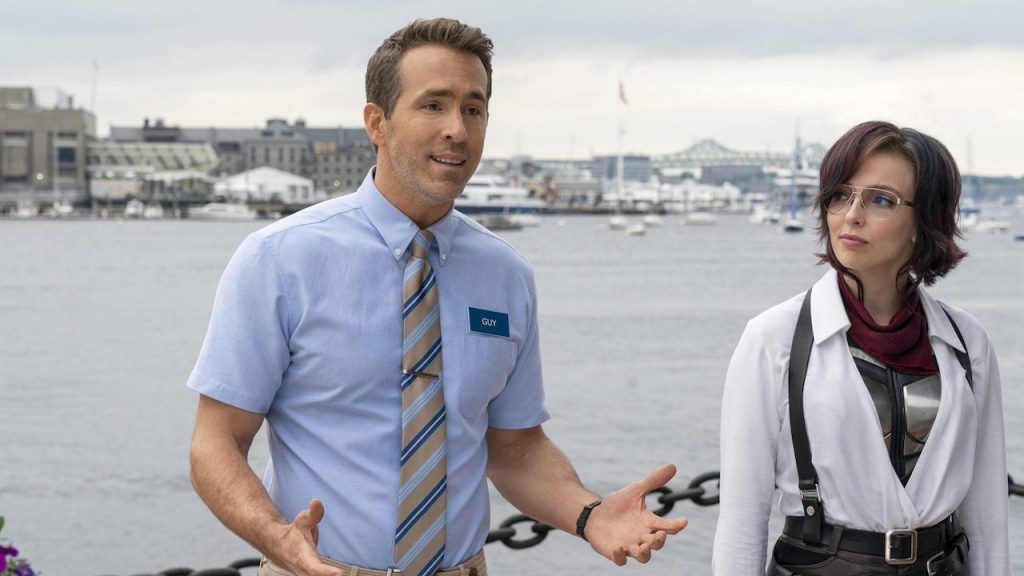 Image via 20th Century Studios.
A Film Can Never Be Without Its Faults
This movie is a delight from start to finish. I was impressed at the laugh-out-loud moments that feel rare in our age of living in an almost-post-pandemic world. Despite its overwhelmingly positive messaging and excitement, our review of Free Guy can't be complete without noting its minor inconveniences.
It may be expected that Taika Waititi's appearance in any film will add some joyous humor. Despite our love for the actor/director, his role in this film falls flat. Some moments obviously went for laughs, and his loud personality has potential. However, it feels out of place in the film. Such an extravagant personality was not needed when it had so many other players to follow. A villain who couldn't see the fun in games at all may have worked better than a manic one whose motivations are never fleshed out.
Another small commentary is on how the film treats its real-life female streamers. Various online personalities get cameos that most non-Twitch users may not recognize, and the difference in their language is clear. Notably, the female streamers all spend most of their time on-screen commenting on the physical appearance of Reynold's Guy. They ogle and talk about how hot he is. Meanwhile, the male streamers have more to say about his presence in the gaming community. Women are already looked down upon in male-dominated fields like streaming. Why perpetuate the idea that their content is brainless? Come on, Free Guy. You could have done better.
Finally, the pacing of the film feels uneven at times. The jump from Guy's NPC attitude to a free agent happens rapidly and without time to invest in his goldfish-loving life. Timing of character's trust-building and conflict also feels all over the place, and we have to rely on the story's core to push past some of it in its more flat times.
Image via 20th Century Studios.
Summer Movies Always Need Some Fun
We're in a time where happy movies are needed more than ever. The dark, depressing, Oscar-bait type films are only a reminder of the hard times that our society has gone through over the past few years. What better way to uplift our world than to show a happy and fun film that stars our favorite slightly-too-charming actor?
Our final review of Free Guy is that it's a film that could easily fall off our radar. Theaters still aren't open at full capacity, and many of us don't see the point in traveling to watch anything when we have the world at our streaming fingertips. But if you're able to do so safely, catching this one in theaters will be worth your while.
Readers, let us know if you agree with our review of Free Guy. And what would your NPC be doing right now if it was living in Free City? Drop your thoughts in the comments!
Featured image via 20th Century Studios.
Meghan Hale is the kind of movie lover that has a "must watch" that is a mile long... and growing. When she isn't talking about the latest film and television news she is writing one of her many in-process novels, screaming film trivia at anybody who will listen, and working as a mental health care professional. Follow her on Twitter @meghanrhale for some fun theories and live reactions to all things entertainment.
Leave a comment