Which MCU Characters Could We See In Deadpool 3?
Deadpool 3 is the movie that will finally bring one of our favorite characters into the MCU. The film is still developing and raising expectations about its possible surprises. The public already had the first surprise when the news of Hugh Jackman's Wolverine being in the film came out. Now, fans wonder which MCU characters could be in Deadpool 3 and if the movie will also introduce new superheroes.
There are several options, from former members of The Avengers, not-so-bad anti-heroes, and recent characters that came on the scene. The question would be who Marvel decides to place in this sequel and how the transition from Century 20Th Fox to Disney will be, considering the distinction in styles.
Possible MCU Characters in Deadpool 3
Several possible MCU characters could appear alongside Wade Wilson in Deadpool 3. The reasons may vary. Some think of characters with an affinity with the anti-hero, while others go by their appearances in the comics. Unfortunately, Marvel is well known for not following the comic books' stories to the letter. Let's see our options:
Loki – The God of Mischief
On top of this list is Loki, the Norse God of trickery and mischief. Tom Hiddleston's character could match Deadpool because of his strange affinity for teasing. Itentirelyite possible that the son of Odin will give Wilson a few lessons or that Wilson will seek to take the throne from the deity.
Doctor Strange – Master of the Mystic Arts
Doctor Strange is an MCU character that could be in Deadpool 3 because of his multiverse traveling abilities. This follows his actions with Spider-Man and Amanda Chavez. It's also possible that Wade causes a mess (as usual), and Strange has to come and sort things out.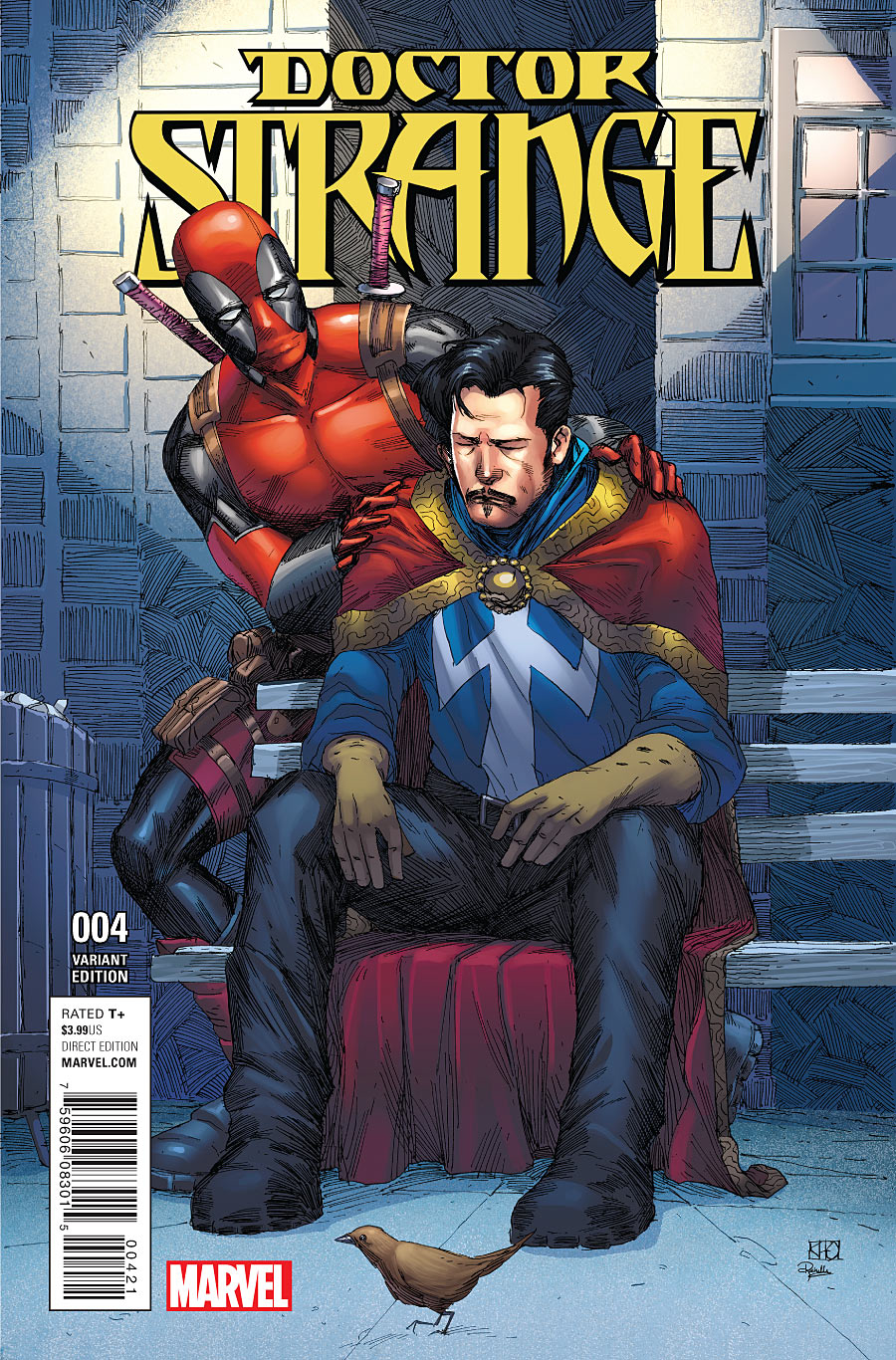 Image via Marvel Comics
She-Hulk – New MCU Character for Deadpool 3
After multiple MCU characters appeared in She-Hulk: Attorney at Law, it would not be strange for her to be in Deadpool 3. Primarily because, in the comics, these two have similar personalities; they are somewhat crazy, carefree, and love joking. Could She-Hulk somehow create a connection with our beloved Wade?
Miss Minutes – The TVA's A.I.
Miss Minutes, who helped Loki travel through multiple dimensions and through time, could also be in Deadpool 3. Perhaps she could guide Wilson throughout the multiverse. Let's remember that only in Nov 2022 the duo interacted on Twitter, causing fans to beg for a crossover.
Hello, Miss Minutes.

— Ryan Reynolds (@VancityReynolds) November 29, 2022
Kang, Conqueror of Worlds
One of Ka,ng the Conqueror's variants could appear in Deadpool 3, more specifically, the one we will see in Ant-Man and the Wasp: Quantumania. According to the final events of Loki, when Kang decides to die, he warns that a more ambitious version of him will take control, and maybe the immortal Wade Wilson is the only one who can defeat him.
Tom Holland's Spider-Man
Tom Holland's Spider-Man could be in Deadpool 3, considering these 2 MCU characters get along very well in the comics. In fact, he's one of the few heroes that Deadpool never made fun of, neither in the comics nor in the various productions Wilson appeared in. Hopefully, we will see them teaming up.
Image via Marvel Comics
Clea – A Dark Dimension Character for Deadpool 3
The sorceress who appears in Doctor Strange in the Multiverse of Madness' post-credits scene is another option to consider. Clea has a dark and comedic taste, so it's feasible that she would be drawn to the wisecracking mutant. Considering Deadpool is single, with the death of his wife in part 2, maybe Marvel can create a somewhat strange love affair between the two.
Let us know in the comments of any other MCU characters that could join Wade and Logan in Deadpool 3.
Leave a comment