Chris Evans From Cap to Astronaut – Actor Speaks Out About Lightyear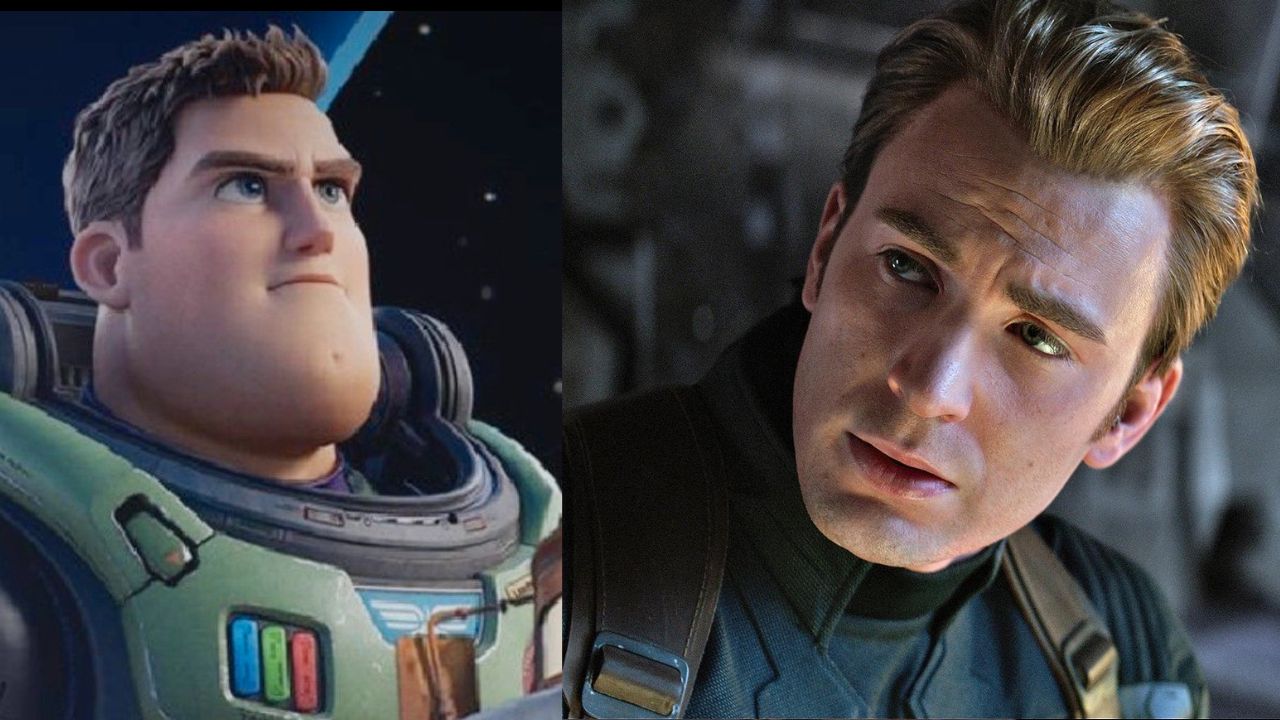 Our beloved Chris Evans has just spoken out about his performance as Buzz Lightyear. The actor has expressed in an interview the challenge it was to give life to this iconic character. One of the biggest challenges was bringing his stamp to this beloved character, trying to move away from the role we all know him, Captain America. They are characters with many similarities but very different at the same time. In this article, we will learn a little more about the journey of Chris Evans from Cap to Astronaut. 
Chris Evans Says Goodbye as Captain America
Image via Marvel Studios
In Phase 4 of the MCU, we have had no sign of our dear Captain America. The last time we saw Steve Rogers carrying the shield was in Avengers: Endgame (2019), when Cap decided to stay in the past and live his life with Peggy Carter and appear in the present as an older man. Sam Wilson has replaced Steve Rogers as the bearer of the iconic shield and has had a whole series to make this transition. Deaths in the MCU are indeed relative, as we've seen characters return despite this. A proof of this is Gamora, who died at the hands of Thanos, but returned as a different version by time travel. 
So we can't completely rule out Chris Evans returning to wield the shield in the future. However, this is a tall order, and the actor has turned over a new leaf. Evans is making his way with new roles like the Netflix action thriller The Gray Man. And now, voicing our beloved Buzz Lightyear, Chris Evans will go from Cap to Astronaut. 
Chris Evans From Cap to Astronaut 
Image via screengrab
Now the actor has spoken about the challenge of playing this popular animated character. We all remember Buzz Lightyear as an innate leader, self-confident, and leading a mission to save the lives of his companions. Does that remind you of anything? Hence the challenge Chris Evans from Cap to Astronaut is facing. The actor commented on the similarities between the two characters: "The characters themselves have a lot of similar overlap in terms of their sense of responsibility and leadership. But they're very different men, so you take the things that are useful and you leave the things that make Cap, Cap." 
Image via screengrab
Another crucial aspect for the actor to consider was taking over for Tim Allen, who voiced the character in the Toy Story franchise. Allen was replaced by the decision of the film's direction, which wanted to give the character a more realistic look than when he was a simple action figure. 
Evans commented: "It's tough, you know, the first time you have to do that iconic line 'to infinity and beyond,' you kind of just do a shameless Tim Allen impression because it's intimidating. But Angus [MacLane} and everyone at Pixar was so collaborative, and you kind of let them guide you and eventually you feel comfortable enough to try and make your own tracks in the snow and find your own interpretation while still using Tim Allen as the blueprint."
The Pixar film, directed by Angus MacLane, will be released on June 17th in the United States. It promises to be a hit with family audiences, just like Sonic the Hedgehog 2 or The Bad Guys.
Featured Image Via Pixar/Walt Disney Studios
I am a circus aerialist influenced by Dick Grayson and Spider-Man. Fortunate to write about the characters that inspired me. I also have a Bachelor's degree in Political Science and a Master's degree in International Trade.
Leave a comment