CAPTAIN AMERICA: Avenger, Hero, Icon By Rich Johnson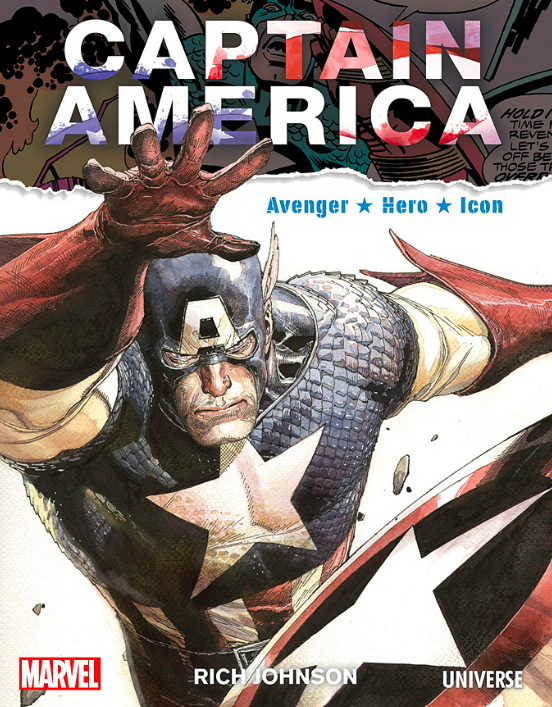 The world first met Steve Rogers at the start of World War II. Borna symbol of hope during a troubling time, he represented what was best about the United States. Even his name was patriotic: Captain America. CAPTAIN AMERICA: AVENGER, HERO, ICON, written by longtime comic book industry insider Rich Johnson, explores the phenomenon of one of Marvel Comics 'greatest superheroes by exploring thirty of Captain America's most significant and influential stories as well as relevant spinoffs and ancillary comic book events. This fully illustrated volume is both a celebration of Captain America and a guide that transports readers into his world.
Johnson organizes the stories by how deeply they explore the mythos of Cap. Private–This section is the perfect introduction for those new to reading Captain America comics. Corporal–This chapter provides those who have read a few comics with a deeper knowledge of Captain America. Sergeant–These stories take readers even further into the world of Captain America. Captain–The final part of the book will have fans on their way to becoming Captain America experts.
The book brings each of these stories alive using countless comic book images, film concept art, and storyboards. Readers will revel in retracing Cap's origins through the present; discovering the social, cultural, and political issues interwoven into each adventure; watching the costume changes and character evolution over the past eighty years; and understanding the influence of Captain America on other comic book characters and his relevance in today's comic book (and superhero film) culture.
Containing more than two hundred covers, interior comic art pieces, and sketch treatments, CAPTAIN AMERICA clearly illustrates why people today still buy his comics, play with his action figures, watch his movies and TV shows, and carry his shield on Halloween or at comic cons. Perhaps the man out of time is, after all, a man for all times.
ABOUT THE AUTHOR: Rich Johnson is a longtime comic book industry mainstay: Johnson spent time as a VP with DC Comics and VP of Lion Forge Comics, has been an Eisner Awards judge, has written for comics website The Beat, and founded and was Co-Publishing Director of manga imprint Yen Press. Johnson also co-edited the critically acclaimed COVID Chronicles: A Comics Anthology, named by The Washington Post one of the best graphic novels of 2021.
Press releases from creators, studios, and artists announcing their latest exciting projects. If you want to see your press releases here, send an email to [email protected]
Leave a comment