The Complicated History Of Captain Marvel And Shazam Explained
Strange coincidences are the norm in the many worlds of comic book stories. A hero's best friend or romantic partner is actually their greatest adversary, and so on. Yet, there are strange coincidences in the real world where comics are concerned. An intriguing, and almost petty, one of these coincidences plays out on our movie screens right now. Captain Marvel and Shazam are two of the year's biggest genre films in a year crowded with them. However, Captain Marvel and Shazam have a long history together, not the least of which is that they actually share a name. It's a strange, complicated story that pit the two great American superhero factories against each other for characters that no one really cared about until recently (proven by the bevy of upcoming MCU Marvel movies). It's also perfectly apropos that, after 20 years of comic book movies, the two ended up competing on screens against each other.
Captain Marvel And Shazam: The First Captain Marvel
The story of Captain Marvel and Shazam begins with the character we know today as "Shazam" but was named, at the time, Captain Marvel. Superman and Batman, introduced by National Comics (which became D.C.) a few years earlier, were big hits. So, Fawcett Publications started their own comics division and their own superheroes. Captain Marvel came from C.C. Peck, an artist, and Bill Parker, the writer. They developed a magical character who would turn from a 12-year-old boy into a "super man." He would make this change by uttering the magic word "Shazam." Not only is this the name of the ancient wizard who grants him his powers, but it's a reference to ancient myth.
Shazam is an anagram for the gods who grant young Billy his powers. He gets the wisdom of Solomon, from the Hebrew and Christian Bibles. He also gained the stamina of Atlas, the strength of Hercules, the "power" of Zeus, and the speed of Mercury. He also possessed the courage of Achilles, and none of the heel, apparently. He was a smash success with readers in 1939. Superman dresses up and pretends to be plain-old human Clark Kent. Captain Marvel really was just a kid like his readers, able to be just as powerful as the Kryptonian. Yet, the battle between Superman and Shazam was meant to be fought in court.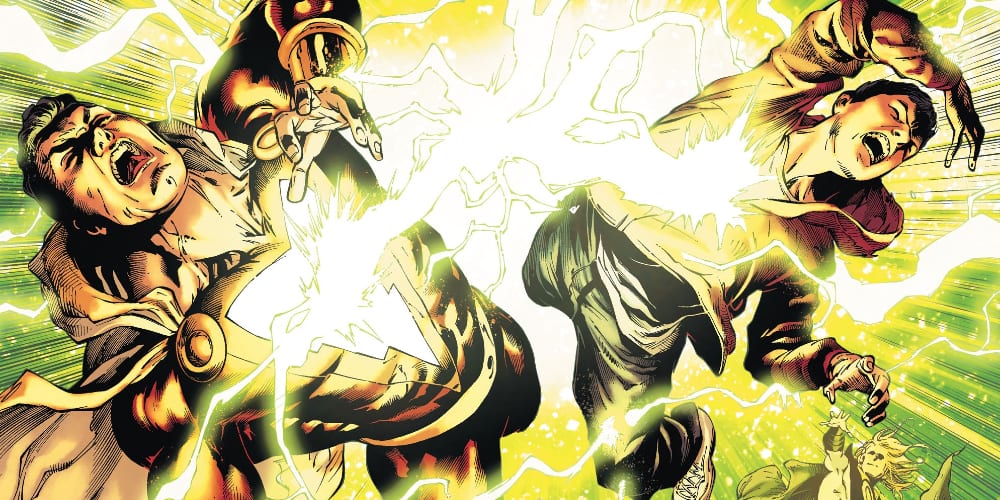 Do Superheroes just enjoy making bad choices? (Image: Future State: Shazam! #1, DC Comics)
Captain Marvel And Shazam: Copyright Lawsuit
Not too long after his debut, the Fawcett character found himself embroiled in a battle with the first superhero. More accurately, Fawcett itself faced a lawsuit for copyright infringement from National. They argued that Captain Marvel was a rip-off of Superman, which violated National's copyright. The first judge ruled that Captain Marvel was a pale imitation of Superman but said that National's copyright for Superman wasn't protected. An appeals judge reversed both rulings. Judge Learned Hand, whose name sounds like it comes out of a comic book, said that National's copyright for Superman was sound. However, Captain Marvel was not similar enough to the character of Superman to warrant copyright infringement.
A third court case loomed on the horizon, but the landscape for Fawcett and National changed. Sales for superhero titles started to decline. Publishers assumed that superhero stories' moment was over. So, almost out of spite, the company that would become D.C. bought the rights to Fawcett's Captain Marvel for much less than the characters' creators wanted. When they decided to reintroduce the character, they encountered a problem. While they owned the rights to this specific story, they did not maintain the trademark on the name Captain Marvel. If they were going to reintroduce the character, he needed a new name. Because it was already intrinsically linked to his narrative, the hero that was Captain Marvel became Shazam!
Captain Marvel And Shazam: Marvel's Captain Marvel
Marvel comics was a publisher on its last legs, when Stan Lee, Jack Kirby, Steve Ditko, and others were given free reign. The characters they created were a sensation. Much like Marvel Studios did with superhero movies on the big screen, their innovative stories revitalized a seemingly dying market for comic books. In 1967, Stan Lee and artist Gene Colan created their own "Captain Marvel" character. This version, also a male, was an alien spy who turned against his own people to save Earth. In 1982 Roger Stern and John Romita, Jr. created a new version of the character. Monica Rambeau, a black, female police detective in New Orleans, became the second Captain Marvel. Over the next decade or two, a number of other alien characters would assume the Captain Marvel mantle. But the most famous Captain Marvel was yet to come.
Carol Danvers was a character in the original 1967 version of the story. She was the head of security for the military base where Mar-Vell worked in his secret identity. A few years later, she emerged with powers of her own adopting the name "Ms. Marvel." She would use that name for a long time, until in 2012 Danvers assumes the mantle of Captain Marvel in a series written by Kelly Sue DeConnick. This is the version of the character that most directly influenced the big-screen version of Carol Danvers played by Brie Larson. Ironically, the character never achieved huge popularity until the 2012 run and the eventual film. So, it seems, the name "Captain Marvel" comes with a lot of baggage.
Captain Marvel And Shazam: The Battle Of The Captains Marvel
When D.C. decided to relaunch the Fawcett character, they named him "Shazam!" but they added the subtitle "the Original Captain Marvel." Marvel Comics did not find this subtitle amusing, so they sent a cease and desist letter to rival D.C. The publisher obliged, settling on "the World's Mightiest Mortal" as the new subtitle. However, this disagreement spawned a long history of the two publishers launching new titles featuring the characters at remarkably similar times. The characters' titles never sold all that well, yet neither D.C. nor Marvel would quit. In the 1970s and the 1980s, different versions of the characters appeared in the comics. Yet, until recently at least, they never achieved the popularity or name-recognition of other franchise players like Batman or Spider-Man. Still, both Captain Marvel and Shazam are important and permanent fixtures in their respective universes.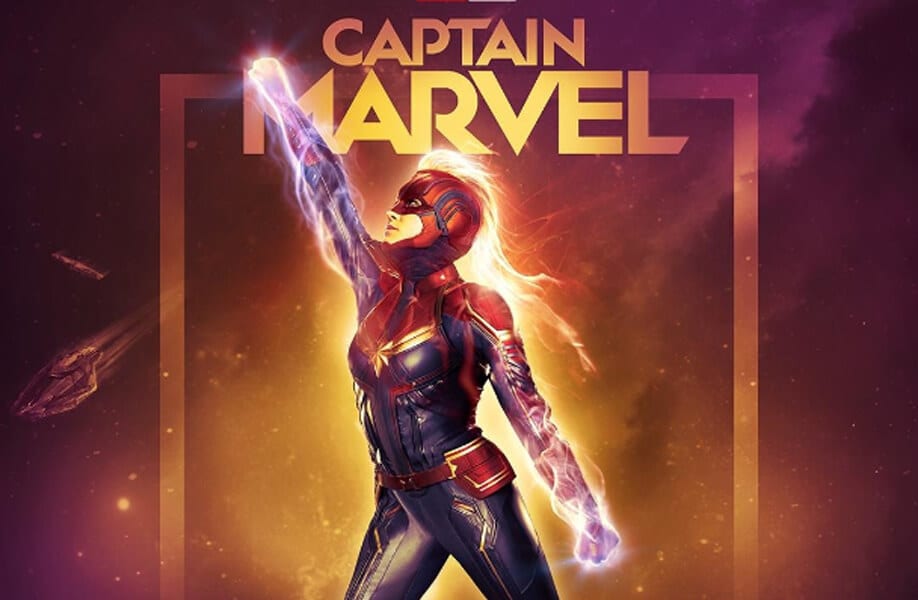 So, with this history in mind, it almost makes sense that after nearly 20 years of modern comic book movies, Captain Marvel and Shazam would grace the big screen. What's more interesting than the coincidental timing of their release is what these films represent for their respective studios. Captain Marvel and Shazam have big responsibilities for Marvel and D.C. The former is the first female-led superhero film from Marvel Studios, and Brie Larson's character is meant to be the "leader" of the MCU going forward. Shazam, on the other hand, represents a different sort of departure for the D.C. universe. This film is supposed to be the kind of fun, family-friendly superhero-romp that the initial offerings from D.C. were not. Unlike the many attempts to relaunch the character in comics, both of these films succeeded where they needed to.
Captain Marvel And Shazam: Living Happily-Ever-After
The characters of Captain Marvel and Shazam are not going anywhere. The film featuring the former character surpassed $1 billion in box office receipts, making it one of the most successful solo-character films in the Marvel Cinematic Universe. This proved, as obvious as it seems to many of us, that female-led superhero movies can be just as thrilling and successful as male-led movies. Shazam! earned significantly less than Captain Marvel, however. It's currently chasing $400 million in worldwide box office earnings. Still, with a production budget of $100 million, the Zachary Levi-led film is an unmitigated success. No official announcements came from either studio, but it's clear that there are going to be a number of sequels featuring these characters.
What's great is that despite the long rivalry between D.C. and Marvel, the stars of the two films are being very supportive of each other. Larson faced a deluge of criticism from online trolls and angry fans who took offense at her statements about diversity and equality. Instead of simply ignoring this onslaught of criticism, Levi took to social media to defend both Larson and the Captain Marvel film. He said he did this because it was the "right" thing to do. Also, he likely knows that there is enough room in the culture for both characters. The success of one comic book film only helps the others, even those in direct competition. Larson never responded to Levi, but she did post a picture of herself imitating Levi's pose on the IMAX poster for Shazam! It's a good world where both Captain Marvels can support each other.
Captain Marvel And Shazam: What's Next For These Characters?
Captain Marvel is already appearing in her second MCU film, playing a large role in Avengers: Endgame. Beyond this, however, we don't know what Marvel Studios' plans are for future films. Still, there is no question that Carol Danvers will get a second solo movie. It's also quite likely that she will appear in other MCU films set in space, such as those featuring the characters of Thor or the Guardians of the Galaxy. For Shazam, the future is also uncertain. It's clear that D.C. wants to make sequels, especially since one of the actors in the film revealed she signed a five-picture deal with Warner Bros. The fates of the DC Extended Universe characters like Batman and Superman are still uncertain. Yet, whatever form it takes, Shazam and his friends will be a part of it.
Joshua M. Patton is a father, veteran, and writer living in Pittsburgh, PA. The first books he read on his own were comics, and he's loved the medium ever since. He is the greatest star-pilot in the galaxy, a cunning warrior, and a good friend. His book of superhero short stories, Tales of Adventure & Fantasy: Book One is available as an ebook or paperback from Amazon.
Leave a comment