Ant-Man Quantumania Raises $225 Million in First Weekend
The first film of Marvel's Phase V, Ant-Man Quantumania, has already completed its first weekend of release. This grossed a significant figure if we put all markets together. However, it was not what the company projected at its inception, which says it got off to a rather slow start in some parts of the world.
Some say this is due to its criticism on its release, where it was strongly commented, unlike the other two prequels. This may have influenced the path of this release and its box office. Although for the moment, it is still a fantastic production and not a palate cleanser, as mentioned by its director Peyton Reed.
Ant-Man Quantumania Accumulates $225 Million and Needs to Catch up on the Predictions
Image: Marvel/Disney
The Ant-Man movie Quantumania grossed approximately $225 million worldwide in its first weekend of release. It opened with $104 million in the U.S. market, while it grossed approximately $121 million overseas.
Although not a bad box office performance, these figures are below the estimates made by Marvel's staff. They estimated that it could gross at least $255 million. This implies that they fell short by $30 million.
This phenomenon is because it had a rather slow start in the Chinese market. This Asian country is still struggling with sanitary measures and fear of COVID-19, resulting in a lower-than-desired performance. Even so, it was the country with the highest revenues, except for the United States.
As for what Ant-Man Quantumania added abroad, we have that China leads the collection with 19.2 million. In second place is the United Kingdom with 10.9 million, followed by Mexico with 8.7 million dollars. Next is Korea with 7.2 million dollars. Rounding out the list are France with $5.3 million and Indonesia with $5.1 million.
A Very Poor Review for Such a Spectacular MCU Movie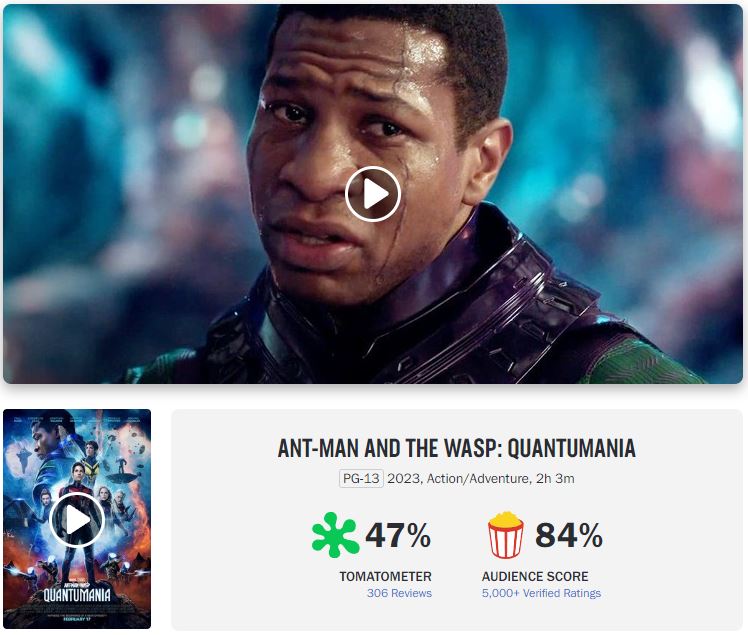 Image: Rotten Tomatoes
Ant-Man Quantumania was planned as a film that would be off the charts, unlike its predecessors. This was confirmed by Reed, who said that this production would be spectacular and not be like the other two, which were filler. That is why the Quantum Realm was shown, with the presentation of the saga's villain, Kang the Conqueror.
The detail is that it was shown as a great movie, and the reviews it received did not back them up. On the Rotten Tomatoes website, it is tied with The Eternals as the lowest-scoring Marvel movie, with 47 points. This could also explain why the box office is so low, considering that it didn't make the desired impact.
Even user ratings are on the decline. On Saturday Ant-Man Quantumania was at 86%, and today, Sunday, Monday 20, it is at 84% audience score. This is a bad start considering the box office and the reviews it got.
Featured Image Via Marvel Studios 
I am a circus aerialist influenced by Dick Grayson and Spider-Man. Fortunate to write about the characters that inspired me. I also have a Bachelor's degree in Political Science and a Master's degree in International Trade.
Leave a comment