The King of Fighters XV Review – A Historic Series Returns
The King of Fighters first released in 1994. Designed for publisher SNK's Neo Geo MVS arcade hardware. Until 2004, that's how each version of the game released. It's why some non-arcade gamers didn't learn of the series until over a decade after it started. Even to this day, it's not as commonly known outside of competitive gaming circles. I have a feeling that's going to change given the prowess of The King of Fighters XV. If you're a fan of fighting games like Tekken and Street Fighter, then this is a great extension of the genre for you. The latest release in a classic fighting series, read our review of The King of Fighters XV for next-gen consoles from SNK.
The King of Fighters XV Is a Great Blend of New and Old
Image Credit: SNK
SNK is set to release The King of Fighters XV next week. In terms of graphics, systems, and online experience, this is hands down the boldest release in the franchise's 28 year history. Everything you want from a fighting game is here – even if you're not familiar with the series. The gameplay is a bit different from modern fighting games that favor fluidity and smooth animations. The feel of The King of Fighters XV is still very much an arcade fighter. It's just bolstered to the best parts of what makes this genre so timeless.
The story of The King of Fighters isn't all that necessary to know – but here it is. Only the world's toughest fighters can duke it out in the largest martial arts tournament in the world. Heroes from the Orochi, NESTS and Ash Sagas have all joined KOF. This time, the story is coming to an explosive climax! If those names don't ring a bell, then don't worry. Just looking at the character selection screen is enough to show you there's a ton of great fighters to choose from.
A fighting game really survives on its mechanics, but The King of Fighters XV does a great job of offering more. While it's still limited by its dedication to the arcade cabinet days, this is the best release in the series we've seen yet. From incredible graphics to great voice acting and a well-rounded roster, there's a lot to love with this entry in the historic series.
Our Review Score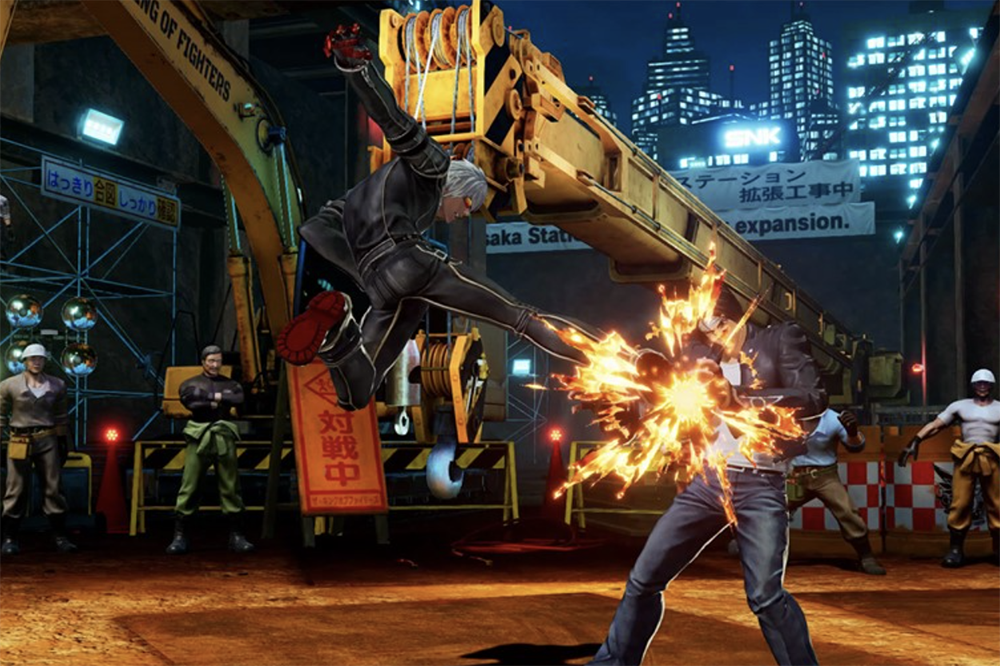 Image Credit: SNK
I review games on a scale of 1-10; The King of Fighters XV is a 7. If you're a fan of series like Super Smash Bros., then the stiffer nature of these games will be a bit foreign. That said, arcade fighters are some of the most exciting video games in the history of the medium. Online fighting makes this a really great game to pickup for multiplayer with anyone, anywhere. Not to mention, the characters are so well designed and fun to learn as you work through the nearly 40-fighter roster.
Combos aren't impossible to learn but there is a learning to curve to being great at the game. Like any fighting game, you can pick it up immediately and press buttons. The joy of The King of Fighters XV, and this release specifically, is that it's not just technically fun any more. It's also gorgeous, highlighted by wonderful characters and audio that really encompass your attention in more ways than one.
There's something about these classic arcade fighters that really scratch a gaming itch for me. I think I'll be playing this one for awhile. Whether you're new to the series or a long-time fan, this is definitely the best entry to either get started with or come into the decades-old series.
The King of Fighters XV Releases on February 14
Image Credit: SNK
The King of Fighters XV releases on February 14 for PC, PS4 + PS5, and Xbox Series X|S and Xbox One. If you have questions about the game, then drop them in the comments! I'm happy to hear what you think of the game once you play it as well. Come back to our The King of Fighters XV review and let us know what you think of this release!
Thanks for reading Comic Years for all things gaming, comics, and pop culture.
A digital review code was provided by the publisher for the purposes of this review.
Featured Image Credit: SNK
Taylor is the Gaming Editor of Comic Years and a lifelong fan of video games. He holds two degrees in Political Communication and wrote a Master's Thesis on resistance movements, race, and the exploitation of college athletes. His wife and two Toy Australian Sheppards keep him sane.
Leave a comment