Retro Review: Resident Evil 7: Biohazard
I recently felt inclined to start celebrating Fall when temperatures dropped in the Midwest. Sure, it's early September and next week's highs are in the 80s, but it's Halloween in my heart now. Nobody can stop the spooky sensation I feel and honestly, given the mess that is 2020, we all deserve something to look forward to. So, when Resident Evil 7: Biohazard hit Xbox Game Pass, I thought it was meant to be. Overall, I sparingly play horror games. I'm a huge baby and there's not a more professional or redeeming way to put it. I can read horror, but I can't really watch it or play these sorts of games. Nevertheless, I ran through Resident Evil 7 to prove to myself I could do it. Turns out I still can't quite call myself a horror fan, but this game wowed me in a lot of surprising ways.
Resident Evil 7: Biohazard Retro Review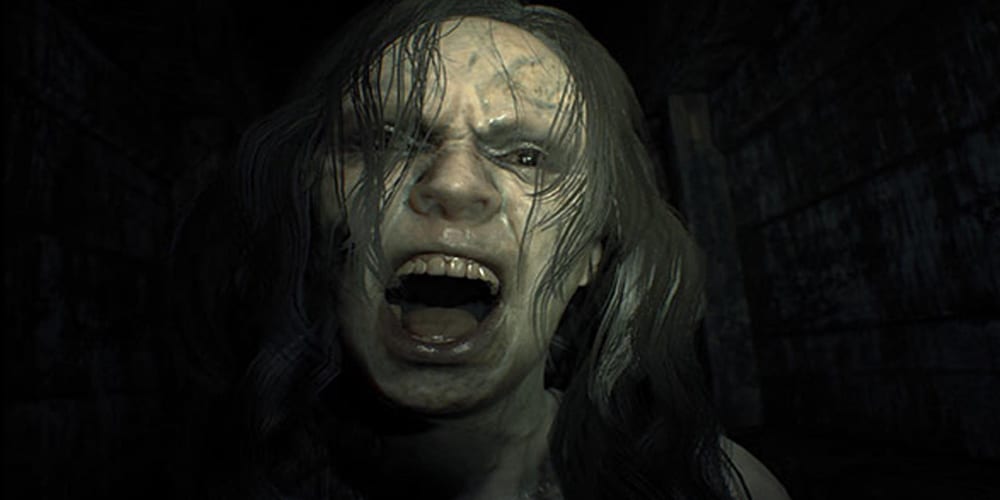 Image Credit: Capcom
The game begins with something a lot of Resident Evil games don't: a first-person view. This element immediately appealed to me more than other games. I'm not big on third-person views that sit tight on the character's shoulder. The only exception would be Gears of War. Because of my past letdowns experienced in the Resident Evil series, I skipped 7 in 2017 when it originally released. Had it not been for the Xbox Game Pass additions for September, I would not have tried this game.
That would have been my loss because this is a truly wonderful horror title. Immediately, your character Ethan is thrown into a huge mess taking part in an eerie, rundown plantation in Louisiana. Your wife, Mia, went missing 3 years ago and suddenly reaches out again saying not to come find her. Still, you have an address and like any disappointing husband, you fail to listen. But, love conquers all right?
When you arrive, the initial experience is one of silently touring this creepy house. You find videos of people dying, photos of what seems to be torture scenes, and eventually, Mia. She's in a holding cell and says she's worried "daddy" might find you there. Yikes. It's about here that I almost "noped" my way out of the game forever. Yet, I persisted.
Love and Marriage (And Killer Monsters)
Image Credit: Capcom
You found your wife, thank God. Except she immediately transforms into this Exorcist style creature and tries to kill you. After finally subduing her, she returns to her old self and you realize she's not fully lost. This means you have hope, and you enlist the help of Zoe, someone who finds out you're on the plantation and offers assistance. Without spoiling too much, I want to dive into the gameplay a bit. I love the first-person view, but collecting items to solve your way through a mystery is still very much alive. The other Resident Evil games I've played focus on action. Essentially, you travel to a new space, kill zombies, and move on. This game is much more focused on exploring a horror story as a central character.
I think for people like me who don't love horror games, this is a great offering. I was seriously freaked out while playing this game, but a rich story kept me going. Eventually, you even get the option to completely pave your unique path through the story. It's up to you at one point to decide a critical element of your future. With both Zoe and Mia infected with whatever is going on at this creepy plantation, you have one cure. Do you save the wife you once knew or the woman who saved you from this damned place? It's a remarkable fork that doesn't even come halfway through the game. The story's execution, as well as deeply eerie world and main antagonist, make this a great play for the fall season.
Resident Evil 7: Biohazard Retro Review Score
I scale retro review games from 1-10; Resident Evil 7: Biohazard is a 9 for me. I was shocked at how good this game was even for a wimp like me. It's worth every fright and fighting through the fear leads you to a great conclusion. Fun fact: you can play this game in VR, but I have no clue who would hate themselves enough to do that. Just kidding; if you're braver than me, then it sounds like the perfect game for that experience. If you have other Xbox Game Pass games you'd like for me to retro review, then drop ideas in the comments!
Featured Image Credit: Capcom
Taylor is the Gaming Editor of Comic Years and a lifelong fan of video games. He holds two degrees in Political Communication and wrote a Master's Thesis on resistance movements, race, and the exploitation of college athletes. His wife and two Toy Australian Sheppards keep him sane.
Leave a comment