What Monthly Marvel Comics You Should Read This September
This month for Marvel monthly single issues, we have a trifecta of #1s you should read. One should have come out in May, but then pandemic and movie schedule changes and something about murder hornet here we are. We're also getting the return of one of the biggest cult favorites at Marvel. Finally, another film-driven series, but more importantly, it's written by one of the best comic book writers. Also, at Marvel, we have one major event wrapping up and another just beginning. But in between Empyre and X of Swords (I almost wrote Empyre of Swords, which should be a series), there are all the other comics worth reading. For the events, look at the checklists we've put together. For now, let's look at the awesome Marvel monthly comics you should read this September.
Black Widow #1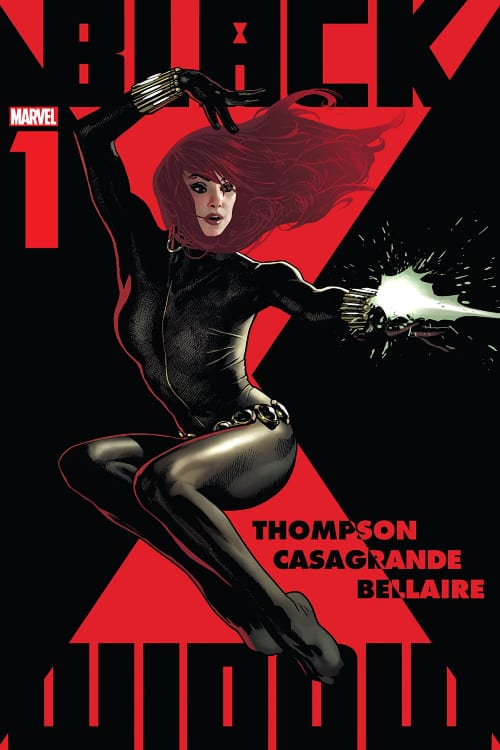 Getting classic spy thriller vibes from this. (Marvel Comics)
We should be watching Black Widow on home release right now—but we're still waiting to see it in theaters this November, hopefully. In the meantime, we'll have Kelly Thompson and Elena Casagrande's Black Widow series. Thompson is one of the fasted-rising stars in comics. Her Captain Marvel series features some of the best Carol Danvers work yet. Her new Deadpool ongoing manages to explore new directions for Wade Wilson while being a true-to-form Deadpool narrative. And her pre-Dawn of X writing like Mr. and Mrs. X. She's the perfect writer for Black Widow. And Casagrande? A great Catwoman artist? Selina Kyle is basically DC's Natasha Romanov, so the pairing is perfect. So, if you read one monthly issue from Marvel Comics this September, make sure it's Black Widow…and the next two. And everything in the checklists.
Writer: KELLY THOMPSON
Artist: ELENA CASAGRANDE
Release Date: September 2nd
Official Solicitation:
KELLY THOMPSON. BLACK WIDOW. 'NUFF SAID! Best-selling, Eisner–nominated writer Kelly Thompson (CAPTAIN MARVEL, STAR) and rising star artist Elena Casagrande (Catwoman) launch a new BLACK WIDOW series that changes everything! Natasha Romanoff has been a spy almost as long as she's been alive. And she's never stopped running, whether she was working for the good guys…or the bad. But Natasha's world is about to be upended. Beyond San Francisco's Golden Gate lies a mystery that only the Marvel Universe's greatest spy can solve. Don't miss the heartbreaking thrill ride of 2020!
Marvel Zombies: Resurrection  #1 (of 4)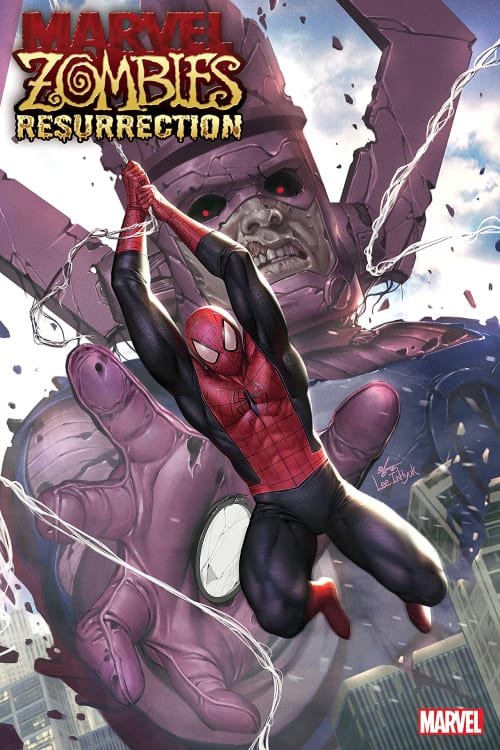 I have faith in Spidey…but not that much. (Marvel Comics)
Back in October, prior to this new mini-series, Marvel Zombies returned in the One-Shot Resurrection. Now they're being re-resurrected. In Marvel Zombies: Resurrection, Zombie-Galactus arrives at Earth and spreads an undead virus. In this situation, it's up to Spider-Man to save the world. However, with such a short series, it's always tempting to wait for the trade. But aside from a fun monthly comics you should read regardless, there's a good reason to collect each monthly issue of Marvel Zombies: Resurrection. In-Hyuk Lee's outstanding covers. If it's ever possible to call zombies beautiful, Lee makes it so.
Writer: PHILLIP K. JOHNSON
Artist: LEONARD KIRK
Release Date: September 2nd
Official Solicitation:
THE MARVEL ZOMBIES RISE AGAIN! When the corpse of Galactus reaches planet Earth carrying a cannibalistic virus, Spider–Man and a ragtag group of heroes struggle to save survivors and uncover the truth!
Shang-Chi #1 (of 5)
Coolest. Pet. Ever. (Marvel Comics)
Three words. Gene Luen Yang. 楊謹倫. For his original graphic novel American Born Chinese, Yang won an Eisner and a Michael L. Printz Award. The graphic novel was also named the best comic of the year (Publisher's Weekly, Amazon.com), Best Book of the Year (San Francisco Chronicle, The Chinese American Librarians Association), and landed on several top ten lists.
Additionally, Yang is the first comic book writer to receive a MacArthur Fellowship. Also known as the "Genius Grant"), he received it because his work "demonstrates the potential of comics to broaden our understanding of diverse cultures and people." And now, he's writing one of the most popular Chinese superheroes, Shang-Chi. If you need more reasons that you should read each monthly issue of Shang-Chi, remember that a limited series can become ongoing, so buy each issue and tell Marvel Comics that you want a Shang—Chi ongoing
Also—this is the same author who wrote the fantastic Superman Smashes the Klan. So, there's a third reason.
Writer: GENE LUEN YANG
Artists: DIKE RUAN and PHILLIP TAN
Release Date: September 30th
Official Solicitation:
THE MASTER RETURNS! An ancient and evil secret society has stayed in hiding since the death of their leader, Zheng Zhu. But now his successor has been chosen to shift the balance of power in the world – Zheng Zhu's son, Shang-Chi! Witness the Marvel Universe's greatest fighter return to a world of death and destruction he thought he left behind long ago – and discover the secrets to Shang-Chi's past that will change his world forever. Don't miss out on this epic tale of family, betrayal and justice as the incredible team of Gene Luen Yang (American Born Chinese), Dike Ruan (SPIDER-VERSE, BLACK CAT) and Philip Tan (UNCANNY X-MEN) launch a new chapter in the legend of Shang-Chi!
What Monthly Marvel Comics do you think we should read? Tell us below!
(Featured Image: Juggernaut (2020) #1)
Roman Colombo finished his MFA in 2010 and now teaches writing and graphic novel literature at various Philadelphia colleges. His first novel, Trading Saints for Sinners, was published in 2014. He's currently working on his next novel and hoping to find an agent soon.
Leave a comment