Humble Bundle July 2023 Line-Up Leaks
Well, folks, hold on to your joysticks! Why? Well, because we're about to take you on a wild ride through the upcoming Humble Bundle July 2023 lineup! Mark your calendars because from July 4 until August 1, 2023, you'll have the chance to get your hands on a mind-blowing collection of games. Each one will have you glued to your screens!
Topping our list is the out-of-this-world "The Outer Worlds: Spacer's Choice Edition." No, we couldn't rename it the "Humble Choice Edition," although that would've been pretty cool, wouldn't it? This action RPG gem, a brilliant creation of Obsidian Entertainment and published by Private Division, catapults you straight into a sci-fi universe where your every choice can shape the story and character development.
Now, let's dig deeper into "The Outer Worlds: Spacer's Choice Edition," shall we? This special edition includes the original game and its downloadable content (DLCs). The studio released it on March 7, 2023, and features numerous enhancements. For example, there are improved graphics, better performance, and a handful of exciting additional animations that give it that extra 'oomph.' But don't just take our word for it; check out the official trailer to see what we're talking about!
Next up for the Humble Bundle July 2023, we're spotlighting "Temtem." It's a dynamic MMORPG causing a major buzz in the gaming community. Crema developed this masterpiece, and Humble Games brought it to you. Obviously, people have often compared it to Pokémon. After all, they do have some shared features!
Temtem Pokemon Game
Image: Nintendo
With Temtem, you're invited to traverse the six islands of the Air Archipelago, capture wild Temtem creatures, and pit your skills against other trainers. Since its release in 2022, following a successful crowdfunding campaign in 2018, Temtem has steadily grown its fan base. To get a glimpse of what it offers, why not check out the 1.0 launch trailer?
But wait, there's more! The Humble Bundle July 2023 lineup doesn't stop there. Unfortunately, the other titles are shrouded in an aura of suspense. However, if the trend continues from the start of the year, we're probably looking at a lineup of eight scintillating games. This info is based on some educated speculation and a little tidbit from our friends at IGN. So, we're guessing that "Serial Cleaners" and "Sunday Gold" might just appear.
Why these titles, you ask? Here's the lowdown: these were part of IGN's accidental game leak last month. The studio swapped them out at the last minute! But if we know Humble Bundle (and we think we do!), there's a good chance these games might get a second shot in the Humble Choice.
Humble Bundle July 2023 Games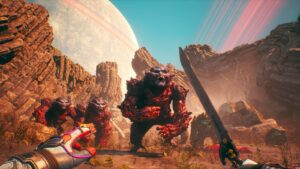 Image: Obsidian Entertainment
Remember, time's ticking if you want to snatch up the games from June 2023's Humble Choice selection. You have until Tuesday, July 4, to secure your copy of this enticing collection, which includes standout titles like "Ghostwire: Tokyo," "Remnant: From the Ashes – Complete Edition," "Curse of the Dead Gods," "Honey – I Joined a Cult," "Eternal Threads," "GRIME," "Turbo Golf Racing," and "Meeple Station."
In closing, there you have it – your exclusive deep dive into the much-anticipated Humble Bundle July 2023 selection. Keep your eyes peeled and ears to the ground for more updates on the rest of the lineup. Which of these games excites you the most? Let us know in the comments!
Hi! I'm Arvyn, and I'm an English teacher from the UK. I've been teaching English online for over 4 years to students from all across the world and all ages. Outside of work, I'm a huge fan of reading, video games, and playing with my adorable kitties. See ya!
Leave a comment