Representative John Lewis, Civil Rights Icon and Author of the March Trilogy, Dies at 80-years-old
It's not very often that we have to cover a person in politics on a comic book website. However, today, we're mourning the loss of one of our own who happens to be a member of Congress. Of course, to most people, he's the congressman and Civil Rights Era icon, who just happened to write a graphic novel series. Regardless, as a representative or as the author of the March Trilogy, John Lewis was—and will always be—a titan in American History.
Representative John Lewis Didn't Just March; He Led Alongside Martin Luther King Jr.
(Image: March: Book One, Top Shelf Productions)
For many young Americans, the Civil Rights Era is just that—another era. They see it as a fixed point of time, long removed from today. But Representative John Lewis kept that era ever-present, on the floor of the House and in the pages of March. Lewis stood alongside the most important historical figure of the 20th century: Martin Luther King Jr. The fact that he was still serving in Congress to the day he died, in 2020, reminded us that MLK's work is recent History.
But John Lewis was a Civil Rights leader too, as the president of The Student Non-Violent Coordinating Committee (SNCC). The representative was just 25-years-old when Alabama State Troopers attacked the march across the Edmunds Pettus Bridge in Selma, Al. An event we now call  "Bloody Sunday." A trooper struck Lewis in the head with a nightstick, fracturing his skull. But that didn't stop Lewis from continuing his mission of equality.
Even more impressive? By the time he was 23-years old, Representative Lewis spoke just before MLK gave his famous "I have a dream" speech at the 1963 March on Washington. Lewis was the youngest member of the group of Civil Rights leaders known as "The Big 6."
Teaching the John Lewis's March Trilogy Is One the Greatest Joys of My Career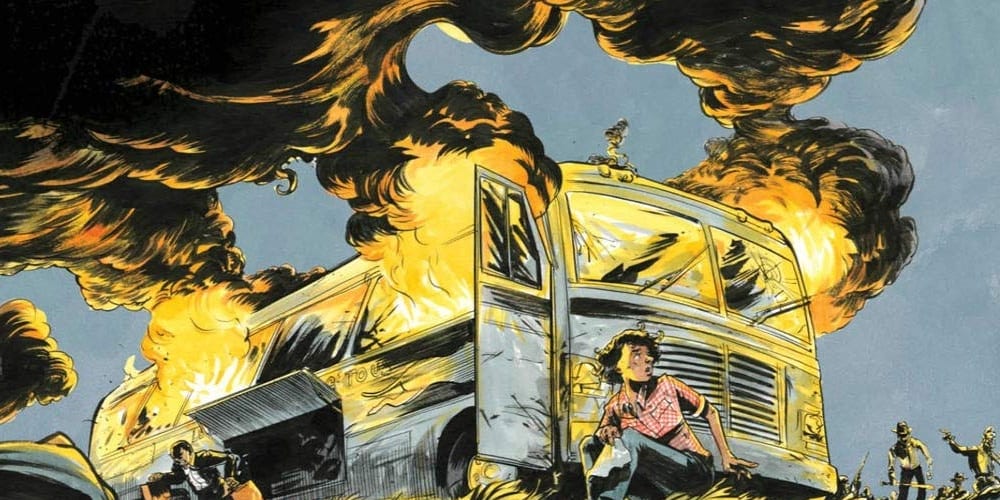 (Image: March: Book Two, Top Shelf Productions)
Every year, I teach graphic novel literature to young college students. The first time I decided to teach the March Trilogy, I was nervous that my very young students wouldn't connect with the material. For the most part, whenever civil rights came up in my classes in other texts, their eyes would gloss over. So, three black and white books about the Civil Rights Era? Risky. But as the students read the story of John Lewis and learned about the infamous Selma March, they connected with it, and they wanted more. Many of my students became socially conscientious because of that book.
Reading the March Trilogy and Learning About Representative John Lewis Changes Students.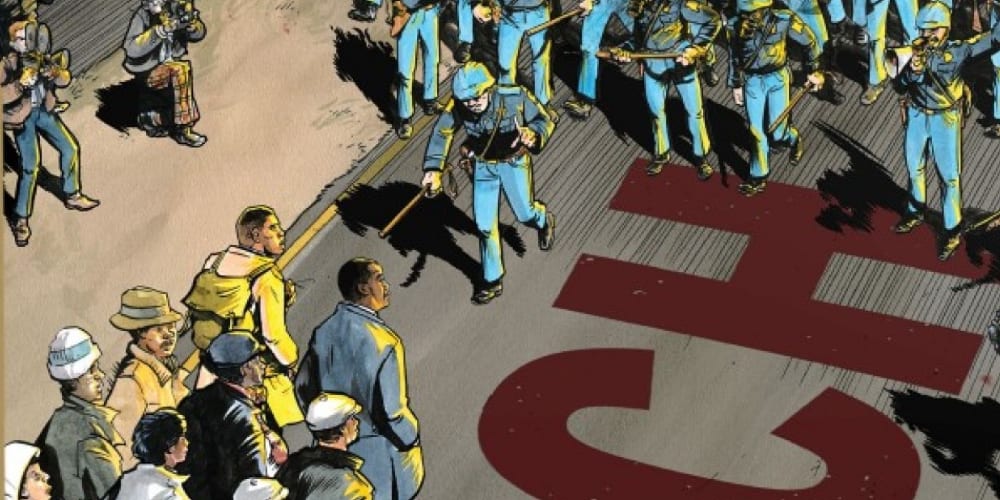 (Image: March: Book Three, Top Shelf Productions)
One student, just a couple of years, started the class with a Trump sticker on his laptop. Because he signed up for discussion leading too late, he got March: Book Three. He wasn't happy about it and even tried trading with other students. But he was also a great student, and even if he didn't want to do the work, he was going to anyway. I actually looked forward to his discussion topics. If anything, I was hoping his conservative stance led to a more lively discussion. However, I didn't expect the book to change him.
On the day he led the class discussion, he opened his laptop—nonchalantly (kid kind of had style)—revealing the Trump sticker violently ripped off, leaving just a torn half. The class audibly gasped. And then he started talking about March, how he felt his k-12 education failed with how they taught the Civil Rights Era. Mostly, he remarked that the intimate memoir made the movement more than just a history lesson. It was, as he put it, a "human lesson."
It's not often that I feel like a student did a better job teaching the material than I would have. This nineteen-year-old kid, though, he did that and then some. Now, next time I teach the March Trilogy, it will be bittersweet as the students won't have Representative John Lewis still defending equal rights on the House floor. Lewis's contribution to American History can't be understated. But he's also part of our community—the geek, comic nerd community. And we lost an amazing comic book creator.
(Featured Image: Obama White House Archives)
Roman Colombo finished his MFA in 2010 and now teaches writing and graphic novel literature at various Philadelphia colleges. His first novel, Trading Saints for Sinners, was published in 2014. He's currently working on his next novel and hoping to find an agent soon.
Leave a comment