New Mighty Valkyries Series Looks Beautiful Already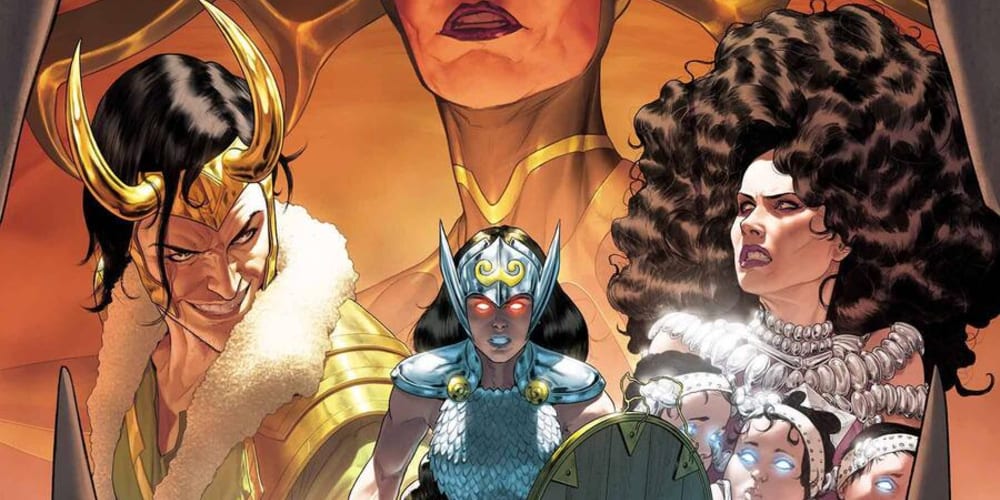 Since War of the Realms, Jane Foster has been the only Valkyrie left. That all changed with King in Black: Return of the Valkyries #1. Not only did we meet one of the original Valkyries, but we know that Brunhilde and Dani Moonstar will join them. However, after the dust (or maybe space goo) settles from Knull's invasion, the Valkyries aren't going anywhere. This April, Marvel Comics is releasing the new series The Mighty Valkyries by Jason Aaron and Torunn Grønbekk, with art by Mattia de Iulis. Speaking of de lulis, the preview pages are gorgeous.
What Will the New Mighty Valkyries Series Be About?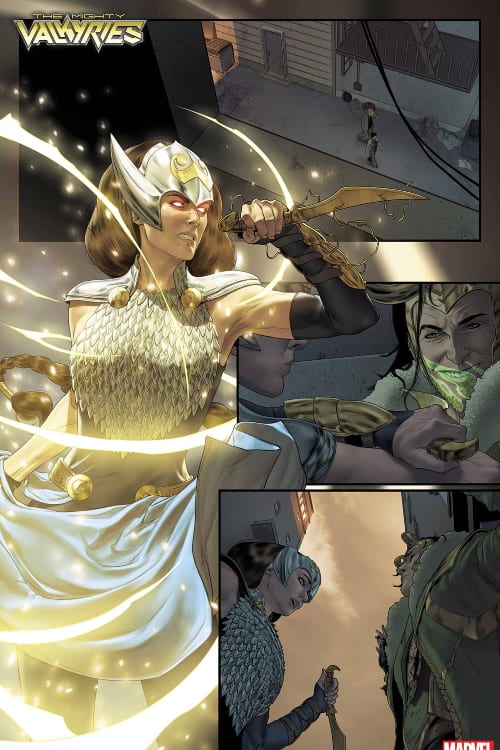 Wow. (Image: Marvel Comics)
Jason Aaron ended his Thor epic with War of the Realms…but it looks like he has a lot more stories to tell. This is his second time returning to Valkyrie after her solo series that ended last year. He's also currently co-writing Return of the Valkyries with Torunn Grønbekk. In the new Mighty Valkyries series, Aaron and Grønbekk are upping the stakes. As described in Marvel's announcement:
Jane Foster believed she was the only Valkyrie left – but the fight against Knull, the King in Black, proved her wrong. Now the Valkyries must redefine their roles in a changing world – and Asgard's not going to make it easy. When Loki comes to Jane with rumors of a beast stalking the souls of Midgard, she leaps into action along with the mysterious new Valkyrie who just made her highly-anticipated debut in KING IN BLACK: RETURN OF THE VALKYRIES #1. But does Jane's new ally have other priorities? Years ago, this ancient warrior made a promise to a woman she loved. And now, it's time for her to follow through.
However, Grønbekk's description of the new Mighty Valkyries series is even better:
"This story is big, cosmic, and mythical. The wolves are let loose, an old god is back, and life is finding its way into Hel. People are dying on Midgard, and even Loki has a part to play (which is rarely a good sign for, well, anyone but Loki). Though our Valkyries begin the journey in two different galaxies, their paths soon meet. But there are twists and turns in their way, and nothing and no-one is quite what they seem. They will have to ask the right questions and make hard choices before they can unravel the mystery they both find themselves in.
New Mighty Valkyries Series:  Look How Stunning Mattia de Iulis's Art Is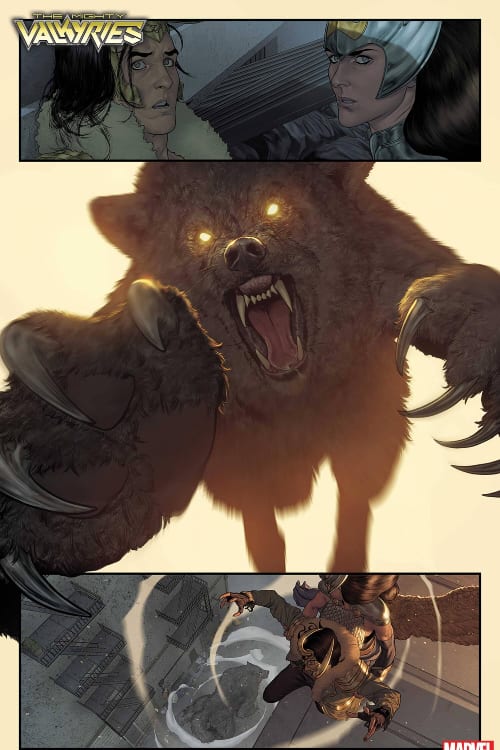 Oh my god, is that the Demon Bear?!?!?!?! (Image: Marvel Comics)
His work on the new Mighty Valkyrie series is just incredible. Take a look at more of the preview pages in Marvel's announcement.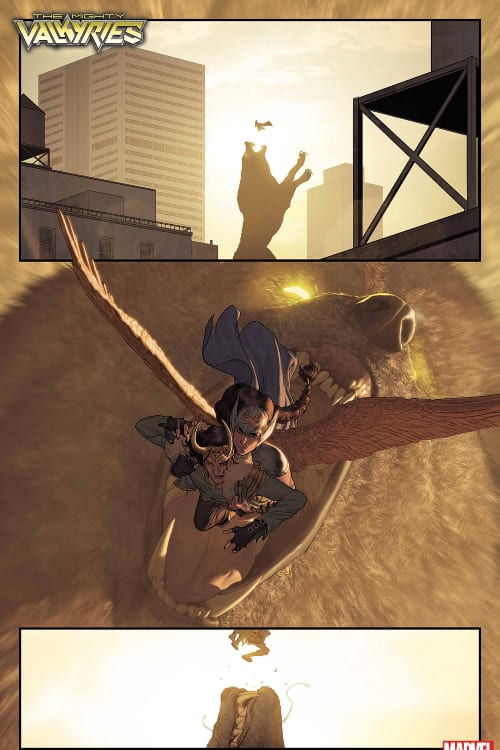 It has to be the Demon Bear! (Image: Marvel Comics)
Roman Colombo finished his MFA in 2010 and now teaches writing and graphic novel literature at various Philadelphia colleges. His first novel, Trading Saints for Sinners, was published in 2014. He's currently working on his next novel and hoping to find an agent soon.
Leave a comment