What Marvel Comics Graphic Novels You Should Read October 2020
Sometimes it's great to sit down and read 22 pages of superhero mayhem and cycle through several chapters of several storylines. But that's not the only way to enjoy comics. Why read War of the Realms one chapter at a time when you can pick up the new Omnibus and go through 500 pages of Nordic mayhem all at once? And that's not the only Omnibus coming out. So, let's take a look at the October 2020 Marvel Comics graphic novels you should read.
The Incredible Hulk by Peter David Omnibus Vol 2
(Image: Marvel Comics)
Sure, it's weird to recommend the second volume of an omnibus series. However, though you should read this massive graphic novel from Marvel Comics this October, you should also read Peter David's entire Incredible Hulk run. Peter David is to Hulk as Christ Claremont is to the X-Men. Most of what makes Hulk the giant green rage monster we love comes from Peter David's tenure. And sure, at $125 per volume feels a bit steep, but who can put a price on 1000+ pages of Peter David? Aside from Marvel, that is.
Writer: Peter David
Various Artists
Release Date: October 28th, 2020
Official Solicitation:
Peter David's groundbreaking run continues! The Hulk is finally getting his head together, with Doc Samson's help – but will the dominant personality end up being gray, green or something new? Either way, he'll need both brains and brawn when the mysterious Pantheon comes calling with an offer of recruitment! The gray Hulk battles Freedom Force, the Super-Skrull and the Rhino – while the Green Goliath takes on the Abomination, the U-Foes and X-Factor! Meanwhile, Rick Jones falls in love – but will tragedy strike when a face from his past surfaces? The Hulk revisits his origins in an anniversary psychodrama and teams with the Punisher for a Las Vegas homecoming. But events build to a (great big) head when the Leader returns!

Collecting INCREDIBLE HULK (1968) #369-400 and ANNUAL #16-18, X-FACTOR #76 and material from MARVEL HOLIDAY SPECIAL #2.
Hellstrom: Prince of Lies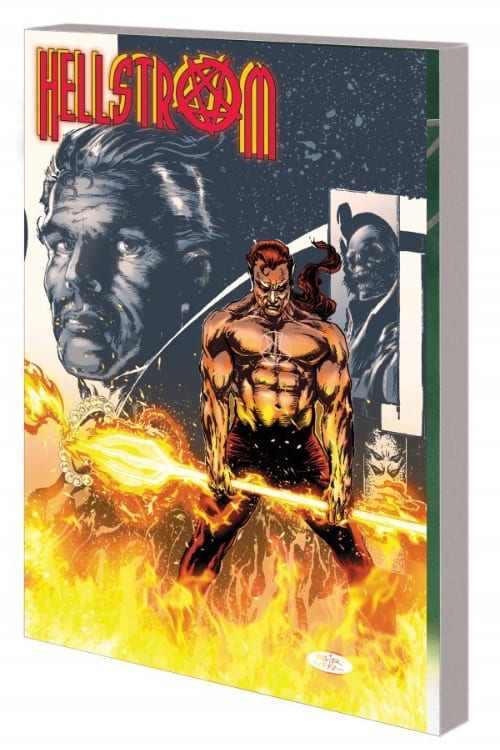 (Image: Marvel Comics)
With the Hulu show coming out soon, and that crazy trailer promising a brutal series, it's time to get to know Daimon Hellstrom. Luckily, for October 2020, Marvel Comics is re-releasing one of the best Hallstrom graphic novels you should read. The Son of Satan is a bit like John Constantine, battling even magicians and creatures. The main difference, however, is that Constantine still manages to be more of an asshole than the literal prince of lies.
Writers: Len Kaminski and Rafael Nieves
Artist: Michael Bair
Release Date: October 21st, 2020
Official Solicitation:
The Son of Satan is back – and there's hell to pay! Daimon Hellstrom has long struggled with his nature and his evil parentage. He's been an adventurer, a hero and a Defender – even a husband to Patsy "Hellcat" Walker. But that was years ago. Now storm clouds gather as Hellstrom walks among mortal men once more – for his new path is one of death and damnation! Unholy threats are on the rise, and the cynical, embittered Hellstrom is the only one who can combat them – if he can survive the many tricks his father's kingdom has in store! Hellstrom encounters Gabriel the Devil-Hunter, Doctor Strange, the Gargoyle and more as he battles demonic doppelgangers, murderous mortals, faith healers and damned souls. But what will happen when Hellstrom goes to Hell?

Collecting HELLSTORM: PRINCE OF LIES #1-11.
Star Wars: From the Journals of Obi-Wan Kenobi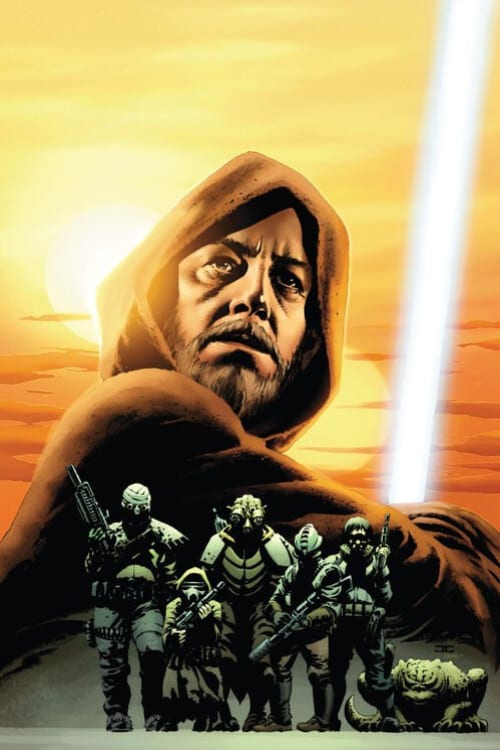 (Image: Marvel Comics)
As hard as it is to imagine, Marvel started producing Star Wars comics over five years ago. Along the way, we had plenty of great tales from the Galaxy—many featuring Obi-Wan Kenobi. So, it makes sense that with an Obi-Wan Disney+ show in development, we'd start seeing more Kenobi Collations™. This October, Marvel Comics is releasing what will probably be the first of many Obi-Wan graphic novels you should read. What was Kenobi like when he went into exile? These "journals" will give you an idea.
Writers: Jason Aaron and Dash Aaron
Various Artists
Release Date: October 28th, 2020
Official Solicitation:
Lost tales of the Jedi revealed!

Obi-Wan has slowly adjusted to his life of exile on Tatooine, secretly protecting young Luke Skywalker. But now, injustice reigns as villainous scum run rampant, extorting moisture farmers and wreaking havoc. Will "Old Ben" risk revealing himself to do what's right? And when Jabba the Hutt hires a bounty hunter to find out who's been thwarting his men, Obi-Wan must take on the galaxy's deadliest Wookiee, Black Krrsantan! Plus, years earlier, when Obi-Wan was still a Padawan, Master Yoda found himself trapped on a savage world with a hidden power. Yoda must learn the secret of the stones – and his struggle in the past will affect Luke in the present! And can Obi-Wan save a young Tusken Raider?

Collecting STAR WARS (2015) #7, #15, #20, #26-30 and material from STAR WARS (2015) #37.
And seriously—you should really start reading omnibus graphic novels this October if you haven't yet, Marvel Comics and otherwise. It's the best bragging rights!
(Featured Image: War of the Realms Omnibus, Marvel Comics)
Roman Colombo finished his MFA in 2010 and now teaches writing and graphic novel literature at various Philadelphia colleges. His first novel, Trading Saints for Sinners, was published in 2014. He's currently working on his next novel and hoping to find an agent soon.
Leave a comment